By Jeff Merron
Page 2
EDITOR'S NOTE: The Super Bowl. The World Series. The NBA Finals. Page 2 has covered those championships over and over and over again, and we'll continue to do so. But we're branching out, too, into the championships of … oh, say, cow-chip throwing and wife carrying. Yes, those lesser-known and goofy sports are coming to Page 2 in a series of stories we're calling SportsOFFCenter. Today, Jeff Merron tells us all about a certain competition where vocal cords rule.
SPIVEY'S CORNER, N.C. – When I checked in at the press and contestants booth for the 37th Annual National Hollerin' Contest and identified myself as a writer for ESPN.com, I was handed a sheet of paper with "Rules and Regulations." The first rule read:
"I will not participate while under the influence of alcohol or drugs."
Well, OK, I thought. I'm not Hunter S. Thompson, so that won't be a problem. But something seemed off. "These are rules for the press?" I asked.
There had been a mistake. There were no rules for the media -- except to provide as much coverage as possible. The local news crews were there. CBS Radio was there. The Dunn Daily Record was there. Even a station from Belgium had sent over a TV crew.
*****
It was a cloudless afternoon, a relatively comfortable 85 degrees or so, when the hollerin' got under way. The contest took place on a large, griddle-flat field behind the volunteer fire department. If you wanted some shade, you needed an umbrella.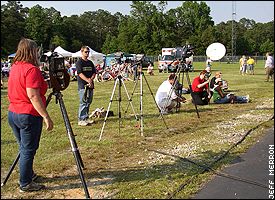 As you can see, it wasn't exactly a mob scene.
It wasn't a big crowd -- Wayne Edwards, the event coordinator, estimated it at 1,200 to 1,500 people -- way down from the 5,000 to 10,000 people that used to show up, sometimes a day early, for the festivities. There was plenty of room to park, set up your picnic blanket, portable chairs and umbrella, and be guaranteed a good view.
The contest is really a set of four events -- one for juniors, one for teens, one for women, and the big enchilada, the men's contest.
The kids got things started at 4 p.m. sharp, and for sheer entertainment value, the kids were the best -- a few barely got off a little hoot or scream before exiting the stage quickly, while others used up a few minutes telling stories about how their dads and moms hollered at them, or how they would holler at their dogs.
The men's contest, though, was a disappointment -- there was a thin talent pool, according to the judges and others who'd witnessed previous contests. The previous year's winner, Kevin Jasper, was ineligible to compete because of a new rule prohibiting repeat champions. And some other former victors on hand chose not to take the stage.
Hollerin's ailin', and it shows.
*****
Larry Jackson, an old-school hollerin' vet, won his fifth national championship, and his disciple, journalist Joshua Foer, came in second (click the ESPN Motion link at the right to watch their performances). That a beginner -- even a well-coached one -- came in second says something.
Foer didn't have a clue about the hollerin' arts when he and a friend first entered the contest, on a whim, in 2002.
"All we knew was that the winner would appear on 'David Letterman,'" he said, before beginning his routine. "So we thought you get on stage and yell something loud and funny and that's how you win. … Of course, we were wrong, and we got on stage and we made real fools of ourselves."
Foer, who writes for Slate and was on assignment for Reader's Digest, had come back to redeem himself. "I felt very bad about that ever since," he told the crowd.
*****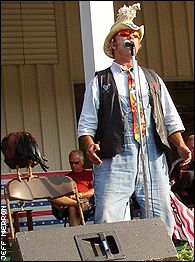 Chicken Man lets loose with a mighty yelp.
Spivey's Corner sounds as though it's in the middle of nowhere, and the estimated population -- 49, give or take -- adds to that perception. But although it's rural, it's only a half-hour drive from Raleigh. This year's U.S. Open took place at Pinehurst, N.C., just an hour away, the same weekend as the festival. (Edwards thought golf might have eaten into the Hollerin' Contest's audience.) So although it's a small-town event, a true bit of Americana, there's no real Hicksville aura. Maybe there never was.
The actual hollerin' ranges from high-pitched squeals to out-and-out ear-piercing screams to some truly beautiful singsong melodies ("Amazing Grace" is a hollerin' standard). The rest of the day is pure pregame entertainment, Southern-style: gospel singers, Elvis impersonator (and firefighter) Andy Woodall, clogging and an appearance by 21-year-old Grace Wepner, Miss Spivey's Corner 2005.
And there's plenty of food. Dig this, sports fans: Bottled water, $1. Homemade ice cream (excellent stuff), $2 for a healthy serving. And I didn't hear the phrase "revenue stream" once.
*****
But if you didn't want a stage show, there wasn't much else. Conch shell blowin', the other featured event, didn't garner an entrant, so it was canceled. Past events like watermelon rolling, corn shuckin', possum pickin', sky diving and rabbit racing weren't on the agenda.
Has hollerin' jumped the shark?
Maybe. When the contest began, in 1969, it was more of a novelty. Charles Kuralt showed up to do a segment for CBS News, for example. Other big-media types weighed in with excellent reports about a real attempt at cultural revival.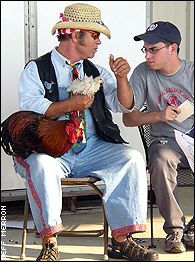 Chicken Man and second-place finisher Joshua Foer.
"I moved here when I was 15, in 1974," said Robert McNeill, who was reporting on the event for the Daily Record. "My first time seeing it was 1975, I think. Back in those days, crowds were in the thousands and people were parked up and down the highways about a mile each way. People came and they camped out overnight. When they decided they would not have any alcohol [in the 1980s], that had an impact on the crowd."
*****
Or maybe it's that hollerin's just not the strangest kid on the block anymore. It's up against extreme ironing and wife carrying and pumpkin catapulting and cow-chip throwing. It's up against reality shows on TV. During my travels, I talked to a half-dozen or so nearby residents who had never been to the hollerin' contest -- and were surprised when I told them it was being held that day.
"I'll have to go sometime," one young woman told me. But by the way she said it, you knew she really never gave it a thought.
*****
A few hours before the competition began, the judges held a meeting in which they went over the basics of hollerin' -- how to tell a good one from a bad one. They also went over the different types of hollers -- distress ("Help!"), expressive (to pass the time) and functional ("Get in here for dinner!").
Some of the judges were well-prepared. Two-time champ Jasper, for example, was especially attuned to the qualities of the best hollers. "It's frustrating not being in the contest [because of the new rule]," he said. "But I want to see the expressive hollerin' because that's what the contest is all about."
Another judge -- Tom Bayliss, mayor of New Bern, N.C. (birthplace of Pepsi!) -- was a little less serious. "I didn't prepare at all," he said. "I just waited for the training session [before the contest]." So how would he go about judging? "It's a Socratic thing to me," he said, tongue firmly in cheek. "It's like justice. I know it when I see it, or in this case hear it, but I won't be able to tell you about it."
*****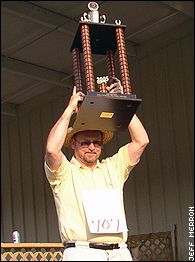 Larry Jackson took home the trophy as the champ.
Even to this first-time listener, it was pretty easy to tell who was hollerin' well and who was shouting or screaming. And it wasn't too tough to separate the entertainers (some really tried and succeeded) from the doing-it-for-a-kick crowd.
Again, the kids ruled. One girl satisfied every Mayberry fanatic in the crowd when she hollered, "AUNT BEE-EEEEAEAEAE!" She explained that that's how she'd locate her Aunt Bea on her father's blueberry farm. Another girl hollered the national anthem holding her panting pet dog under her right arm.
And another young competitor imagined a nightmarish future for herself. "If I were grown up, and had kids, this is kind of what would happen. KIIIIDS! MEAT LOAF! IT'S COMIN' OUT OF THE OVEN RIGHT NOWWWW! OH GOD SHE'S ON FIIIIIRE! HEEEELP! HEEEELP! CALL AND GET SOME WATER! OH! WATER! WATER WATER WATER! OH MY GOSH! TOO MUCH WATER! FLOOOOOD!"
*****
These days, the Hollerin' Contest still gets the grand "Letterman" treatment, but it also suffered, this year, through some negative coverage from "The Situation with Tucker Carlson." Carlson and the show's producer, Willie Geist, decided to poke fun at the small town on their MSNBC show.
The segment ran June 20, two days after the contest.
GEIST: That guy is an amazing talent, isn't he? As you can see, there were literally tens of people on hand for that event. That was an impressive turnout.
CARLSON: Dozens, even.
GEIST: You know, they tell me that hollering, or hollerin', is the oldest form of human communication. Did you know that?
CARLSON: Is that true?
GEIST: It's true. Now we know why they quickly moved on to grunting from there. It's pathetic.
*****
Later, I asked Edwards if he had heard about this. He said he hadn't. It's no surprise. If you put a test pattern on the air, it would draw more viewers than Carlson & Co.
Which is all good. You see, the Hollerin' Contest is nothing more than a gimmick -- a good one that hearkens back to a real local tradition -- that's designed to draw people in for a good time. Five bucks a person, and if the contest draws well, the Spivey's Corner Fire Department reaps all the financial rewards (winners get a trophy and the "Letterman" trip). And it needs the money.
So -- great event? Not so much, at least this year. Good times? For sure. Good cause? No doubt. A future? You bet. Edwards and other volunteer event organizers already are working on how to jump-start a hollerin' revival.
So get those vocal cords cranking.