"All we knew was that the winner would appear on 'David Letterman,'" he said, before beginning his routine. "So we thought you get on stage and yell something loud and funny and that's how you win. … Of course, we were wrong, and we got on stage and we made real fools of ourselves."
Foer, who writes for Slate and was on assignment for Reader's Digest, had come back to redeem himself. "I felt very bad about that ever since," he told the crowd.
*****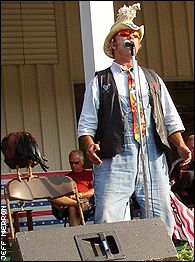 Chicken Man lets loose with a mighty yelp.
Spivey's Corner sounds as though it's in the middle of nowhere, and the estimated population -- 49, give or take -- adds to that perception. But although it's rural, it's only a half-hour drive from Raleigh. This year's U.S. Open took place at Pinehurst, N.C., just an hour away, the same weekend as the festival. (Edwards thought golf might have eaten into the Hollerin' Contest's audience.) So although it's a small-town event, a true bit of Americana, there's no real Hicksville aura. Maybe there never was.
The actual hollerin' ranges from high-pitched squeals to out-and-out ear-piercing screams to some truly beautiful singsong melodies ("Amazing Grace" is a hollerin' standard). The rest of the day is pure pregame entertainment, Southern-style: gospel singers, Elvis impersonator (and firefighter) Andy Woodall, clogging and an appearance by 21-year-old Grace Wepner, Miss Spivey's Corner 2005.
And there's plenty of food. Dig this, sports fans: Bottled water, $1. Homemade ice cream (excellent stuff), $2 for a healthy serving. And I didn't hear the phrase "revenue stream" once.
*****
But if you didn't want a stage show, there wasn't much else. Conch shell blowin', the other featured event, didn't garner an entrant, so it was canceled. Past events like watermelon rolling, corn shuckin', possum pickin', sky diving and rabbit racing weren't on the agenda.
Has hollerin' jumped the shark?
Maybe. When the contest began, in 1969, it was more of a novelty. Charles Kuralt showed up to do a segment for CBS News, for example. Other big-media types weighed in with excellent reports about a real attempt at cultural revival.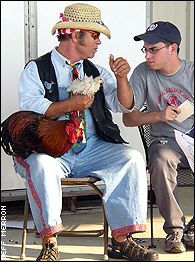 Chicken Man and second-place finisher Joshua Foer.
"I moved here when I was 15, in 1974," said Robert McNeill, who was reporting on the event for the Daily Record. "My first time seeing it was 1975, I think. Back in those days, crowds were in the thousands and people were parked up and down the highways about a mile each way. People came and they camped out overnight. When they decided they would not have any alcohol [in the 1980s], that had an impact on the crowd."
*****
Or maybe it's that hollerin's just not the strangest kid on the block anymore. It's up against extreme ironing and wife carrying and pumpkin catapulting and cow-chip throwing. It's up against reality shows on TV. During my travels, I talked to a half-dozen or so nearby residents who had never been to the hollerin' contest -- and were surprised when I told them it was being held that day.
"I'll have to go sometime," one young woman told me. But by the way she said it, you knew she really never gave it a thought.