Single page view
By Jeff Merron
Page 2
A lot of folks are talking about Phil Niekro these days. His nephew, Lance (Joe's son), a first baseman for the Giants, is a legit contender for rookie of the year. With Roger Clemens, Randy Johnson, Jamie Moyer and David Wells pitching successfully into their 40s, Niekro's record of 121 wins after turning 40 is getting fresh ink. And the Hall of Fame knuckleball pitcher is on a mission to increase awareness of deep vein thrombosis (DVT), a condition that afflicted his father, who died in 1988.
Page 2's Jeff Merron recently caught up with Niekro in Durham, N.C., where the Hall of Famer was promoting DVT awareness (for more information, visit www.DVT.net).
JM: When did you learn about the knuckleball?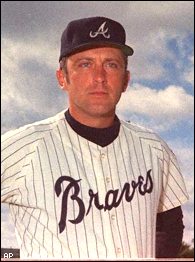 Niekro won 318 games and reached 20 wins three times with the Braves.
PN: My dad played for a coal-mining team in eastern Ohio; he was a very good pitcher. If he hadn't hurt his arm he probably would have got a shot somewhere. He hurt his arm one spring, didn't warm up good enough, couldn't throw a fastball anymore. Another coal miner taught him how to throw the knuckleball.
He threw it to me one day. I asked him what it was, [and] he showed me how to hold it. Didn't know what it was, didn't know anything about it except that I liked it.
I remember going to see my dad pitch against other coal-mining teams, and he was successful with the knuckleball. I saw how bad guys would look like swinging, and how guys talked about how he could throw every day and didn't hurt his arm. That's how I grew up learning. I never knew how to throw a fastball, never learned how to throw a curveball, a slider, split-finger, whatever they're throwing nowadays. I was a one-pitch pitcher.
I could get out guys in my hometown [Lansing, Ohio]. I went to a tryout camp -- a scout [for the Milwaukee Braves] saw [my knuckleball] and signed me for a $500 bonus.
I think me and Hoyt Wilhelm basically started when we were kids and threw it in high school. Most of the other knuckleballers picked it up later.
JM: When we were chatting earlier you mentioned "the fraternity of knuckleballers." Why isn't it bigger?
PN: There's nobody around who can teach how to throw a knuckleball. Everybody's shying away from it. In my case, my first organized game was in high school, and I was a knuckleball pitcher by then.
But there was no place we could go to get any help. I'd have to go to my brother or to Hoyt Wilhelm or Charlie Hough, [Tom] Candiotti or [Wilbur] Wood. Whenever we got together, we'd sit around and talk about knuckleballs, look at the film of our last game and see if we could figure out what our mistakes were.
We're our own teachers. There's very few pitching coaches that I worked with that actually came out on the mound and told me what I was doing wrong with the knuckleball. Because they just didn't know. So I had to figure it out. I was on my own.
JM: But you did work with Tim Wakefield, right?
PN: He pitched very well against the Braves in the playoffs [when he was with the Pirates]. And then all of a sudden they released him. In '94, Sammy Ellis, the pitching coach for the Boston Red Sox, came up to [me and Joe in spring training] and said he had a chance to get Wakefield. And Joe and I said, "Go get him, right now."