By Jeff Merron
Page 2
"Glory Road" is an inspirational and refreshingly funny story about a team that breaks barriers and overcomes deep-rooted prejudices against tremendous odds. The Texas Western Miners did make history, with an all-black starting five winning the national title in 1966.
But does the film ("Glory Road" is being released by Disney, the parent company of ESPN) do a good job of telling history? Consider the typical opening disclaimer -- "Based on the True Story" -- and decide if you think it comes close enough.
EARLY DAYS: HASKINS TAKES THE HELM

Josh Lucas plays Don Haskins, a coach ready to change history in college basketball.
In reel life: Just before getting the job at Texas Western University (now Texas-El Paso or UTEP), coach Don Haskins (played by Josh Lucas) is a girls high school basketball coach.
In real life: Kinda sorta. Haskins coached girls hoops at a couple of very small high schools in Texas in the mid-1950s. But he was also coaching football and boys basketball at the same time. So it wasn't his primary qualification for the Texas Western post, as implied.
In reel life: Haskins arrives at Texas Western at the start of the 1965-66 season.
In real life: Haskins began coaching at Texas Western in 1961; during that first season, the Miners went 18-6.
In reel life: The Miners are portrayed as a lousy backwater team that wouldn't go anywhere.
In real life: Though Haskins' squad didn't get much attention before the start of the 1965-66 season, it wasn't for lack of accomplishment. Texas Western had seen postseason action the three previous seasons, including two trips to the NCAA Tournament.
In reel life: It's implied that Haskins is breaking all kinds of barriers just by recruiting black basketball players.
In real life: Haskins deserves a lot of credit for aggressively pursuing black players -- but TW had been recruiting African-Americans since 1956, when the school signed Charlie Brown. According to a 1991 Sports Illustrated story, when Haskins got to El Paso, "a black guard named Nolan Richardson was waiting to unload Haskins' U-Haul for him."
In reel life: One of the first people Haskins meets at TW is Ross Moore (Red West), who is called the "team trainer and spiritual advisor." Moore hardly seems like a trainer, but he's enthusiastic about the game, and his quiet wisdom seems almost too good to be true.
In real life: Ross Moore was real. He was there before Haskins and was the team trainer until he died in 1977. According to Haskins, in "Haskins," Moore tended to hound the officials and "got more technical fouls in the years he was with me than I did."
RECRUITING THE NUCLEUS

In reel life: Bobby Joe Hill (Derek Luke) is Haskins' first recruiting find, discovered at a summer camp just before the start of the school year. He refuses to sign with Haskins -- but then Haskins promises him he'll start.
In real life: Close, but not really. The second player Haskins recruited was named Bobby Joe Hill, but it wasn't the same guy. The other Bobby Joe Hill, the one who started in the Final Four, had been redshirted one year, and played the 1964-65 season. He was no newcomer in 1965-66.
Sneak Preview: Behind the scenes of the making of "Glory Road"
In reel life: Moe (Evan Jones) is a very young and geeky assistant coach who helps Haskins recruit some of the 1965-66 Miners.
In real life: Moe Iba -- a son of the legendary Henry, who had been Haskins' coach at Oklahoma A&M -- is credited by Haskins with recruiting most of the 1965-66 squad.
In reel life: Haskins goes to Gary, Ind., to recruit Harry Flournoy (Mehcad Brooks) and Orsten Artis (Alphonso McAuley). He follows alongside them in his car. Flournoy and Artis take off, running, scared of being followed by white men. When Flournoy gets home, he finds Haskins already in his house -- talking to his mother, drinking coffee and eating apple pie.
In real life: That's pretty much how it happened, except for the running part. Haskins simply asked Flournoy if he could meet his mother. Both players ended up at TW.
In reel life: David Lattin (Schin A.S. Kerr) arrives at the front gates of the main building at Texas Western. He shows up in the middle of the day, making a big splash with lots of students looking on. He's driving a fancy car and wearing very sharp duds.
In real life: Lattin, a huge star as a high schooler in Houston, turned Haskins down when he first got offered a scholarship, and went to Texas A&I for a semester. He then had a change of heart and asked Haskins if the offer still stood. It did, and Lattin quickly arrived -- on a bus, at 5 a.m. The film nails Lattin in a couple of important ways, though: he was a snappy dresser -- and a ladies' man.
In reel life: All the new recruits come in at the start of the '65-66 season, and it takes them a while to get to know each other.
In real life: Most of the key members of the team had played together at TW in 1964-65, when the Miners went 18-9 and reached the NIT.
In reel life: Early in the movie, someone says that not a single ACC, SEC or SWC (Southwest Conference) team included a black varsity basketball player.
In real life: Very close. In 1965-66, Billy Jones became the ACC's first black basketball player, suiting up for Maryland -- and it's unlikely anyone in Texas would have known about that before the start of the season. Perry Wallace of Vanderbilt broke the SEC barrier in 1967-68, playing for Vanderbilt. And James Cash played for Texas Christian beginning in 1966-67, integrating the Southwest Conference.
THE SEASON UNFOLDS

In reel life: In the first home game of the season, the stands, in what looks like a high school gym, are sparsely populated.
In real life: According to a March 1966 Sporting News article, the Miners sold out every home game, playing in an arena that held slightly more than 5,000 fans.
And the gym? High school indeed. Many of the hoops scenes were filmed at Chalmette (Louisiana) High School. Chalmette is a suburb of New Orleans that was practically wiped out by Katrina. The high school reopened in November with a fraction of the previous student population. The gym was no longer usable, but the school was determined to play basketball this season -- with boys head coach Butch Stockton also coaching the girls squad. Go Owls!
In reel life: Midway through the season, Willie "Scoops" Cager (Damaine Radcliff) has severe chest pains while shooting around. He sits out the rest of the way, and Haskins explains to Willie's mother that her son has "hypertrophic cardiomyopathy."
In real life: If this had truly been the diagnosis back then, Scoops was lucky. Often, the first sign of this disease is death. In fact, Cager had earlier been diagnosed with a heart murmur. "We would play him about four minutes at a time," said Haskins.
Derek Luke, Al Shearer and Shin A.S. Kerr are a few of the actors cast as the 1966 Texas Western players.
In reel life: On a road trip, the Miners return to their hotel to find one of their rooms ransacked, the walls covered in blood, and a large, blood-red warning on the wall: "Coons go home."
In real life: The team was refused service at restaurants and turned away from at least one hotel, and, Jerry Armstrong (Austin Nichols) said, "We heard some derogatory remarks out on the road."
However, this incident almost certainly didn't occur. But it's not much of a stretch. The following season, Haskins got a death threat before a game against SMU in Dallas. "A guy called me up and said he'd shoot me 'if the n------ step on the floor,'" he told SI in 1991. "Scared? Sure, we were all scared."
In reel life: Haskins pulls into an Esso station for gas. The attendant asks, "Hey, you want me to fill this thing up?"
In real life: The attendant? That's the real Don Haskins.
In reel life: After the Miners had established themselves high in the national rankings, Kentucky and TW bump into each other in an airport. Kentucky coach Adolph Rupp snubs Haskins, saying no more than a few belittling words to him.
In real life: Didn't happen.
In reel life: Far along into the season, Mary shows her husband a particularly threatening hate letter. He asks if that's the only one, and she says no, that they've gotten many, and that she's been throwing them all away before he could see them.
In real life: Haskins had been getting hate mail since early in his TW career. Andy Stoglin, a black player at TW who graduated before the national championship, is quoted by Frank Fitzgerald in "And the Walls Came Tumbling Down" that the coach had shown him hate mail way back in '62. "I started reading them," said Stoglin. "They were letters from whites saying, 'You're playing too many n------' and that sort of thing."
In reel life: After TW suffers its only defeat, 74-72 against Seattle University at the end of the regular season, Haskins blasts the team, and Bobby Joe retorts by saying, "Maybe those crackers are getting to us." He's staring right at Armstrong, who is white, and adds, "None of you white boys get it." Armstrong retorts, "I'm white, and you've never seen past that. You think it's easy being on this team? We're the minority!"

In real life: No such argument happened. Dave Palacio, a sophomore reserve guard, said, "It was friendship, pure friendship. I don't remember a single instance of race being an issue or a problem among us."
In reel life: In the Midwest regional final against Kansas, it looks like the Miners have lost when Kansas guard Jo Jo White hits a long jumper with seven seconds left in the first OT. But the ref says White's foot was on the line, out of bounds. TW wins in the second OT.
In real life: Bingo.
THE NATIONAL CHAMPIONSHIP GAME

In reel life: The Final Four takes place at the University of Maryland's Cole Field House.
In real life: True -- but the stand-in for Cole was a livestock show arena at LSU that had a dirt floor before the production crew arrived.
Two Southern coaches go head to head for the championship.
In reel life: Kentucky is considered the overwhelming favorite to win the title game.
In real life: Think Jets vs. Colts in Super Bowl III, even though Texas Western was 27-1 and ranked No. 3. The line had Kentucky favored by eight points.
In reel life: In the middle of the night before the title game, Haskins wakes up the Miners and brings them over to Cole Field House.
In real life: In the middle of the night before the title game, according to Frank Deford's 1966 SI account, Haskins was drinking beer with University of Maryland students in his room. This was a defensive maneuver -- the students had been making lots of noise outside, and Haskins wanted to quiet them down so his team could sleep through the night. "Through the early hours of the day he was to become coach of the national championships [sic], Haskins sat and drank beer and made small talk with half a dozen strange kids ... when they left, he gave them a few beers to take out," wrote Deford.
In reel life: While Haskins is trying to fire his team up, he says, "Tonight I've made a decision ... five starters, two subs, 40 minutes, seven players. I'm only going to play the black players in the final game tomorrow."
In real life: It's clearly implied that Haskins was trying to make a statement, but the seven black players were also the team's best players -- and TW had started five black players at various times during the season. "The other five ball players on the team ... understood it that way," said white reserve Dick Myers, quoted in Fitzpatrick's book. And as Haskins has said since the win over Kentucky, he played those five to win, going with three guards (the 5-foot-6 Willie Worsley was the third) and two big men as a strategy to beat "Rupp's Runts," Kentucky's small but fast team that played a 1-3-1 zone defense and featured Louie Dampier and Pat Riley. If he had been trying to make a statement, it didn't stick with his own players. "That part, [black-white] never crossed our minds," Artis told SI's Curry Kirkpatrick in 1991.
Haskins said he hadn't thought much about the black-white matchup. "It wasn't the first [all] black team we played with," he said. "There were others. I never thought a thing about it, but after we won the title with five black guys, everybody made a big deal about it." Another notable fact is that in the semifinal against Utah, Haskins brought in Jerry Armstrong, a strong defender (who is white, remember), to stop the Utes' high-scoring Jerry Chambers (who would win the tournament MVP award).
However, Flournoy tells a slightly different story in Fitzpatrick's "And the Walls Came Tumbling Down."
"Coach Haskins before the game quoted Rupp ... that he had never played five black guys before and that five black guys would never beat his team. And we thought that Coach Haskins was just trying to hype us up, you know. And we weren't sure if he said that or if it was just Coach Haskins talking."
In reel life: Just before the game starts, we see big confederate flags waving in the stands right next to the court.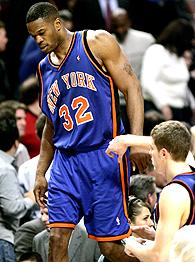 AP
On his way out of the stands, Davis must have known he'd face consequences.
In real life: No. But Fitzpatrick has reported there was a flag being waved high up in the bleachers. And some Kentucky fans did shower the Miners with racist comments during the game.
In reel life: Lattin slams down a thunderous dunk for the Miners' first basket against Kentucky.
In real life: Indeed. It was one of Haskins' tried-and-true intimidation tactics.
In reel life: With the score tied at 12, Flournoy goes down after a rough shot from a Kentucky player, and blows out his knee -- he's out for the rest of the game.
In real life: Flournoy had injured his knee the night before and couldn't move laterally. So he took himself out early in the game. "I was afraid I might hurt the team defensively," he explained.
In reel life: Midway through the first half, Hill single-handedly converts back-to-back steals into easy buckets.
In real life: Exactly.
In reel life: After the Miners beat the Wildcats, Kentucky's players and Adolph Rupp refuse to shake hands with their opponents.
In real life: "One thing I want to say is that the Kentucky players could not have been more gracious after the game," Haskins told the El Paso Times. "Rupp, well, I don't know ... but I do know he shook hands." And he did eventually recruit a black player -- 7-foot center Tom Payne -- in 1970. Rupp's final game coaching Kentucky was a 1972 loss to Florida State in the NCAA tournament. Kentucky started five white players.