Single page view
By Mike Milbury
Special to Page 2
Editor's Note: New York Islanders general manager Mike Milbury recently went on a trip set up by Islanders owner Charles Wang to examine professional and developmental hockey in China. In his own words, the Islanders' GM recounts this unique experience.
Harbin, Heilongjiang Province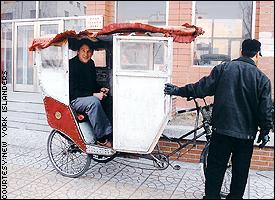 Transportation can be a little different in China, as Mike Milbury found out.
You are never far from hockey, but hockey can be very far away. Having traveled 28 hours from my office at the Nassau Coliseum to Harbin, China, I can attest to this.
My mission was to evaluate the hockey teams of Harbin and QiQihar. Each city has a team that plays in the Asian Hockey League (AHL), an entity with clubs in Japan, Korea and China. The Chinese teams have struggled in AHL play and I have been sent to consider ways that we might help them. Since the Chinese national team consists entirely of players from these two teams, it might be indirectly helped as well. The thinking is that if these two teams and the national team can achieve some success, hockey in China can regain some needed attention and perhaps some private and governmental sponsorship.
It's amazing what projects you can contemplate when there is no NHL to occupy your time.
Most Americans' first impressions of Harbin would be of incredulity at the size of the city: 9 million people! That's right, 9 million people. Historically, Harbin has been an international commercial center with a strong Russian influence – thus, its nickname, "Moscow in the East." Traditionally, it has been the center of winter sports activity, including a winter ice-sculpting festival of world renown, and of course, ice hockey. For me, it was simply jaw-dropping in size.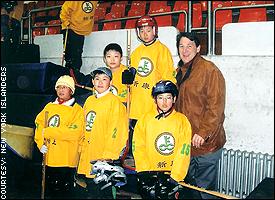 Perhaps the next generation of Chinese hockey players will produce some stars.
Some time ago, the Islanders established a branch office in Harbin to promote the game, and the very capable staff greeted me upon my arrival. Without them, I have no idea how I would have been able to navigate the city. Entirely devoid of understanding of the language, and looking like a circus freak to most of the population, I felt pretty helpless until they rescued me at the airport. And after a quick nap, it was time to watch some hockey.
For my benefit, the Chinese national team, preparing for its World Championship tournament in the B pool, and a group of players who didn't make the cut faced off at the arena in Harbin. The best players that China had to offer, versus a motivated team of also-rans. It made for a spirited session. The level of play probably is best equated to our East Coast Hockey League, with one notable exception: the goaltenders. Think Tommy Salo on a bad night. To be fair, their equipment predated the Jacques Plante era, and they haven't learned the fine art of puffing up their equipment like NHLers do. Nonetheless, they weren't very sharp on this occasion.
After the game, I was taken on a tour of the facility and met with the coaches and players. Talk about a reality check! The locker room was dilapidated, with ceiling tiles and dirty laundry strung from makeshift hooks all over the room. The team has no equipment manager, and it showed. There was the unmistakable whiff of hockey in the room. The players told me they didn't mind because this was the first year that they even had a room to dress in. As for workout facilities, there were some barbells and a couple of weight machines – and that was about it.
Mike
Milbury
HOCKEY DAYS IN CHINA