By Mike Milbury
Special to Page 2
Editor's Note: New York Islanders general manager Mike Milbury recently went on a trip set up by Islanders owner Charles Wang to examine professional and developmental hockey in China. In his own words, the Islanders' GM recounts this unique experience.
Harbin, Heilongjiang Province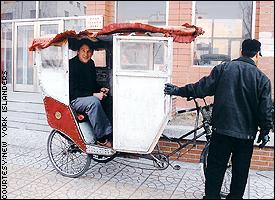 Transportation can be a little different in China, as Mike Milbury found out.
You are never far from hockey, but hockey can be very far away. Having traveled 28 hours from my office at the Nassau Coliseum to Harbin, China, I can attest to this.
My mission was to evaluate the hockey teams of Harbin and QiQihar. Each city has a team that plays in the Asian Hockey League (AHL), an entity with clubs in Japan, Korea and China. The Chinese teams have struggled in AHL play and I have been sent to consider ways that we might help them. Since the Chinese national team consists entirely of players from these two teams, it might be indirectly helped as well. The thinking is that if these two teams and the national team can achieve some success, hockey in China can regain some needed attention and perhaps some private and governmental sponsorship.
It's amazing what projects you can contemplate when there is no NHL to occupy your time.
Most Americans' first impressions of Harbin would be of incredulity at the size of the city: 9 million people! That's right, 9 million people. Historically, Harbin has been an international commercial center with a strong Russian influence – thus, its nickname, "Moscow in the East." Traditionally, it has been the center of winter sports activity, including a winter ice-sculpting festival of world renown, and of course, ice hockey. For me, it was simply jaw-dropping in size.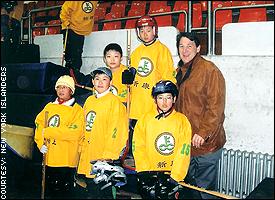 Perhaps the next generation of Chinese hockey players will produce some stars.
Some time ago, the Islanders established a branch office in Harbin to promote the game, and the very capable staff greeted me upon my arrival. Without them, I have no idea how I would have been able to navigate the city. Entirely devoid of understanding of the language, and looking like a circus freak to most of the population, I felt pretty helpless until they rescued me at the airport. And after a quick nap, it was time to watch some hockey.
For my benefit, the Chinese national team, preparing for its World Championship tournament in the B pool, and a group of players who didn't make the cut faced off at the arena in Harbin. The best players that China had to offer, versus a motivated team of also-rans. It made for a spirited session. The level of play probably is best equated to our East Coast Hockey League, with one notable exception: the goaltenders. Think Tommy Salo on a bad night. To be fair, their equipment predated the Jacques Plante era, and they haven't learned the fine art of puffing up their equipment like NHLers do. Nonetheless, they weren't very sharp on this occasion.
After the game, I was taken on a tour of the facility and met with the coaches and players. Talk about a reality check! The locker room was dilapidated, with ceiling tiles and dirty laundry strung from makeshift hooks all over the room. The team has no equipment manager, and it showed. There was the unmistakable whiff of hockey in the room. The players told me they didn't mind because this was the first year that they even had a room to dress in. As for workout facilities, there were some barbells and a couple of weight machines – and that was about it.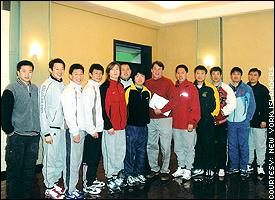 Milbury with some of the current crop of Chinese hockey players.
Speaking to the group with the help of my translator, May Zhou, I was able to get a feel for how the team functioned. Players learn the game using hand-me-down equipment in various programs run throughout the city. From the ages of 20 to 29, if they are good enough, they can progress to the Asian Hockey League. That achievement earns them the privilege of living in a dorm room with as many as six other roommates six nights a week, with Sunday as their day off to spend with their families. In May, they enjoy a three-week break before getting back to business. Their salaries are about $120 a month, with a 10 percent reduction for meals served to them in the dorm. I didn't ask about the 401K and IRA plans. With a great deal of pride, they told me they were doing this for their country.
Later in the day, I saw a group of 9- to 12-year-olds play. It was a familiar sight: moms and dads taking the time to shuffle off to the arena with their enthusiastic little guys. What was different about this group was that they arrived minus the Mercedes, and with equipment that was either too big or too small and barely functional. Enthusiasm, however, was not in short supply. Like in the U.S., the parents pay for the kids to play, and as best I could determine, the fee was about $700 RMB (or a little less than a hundred bucks a year). That equates to close to a month's salary for the average worker, and does not include equipment that can cost two or three times as much. I have always said that being around this game can be humbling, but this takes it to a different level.
*****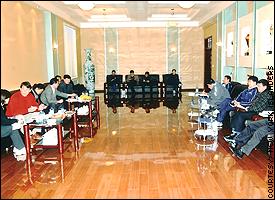 Some of the Chinese hockey facilities are very nice.
The following day, I got up early to take a peek at the city. Bustling does not adequately describe the scene, but it's the best I can do. Across the street from my hotel, an army of construction workers were feverishly pounding and lifting, putting the finishing touches on a multi-story mall. One store that was open already was a "gift" from North America, the local Wal-Mart, complete with a food market. I had to check that out. It was spotlessly maintained and every shelf was stocked. The produce and meat departments had everything you would expect, from freshly carved pineapple to roast duck. My favorite section was the fish counter, where I discovered that, for a modest sum, I could purchase a live turtle for some good old-fashioned homemade soup.
There was plenty of automobile traffic, but the preferred mode of transportation was bicycle, most of them of the vintage variety. Periodically I would spy a tiny little tin shack on a sidewalk, no more than 4 feet by 6 feet, that housed a bicycle or shoe repair shop. And women were working everywhere in every conceivable job, including tough manual labor.
This day's agenda included a luncheon with representatives of the Provincial Sports Bureau that funds the team. The affair was interesting in that there was a series of toasts made by each of my guests, in descending order of their status, to welcome me to Heilongjiang Province and to encourage Islanders cooperation with their hockey program. At every one of these functions throughout the trip, I found the people gracious and inquisitive. One evening, I mentioned that my father had served in the Marine Corps and was briefly stationed in China. The word spread with a buzz around the table, until one of my hosts was designated to toast my father and thank the United States. She spoke with undeniable sincerity and respect. I was very touched.
After two and a half days in Harbin, it was off to QiQihar, a three-hour train trip away. It almost didn't happen. Airhead that I can be, I left my bag with my passport back at the arena, but when we returned it was gone. We immediately called the U.S. Embassy, whose representative informed me that it would take about 10 days to replace the document. While I contemplated that, I received a phone call from the arena to tell me that a skating instructor had found my bag and had it safely stowed away. Whew!
QiQihar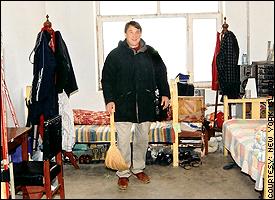 But some of the players' living quarters leave quite a bit to be desired.
I awoke in QiQihar to a howling snowstorm that would have shuttered Garden City Long Island for days, but it seemed to hardly faze the hearty residents of this city. At about 6 a.m., there were thousands of residents pedaling precariously through the snow to get to work. And after an interesting breakfast including duck eggs, I got a look at the pride and joy of the hockey community here, the recently completed 4,500-seat arena. As you enter, you pass through a marble-floored foyer with two 6-foot urns set on either side of a championship trophy. The first thing you notice as you enter the hall is its roof. It sports three enormous glass panels that allow enough light into the building to play or practice in the daytime without so much as turning on a light. The meeting rooms were paneled in cherry and could serve as the boardroom of a major corporation. Even the referee's room was wonderfully designed, with a tea table and service in the middle of the room. The skate-sharpening room gave me a chuckle. It was designated as the "Whet the knife room." All in all, this was a great venue.
The members of the QiQihar Leopards held a practice for me. It was at a similar level to what I witnessed in Harbin. The players still impressed me with their work ethic, and the coaches seemed to have a good handle on how to run a practice. During the course of the day, I was able to spend time with the coaches and players. The coaches asked tons of questions, and the players were courageously honest. In a private meeting, they confided that they would like more than one day a week at home. Having had a chance to see their dorm rooms, with bare cement floors and three or four people to a room, I could sympathize. Their biggest concern, however, was what they would be doing in their post-hockey careers. Sadly, they had seen some of their retired players suffer in the transition to the real world. I raised some of these issues with Mr. Yu Gui Fu, the vice director of the sports office of the city, and he was appreciative of the information. I just hope practice time hasn't been moved to some ungodly hour after their complaints. I found it a little ironic that this NHL GM was pushing for labor rights on this side of the planet!
Beijing
The QiQihar to Beijing overnight train bears no resemblance to the Orient Express. Fourteen hours in a 7-by-8 sleeper car with my interpreter and two strangers! All I know is Mike Picker, our senior VP of operations, was pleased with this arrangement. Not only had I opted for the cheaper way to get to Beijing, but I saved a night's hotel room fee as well.
The early morning light gave me glimpses of both the poverty and the industry of this country as the train chugged into the station at Beijing. The city itself seemed to suffer from a thick and unhealthy cloud of pollution, but it certainly didn't slow down the incredible numbers of people passing through the station and the surrounding area. If Harbin was bustling, Beijing was bustling times 10. The morning rush hour traffic made me yearn for the Long Island Expressway. In due time, we arrived at the Capital Stadium, home of the Chinese Ice Hockey Federation and the site of our meeting with Mr. Lan Li, the vice president of the federation.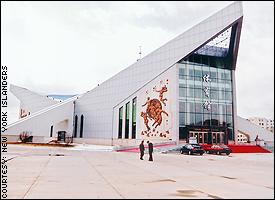 Now that looks like a cool arena.
The meeting brought a surprise. The Asian Hockey League had just completed their year-end meetings and there was good news to report. Rene Fassel, the president of the International Ice Hockey Federation, had come to the meetings with a proposal from a Swedish marketing company, which proposed striking changes and benefits to boost the league and the Chinese teams in particular. While the details are still sketchy, the proposal could be just the tonic they need. Hopefully the deal will be as good as it sounds. As for cooperation between the Islanders and the teams, we'll see how this new deal unfolds.
One of the greatest benefits of having a career in professional hockey is the chance to see some pretty cool places. Never did I think it would bring me to China's Great Wall, which is where I found myself two Sunday mornings ago. Truth be told, I was a little skeptical. I mean, it's just a wall, right? Well, consider me enlightened. It threads through the mountains with spans that rise at more than 45 degree angles. It was magnificent in its scope and size. I'm just sorry that I didn't stop to pose for a photo at the kiosk. The chance to be photographed sitting astride a camel in a Genghis Khan outfit doesn't present itself that often.
Along the way, I found myself in Tianemen Square looking up at the gargantuan portrait of Mao Tse-Tung. Couldn't help wondering if the 70-plus-year-old Mao really did swim the Yangtze River as the government suggested he had in a testament to good Chinese living. And there was the magnificence of the Forbidden City, home for centuries to China's Emperors. There really were eunuchs! Makes me shudder. So much more of this place flashes back to me. I wish I could do it justice.
There is something special about traveling. You have to actually go to a place to get an understanding, however incomplete, of another culture. The chance to see and feel and hear how another world of people lives can't be truly experienced by watching National Geographic specials on television. As far as journeys go, this one was very special. It touched my soul.
Mike
Milbury
HOCKEY DAYS IN CHINA