By Alysse Minkoff
Page 2 columnist
Golf is a great game. It's the only sport I know that actually encourages cigars and alcohol consumption in the playing of it. Also, I love the shoes.
So for all of the obvious reasons, and some not-so-obvious ones, I decided to take golf lessons. And who better as a role model for my game than Annika Sorenstam? So what if I have more in common with John Daly than her.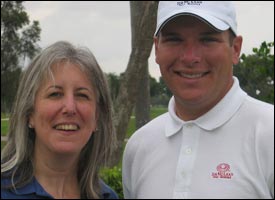 Alysse's instructor, Ray, has a long day ahead.
I decide that the best way to enter AnnikaWorld is to spend a morning with Ray Harrell, the brilliant instructor at the Jim McLean Golf School at the Doral Resort in Miami -- home of the famed Blue Monster. Ray's formidable task is to help me get in touch with my Inner Annika -- and in the process, teach me how to swing a golf club in the general direction of a golf ball.
With the aid of video playback and his vast knowledge of the intricacies of Annika's game, Ray (now here's an overworked golf metaphor ...) takes a swing at it. One of the coolest things about the instructors at the Jim McLean school -- or Golf Camp, as I call it -- is that they can use a computer and a camera to match your motion against the swing of whichever Tour golfer your heart desires to emulate.
Me? Annika.
Lesson One: Golf Equals Shopping
Ray starts with my outfit -- or, in this case, the lack thereof. Eyeing my togs, he rolls his eyes.
"You need to hit the pro shop and improve your wardrobe," he says. "Pronto. Annika is sponsored by Cutter and Buck; so if you want to swing like Annika, you absolutely need a new ensemble."
This is not to be a problem for me. Shopping is my third-favorite sport, right after college basketball and sex.
Then Ray looks at my wrist.
His command: "You need a Rolex watch. And a pair of Oakley shades."
Then he starts in on my footwear: "And Annika favors dainty red golf shoes."
Sadly, ESPN.com columnists do not have sponsors. (Not yet, anyway.)
When we look later at video of my grip, I see it: From my faded blue golf shirt and Capri's, all the way down to my clunky Nike tennis shoes, my outfit is all wrong.
That's when I know. I like Lesson No. 1. Ray is the only man I have ever met who encourages me to shop.
Lesson Two: Keep Your Hair Out of Your Eyes and Your Breasts Out of the Way
Ray proceeds to de-construct my hair. It's silver, not blonde. And it has a tendency to fall into my eyes as soon as I bend over the ball, making it difficult (if not impossible) to see.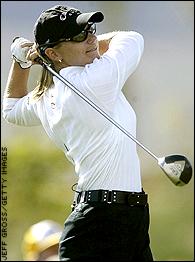 Annika's got style and game.
"Annika always pulls her hair back into a pony tail," he says, handing me a rubber band. "And she likes to wear a hat or a visor. You won't be able to see the ball, let alone strike it properly. It's going to create some 'issues'."
Dutifully, I pull my hair back into a ponytail. The last time I wore a ponytail was in sixth grade. I am relieved that Ray doesn't tell me to dye my hair blonde.
When I ask Ray what kind of sports bra Annika favors, he blushes.
"As a guy, I should probably know the answer to that question, but I don't," he says.
We decide that any bra that de-accentuates my ... umm, assets will be a good choice.
Lesson Three: Call Callaway Golf and Get Them to Send Me a Free Set of Clubs
Ray hands me a loaner club. A seven-iron.
"If you're really going to further your wannabe-Annika status, you need to own, or at least rent, a set of Callaway irons," he informs. "And/or woods. You write for ESPN.com, so Callaway should, at the very least, provide you with a set of clubs."
I agree, wholeheartedly. And I sense a theme developing.
"And Cutter and Buck should provide me with the clothes," I chirp.
"Absolutely," Ray says. "And Mercedes is one of Annika's sponsors, so you need to start tooling around Los Angeles in a Mercedes CLK 430."
Oh, goody! I am really, really, really going to like golf.
So let's recap. I have yet to swing a golf club in the general direction of a golf ball, and I already need:
1. A Mercedes CLK 430.
2. A free set of Callaway clubs.
3. A Cutter and Buck golf wardrobe.
4. Oakley sunglasses.
5. And, most importantly, dainty red golf shoes.
Lesson Four: It Don't Mean a Thing if You Ain't Got That Swing
It is time to move beyond the superficial, material things (because golf is neither material, nor superficial) and get down to swing mechanics.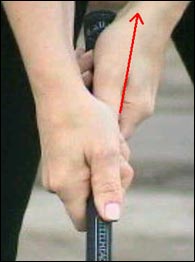 Alysse being the golf club.
Following Ray's instructions, I grip the club. Think Death Grip. (See Photo.) Ray shakes his head.
His advice: "You've got to relax. Annika's all about relaxation."
Hey, if I had her sponsors, I'd relax, too.
On a scale from one to 10, I need to strive for four. I am hovering, however, somewhere around 17. I am cutting off the circulation in my little fingers. I also have too much tension in my wrists, shoulders and elbows.
Well, duh.
Eventually, and after much coaching and cajoling, I finally ... yes, Get A Grip. So it is time to move on to ... The Swing.
Ray tells me that I need to isolate a "swing thought" or two -- two at the maximum, so that I don't short-circuit my overly-addled brain.
I'm a writer, so thinking is often (not always, but ... ) part of my job. Swing thoughts should be a cinch.
"Bloody Marys will help my swing," I offer. "And when can I fire up a Cohiba?"
"That's one thought, and one question," Ray says. "We need to get you moving down a more positive road. Keep your head down.
"And weight shift: Right foot on the backswing to front foot, and down on the through-swing."
Personally, I feel that the Cohiba and the Bloody Mary are a much better fit, swing-thought-wise. But my hair is falling out of the ponytail and I keep missing the damn ball and tearing up the grass in the process. It is not a pretty sight.
And then we go to the driving range.
I grab the club, not too tightly. I recite my swing thoughts silently, and take good whack at the ball with my 7-iron.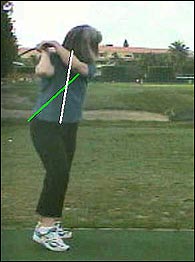 Alysse looking for a fastball.
I hear the crack as the club makes contact with the ball! I watch as the ball soars some 125 feet -- not yards; I hit it 125 feet! -- and lands with a good bounce.
And then I do something that would make the cool, blonde Annika cringe: I launch into a happy little golf dance. I am ecstatic! And I am not afraid to show it. I hit that damn ball and I am jumping around the driving range like a nine-year-old with too much chocolate in her system.
And I spend the next 20 minutes hitting balls all over the range -- missing a few when my mind wanders, dangerously, away from my swing thoughts.
Before I know it, my first lesson is over. It's time to take on the Blue Monster.
"Is there such a thing as a quadruple bogey?" I ask Ray. "And what about my short game?"
"Annika hits 75 percent of her greens," Ray says. "She doesn't have to use her short game."
I am about to play one of golf's legendary courses, and the last time I worked on my short game was at the Miniature Golf course in Van Nuys, CA, when I was 12. I need some help.
Help comes in the form of Retail Therapy.
Lesson Five: Shop Until You Drop
I saunter into the pro shop. The first thing I buy is a seriously-snazzy pair of Walter Genuin stretch slip-on golf shoes. I worship All Things Annika; but I figure if I buy red shoes, I'd be too much of a copycat. I decide it's a good idea to come up with my own signature color scheme.
I settle on Black. Very creative. I purchase a Cutter and Buck Doral windbreaker -- in my signature color, natch.
My phone rings. It's my pal, the Invisible Investment Banker. Of course, I can't wait to tell him that I am about to play the Blue Monster. He is uncharacteristically silent.
"Half an hour after your first golf lesson?" he asks, incredulously.
He takes a beat.
"Where are you going to play your second round of golf? Saint Andrews?"
Snappish. Bordering on cranky. Guess he's not going to be my date for the Masters, after all.
So the Golf Girls -- Angela, Carol, Cari and I -- go out on the links with our new pal Murray for a chaperone/technical advisor. It's our big chance to defile the sacred course completely, a scant few days before the Doral Open.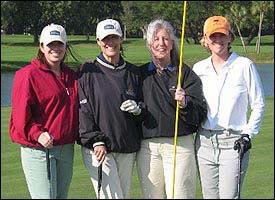 Alysse and her entourage.
We opt for a scramble format. Murray spends most of the afternoon laughing at us, snapping our photos and treating us to drinks from the bar cart. The best thing about golf, besides the shoes, is the bar cart.
No, I do not have a Rolex. Or a Mercedes. But I do have a brand-spanking-new pair of (dainty) black and white golf shoes on my feet, and a snazzy new Doral windbreaker in my signature color. These wardrobe purchases inspire me. I feel they will improve my game immeasurably, probably even more than my swing thoughts will.
I don't want to humiliate myself -- or the Golf Girls, or Murray -- in print and admit to the fact that we probably posted the worst numbers in Doral history.
For the sake of accuracy, though, here's what happens on my first front nine: I hit into three sand traps, and I lost five balls in the rough.
And by the third hole, I give up the putting farce altogether.
But while the Blue Monster is known for its water hazards, I only get wet once -- on the ninth hole. I try to carry the water and wind up, instead, with a semi-gorgeous (yet way-too-short) shot. My ball lands with a huge splash, right in front of the green.
And on my tee shot on No. 5, I actually hit the ball the way Ray taught me earlier in the day. My swing thoughts securely in place, I whack the hell out of the ball, and it actually flies 135 yards. I have witnesses, and I still can't believe it.
For the first and probably only time in Doral history, the happy little golf dance makes its debut.
Annika might be cool and blonde, and her hair might never flop into her eyes. She might have a 270-yard tee shot. She might have a brand new Rolex and a great set of clubs. But Annika doesn't have the happy little golf dance. So there!
I am now madly in love with the game of golf. And after my first beautiful round on the Blue Monster, I am inspired to spend many hours on the driving range. I'm going to find myself an instructor who will work patiently with me -- on my swing thoughts and my wardrobe choices and, yes, even my short game.
I will probably never find my Inner Annika. But I have no problem keeping up with John Daly on a barstool.
When not on the back nine, Alysse Minkoff has written for ESPN 360, Cigar Aficionado and Ladies Home Journal, and can be reached at AGirlReporter@aol.com.