By Alysse Minkoff
Page 2 columnist
LAS VEGAS -- Welcome to March Madness, Vegas-style. During the last four days -- 46 mind-numbing hours of college hoops -- I have wagered like a high roller in the Race and Sports Book at Caesars Palace. I bet $1,383,000 over the arc of these four long days. And nights. That's about $30,000 an hour.
How'd I do? This morning, I'm sitting chin deep in bubbles in a three-person jacuzzi tub in a high roller's suite at Caesars. I am drinking champagne: Moet et Chandon, White Star. My towel is being heated on a nearby rack, along with my bathrobe. Life is very, very good. Indeed.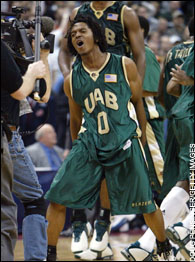 UAB was dancing after its upset win over Kentucky -- a win which pocketed some big money for our writer.
That's the end of this game. How I got here is the rest of the story.
My assignment: Bet the first two rounds of the tournament, compliments of a $750,000 line of play-money credit from the Caesars sports book. Oh yes, and be treated like the high roller I've always wanted to be.
This morning, despite the cushiness of this bubble bath, I am haunted by the ghosts of the couldas. The wouldas. Even the shouldas. I've been spanked by the overs and hammered by the unders. I've been punked by the parlays. Points? Did I give them? Get them? And where in the heck did I put them, anyway? Especially that half-a-point for DePaul. I know it's around here somewhere!
I have learned much over the last four days, all of it useful. I've learned that the more you lose in Las Vegas, the cooler the free stuff they throw in your direction to keep you happy while you're losing. And Caesars has learned something useful about me, too: Sometimes, I come down to one huge, very-expensive-in-the-long-run Hail Mary.
Wednesday
The very first thing I do is to sit down with Chuck Esposito, assistant VP of race and sports operations, for a chat. Chuck sets the line for all of Caesars properties. I'm all about charming him into sharing a little off-the-record betting advice with me. But Chuck is all about dimples and enthusiasm. No insider information.
"The tournament is an event," he says. "And it's become an event within the event. The whole picture. The atmosphere. The shows and the restaurants. Guys look forward to this weekend with their buddies every year. The energy that emanates from the Race and Sports Book echoes throughout the entire casino. There's no better place to be."
Yes, Chuck, you sweet thing. But who, exactly, is going to win the Final Four? He leans across the desk and looks into my eyes and takes a beat, then says, "Believe me, if I knew who was going to win the Final Four, I would be on the other side of the counter. I'd bet my kids' college money and everything else. That's the reason I'm on this side of the counter.
"We post a number that will generate good two-way action. If it doesn't, the public is going to tell us very quickly if the point spread is too high, or two low. Every game is like a snowflake."
Puh-lease.
The best place to be during the NCAA Tournament: A Vegas sports book.
Really, Chuck, there must be some help you can give me. I plead. I am actually pleading about play money. I'm not a girl who likes to lose, even on paper.
"Listen, I can't control the outcome of a game. I just try to put us in the best position possible," he says.
Chuck is still smiling. Those dimples are still blazing. Why is it that I don't quite trust what's going on behind those big brown eyes of his?
The prospect of 700 screaming men in the Sports Book is a daunting. It's time to talk brackets with Elaine Wynn, CEO of Wynn Resorts. She is a certified basketball aficionado/goddess, and one seriously hot grandmother. You might have heard of her husband, Steve. He's the man who put the word Mega into Mega-Resort. Built the Bellagio. The Mirage. Treasure Island. Likes art.
In an elegantly appointed conference room overlooking the construction site that by next year will be Wynn Resort, Elaine is all about the Madness.
"Duke has, by far, the easiest bracket," she says, nibbling on a fruit plate that is too gorgeous to touch. "And I love Georgia Tech's center. Their backcourt is fun to watch, too.
"And Oklahoma State. You should never underestimate Eddie Sutton. That's a good, solid, dark-horse pick."
"I'm taking St. Joe's," I tell her. "And I'm hoping for a St. Joe's/Texas Tech match-up in the Second Round."
"Well, you know Dick Vitale loves 'The General'," she says.
"And I love Martelli," I shoot back.
Then I put myself out there: "Elaine, if it comes down to it, I'm taking Boston College over Georgia Tech."
"What exactly are you smoking?" she laughs. "You better pray you get major points."
Maybe she has Chuck on her speed dial.
She has one last piece of advice: "Be sure to double-up at the end. You'll own the joint!"
This advice is from a woman who owns casinos that have been financed by people who live -- and mostly die -- by those very words. The light in her eyes looks vaguely like Chuck's. Is there something in the water here?
Thursday
I wager $253,000 on the first 16 games. I get totally spanked on the over/unders, and go to bed $85,000 poorer. Dayton costs me $20,000. UConn doesn't cover -- there goes 10 grand. Air Force? Another $10,000 zooms off into the wild blue yonder.
What's up with Florida? I see yet another 10 grand sink into the swamp.
I'm out $10,000 apiece when Wake Forest doesn't even come close to covering, when I bet the under on the Arizona-Seton Hall game, and when I go under again on the Michigan State-Nevada game.
Oh well. The view from my high roller's suite is very nice, though it does take me an hour to figure out how to use the touch-screen remote control that operates the television set in the living room.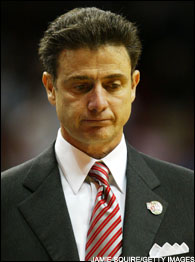 The Rick Pitino parlay crumbled faster than you can say "overrated."
Friday
My 20 straight bets net me about $32,000. Things are looking up. Then I tank. I'm 0-for-4 on the over/under bets. Who's costing me now? Murray State, Cincinnati and Central Florida. Not to mention the overs I took on Boston College, Illinois and North Carolina State.
But at least I take some solace in a lesson learned on Thursday. Now I'm only losing 5 grand a pop.
But you know what hurts? I lose a $5,000 "Pitino Parlay:" Louisville, Kentucky and Providence. I thought it was so clever.
I'm depressed. To cheer me up, Chuck sends me over to the spa for a Lomi Lomi massage during the break between games. Lomi Lomi must be the Hawaiian word for "press up a bunch of really stupid bets." I come back from the massage and decide to take Washington -- the under on that game. And Louisville. For $55,000 each. So I'm down a fast $165,000 before dinner.
Los Angeles Times columnist T.J. Simers -- my hero! -- and I grab a snack at Bradley Ogden's restaurant to recharge our batteries for the late games. I order the cheese plate. T.J. is perplexed that none of the cheeses on the plate are yellow. In fact, he's downright cranky about it. I am mortified when he asks Bradley, "When was the last time you were at a Denny's?"
T.J. is flummoxed when Bradley answers, "Last night."
I stagger back to the Sports Book and corner Chuck, my mind reeling. It's time for a high roller comp.
"I've lost plenty," I wail. "I need a cabana. And a cabana boy. Pronto!"
I sense even this will not help.
But he's ready: "Let me introduce you to a Cabana Boy Extraordinare: The Hammer."
This is very good news. Noted gambling correspondent (and ESPN's own) Hank "The Hammer" Goldberg senses my mounting frustration and says to Chuck, "Let's give her a little present."
Chuck hands me a $50 parlay: UAB +2, the over on the UAB game at 158, and Xavier +2 1/2. By the time my best friend Gregg arrives from Los Angeles, my little present puts $350 into my wallet. In real money. Gregg is impressed. Clearly, I am now in charge of tipping the cocktail waitresses and paying for the lap dances for the rest of the weekend.
Saturday
I wager $268,000 in eight straight bets. I win three and lose five. I'm now down 40 grand.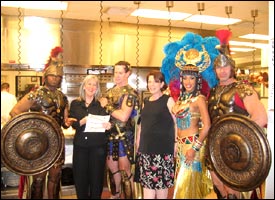 A couple of Caesar's henchmen helped fill out Alysse's bracket in Bradley Ogden's kitchen.
I try to get clever again with three parlays. They're all losers.
Then I learn about the dangers of betting with your heart. My St. Joe's Hawks are favored by 6 1/2 but play down to The General's Red Raiders. With 13.4 seconds left on the game clock, Dwayne Jones' layup assures all of us that the Hawks will flap their way into the Sweet 16. But no one is yelling. You can hear a pin drop. What is wrong with all of these men?
"Why are you smiling? They didn't cover," Gregg grumbles.
Oh. That's why.
And that's when it hits me: I'm just a college basketball fanatic, not a gambler. And it does not matter to me in the least that I just dropped 10 grand in fake money, as long as my Boys are moving on. You root with your heart; you don't bet with your heart. Who knew?
When "The Hammer" tells me to take the over in the Gonzaga, UConn and North Carolina games, I figure, "Who am I to argue with him?" So I plunk down $50,000 each, and win twice. I stagger into Sunday morning down $223,000 on the day.
Only after the parlay debacle does Chuck pull me aside and tell me a little secret about parlay bets.
"Parlays are how we are able to build casinos like Caesars," he says. "Did I forget to mention that to you?"
He laughs. The dimples blaze.
Chuck is Satan.
Sunday
The day starts off with a bang: I win five of my first eight bets, and I'm up $94,000. I pay no attention to Chuck's parlay advice and drop $100,000 on two of the damn things. Oops. Maybe they'll name the new tower after me. I take the over on the Kentucky game for $50,000. I'm 44 grand to the good.
But ... There are only two games left to bet, and I'm still $179,000 in the red overall.
Then my best friend Gregg comes up with a brilliantly evil plan: a money line bet. No points, just odds. The old-fashioned way. My team beats your team, but give me odds. In this case, 5-to-1.
But who to take? UAB over the No. 1 seed, Kentucky? Or Pacific over Kansas, a 12-point favorite? In a very scientific formula, I decide to go with UAB. Why? Because UAB beat my boss K.J.'s team, the Huskies, in the first round. This made K.J. quite cranky, and I love to make K.J. cranky whenever and wherever possible.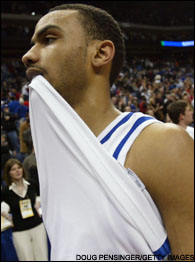 Sorry, Gerald Fitch, but Alysse was not feeling your pain after your loss.
With my last $60,000, I take UAB at 5-to-1 scant moments before tipoff. I'm going to live or die with a team that sounds like the name of a bank.
It's been a (mostly) happy afternoon. T.J. is well on his way to winning a Pick Four at Santa Anita. Gregg is happy because I am tipping for the drinks. And I am happy because UAB has a comfortable 14-point lead.
Until Kentucky erases the deficit and takes a six-point advantage. The crowd in the casino goes nuts. Cheers reverberating throughout the casino mock me. Gregg orders me a double.
UAB could easily fold to the top seed in the tournament, but chips away at Kentucky with free throws. It's a frantic last two minutes. The entire Book is up on its feet, screaming at the big screens. I am too scared to look. I can't breathe.
UAB takes the lead, 76-75, and Kentucky last shot falls away. The upset is sealed.
Chuck walks over and hands me the weekend's grand total. Gregg's desperation play has negated three and a half days of a mostly-downward spiral of action. I am up $121,000 in play money. Chuck hands me a Caesar's Palace Race and Sports Book golf shirt. A real one.
By 6 o'clock on Monday night, Gregg and I will be back to our regularly-scheduled programming. We will not be high rollers. Waitresses will not bring us any more free drinks. Our towels will not be gently heated. Our bathtubs will not seat three. Chefs will not do our bidding.
But for the rest of the day, we are going to lounge in a cabana by a topless pool at Caesars Palace. This makes Gregg happier than the free drinks did.
I've had a lot of fun pretending to be a high roller, but the truth is that I'm a $5 player. Still, Denny's is out of the question tonight.
I'm sticking with Bradley Ogden's cheese plate.
Alysse Minkoff has written for ESPN 360, Cigar Aficionado and Ladies Home Journal, and can be reached at AGirlReporter@aol.com.