By Alysse Minkoff
Page 2
SAN ANTONIO -- Maguire University's motto -- 'We Play Hurt' -- has some serious history backing it up. This band of Jollymen and women (the University voted in Title IX two years ago) have been turning up for these Final Fours since 1963, and the mornings-after keep getting more painful every year.
Not to mention the headaches that accompany keeping up with today's college game.
"We have a new President. Tougher academics. And fewer scholarships," sighs sexy septuagenarian 'Bill', the resident Maguire historian and an irrepressible flirt.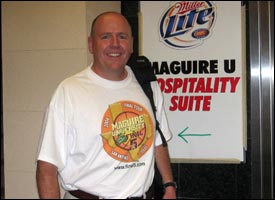 "Put your money on the bar," says Duffy. "If you can pay enough, we can accelerate your admissions process."
Still, their T-shirts emblazoned with "Maguire University: Final Five" are a sought-after status symbol each April. Female fans have been known to disrobe in public for the free T-shirt, not that it's required.
And the Maguire University Hospitality Suite is a legendary meeting place for coaches, scouts, journalists and Final Four fans in the know -- all those who have applied for admission.
"Put your money on the bar. If you can pay enough, we can accelerate your admissions process," says the current chancellor, Art Duffy.
This particular brand of March Madness started at Maguire's, a bar favored by local high school and college coaches in the Chicago suburb of Forest Park back in the early '60s. It started out as a simple prank: Hey, we ought to call ourselves a University and try to finagle our way into Final Four tickets. And it snowballed from there.
Eventually, the Maguire "administration" created bogus North and South Campuses. Hired fictitious coaches. Even recruited made-up players. The hoax managed to hoodwink just about everyone at the NCAA -- to the point that it was allotting Final Four tickets and guaranteeing hotel rooms to Maguire University "students" and "alumni" each year.
Until 1974, Maguire University annually sent a happy, if slightly sauced, contingent to the Final Four. On paper, they were a small university in the Independent Conference that played its games in "Lawless Fieldhouse."
Cheerin' with the Crazies
SAN ANTONIO -- What's it like to sit with Duke's Cameron Crazies at the Final Four? Well, for openers, you don't sit. You stand. The craziness is infectious and seems to have no boundaries. Doesn't matter how old you are. Kids with their faces and their bodies painted mingle with old ladies wearing blue horns.

The Crazy Towel Guy is there, too, handing out business cards that read: Crazy Towel Guy. And there's even a middle-aged man with his hair gelled into blue horns sitting with The Really Big Donors.

At the Big Dance, the Crazies were at their best. You cheer until your voice gives out, and then you cheer some more. Imagine it's your first visit to the most vigorously impossible step-aerobics class on the planet, and you don't know any of the moves. But you've got to keep up or look like a complete moron.

And ... oh yes, there is a basketball game going on at the exact same time. You have to make sure to time your hopping so you don't miss the key play. Exhausting. Completely exhilarating, but totally exhausting.

Next time, I'm absolutely going into training first.

-- Alysse Minkoff
Maguire University sent out its scores over wire services. Nominated All-America candidates. Applied to have its band perform in parades around the country. John Maguire, the bar's owner, was listed as the sports information director. Mel Connolly, university president, was a truck driver. A policeman named Sal, a bar regular with an unknown last name, was listed as football coach Sal De Copper.
Eventually, the school got itself listed in the 1972 NCAA directory, the Blue Book. You can't get any more official than that. Maguire University had come of age.
Coaches from other schools occasionally called to try to schedule games. They were told that the best time to reach Maguire's coaching staff was after 11 on Friday and Saturday nights.
"They wondered what kind of program we were running," Duffy laughs. "We listed our win-loss record at 15-10 to try to stay under the radar."
Sadly, a Sports Illustrated article blew Maguire's cover in 1974, and the NCAA printed a retraction in the directory. More importantly, Maguire University became University Non Grata at the Final Four. Its block of tickets (around 100) was rescinded. So were the hotel rooms.
Happily, this didn't deter the Maguire faithful.
"Listen, this is all about fun, and we think the NCAA takes itself too seriously," says 'Bill'. "Return our ticket privileges!"
NCAA-allotted tickets or not, Maguire University's unbeaten streak of 42 Final Fours continues to this day.
"Our enrollment is about 4,000 over the years, if your count the alumni," 'Bill' says proudly. And Maguire Central can still be found -- now at a new location: Kelly's Bar in Lincoln Park.
"You have to have your liver checked to qualify for admission," says bar owner and head trainer John Kelly. "Alcohol consumption is a core course. We have a sworn responsibility to distilleries and breweries to keep those people working."
It isn't easy to make the team. Don't count on being a walk-on in this program.
"First of all, you've got to make the scrimmages at Kelly's," says Kelly, who gives private tutoring when necessary. "And you have to be fairly proficient at mixology. Then you move on to brewery. Then distillery."
Says his wife, Polly: "I can't remember how many Final Fours I've been to. And that's a bad thing."
The University is a family affair. Fathers and sons. And daughters. No one is a stranger for long.
Lawyer Ernie Di Benedetto is the dean of Maguire's law school.
"We don't want people who pass the bar exam. We want everyone who can't pass a bar when they see one," he laughs.
Di Benedetto also negotiates the school's contracts. And occasionally, he's there to bail out a wayward student or recruit.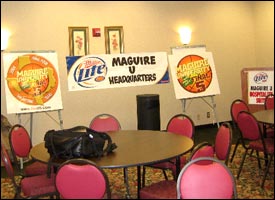 Maguire University has its own hospitality suite at the Final Four.
In San Antonio, Chancellor Duffy is on a mission.
"We want to graduate more than two percent of our basketball class," he says, setting the ... umm, bar high.
"This year, we're going to try to see that 50 percent graduate. Then when we're eligible for an invitation to the Big Dance, that will make us better than 21 out of the other 65 schools right off the bat."
John Kelly adds, "We believe that the percentage of students that you graduate should be your starting score in the Final Four."
What a good idea. Memo to the NCAA!
Maguire University's tests are not easy to pass.
"Most colleges use a blue book," says Kelly. "We use a 100-square poster. The challenge is to pick the proper square. That's a tough exam. Not many people pass that test, and we don't grade it on a curve."
They've even tackled the controversial topic of recruiting violations.
"We issue you the shorts and the wet T-shirt," winks 'Bill'. "And we've cracked down on our recruiting to make sure that nobody goes afoul and no recruits are brought to disreputable places. We take female recruits to the Sugar Shack, where they have male strippers."
Very hospitable. And very popular.
Like every program in the country, Maguire University is all about excellence. And winning.
"We're better conditioned than our opponents. We don't ever call time-outs. We just keep bending the elbow and we keep going," says 'Bill'.
"And no fouls. Our games usually last 12 hours," adds Kelly.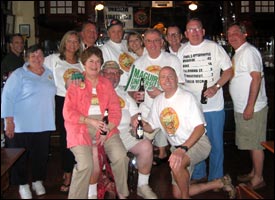 Members of the student body of Maguire University, enjoying themselves as usual.
Television has helped the Maguire program. Chancellor Duffy is thrilled.
"They want their games later, and that helps us," he says. "The later the better. We really kick into our A-game late at night. It helps that all of our practices and scrimmages are at night."
"You can't just come in as a rookie and expect to start at Maguire University," cautions Kelly. "I've been in the bar business for 45 years; and as one of our trainers, I speak from experience."
Adds 'Bill': "I know all about the Pyramid of Success. We started out on top, and there's nowhere to go but up. It's all about Commitment. Forty-two years: We're the Viagra of basketball teams. We just keep going and going and going."
Kelly says there are no fundamentals in the program. "Only survivors. We can go non-stop. Nobody can keep up with us. They can try and they can put forth a good effort, but it just doesn't happen. We play hard and we play hurt. That's where we leave people in the dust."
And in the empties. Some very vocal alumni kick in for the 70 odd cases of beer the Maguire group consumes in its suite during each Final Four.
"We haven't been beaten yet," Duffy says. "Who else can say that they are 42-0 in the Final Four?
Maguire University sophomore Alysse Minkoff has written for ESPN 360, Ladies Home Journal and Cigar Aficionado and can be reached at AGirlReporter@aol.com.