By Brian Murphy
Special to Page 2
Had the privilege of watching Tom Brady play at the AT&T Pebble Beach National Pro-Am this week, and now I can say I know what it was like to see the Maharishi in full flower. You, of course, remember Woody Allen in "Annie Hall" being told by the Shelley Duvall character that the Maharishi "is God ... millions of people would crawl just to touch the hem of his garment." To which, of course, the Woodman replied: "Really ... it must be a tremendous hem."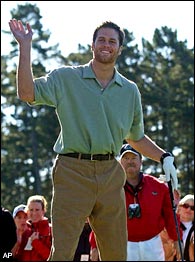 Tom Brady, a fan favorite on the links at Pebble Beach.
Tom Brady has a tremendous hem.
What's the best real-world analogy for this idol-worshipping scene that played out?
Jagger on world tour in '75?
Patton in Sicily in '43?
Jerry Lewis in Paris after a matinee of "The Nutty Professor?"
Whatever "it" is, this Brady kid's got "it."
And I don't mean a communicable disease.
Four days after winning his second Super Bowl MVP, he posted for a tee time at Poppy Hills Golf Course, possessing only a light scruff of a beard and the ability to make grown women swoon. The only thing to prevent them from tossing panties to Brady, as if at a Tom Jones concert, was the little known AT&T rule: Two-stroke penalty for panties in the fairway.
Anyway, it got me to thinking: This whole athlete/celebrity on the golf course thing works pretty damn well.
Bill Murray tosses an old lady into a bunker?
He does that on the street, and he's arrested for felonious assault.
He does it at Pebble Beach, and he's a legend.
There's something about seeing an actor, a comedian or an athlete on the links that makes you think many thoughts: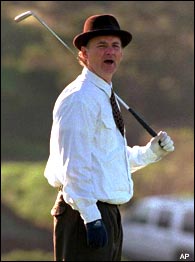 Bill Murray -- one of the most entertaining people in the world on a golf course.
How nice to see him interacting with galleries.
How considerate to see him signing autographs.
How utterly and completely satisfying to see that privileged millionaire shank a golf ball into the Pacific Ocean.
You almost want to take a long pull off your lager and shout: Hey, buck-o! You got a clause in your contract that says you get a bonus for shanks?
What we need is more of this stuff. Emmitt Smith, Lynn Swann, Harris Barton, Bob Griese -- yeah, that's great and all.
But we need more. Here are five candidates, along with golf-ready bios, who should submit their applications for next year's tourney:
PETE ROSE
Handicap: The ponies.
Probable Golf Attire: Pin-striped suit topped by always-tasteful ball cap that reads "Hit King."
Suggested Pro Partner: Phil Mickelson, for obvious reasons.
The skinny: Instead of a yardage book, Rose's caddie would carry that day's race sheet. "You need yardage to the pin, Pete?" "No, I need Lucky Boy in the third at Santa Anita." After the round, Rose would eschew working the ropes and instead set up a card table to sign autographs. The Rose Special: For $99.99, you get his Pebble Beach scorecard on one side, and his 1987 NL West parlay sheet on the other.
MIKE TYSON
Handicap: No handicap. Eats the scorecard instead of posting it.
Probable Golf Attire: Mink coat, ferried around in Rolls Royce golf cart.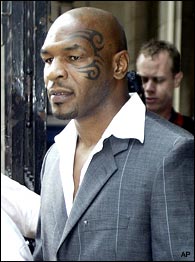 That tattoo might scare some women and children in the gallery.
Suggested Pro Partner: Davis Love III, to study the duality of man in one twosome.
The skinny: Tyson would be a one-year attendee only, DQ'ed after punching out Love for missing a birdie putt on the first hole. When offered a turkey sandwich at the turn by a friendly cart girl, Tyson frightens the lass by asking if she has any Ear Hoagies in her stock.
TERRELL OWENS
Handicap: Listed as "81," because any time a marshal asks him, he responds only with his uni number.
Probable Golf Attire: Skin-tight white Lycra, as if a dancer in an Alvin Ailey troupe.
Suggested Pro Partner: Jesper Parnevik, as CBS hopes for ratings spike when Owens throws fit of pique on first tee, jealous of Parnevik's peach slacks.
The skinny: Owens would slow down play considerably, pausing for elaborate on-the-green celebrations whenever he or Parnevik holes a putt. Trouble brews with scorekeepers when Owens whips out a Sharpee from his sock to sign the scorecard after a birdie putt on 1 -- and is DQ'ed for signing an incomplete scorecard.
PAUL TAGLIABUE
Handicap: 18. Is the only sports-related celebrity geeky enough to post his actual index.
Probable Golf Attire: Khaki slacks, grey polo shirt, corporate logo on right sleeve, left sleeve, left breast, right breast and appendix.
Suggested Pro Partner: Tiger Woods, the better to compare respective ways to make oceans of dough in a bloodless and passionless manner.
The skinny: Tagliabue would follow the rules, bore the bejeesus out of the galleries -- and fine anyone in his group if offered a fist-bump after a birdie putt. After all, no celebrations are tolerated.
ROGER CLEMENS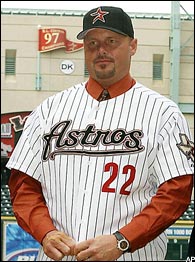 Roger might want to avoid playing golf in the Big Apple anytime soon.
Handicap: Like his uniform number, it depends on the city: Boston, Toronto, New York or Houston.
Probable Golf Attire: Depends on the location of the tourney -- Red Sox cap, Blue Jays cap, Yankees cap or Astros cap.
Suggested Pro Partner: In Boston, Brad Faxon. In Toronto, Mike Weir. In New York, could be anybody. In Houston, Fred Couples.
The skinny: Clemens would earn wrath of fellow players by aiming tee shots at them on the practice range -- only to claim they couldn't aim back because of driving-range rules. Irks tournament organizers by promising this is his final year, ordering up a massive retirement press conference, then submitting application for next year's tournament with a fax that reads: "Can my suite have colder ice cubes next year, please?"
The list could go on. LeBron James, the first golfer with a Bjorn Borg-styled headband? Bud Selig, begging to play in Tagliabue's foursome? Brett Favre, sure to be paired with Bill Murray in what would immediately become America's Favorite Twosome?
Now I gotta run. Tom Brady's Lexus SUV just pulled up behind the 18th green and we have to get the trenchcoat over his head and usher him to safety.
Brian Murphy of the San Francisco Chronicle writes every Monday for Page 2.