By Brian Murphy
Special to Page 2
All of you not privileged enough to spend a March weekend in the Golden State, all of you snowed under or pounded by gnarliness -- and I saw the headline on weather.com, "Slushy snowstorm targets New York City" -- do not know or understand the bounce in my stride right now.
As an aside, it's damn hard to type with a bounce in your stride.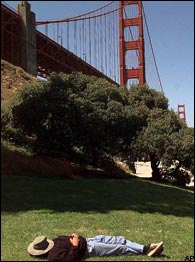 Watch and weep New York City!
You hit the wrong keys and stuff.
Anyway, it was one of those pre-spring weekends in Northern California that, combined with the dulcet radio tones of Giants announcer Jon Miller broadcasting live from Scottsdale, Ariz., made you realize this world isn't the heinous, unforgiving, sucky place you sometimes think it is.
It was a weekend so good, I even feel like propping the auld Cooler for this particular Monday.
Of course, I don't do this without prompting. My buddy Willy Mack told me this weekend he ran into a random acquaintance in an S.F. tavern who gave him the good word to give to me, and I quote: "Bring back The Cooler."
Once I discerned that the message was not code for scoring a sack of weed on Haight Street, I took strength from it.
This message was encouraging, as most communication passed on to me goes something like: "MURPHY, YOU SUCK." Or, "MURPHY, YOU'RE A FRIGGIN' IDIOT."
The pick-me-up from the tavern-dweller helped, so let's gather 'round The Cooler and ponder a Weekend List of Five that carries with it the faint whiff of optimism, of NCAA tourney hoops 'round the corner, of baseball gaining on us in the rear-view mirror, and of a days-away approach to the International Drinking Holiday, St. Patrick's Day.
Forthwith:
1. Woke Up This Morning ...
"The Sopranos" is back!
How long has it been since a fresh episode of HBO's signature drama ran?
I think the last time we saw Tony, Carmela and the crew, Saddam Hussein was still living in the lap of luxury, firing rifles at television sets, Elvis-style, and ordering up for breakfast his standard fare of Eggs Benedict, mimosas and Baghdad's finest hookers.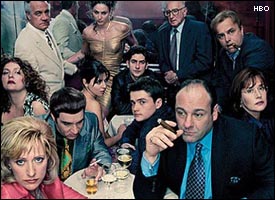 Sunshine in the morning, Sopranos at night.
I barely recognized Tony, it's been so long. I thought it was an episode from "HBO Classic", so long-lost has been America's favorite Mob famiglia.
Happy to report that all is sailing along beautifully on the best-acted show in American TV history. The appearance of Robert Loggia is nothing less than sheer genius, as evidenced by his perceptive comment on Girl Scouts in his opening scene. Loggia! I always see him as Richard Gere's father in "An Officer and a Gentleman," escorting Manila's finest hookers around in the flashback scenes, then showing up for the classic morning toilet run when Gere decides to join the Navy. Loggia -- an underappreciated character actor, really.
Paulie and Christopher continue to do their Martin-Lewis act, only with homicides.
And the imminent appearance of Steve Buscemi as a regular is almost too good to be true. How good is your show when you kill off Joe Pantalonio -- only to replace him with Buscemi?
Gandolfini, Van Zandt, Imperioli, Chianese -- hell, I'll even throw in Bracco and Falco, on the distaff side.
I haven't seen an ensemble cast that strong since "Glengarry Glen Ross."
Then again, I haven't seen that many Italians since my Nonni's 90th birthday.
How come I get half-Italian blood, and none of it is Mob-related? Why do I get the hard-working farmers from Liguria in my genealogy?
I especially think these thoughts when I'm hard up for a loan.
2. T.O.: Too Obnoxious
I heard somebody recently say that the phrase "jump the shark" has jumped the shark.
If that's the case, Terrell Owens has not only jumped the shark's shark, he's jumped the jump of the shark's shark.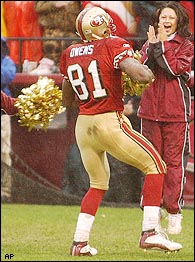 T.O. stars in "Bring It On II," coming to theatres this summer.
Owens' act is pure clowndom, at this point.
Let's review: His agent fails to file paperwork. This causes a loss of free agent status. The 49ers trade him to Baltimore.
Now, let's review in T.O.'s eyes: The league hoses his agent. The Niners deceive his agent. In a final conspiracy move, he is traded to Baltimore.
At The Cooler, the math is pretty simple: His agent sucks.
I ask you this: If you're T.O., why are you not filing free agency paperwork the day after your contract expires? Why is the fax machine in Terry Donahue's office not humming at 8 a.m. the day after your contract expires?
I also ask you this: Following up on our "Glengarry Glen Ross" theme, what would Alec Baldwin's character in the film have to say to T.O.'s agent?
T.O.'s agent goes for cup of coffee.
Baldwin as "Blake": Put that coffee DOWN! Coffee is for agents who file paperwork on time.
T.O.'s agent:The information from the league was weak.
Baldwin as "Blake": The f---- information was weak? YOU'RE weak ... you can't file paperwork on time, you can't close s---, you ARE s---, hit the BRICKS, pal!
T.O.'s agent: You're such a hero, you're so rich. Why are you coming down here to waste your time on a bunch of bums?
Baldwin as "Blake": To answer your question, pal: Why am I here? I came here because Mitch and Murray asked me to, they asked me for a favor. I said, the real favor, follow my advice and fire your f---- a-- because a loser is a loser.
God, how good could life be if those things really happened?
3. How the Mighty Hath Fallen
So, Stanford won't go undefeated this year after losing to Washington.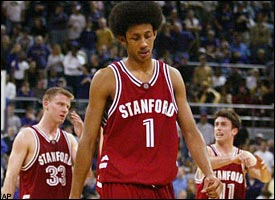 Josh Childress' face and jersey number say it all.
Were I a Stanford fan -- and sorry, I can't go for the Engineering Major in a "Sixth Man" tee -- I wouldn't sweat it.
It's hard to go undefeated.
Who goes undefeated?
The John Wooden UCLA Bruins did, but that's because they were the most talented and brilliantly coached team in the history of organized sports (my alumnus viewpoint); or because Sam Gilbert provided envelopes stuffed with cash and Cadillac Eldorados to recruits (the rest of the world's viewpoint).
The Don Shula Miami Dolphins did.
Who else in the history of the world?
Well, you could argue that the Beatles pulled off an undefeated musical career, breaking up before they turned inevitably bad.
I'd say the BBC comedy "The Office", in 12 pure episodes, went undefeated.
I'd also say "The Godfather" saga was undefeated through "The Godfather" and "The Godfather, Part II."
Then, "The Godfather, Part III" came along.
If I'm a Stanford fan, I think of the Washington game as "The Godfather, Part III."
4. Craig Parry: Pure Athlete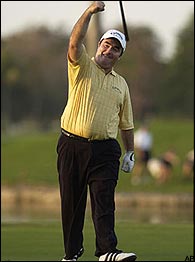 Craig Parry showing off his guns while doing the Tiger fist-pump.
Rare that a non-major golf tournament leads a "SportsCenter" broadcast, but it's also rare that a guy 99 percent of America has never heard of holes out from the fairway for eagle in a sudden-death playoff to win.
That it was Aussie Craig Parry added to the amusement of it all.
My PGA Tour media guide lists Parry at 5-foot-6, 175 pounds. Though I know many pals who have headed home from taverns around 1:55 a.m. with women who feature the same measurements, I have to think Parry gave his high school-graduation weight in the Tour media guide.
In the Era of Tiger, where his American Express advertisement shows off guns worthy of an NFL defensive back, it's good to know a guy whose idea of a seven-course meal is a 6-pack of Foster's and an Outback steak can still triumph on Tour.
5. Grapefruit League Mania
It's Rocky vs. Apollo.
It's Athens vs. Sparta.
It's Ben Affleck vs. The Box Office.
It's one of the great rivalries of our time.
And it's awesome for baseball.
As silly as it looks to the rest of us who root for one of the 28 other teams in baseball, this Yanks-Sox thing is tremendous for the game, and serves to only hugely fire up those of us who have a Horsehide Jones, highlighted by their inaugural meeting this weekend -- big news on March 7!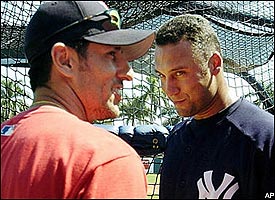 Derek Jeter practicing telepathy with Nomar.
In two weeks, I will be in Scottsdale, Ariz. with my boys, on our 10th annual springtime trek to the desert for Ball and Beer, and the Sox-Yanks thing will, undeniably, be part of what gooses us all the more.
Pokey Reese called it "the best rivalry in sports," and who's to argue?
What compares right now? Not much. I don't see the Associated Press writing 900-word dispatches on Lakers-Kings pre-season tilts, or on Patriots-Colts August clashes. But the wire service did this weekend from Fort Myers, Fla.
Isn't it beautiful?
And won't all of us outside of the New York-Boston corridor be utterly, heinously, brutally sick of it all by June?
Yep. That's the beauty of it.
But in March? Everything -- everything! (excepting a slushy snowstorm) -- looks great.
Brian Murphy of the San Francisco Chronicle writes every Monday for Page 2.