By Brian Murphy
Special to Page 2
How great is Selection Sunday?
Already, two heavyweights are eyeing a potential showdown, rife with all the potent implications.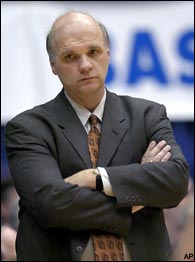 Don't like Billy Packer? More reason to root for Phil's Hawks.
Already, two giants are on a collision course, sure to create unforgettable pyrotechnics and March Madness memories for a lifetime.
Yeah, that Phil Martelli-Billy Packer face-to-face will be a doozy, man.
That's how great Selection Sunday is. The thing was 25 minutes old, and already Martelli and Packer were going Rocky-Apollo, only via satellite hookup.
Packer showed some amazing stones, ripping the status of St. Joseph's as a No. 1 seed.
Who would dare take on anything from Philly? Me, I leave Philly alone. I tiptoe through that town, and make sure to buy a cheese steak for every Vito I see. That's why Philly and I get along. After all, the Murphys left County Cork 110 years ago and headed straight for Philly. Great-grandpa Murph knew what he was doing. The smell of Pat's Cheese Steaks wafted over the Atlantic, and proved too great a lure. The only thing preventing Great-Grandpa Murph from being Old School Philly is that he came from Ireland sans mullet.
I fear when Packer has to broadcast a game from Philly in the near future. After he savaged St. Joe's, I think the word was out that Packer is no longer welcome. I fear that Jim Nantz will show up in the hotel lobby the night before the broadcast, waiting for Packer to meet him for dinner. When Packer no-shows, I fear Nantz asking a bellhop who looks alarmingly like Clemenza from "The Godfather" if he's seen Packer.
I fear the Clemenza Bellhop guy answering: "Packer? Oh, you won't see him no more."
That was some dust-up. Martelli was juiced. He wanted to go bare-knuckles. All I know is, St. Joe's better advance past Texas Tech or NC-Charlotte in the second round, or that Flappin' Hawk won't look so cute.
Sudden thought: Does the Flappin' Hawk have it in him to flap his arms all the way to April 5? Guy's been through 28 tilts already -- does he have the gas in the tank to make it through six more clashes? It will be a riveting sidebar if St. Joe's advances deep. The Hawk may start looking like Richard Gere in "An Officer and a Gentleman," when Gere couldn't hold the leg lifts under the intense staredown from Lou Gossett, Jr.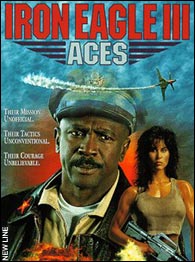 Even Lou looks unsure as to why he's made this many sequels.
(Another sudden thought: Why didn't Lou Gossett, Jr.'s career lift us up where we belonged? I love the guy, but he may have the worst post-Oscar dossier of anybody not named Marisa Tomei. I checked imdb.com, and he had 64 TV or movie credits since "Officer" -- not one of 'em worth a damn. Don't believe me, Gossett fan? The guy made four installments of "Iron Eagle"!)
That's how great Selection Sunday is: You start with Martelli and Packer, you wind up with Gossett in "Iron Eagle IV."
We move on, then, to our Five Favorite Things From Selection Sunday.
(Not including, by the way, the new bracket nomenclature which I've decided, after much deep thought and introspection, sucks. If I'm Stanford, I want to say "I'm top seed in the West"; a much more majestic sentence than "I'm top seed in the Phoenix Bracket," which sounds like chatter from the Scottsdale Country Club's member-guest.)
Back to our Favorite Five (which, by the way, does include the University of Pacific as a 12-seed, as my buddy Roberts is a proud Tiger, and will be imbibing with yours truly in a matter of days for the annual Cactus League jaunt, just a rock-solid lock for a good time):
1. The Live, Remote Team Shot Waiting for the Bid
OK, you're a School on the Bubble and you get wind that CBS wants to send some cameras to your locker room for the Sunday afternoon telecast. You've got to be thinking: Yes, baby, we're in! Why else would they want to send cameras -- to zoom in for the close-up when our team manager sheds a lone tear at our exclusion?
That's why so many teams looked happy with the live remote, which produced all sorts of comedy on Sunday.
Couldn't Manhattan, whose Jaspers are an immediate, trendy pick for an upset win, have gotten a bigger room? Looked like coach Bobby Gonzalez phoned the AD and said: "CBS wants a shot of us, can we hook something up?" To which the AD replied: "Uh, yeah. It's a Sunday. I think the janitor's closet is wide open. All yours, B." Come on!
Gonzaga was shown in what looked to be a private home, with most of the players shoeless. How about that for an indignity? Booster says: "Yeah, come on over for Selection Sunday. We'll have food, I'll have some "Friends of the Program" over, and there'll be plenty of Dead President Handshakes. Thing is, my wife's kind of a stickler about our new rug. You guys mind leaving your shoes outside?" Yo! Can't a 2 seed wear shoes inside a house?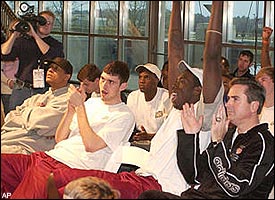 Somebody tell Mississippi State it's called the Big Dance.
Next year, we need to spice up those Live Remotes. We need trash talk. Give some of the schools a tip about who they'll be playing, and let's see some instant woofing. I want to see Seton Hall's live remote with kids holding giant handmade signs that read, "ARIZONA SUCKS" and "WE'RE COMING FOR YOU, LUTE." Push the envelope!
Of course, Utah State had a live camera on 'em -- only to get denied a bid. So I ask: Where was the no-bid riot? That's the next step in Selection Sunday. Teams get denied a bid, then go postal. I want to see chairs thrown against walls, impromptu burnings of brackets and chants of: "WE ONLY HAVE PITY/FOR THE FOOLS ON THE SELECTION COMMITTEE!"
2. Rose Bowl Conferences Stiffed
NCAA riddle: What do you get when you combine the number of Pac-10 and Big Ten schools in the tournament?
NCAA riddle answer: The total of schools from the Conference USA who made the tournament.
As a proud Pac-10'er, I can humbly report this is a dark day for the West Coast. The Pac-10 calls itself "Conference of Champions," but I guess it won't look so good when a closer look reveals the champions to be in volleyball, water polo and deep-tissue suntans.
And to think, the Pac-10's third team, Washington, got in on the equivalent of a buzzer-beater, a late-season run.
Ouch! This is the conference of Walton, Alcindor, Goodrich and O'Bannon. (That's right. You're reading from a Bruin bully pulpit. Such is the price of free reading on the Internet.)
Now, the Pac-10 is getting smoked by Conference USA, which is like CBS or NBC getting smoked in the ratings by the WB or UPN.
3. That Guy From Vermont
Holy mother of Teen Wolf, did you see that dude from Vermont in the America East title game?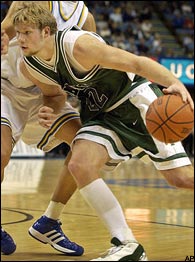 He's got game and a nice name.
I'd never heard of him before Saturday.
Now, I know: This guy might be The Greatest Player in the History of the Game.
Or, on another train of thought, he could be considered a pretty good player.
What a look: 6-foot-9, lily-white, blonde facial hair, built like a brick house -- and 43 big ones in the title game win over Maine.
And the name: Taylor Coppenrath. I need to steal that name for a character in my first screenplay.
This guy is like the Paul Bunyan of New England hoops. If Howard Dean had won the Democratic nomination, he'd have had no choice but to pick Coppenrath as his running mate.
"DEAN/COPPENRATH: HEALTH CARE FOR EVERYONE; PLUS, 25 AND 8 A GAME."
What a shame the Catamounts play UConn in the first round. I'd love to see Coppenrath make one of those Bryce Drew-type runs into our national consciousness.
Then again, who knows? This guy might force Emeka Okafor to retire.
By the way, Phish sang the national anthem before the Vermont-Maine game. Tip-off was delayed 15 minutes while officials from the Health Department de-loused the arena.
4. No. 11 and 12 Seeds
Your team is a 5 or a 6 seed. Your team won 20 to 23 games, your team is from a major conference, your team is favored in its opener.
And you can't catch a decent night's sleep between now and tip-off.
You know why. Because your team is facing the heinous, dreaded, awful matchup -- the 11 or 12 seed.
The 11 or 12 seed team likely won 24 or more games. The 11 or 12 seed is from a mid-major conference, can absolutely hang with your team and, by the way, does not fear your team at all.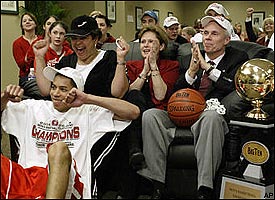 Thanks to that Big Ten trophy, Wisconsin gets the unlucky No. 6 seed.
Who wants to play Manhattan? I know Florida doesn't.
Who wants to play Murray State? I know Illinois doesn't.
Who wants to play Richmond? I know Wisconsin doesn't.
Who wants to play Western Michigan? I know Vanderbilt doesn't.
The 11/12 seed is the new guy at work who does everything you do -- but better, and cheaper.
Pity the 5 and 6 seeds. They look at the brackets the way Martha Stewart looks at a jury.
5. Phil Martelli
That's right, we're back with Martelli.
This guy is the 21st-century Jim Valvano, only without a recruiting pipeline.
Who out there is rooting against St. Joe's?
Perhaps never in NCAA history has a No. 1 seed been so dissed, likely because the word "dissed" didn't enter popular lexicon until the late '80s.
St. Joe's is the 1 seed with an underdog's look. Martelli is just the man to lead 'em to the promised land -- dishing out one-liners like Jameer Nelson hands out assists.
And, he's already P.O.'ed.
You gotta love a guy who puts the "Mad" into "March Madness."
Brian Murphy of the San Francisco Chronicle writes every Monday for Page 2.
Brian
Murphy
SUNDAY SCHOOLS