By Brian Murphy
Special to Page 2
Happy Cooler Day, everyone.
Is there any other day that brings such intense joy? I mean, besides the day Phoebe Cates agreed to go topless in "Fast Times at Ridgemont High."
Today is Cooler Day.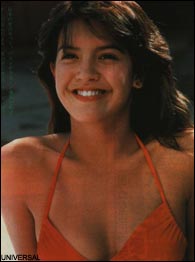 Phoebe Cates trumps Cooler Day.
Why is this day different from all other days?
Because -- it is that perfect confluence in our sports galaxy, when our sporting Venus lines up with our sporting Mars, when the constellations align to form perfection ... not unlike the very first time a guy took a video camera to Bourbon Street to film "Girls Gone Wild."
Today the NCAA basketball final will be played. Today is Opening Day of baseball. Today is Monday of Masters week. All wrapped up in one giant, sprawling, Daylight Savings Time-extended extravaganza.
Kids love Cooler Day. The extra hour of daylight means Little League games cannot be called for darkness. Moreover, tonight's extra hour of daylight promises the faint, inevitable whiff of summertime around the corner.
However, I must be honest, I am celebrating this Cooler Day with a bit of a heavy heart. Cooler Day, you see, is not what it once was.
Once upon a time, the NCAA hoops final was guaranteed to occur on the same day the first pitch was thrown in Major League Baseball. Now, since Bud Selig was diagnosed with a case of Tagliabue Imperialist Flu, he has already gone ahead and opened Big League ball last week in Japan.
Baseball is nearly a week old on Cooler Day? Heresy!
To my eyes, it's not Opening Day unless you're gazing out at the seam-ridden turf of Riverfront Stadium in Cincinnati, watching a surefire sign of spring: Johnny Bench throwing out a base-stealer, Chris Sabo roping a double down the line, or Schottzie leaving a big, steaming calling-card behind home plate.
So, appropriately enough in this era, Cooler Day comes with an asterisk today.
Opening Day, now, is Opening Day.* It's not really Opening Day. Hell, the Yanks are already a half-game ahead of the Red Sox!
I find the concept of the Movable Opening Day a sad one. We can't rely on anything these days. The 21st-century is leaving us 20th-century-types behind. I feel like a JFK guy in a G.W. Bush world.
Look at the landscape. The Super Bowl is now in February. The World Series has seen November. The NBA Finals, I believe, now go head-to-head with the NFL exhibition season.
But let's not get too sad. The Cooler is an optimistic place, the Dixie Cup always half-full.
So, today's Cooler Day celebrates the NCAA Finals, the Monday of Masters Week, and Opening Day.* (* = First day game played on American soil in '04.)
And let's face it. This day STILL kicks asterisk over any other day of the year.
On, then, to the Cooler Day List of Five:
1. "A Monday Night in April"
Watching the Final Four on Saturday eve, my 11-year-old nephew said: "The championship game is on Monday night? How lame. That's a terrible night for a final. It should be on a Saturday night."
It won't be a happy Cooler Day unless UConn cuts some nets.
Au contraire, mini-Murph.
In time, Little One, you will grow to appreciate the tradition of the Monday night final. It carries with it a certain prestige, a singularity. No other American championship has remained so obstinately in its place, refusing to yield to modern-day pressures. (Then again, let's be honest. CBS isn't in the Romance Business. They do things for reasons of Dead Presidents, not for the glory of a Monday night in April. Must have something to do with prime time numbers and demographics and "Survivor." Whatever.)
Anyway, I believe I've shared this tale before, but bear with me -- like your favorite Grandpa, or your crazy uncle, you must sit through my repeating of yarns. It was in 1995 that UCLA made the NCAA basketball final. The Bruins were playing Arkansas. I will never forget that feeling, gathering 'round the taverns near the Kingdome in Seattle in the late afternoon of a Monday.
There, I embraced my boy Sully and told him: "We're doing it, man. Our team is playing on a Monday Night in April." I wanted T-shirts made.
Sully, meanwhile, was so juiced, he was killing. At one tavern, UCLA alum Mike Powell showed up. He was four years removed from breaking Bob Beamon's unbreakable long-jump record, and while probably no one in the crowd remembered Powell's leap in Tokyo, Sully did. Sully was feeling it. He stood atop a chair, pointed at Powell.
"Hey!" he shouted. "Hey! Five billion people on the planet ... no one jumps farther than this cat!"
Still one of my alltime favorite lines.
I had Powell sign my ticket stub that night -- and give me the world record jump, in meters, under his name. I still have that stub. And the autograph. And the memory.
All from a Monday Night in April.
Enjoy, UConn and Georgia Tech fans. Enjoy.
2. Opening "Night"
It was tough seeing Red Sox-Orioles Sunday Night Baseball relegated to the Deuce, but Selig reaps what he sows, no?
Even tougher was seeing that pitcher on the mound again. The mere sight of him re-opened painful wounds, still not fully healed from last October. There he was, starting on Opening Night, a symbol of post-season failure, and the snuffing out of an autumn dream.
Yeah, it sure chapped to see Sidney Ponson again.
What, Bostonian, you thought I spoke of Pedro? Please.
I'm the last remaining Grady Little supporter on Earth, and proud of it.
But Ponson! A trade deadline pickup meant to bring the Giants to the Promised Land, Ponson left San Francisco after three months with nothing more than an 0-1 playoff record and a legacy as the "Guy Who Spit Up a Big Game 2 Lead Over Florida and Blew the Chance to Go Up, 2-0 on the Marlins."
Red Sox fans, you think you died with Pedro? You don't know suffering till the Aruban Knight comes to your town and steps on your World Series dream like he's putting out a cigarette butt on a wet sidewalk.
3. The Masters
What's the best thing about covering the Masters?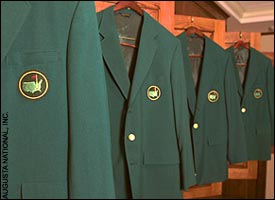 Whose name is on the green jacket this year?
a) Peach Cobbler a la mode in the Members' Grill Room, gazing out at the oak tree by the first tee while you dine.
b) The smell of pine trees in the springtime sunshine.
c) Komplimentary Krispy Kremes in the press tent. Then again, ever since Marth Burk opened some eyes last year, there's a tad bit o' guilt in extolling the Masters. Yeah, the boys at Augusta National craft a fine argument in their defense, but still: If they had a woman member, you'd feel better about the Peach Cobbler a la Mode.
It's just the right thing to do in the year 2004, isn't it?
I feel a little like the goalie in "Slap Shot," who opens the film by talking about trips to the penalty box. "... And you feel shame," he says, in that Eastern Euro accent.
The Masters -- you love it, you revel in it, you realize you're a part of sports history ... and then you feel shame.
4. GGW
You think I brought up "Girls Gone Wild" up top by accident?
No way. It's on my brain.
The flight from SFO to Atlanta was long and I read all of the Sunday New York Times -- including the epic profile of the guy who founded/created the "Girls Gone Wild" videos.
Here was his formula: Film chicks who go nude. Reap the profits.
The guy, according to the N.Y. Times, now owns a private jet and two mansions -- one in Miami, one in Bel-Air, based on sales of "GGW."
Are you kidding me?
It's so out of control, even Larry David plumbed it for comedy in "Curb Your Enthusiasm," when he ordered it and wondered if he and his manager, Jeff, would have "An 'Auto Focus' party" while watching it together.
Does this guy from GGW not take his place among America's Greatest Entrepreneurs Ever?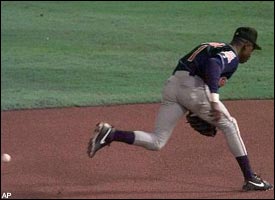 AP
Tony Fernandez did his best to help the Marlins win their first championship.
Henry Ford.
Bill Gates.
The guy who started "Girls Gone Wild."
My buddy T.C. was once watching a video of it and saw, memorably, two girls who slurred to the camera: "What happens in Panama City ... stays in Panama City."
Well, uh, no, sweetie. Actually, what happens in Panama City goes on film, then gets beamed into guys' living rooms all across America. Meanwhile, the guy who founded it lounges in a hammock in Bel-Air.
Be sure to toast that guy on Cooler Day.
5. A Farewell Wish
So, enjoy Cooler Day.
Give your co-worker a Cooler Day card, and the traditional six-pack of canned beer as a gift. (Memo to Hallmark: When are you going to start marketing Cooler Day cards? Get on it.)
Skip work and go to a ballgame. Or, listen on a radio, then head home for some meats on the grill while you watch the NCAA Final, luxuriating in the extra hour of daylight.
After all, it's a Monday Night in April, and it's great to be alive.
Brian Murphy of the San Francisco Chronicle writes every Monday for Page 2.