By Brian Murphy
Special to Page 2
I love the NFL Draft.
In fact, everyone at The Cooler should love the NFL Draft.
Overblown? Overplayed? Overhyped? As Martha Stewart should have said: Guilty on all counts, your honor.
But isn't that the essence of America?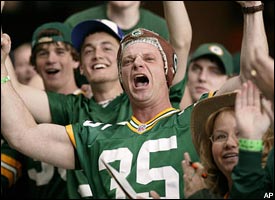 Even Lambeau was leaping on Draft Day.
We are the country that does overblown, overplayed and overhyped better than any other. I dare the British Empire from 1700-1900 to match us in hype, play and blow.
As our fearless leader might say: Bring it on!
We have The Draft Fan.
Are you kidding me? The Draft Fan is what it is all about. Have you ever seen intensity, commitment and dedication like you have from The Draft Fan? And Mel Kiper Jr.'s hair stylist doesn't count.
I never tire of The NFL Draft Fan.
What a passion play these guys bring to our TV sets every spring. It's a beautiful day in April in the Northeast, and Junior from Piscataway has a few choices in front of him: Play golf with work pals? Treat the family to brunch? Go take Mom for a walk by the seashore? Or, put on my Tiki Barber gamer and head to the NFL Draft?
It's a landslide.
What pathos these guys provide! I haven't seen facial reactions like this since the still photos from the Crash of '29. When is the last time you got this worked up about anything?
But when, at 12:14 p.m. EDT, the San Diego Chargers select Eli Manning, you, The NFL Draft Fan, are thrown into an emotional state that approximates a guy watching the Hindenburg's failed landing meshed with that of a gambler burned by a late and meaningless 3-point shot in an NBA playoff game.
I love it. I wish I could bring that sort of passion to my every day life.
Me, to my Wife: You cooked chicken for dinner tonight? NOOOOO! You are KILLING me!!!
Wife, to Me: It's OK. We can trade the chicken to the next door neighbors for their grilled steak, and we'll promise them next year's chicken from April 24, too.
Me, after hearing of deal: WHOOO! Yeah! (begin rhythmic clap) "Get the steak sauce! (clap, clap, clapclapclap) Get the steak sauce!"
What's so beautiful is how The NFL Draft Fan peaks so early. By the time the second round rolls around, these guys are spent. You absolutely cannot fire up for a reaction to the Raiders drafting Virginia Tech center Jake Grove in the second round. What are you going to do?
Start a rhythmic clap: "Grove eats quiche! Grove eats quiche!"
No wonder ESPN showed a guy in a Jets jersey, sound asleep in the second round. Apparently, the caffeine wore off. This guy will have to buy tomorrow's N.Y. Post to read that the Jets drafted a corner named Derrick Strait in the third round. No doubt, upon reading this news, the guy will chant on the subway: "Der-rick Strait! Der-rick Strait!" At which point, the authorities will come in with the stun gun.
As it should be.
On, then, to the Weekend List of Five: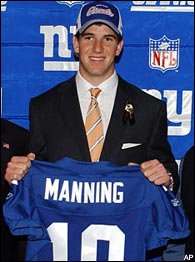 Smile, it might be the last time.
1. Eli
Few American sports families have the pedigree of the Mannings: Class acts, understated, got by on their accomplishments.
Then came this whole Archie-Eli-We Hate San Diego-Thing. And the Mannings took a hit. Big-time. Like Reggie White, in the form of Public Opinion, did a swim move on the Mannings' P.R. guy. Yo, Chez Manning: If you don't want the Chargers to spill the beans on your It's-My-Party-I'll-Cry-If-I-Want-To-Act, then don't pull that act!
Sympathy, Manning Clan, is in short supply.
So, throw young Eli into that situation, into the lion's den that is the NFL Draft in New York City, and the kid didn't stand a chance. The boos, the heckles, the chants -- and those were just directed at his mother!
I loved how he reluctantly came out and held up the Chargers jersey. You'd have thought the thing was made of anthrax. I haven't seen something so staged since Lisa Marie Presley sucked it up and planted a wet one on Michael Jackson.
To me, the Mannings are guilty of myopia in the third degree. Archie seemed to be overreacting to his days spent wasting away in a third-rate New Orleans organization. But times have changed, Papa Manning. Today's watered-down NFL means you're only a few LaDainian Tomlinson 200-yard games away from playoff contention. So, instead of taking a $15 million signing bonus to eat sushi in La Jolla, catch Padres games from the VIP box at Petco and spend training camp hanging with Doug Flutie, Eli wanted the Big Apple, instead.
Just wait till the New York Post sinks its teeth into Eli. Right now, they're featuring him as "AIR ELI" on the day after the draft. Wait till the 0-2 start under Eli's watch. The Post will read: "E-LOSER!"
Meanwhile, the Chargers will start 0-2 and the San Diego Union-Tribune will run a headline that reads: "Del Mar Parents Worry Teenage Girls Are Showing Too Much Midriff At School Dances."
Eli -- be careful what thou dost wish for.
2. 'Diego
Meanwhile, America's Finest City has to be wondering what it is doing wrong. San Diego is sniffing its armpits, thinking: Do we stink that bad?
Ryan Leaf comes to town, proves a total waste of space.
Michael Vick is drafted, then traded out of town.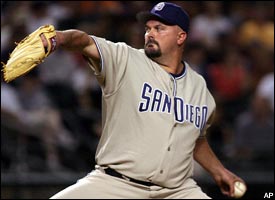 Worst of all, Eli's gonna miss out on drunken nights with Boomer.
Eli Manning? Same thing.
What's it going to take to straighten these guys out? Tony Gwynn under center?
NFL players, take it from The Cooler: I've been to San Diego, dozens of times. It's a tremendous place. It's pretty. It smells good. They play football there, and they pay millions of dollars for you to do so. I'm still waiting for the downside here.
Meanwhile, Brian Giles and Ryan Klesko are heading out to catch the swell in Oceanside.
You're all missing out. That means you, Eli.
3. The Hair
It is the most overhyped, overdiscussed, tired cliché in NFL Draft culture. And I still am entirely in awe of Mel Kiper's hair.
Wait. It's Mel Kiper Junior, of course.
We can only imagine what Mel Kiper Sr.'s hair looks like. I imagine a lustrous mane, not unlike something Siegfried or Roy would be proud of.
Here's the deal in Kiper's hair: We mock. We point. We laugh. And he just keeps clocking in, keeps kicking ass, keeps doling out info. He could be wearing a hairnet for all he cares. From Mel's point of view, he's getting it done. Plain and simple. Like Jamal Lewis out of the backfield, minus the drug charges.
Admittedly, I tuned in, curious to see The Hair, '04. My first glimpse of Kiper proved my suspicions correct: It is four years into the 21st century, but he's still going straight-up Eddie Munster. Got to respect the stability of the product.
I was especially touched when they ran through a 25th anniversary "NFL Draft Moments" highlight reel, showing off Kiper bits from ancient history. There was Kiper, back in the time of Bush the First; there was Kiper, during the Clinton Administration; there was Kiper, in the time of Bush the Second.
All the while, as Warren Zevon once sang, his hair was perfect. Amazing.
This guy is more consistent than Morten Andersen.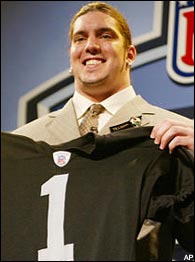 We'd pay to see Gallery and Sapp throw down in practice.
4. Robert Gallery
By the way, I'm scared to death of Robert Gallery. Does this guy look like every bouncer you've ever encountered at every strip club you've ever been to?
The suit. The ponytail. The size. The earring.
I swear, in a past life, this guy roughed me up at Babes in Scottsdale, Az., with the admonition, doled out basso profundo: "Touch the b----es, leave with with stitches."
Perfect Raider.
Welcome to the Nation, Bob.
5. Athens-Sparta, Again
Now, it's getting serious.
Red Sox take 3 of 4 at Fenway. Red Sox sweep at The Stadium. By my count, that's Boston 6, New York 1.
By my count, that's also Red Sox Fans: Laughing Their Asses Off; Yankee Fans: On the Internet, Searching for Cyanide.
Yes, it's April. But it hurts, Yankee fans. Admit it.
Aaron Boone's bomb off Tim Wakefield seems as relevant as the Teapot Dome Scandal about right now. I suppose George Steinbrenner's only next move is the logical one: Fire Mayor Bloomberg. Replace Him With Grady Little.
Meanwhile, expect A-Rod to be flying coach and sharing hotel rooms with the equipment manager until further notice.
Maybe the Bombers will bring in Eli Manning to throw out the first pitch soon. That way, somebody besides a Yankee can get booed at the Stadium!
Brian Murphy of the San Francisco Chronicle writes every Monday for Page 2.