By Brian Murphy
Special to Page 2
Week Two of the Hangover, and I have to come clean.
I was an NFL refugee on Sunday. I did not have the opportunity to ignore all duties, domestic and sanitary, to enjoy my DirecTV Sunday Ticket. I did not even get the Meat Sweats.
(Quick side note: We'll address your responses to the Meat Sweat Issue later in the column. Suffice to say, you sickos know whereof you speak. I'm proud of you.)
I was at the Ryder Cup over the weekend. And, while it was tremendous stuff, it just isn't the same as a day on the couch in front of America's Game, featuring the ritual unbuttoning of the top button on the pants during the early games, followed by the inevitable switch to the sweatpants for the later games.
(Quick side note: Reader Henry Villadiego wrote that Meat Sweats "sound more like something I'd wear during tailgating so I wouldn't be restricted by a belt, or fixed-waist sized pants." I like the way you guys think.)
Anyway, whether you love the Ryder Cup and did some channel-flipping during Week Two or you're disgusted by my breach of pigskin etiquette and think I need to do penance, face Madison Avenue five times daily and pray to the God Who Is Tagliabue, I'm sure we can get past this.
Especially because, as always, we can find common ground. Today, that common ground is the Harrington Clan.
While I watched Padraig Harrington and the rest of the Euros fold, spindle and mutilate the Americans in golf, his second cousin, Joey, was lifting The Hangover's New Favorite Team to a 2-0 start a scant few miles down the road.
Nothing like a little Honolulu Blue to get a guy in a good mood.
(Quick side note: The Hangover's New Favorite Team will change at will, and likely, weekly.)
My affection for the Lions runs back to the days when I covered the 49ers beat full-time and we were provided with conference calls from the opposing team's coach every Wednesday. Wayne Fontes, then the Lions coach, always provided a refreshing mixture of bluster and false promises, which set him apart from, say, Chuck Knox, who could bore the notebook right out of your hand. Anyway, Fontes' job security was on the ropes once; and in a spirited defense of his job status, he bellowed one of my all-time favorite phrases: "Wayne Fontes is alive!"
He had a sort-of Hawaiian accent, making it all the richer. Wayne Fontes is alive!
It's an all-purpose catch phrase. You can use it when you swipe a killer parking space in a crowded mall. Or when you find a golf ball you thought was lost in the rough. Or as you see fit.
So the Lions are 2-0. Not only that, but late Sunday night, word filtered out of Birmingham, Mich., that Joey and Padraig were hanging, large, in the European team room at the Ryder Cup hotel. I have eyewitnesses. Tremendous stuff.
The Harrington Clan: Greatest Sports Day Ever for Second Cousins Who Play Golf and Football?
Name a better duo.
Thought so.
So many more eerie and profound developments to ponder after Week Two. Namely: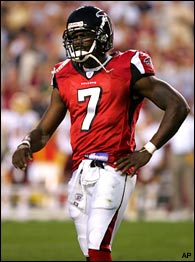 Unleash the fury, Mike. Unleash the fury.
The Free Mike Vick Campaign
It's off and running, mainly because Mike Vick is off and running. Looks like our civil disobedience has worked. I want to personally thank those of you who attended the Sit-In. But let us all understand that our work is not done. Mike Vick's talents may be constricted as soon as Week Three, so we need to be vigilant about our Free Mike Vick campaign.
As for Sunday? On the ground, 109 yards, all of 'em artful. I have lobbied for years now to make the Atlanta Falcons playbook as thick as a Beijing phonebook -- only each of those countless pages should have the same words printed on it: "QB Draw." I guarantee the Falcons will go deep in the playoffs if this is the case.
Keep the faith, brothers and sisters.
Players We Love, Week Two
Vinny Testaverde.
Brady Smith.
Adam Vinatieri.
Cowboys fans have pummeled me with e-mails touting their man Vinny. Sunday's effort was Vintage Vinny: A gritty win, some big plays and a 3-to-1 interception-to-TD ratio. Godspeed, Cowboy fans.
Falcons DE Brady Smith lived the Lineman's Dream with his end zone-strip job-touchdown on Marc Bulger. Isn't that what they call it? A Lineman's Dream? Hmm. I always thought a Lineman's Dream would also include Rosanna Arquette and a vat of freshly whipped cream.
Vinatieri, you say? He went three-for-three in the Pats' 11-point win at Arizona, and gives us a chance to address the e-mail from Ben in New York City who wonders: Vanderjagt or Vinatieri? Ben can't be serious. In the mere presence of the great Vinatieri in Week One, Vanderjagt was so rattled that he missed a field goal with the game on the line. Of course he did. Vinatieri is a deity, while Vanderjagt merely ponders his Nikes made of clay.
Answering Key Questions
Concerned readers gathered around, with grave tones to their e-mails. The topic: Did a Falcons punter -- likely Chris Mohr -- soil himself in a game last year on national TV? The topic was broached last week in the Hangover, and the coast-to-coast detectives went to work. Reader Jamie Gray says with certainty the game was against the Redskins, making the date in question Sept. 14, 2003. Jamie remembers the topic being discussed on radio the next morning. Hmmm.
But just when the mystery appears solved, reader K-Dog in Florida steps forward as a key witness: "I just wanted to clarify something pointed out in last week's Hangover. The Atlanta punter didn't poop himself. I remember this game (Atlanta vs. Washington) because, coincidentally, I know someone who was on the sidelines that day and actually took a picture of the stain on the player's pants. When he mentioned the pants to either an assistant coach or hometown cameraman, it was pointed out that the player had a hemorrhoid that burst ... I'm not sure if that's better, or worse."
(Add "When he mentioned the pants" to my list of all-time favorite phrases, by the way.)
Mohr punted four times for an average of 46.2 yards yesterday in the Falcons' big win over the Rams, pinning the Rams once inside their own 20. Twice, however, he punted into touchbacks. Perhaps he was rattled by the Hangover's scrutiny of this year-old saga.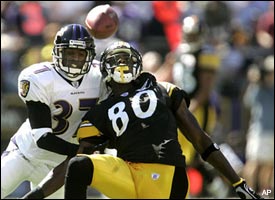 Deion Sanders got a little physical, at least on this play.
The Deion Watch
Two games in, and our man has yet to make a tackle. Outraged Deion supporters have written in to say he gets no tackles because a.) opposing teams stay away from him; and b.) he only plays in the nickel package. To which I say: So? A guy made a tackle from the sideline in the 1954 Cotton Bowl. And he wasn't even in the game at the time. Deion's got no excuse.
His 23-yard punt return was a nice touch, but the panicked helmet removal when his his bandana fell over his eyes seemed a bit much. Only our man Deion can turn a punt return into a simulated piņata smash, all blindfolded. He's a beaut.
Big Al
I'm crushed to report I'm 0-for-2 in the Al Davis Wardrobe/Result Correlation Study. Even had I been home to luxuriate in DirecTV Sunday, the Raiders game would have been blacked out. Which leads to the question: Did Al wear black, in honor of the blackout?
Eagle-eyed reader Phil from Pittsburgh, an usher at Heinz Field, reports that in Week One, Big Al rolled out the white sweatpants and black leather jacket. The Raiders lost, so we'll assume Al didn't reprise the Costanza-esque sweatpants this Sunday in the win over Buffalo. Unless, like Costanza, he's giving up.
Absurd Conclusions
Teams that have started 2-0: Detroit, Atlanta, Seattle, New England, the Jets and Jacksonville.
Teams that have started 0-2: Kansas City, Houston, Miami, Buffalo, San Francisco, Arizona and Tampa Bay.
What to draw?
Reader Robert Cressy of Cincinnati has one: "I would take the Under Armour team over the Cardinals and 49ers."
Settling the Beef Issue
No topic touched your hearts like the issue of Meat Sweats, first introduced last week by Gabe from Philly. Manny, also from Philly, quickly wrote in to say a break-off branch of carnivorous fans with whom he tailgates calls the situation of beef overload/body temperature "Meat Heat" -- which, Manny points out, can lead to "Meat Coma."
Kevin Timkin says the Meat Sweats are "just the natural result of lunch at one of the Brazilian grills. As a warning, however: When you hit the Meat Sweats, topping them off by calling over the guy in the gaucho pants for a skewer of roasted chicken hearts usually results in the 'organ meat sweats,' which is significantly less pleasant." And you thought the Hangover was education-free.
Watch out, however, for the "Melch." Reader Doug McKenna asks: "Have you ever melched? That's when you eat so much meat, combined with some beer, that when you burp, there's a little meat involved."
Scott E. says he and friends have achieved a "meat high", again at a Brazilian joint, where the meat reaches such critical mass that "we all start to laugh and giggle like schoolgirls. We thought we were drunk, but then we realized we were all hopped up on meat."
Elmo's World
Anybody check out Tom Coughlin's sweater vest on Sunday? He looked like ... something. Charlie Brown? A Garanimals ad? Certainly, a stern taskmaster like Coughlin loses all sorts of street cred when he wears the "GIANTS" sweater vest, a look better suited for the team priest. Chewing out a guy while wearing that sweater vest must have all the impact of a particularly stern lecture from a "Sesame Street" cast character. Classic.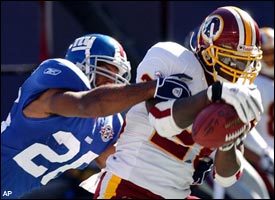 Clinton Portis came down with a bad case of the dropsies on Sunday.
Clinton Portis/Champ Bailey Scales of Justice
After a scintillating Week One battle, Portis and Bailey decided to, essentially, take Week Two off.
Some tussle. The putrid numbers:
Portis: 20 carries, 69 yards, two lost fumbles. Redskins lost.
Bailey: Beaten twice for long balls by Jimmy Smith; dropped a pass on offense. Broncos lost.
Call it a draw. With Bailey's win last week, it's 1-0-1 in favor of Bailey/Denver.
Two Words: Doug Flutie
FlutieMania never dies, it just fades away -- until the Little Guy plays an NFL game in the year 2004.
This fact is nearly beyond comprehension. Everything about Flutie screams 1984: Resume, career highlights and his hair. You look at him and hear Van Halen's "Jump" on MTV, with Martha Quinn as host.
And yet here he is, still playing. It's sort of the NFL equivalent of Abraham Lincoln coming out of a time machine and showing up for the Kerry-Bush debate.
Word was, Drew Brees is hot that Flutie replaced him.
You think? A young stud QB gets benched for a 5-foot-9 guy with a mullet who owns ZZ Top records -- on vinyl. Yeah. I might be a little hot, too.
Never Phorgetting Philly
The Eagles don't play until Monday night; so in lieu of a Birds game to dissect, I offer you my two favorite e-mails from Philadelphia-area readers, again illustrating that Philadelphia should be everybody's favorite American sports city.
Philly E-mail No. 1: "My neighbor is a large Flyers fan, in more ways than one, and he has those flags outside of his house -- the ones his wife thinks are cute, with the flyers on it. Every year, I hear how they're going to be drinking orange Gatorade from the Cup, on a promise from his second cousin who works at Chickey n' Pete's Crab Shack, who knows some guy who works for the Flyers. Anyway, the day after the Flyers lost in the playoffs a few years ago, the flag was down and the very next day -- the VERY NEXT DAY -- there was a Devils flag up. I kid you not. He actually never mentioned a word about it."
-- Reader Whose Name I Lost
Philly E-mail No. 2, in response to a Philly e-mail from reader Paul Manion last week: "I'm from Philly, and I grew up watching the Philly Phanatic in his prime years (particularly in '93 when he was as hot as the team around him), so I know the difference between a guy in a suit and a true mascot. Anyway, in my senior year at Penn, this Paul Mannion guy comes out of nowhere and blows away the three dorks who wore the Quaker uniform the three years before. He had it all: The dance, the effective use of props, and even whipped out some WCW/WWF taunts when the time was right. He could truly convey emotion through that 20-pound, motionless plastic head. Anyway, I thought you should know about your celebrity readers."
-- Michael Malvey, Philly
Alas, Michael. Turns out I spelled Manion's name wrong last week. The Quaker mascot and he are different cats. Tremendous e-mail, though.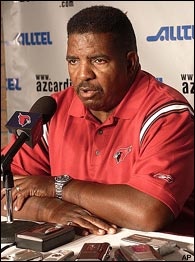 Denny needs to come back to reality a little bit, don't you think?
Quote of the Week
Denny Green, on his 0-2 Cardinals: "System-wise, and style-wise, this is probably the best offense in the NFL."
Wait. System? Style? What on Earth could be missing?
Oh, yeah! Talent.
Never mind, Coach.
Questions of the Week
Donald Mullan asks: "Why is it that Packer Backers turn up at every sporting contest? I can tune into Arizona and Tampa Bay and see some moron wearing a Favre jersey and cheesehead. Have that many people run from Wisconsin?"
Perhaps Mullan is on to something -- the Badger State's deep, dark secret.
Another e-mail queries: "What is the over/under on the number of weeks into the season before tailgating fans make the switch from cold beer to 'fortifying ourselves with Wild Turkey?' Can we get a schedule for different cities?"
Fire away, readers.
Joel Schwarz asks, of Martin Sheen-lookalike Mike Shanahan: "Is Shanahan going to start showing up at peace rallies and getting arrested?"
Meanwhile, Grant Carpenter wonders: "At what point does he try and hire John Spencer as a Coordinator?"
Final Quick Thoughts
Ben Roethlisberger says "I'm not Tommy Maddox, I can't be Tommy Maddox." Insert absurdly easy punch line here ... Somebody drag Leonard Nimoy out of retirement for an "In Search Of" episode for the Miami Dolphins offense ... Jerry Rice didn't catch a pass for the first time since Dec. 1, 1985, or the same day Doug Flutie bought the latest Huey Lewis and the News record en route to having his VCR fixed so he could watch his taped episodes of "Night Court" ... Brad Johnson is getting booed in Tampa Bay, which means he should do what any QB who won a Super Bowl for a city and then got booed should do: Stand at midfield and moon the crowd ... Here at the Hangover, we're already worried about an emotional conflict in Week Three: Philly at Detroit. Who to root for?
When in doubt, go with a Harrington. There's just something about the Irish, you know?
E-mail Brian Murphy at page2murphy@yahoo.com with thoughts, questions and unanswerable philosophical rants..