By Brian Murphy
Special to Page 2
Welcome to the Hangover, all ye winless.
Come Tampa Bay. Come Arizona. Come ye 49ers, ye Chiefs.
And, especially, come ye Miami Dolphins.
(Buffalo, you get a pass. Oh and two just doesn't have the sweet ring of Oh and three.)
We recite, together, the Hangover's Statue of Liberty poem (while wondering why no teams run the Statue of Liberty play anymore):
Give me your tired head coaches, your poor beat writers, your huddled masses of players in their contract year, yearning to breathe free; the wretched refuse of your teeming NFL shores ...
Did Emma Lazarus, who penned the original lines from which The Hangover pilfered the above ditty, bet the under on Steelers-Dolphins? We can only hope.
Chew on this fact, bottom-feeders: Since 1990, only three of 168 teams have started 0-3 and made the playoffs.
Now, I'm no Stephen Hawking; but if my crude math is correct, that's a 0.56-percent chance of playoff glory for our quality quintet.
Following that, if my scratch paper is trusty, you are looking at a 99.44-percent chance that you will not taste postseason nectar.
Which leads me to my all-time new favorite NFL Quote of All-Time.
On last week's "Inside the NFL" on HBO, Bengals WR Chad Johnson was miked for the big Cincinnati-Miami tilt. In one historic moment, Cincy QB Carson Palmer asked Johnson what he thought of Miami's defensive backs, and wondered whom Johnson can beat deep.
Johnson indicated that the answer is a veritable cornucopia of names from the Miami roster. Palmer pushed farther, wondering who his WR could beat.
Quoth Johnson: "Man, they all suck."
A brief review of my previous favorite all-time NFL quotes:
"You think you know, but you just ... don't ... know."
-- Former Saints coach Jim Mora, to reporters who, truly, did not know.
"The man's got b---s. Whether they're brass or paper mache, we'll find out on Sunday."
-- Former 49ers coach George Seifert, after Dallas coach Jimmy Johnson guaranteed victory in the 1993 NFC Championship game.
"This is AC! I have OJ in the car."
-- Origin unknown.
Surely, you all have your favorites, and surely, I'll read them at page2murphy@yahoo.com. But for now, it says here: Chad Johnson's "Man, they all suck" is my All-Time Favorite.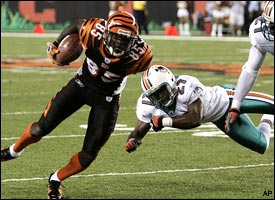 Chad Johnson, king of the one-liners.
Reader Shawn Palmer of Seattle, a Dolphins fan, wrote in with this worry: "Given the powers of the NCAA (Florida State, Miami and Florida) residing in the Sunshine State, two prep teams (Edgewater H.S. in Orlando and Northwestern H.S. in Miami) listed on the USA Today Power 25, and even with the Bucs and Jags at a combined .500; I'm not convinced the Dolphins are one of the top 10 football teams in the entire state. Gives me meat sweats just thinking about it."
Ah, Meat Sweats. We'll get to that later.
If it looked like Armageddon for Miami on Sunday night -- monsoon, dirt infield, wholly depressing loss at home in front of a handful of depraved lunatics -- well, that's because ... you know, it sort of was.
Like Dick Vermeil says: If the shoe fits, wear it.
As for the Other Winless ...
I'd have to believe Kansas City is trying to play through the MLS Curse, and failing.
Have you ever seen a more depressing sight than a manly-man NFL team laying its hearts, tendons, bones and ligaments on the line -- only to be playing on a pitch decorated with Major League Soccer lines?
Oh, the shame.
Granted, Arrowhead Stadium is a phenomenal environment under any circumstances, and perhaps as close as our NFL can come to approximating Old Trafford, or Highbury, or other epic British soccer dens.
But until they 86 the MLS Curse, the Chiefs will remain winless.
It's like the Lakers playing for the NBA Championship on a hardwood decorated by the multi-colored tape that is high school volleyball.
Come on, Chiefs!
Players We Love, Week Three
John Carney, Brandon Stokley, the Seattle Seahawks defense.
As for Carney, I have a love-hate thing going with kickers. Mostly, I love to hate 'em.
I'm usually of the firm belief that kickers are to be ignored, asked to perform only if of dire necessity, and, upon failing, are legitimate candidates for a public stoning. Only a few kickers can break me of that thought process: Adam Vinatieri, Gus the Kicking Mule, and John Carney -- who not only went 5-for-5, but made two 53-yarders, the game-tying kick and the game-winning kick in overtime at St. Louis.
This, from a guy who missed a flippin' PAT last year to cost the Saints a playoff berth! He survived the public stoning, and showed some stones in the process.
As for Stokley, it goes like this: Little 5-foot-11 guy from Louisiana-Lafayette catches eight balls for 110 yards and two TDs in the Peyton-Favre Bowl, otherwise known as the Greatest Shootout since Fouts-Montana in '82. Guy caught three TDs in the playoffs last year. My dream hookup: Mike Vick to Brandon Stokley.
As for the Seahawks defense, well, we're just thanking them for making national news of what all Northern Californians have known for months now: Everything the 49ers have done in the past two years has reeked of the putrid Joe Thomas era of the late 1970s. And now it's official. The 49ers were shut out for the first time since 1977, otherwise known as the heart of the Joe Thomas Era.
Dr. John York, team owner and author of the slogan that has caught like brushfire -- "Just Wait Till 2006, When The Salary Cap Favors Us!" -- has to be pumped about his squad about now.
Yo, Doc York: We could all be dead in 2006.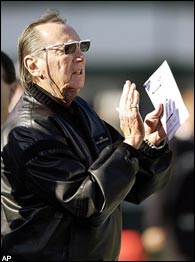 Why doesn't Al just pick up his own dry-cleaning?
Al Davis: Only His Hairdresser Knows
You had to wonder what Al Davis would break out for the big Jonny Gruden Bowl at the Oakland Coliseum. He must have stood in front of his closet on Sunday morning in his silver and black Jockey shorts, hemming and hawing over his outfit options.
White sweatsuit? Black sweatsuit? White leather pants? Black leather pants? Mix and match?
You want to imagine him shouting downstairs to his significant other: "Honey, where did you put the white leather pants?"
Only to hear her shout back: "They're at the dry cleaners. Why don't you wear your black leather pants, sweetie?"
You can see Big Al getting frosted: "I told you I might want to wear the white leather pants!"
To which she might reply: "Hey, if you want to run your errands, then fine with me. In the meantime, the white leather pants are at the dry cleaners. Deal with it. I can only do so much."
Thanks to the detective force we call The Hangover's readers, Emily Howe from Napa wrote in to report that in Week Two, Al went with the black sweatsuit, avec white towel. The Raiders beat Buffalo at home. That makes Al 1-0 in the black sweatsuit, but 0-1 after the White Pants Incident in Pittsburgh.
Emily noted that Al's face was covered in several white band-aids. She wondered what the problem was. I can only hope it wasn't a mishap with the clippers from my man Rocky, the barber I share with Big Al. I haven't seen Rocky since he was set to give Al the pre-Steelers haircut. I'll have to swing by and get the scouting report.
Meanwhile, reader Stephen D. Gaudreau from Newburyport, Mass. wonders: "What did Al Davis wear when he was the Commissioner of the AFL?"
Simple answer, Stephen: Silver and black Nehru Jacket.
As for his Jonny Gruden Bowl outfit: Is my TiVo bad? Do I need LASIK? For the third consecutive week, I failed to get a TV shot of Big Al.
Anybody at the Coliseum see the man? Can we get a witness, please?
Free Mike Vick! We MEAN it!
It turns out that Week Two was a mirage. Mike Vick's born-free romp in last week's win was ground to the fine dust of memory with the straitjacket effort that was Week Three. It's time to start naming names. Greg Knapp, the former 49ers coffee-fetcher who waited it out to become offensive coordinator in testament to Woody Allen's credo that 70 percent of life is "showing up", is responsible for the play-calling for Our Man Mike. With Knapp's insistence that Vick "check off" and "go through his processions," he's firmly slapped the cuffs on Our Man Mike.
Only when Vick burst forth for the 58-yard dash that made the highlight films did we get to see our gazelle roam the savannah.
Free Mike Vick! Free Mike Vick! Free Mike Vick!
You can sign our petition later. We'll be outside your local supermarket.
Deion Watch
Our man No. 37 was inactive with a strained hammy.
Hmmm. A 37-year-old man is out after two weeks with a strained hamstring, after not playing in the NFL for years?
Say it ain't so! Come on! Surely, you jest!
We're not jesting.
And our name's not Shirley.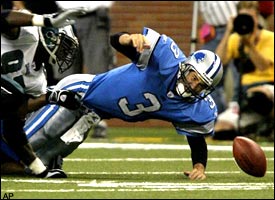 Joey Harrington didn't have too much fun this weekend.
La Famiglia Harrington
Outrage, I'd say, would be the word to describe the dozens and dozens of e-mails I got after stiffing (Action) Dan Harrington in last week's praise of the Harrington Clan's main studs -- Irish golfer Padraig and his second cousin, Lions QB Joey. Perhaps it was the discord fostered by the Hangover that caused Harrington & Co. to come up empty in the big Week Three showdown at Ford Field.
To set the record straight: I have never watched poker on TV. Does that make me out of touch? Does that make me un-American? Does that mean ESPN will dock my paycheck?
Don't answer that last one.
I feel bad for Action Dan. Apparently, after winning a big poker tournament, he called home to Ireland to tell his Mom, only to hear her chirp about how well Padraig was doing on the European Tour. Action Dan is the Jan Brady of the Harrington Family. I hope last week's Hangover diss didn't fuel his sense of inadequacy.
If so, he can always take solace in the travails of another Harrington -- Joey's brother Michael, the QB for the University of Idaho. Reader Brian Brigham from Idaho spoke for Vandal Nation when he moaned the lack of sibling talent, noting Idaho's 0-4 start, made all the more painful by the 48-10 drubbing at the hands of Oregon. Mikey H. threw two picks, and no doubt had to endure four hours of "You can't carry Joey's dirty jock" heckles. Making matters worse is the likelihood that, at one time, he did carry Joey's dirty jock as the servile younger brother doing laundry.
Our Weekly Philly Installment
Never mind that the Birds are 3-0. The Eagles' fortunes seem, to me, wholly independent of how Philadelphians earn the Hangover's respect. Instead, I praise them for their comedy and their passion in the face of a nation's scorn. My favorite Philly e-mails from the past week:
Philly E-mail No. 1: From reader Scott Carroll, who offers a three-chaptered storybook of his town: "1. I am sure you saw it, but did you catch on Monday Night Football this week when the referee was trying to describe why McNabb's only reception of the game was a penalty? Anyway, he starts to stutter over his words; and in unison, the crowd went nuts making fun of the guy trying to spit out his sentence. (Hangover's note: I did see it. The instant burst of noise that erupted at the Linc was pure Philly -- acknowledging immediately the on-air choke job from the zebra. Not a nanosecond of leeway was cut.)
"2. True story, my buddy almost lost his converted Eagle-mobile RV in this one. Last year, an Eagles fan didn't want to have his $40 Hibachi grill stolen while he was in the game. So he hid it under his car ... with smoldering charcoal still it in. Needless to say, we came out after the game to an entire section of vehicles burning where they were left parked. I think all told, six cars were totaled, not to mention the damage to others.
"3. Best one of all. If you get a chance, drive up 95 out of Center City and check out the 'farewell to Smarty Jones' billboard: 'Good Luck Smarty Jones,' it reads. 'Go forth and multiply'."
Philly E-mail No. 2, from reader Amanda Coll, who noted the Monday Night Football commentary offered up by Pennsylvania Gov. Edward Rendell, "despite half the state being under water due to Ivan's wrath, despite the pleas for federal relief for the disaster areas, despite it being 12:30 a.m. on a Monday night/Tuesday morning in a studio two hours away from the state capital, the governor (and former Philly mayor) can be found, as always, after every Eagles game, offering post-game analysis and commentary."
Enjoy it, Amanda. My governor would rather wax himself, oil himself and wear a banana hammock on stage whilst posing.
Philly E-mail No. 3: From Keith in Philly, who had a religious experience born of the Meat Sweats last Monday night "after eating the Tandoori mixed platter at an Indian restaurant. I'm allergic to nuts, and never had Indian food before. However, the mountain of meat was awesome, and came replete with assurances that nothing used to cook it would kill me. Some two hours later at home, I found myself immobile on the couch, my head swimming in a potent stew of coriander, Surround Sound from the Birds game, lots of red wine and a burgeoning paranoia that I was going to die. It was something like a Native American steam-tent ceremony where one drinks hallucinogenic soup and has an out-of-body experience that usually ends with running naked in the snow ... Today, I feel born again."
Couple of notes ...
One, the Smarty Jones billboard is my all-time favorite. Two, if the Eagles make a run at the '72 Dolphins and bid for the Perfect Season, we may see many Birds fans running naked in the snow. Run for your lives, NFL fans!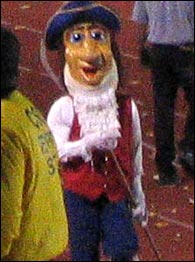 Don't mess with the Quaker, the coolest mascot in all of sports.
Manion's Corner, or, Philly Corner's, Part Deux
So this guy Paul Manion from Philly has turned into The Hangover's mascot.
In Week One, he introduced the hotly-debated topic of whether or not Atlanta punter Chris Mohr soiled himself in a Sept. 14, 2003, game against the Washington Redskins. A week later, a Penn alum, Michael Malvey, wrote in to wonder if the Paul Manion in question -- the Paul Manion who demanded an answer as to the verity of the rumor that an NFL punter had lost control of his bowels -- was the same Paul Manion who dominated (and we mean dominated) as the Penn Quaker mascot in the late 1990s.
Owing to my enormous typographical gaffe, I reported in front of God (the ultimate mascot) and Page 2 readers that the Paul Mannion I referenced could not, in fact, be the same man who made magic with the 20-pound, motionless head on the sidelines of Quaker sporting events, owing to different spellings of the last name.
Turns out I didn't know the half of it.
Manion wrote in, mildly embarrassed that he appeared to be bidding for a Hangover mention three weeks running, but mostly in an effort to set the record straight.
Wrote our man Manion: "I, Paul Manion, from Philadelphia, who asked if Atlanta's punter pooped his pants, was the Penn Quaker in the years 1998-2000, of whom Michael Malvey spoke so highly."
Such a dramatic admission has not been made since Ray Handley had to come clean about his roadside encounter on the Jersey turnpike.
Manion went on: "I don't know (Malvey), which makes the e-mail all the crazier to me."
More Manion factoids: "I got 'Best in Show' at the Universal Cheerleading Assn. Mascot Camp in 1999, beating out the Syracuse Orangeman, the Miami Ibis, the Villanova Wildcat, the UConn Huskie, and other big-time mascots."
He wrote more: "Yes, there is such a thing as Mascot Camp. Before you make fun of me, realize that it's held during Cheerleading Camp, which is basically 600 smoking hot college girls in sports bras and short shorts for four days."
He wasn't done: "Getting that trophy at Mascot Camp is one of my proudest moments. In Philly, a city starved for champions, we take whatever hardware we can get."
Somebody get that man a giant football suit with an ice-pack on its head. Manion can roam The Hangover's sidelines any given Sunday, in my book.
You Ask, We Answer
The question that has gripped an NFL Nation has produced myriad replies.
What, we asked last week, is the over/under on weeks before an NFL fan switches from beer in the tailgate to hard liquor, the better to fortify against the cold?
Nate Miloszewski of Buffalo -- a solid drinking town if there ever was one -- suggests 10 weeks as the over/under mark for western New York. "Historically," Nate writes, "this puts us right in the middle of November. Contrary to everyone's thoughts, Buffalo is not frigid. However, you could get a cold breeze in October that will chill that hand holding that cold beer. Hence, 10 weeks."
Nate adds: "Ever stand in line at a Port-o-John holding a rocks glass full of whiskey? It's a juxtaposition of class that compels people to comment."
Speaking of class, Raider Fan Mark tells us the rules are different in The Nation. He says he thought he was ready to rock with a cooler full of beer at the opener, but was one-upped by the tailgate next to him, where the crew brought a "vat of bathtub gin." It didn't get interesting until Raider Fan Mark noted the lot didn't have any Port-a-Potties. "Fortunately, I guess, when you're a Raider fan, the world is your bathroom."
Put that right up there with "Commitment to Excellence" and "Pride and Poise."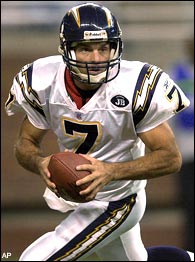 Doug, would you please just go away?
Tom Kolodziej of Memphis points out that it's time to switch to Wild Turkey when one of several laws is in effect -- among them, "4. Doug Flutie is a viable option at QB;" and "6. Your team plays home games in a state that rhymes with 'Arizona.'"
Yes, circumstance can dictate behavior. While some Sun Belt readers crowed that cold beer is always a tonic, even in December, there is the other side of the coin: Pain relief.
"I'm a Dolphins fan," writes Jonathan Levy, "so this year we've all switched to hard liquor for reasons other than the weather."
Ricky Williams/THC Watch
It was the great Peter King who reported on HBO's "Inside the NFL" that Ricky Williams was last heard from on his way to Beijing to see an Alicia Keys concert.
Digest that sentence for a moment.
I'm finding the league woefully shy on drug suspensions of late, and it distresses me greatly. Where's today's Nate Newton? Where's today's Mercury Morris? We keep a silent vigil.
Meanwhile, Ricky may discover the street value of opium agreeable to his newly-lightened wallet in China. Live it up, big man.
Meat Sweats, Part Trois
If you guys want to make this Meat Sweat discussion a season-long gig, I say to you only this: Bring it on.
The latest entries are, as usual, classics. A.J. in Colorado wrote in to say that his pals prefer buffalo wings to beef, and can eat them to the point where a Monday morning produces "The Wingover." Says AJ: "You can say 'I'm WingedOver' or 'I'm Wungover' -- much like a hangover, but with more greasiness."
An Atlanta reader whose name I lost suggests that the proliferation of Brazilian BBQ restaurants in the greater A-Town region could be the cause of the general apathy that greets repeated playoff runs by the Atlanta Braves. It's not that Atlanta isn't a ball town, he said. It's that Atlanta is suffering from a metropolitan-wide case of the Meat Sweats.
Which leads us to an actual e-mail from Brazil, where reader Kevin Male, a former Bills tailgater, says that he's learned the art of being a carnivore in the Southern Hemisphere: "The Brazilians here have their 'futebol' games all at 4 pm. They start grilling at the house about 11, like our football. The thing is, these people will continue eating for the five hours before the game, nonstop. I am talking about wiping out close to 10 kilos of beef in five hours, for 10 guys, maybe. Ten kilos is 22 and a half POUNDS. Not to mention the kilo of salt they pour all over their meat. I don't know why this place doesn't look like Milwaukee with fat guys everywhere."
Holy cow: Five hours of beef, laden with salt, followed by futebol, followed by cocoa-skinned lovelies in thong bikinis on the beach?
Travel agent: Get me Sao Paolo. Pronto.
Question of the Pre-Season
An unidentified reader asked the Hangover, three weeks ago:
Dear Hangover:
Am I the only one in the world this year who believes in the 49ers? They got rid of the T.O. virus who was obviously holding them down with his negative attitude, and he is replaced by a talented corps of young receivers. We have a solid QB in Tim Rattay, an underrated running back who managed to get 1,000-plus yards last year while splitting time, plus we still have an excellent defense. Am I too blind to see what's really going on?
-- Unidentified Reader
Dear Unidentified Reader: Yes.
E-mail Brian Murphy at page2murphy@yahoo.com with thoughts, questions and unanswerable philosophical rants..