By Brian Murphy
Special to Page 2
Let's get right to it.
A huge Hangover salute to our man Deion Sanders, who proved the following things:

He can smell a loose football.

He can pounce on a loose football.

High-stepping is an art form not to be taken lightly.
Yes, we may have mocked Deion in the past few weeks, but we mock because we love. You don't rib a guy unless you have a profound respect for him. Or, on the other hand, you don't say you "mock because you love" unless you feel the need to back-pedal furiously, like Deion getting beat deep on a post pattern.
But Week 7 was no time for Deion getting beat deep.
Week 7 was Deion Time.
Week 7 was Prime Time.
A year ago, he was wearing the Madonna Headset in CBS' outdoor pregame show, freezing his butt off in Central Park, trying to explain why Marc Bulger was better than Kurt Warner, all while wearing a mink coat and hearing a producer in his ear shouting, "WRAP, WRAP, SEND IT TO NANTZ!"
A year later, he's picking Drew Bledsoe and taking it to the house.
Life is too funny.
It's hard for me to mock Deion when he does the Read Screen Pass Unfolding/React Accordingly/See Loose Ball/Charge At Loose Ball/Use Deft Hands/Runback for TD Thing, as he did against Buffalo on Sunday.
That he topped it off with a Vintage Mid-'90s/Deion High Step was almost too much for one Sunday. Last week, a Philly reader wrote in about a buddy high-stepping to impress some girls at the Vet, only to slip and break two ribs. That anecdote sealed, for me, the comedy of the high-step. And then, six days later, we got a Deion High Step!
Is God a Hangover reader, or what?
I hate to shamelessly pander to the corporate monkey here. But it really isn't pandering, in the true sense, when I say that part of my enjoyment in Deion's Big Day was that Chris Berman and Tom Jackson could revive their sotto voce "Prime Time" chant when Deion did his thing. In fairness to Boomer and T.J., and to clear their ledgers from being Deion shills, I recall a specific time in the mid-'90s when they skillfully blended the "Prime Time" chant into "Toast Time" after Sanders had been beat by Jerry Rice on several occasions in an old Falcons-49ers game.
But, oh, the memories!
See, Deion and the Hangover go way back.
I covered the 49ers in 1994, Deion's forgotten year as a 49er. Deion was the first man I ever heard use the word "playa" instead of "player." I did a Q&A with him for the Santa Rosa Press Democrat, and asked Deion about his sense of style. He said he got it from his father, who was "a playa." Deion said to me: "Make sure you spell that right: P-l-a-y-a."
Wow! Suburban white cub reporter boy introduced to hip-hop lingo!
And to think, I thought it was only the Spanish word for "beach."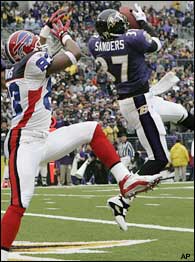 Just when you thought he was done, Deion makes you remember that he's Deion.
Boomer and T.J. were good enough on Sunday to run some of Deion's old highlights, including his pick-and-runback at Atlanta in 1994. After that game, I stood with a pack of scribes to hear Deion proclaim, preacher-like, that the Georgia Dome was "MY HOUSE." Getting religion, Deion-style. They also showed his pick-and-runback at San Diego, a moment I recall with clarity. It occurred late in the game, so late that scribes like me were already down on the sideline, waiting to get in the locker room. I will never forget that image, from field-level: Stan Humphries throwing a tight spiral to the left sideline, us watching the spiral head our way, us watching Deion in that white No. 21 jersey break on the ball, and us watching Deion run away from us, down that sideline, in a blur, heading for paydirt.
Man. He was good.
I was so tickled, so taken with Deion's glow in 1994, that I found it amusing to no end that he liked to be called, simply, "Prime" by teammates and friends. I tried transferring it to my life by slapping the nickname "Prime" on my then-girlfriend, now-wife, thinking it would be cute.
It never caught.
There's only one "Prime."
Just as there's only way to high-step. Just as there's only one guy audacious enough to try and come back at age 37, to cover young 22-year-old studs just out of college, in an NFL landscape so far past his Prime.
It took seven weeks, but he proved us all wrong.
At least, for one memorable week.
Players and things we love, Week 7
Jeff Garcia, Dave Wannstedt, Cleveland Browns fans.
The Garcia-T.O. Bowl was something to behold, wasn't it?
There was enough personal enmity and spite between those two to fuel a presidential campaign. Shoot, Bush and Kerry look like Alphonse and Gaston compared to T.O. and Garcia, ex-Niners, ex-friends, current-sworn enemies.
A brief recap: The two played together for five years in San Francisco, hooked up for a bunch of touchdowns, split ways last off-season, and now are at the following place: T.O. says Garcia has a weak arm. T.O. says Garcia held him down. T.O. says that it isn't that Garcia is a homosexual; but that if it smells like a rat and looks like a rat, it's a rat.
Other than that, they're thick as thieves.
The Garcia-is-gay thing is too funny. There is ample evidence in the Bay Area to the contrary, and Garcia's recent public dating of a Playmate is sizable evidence to the contrary. There was, however, an excellent point raised to the Hangover a few weeks ago by reader D.W. Allen from Boston, who queried: "Upon closer review, what man, gay, straight or uncertain, wouldn't want to be seen with an obscenely hot woman? If Garcia truly wants to prove his heterosexuality, his handlers should leak photos of him entering a bathroom in a Cleveland pub with about a '4' (on a 10-point scale) in his arms. While any man can 'date' a supermodel, only a thoroughly-heterosexual one can hook up with below-average looking woman in a Cleveland bathroom."
Brilliant.
That Garcia performed the way he did in the T.O. Bowl -- 21 of 32 passes for 236 yards and a TD, plus a bull-rush TD late in the game to tie it up -- is worthy of the Hangover's PWL.
However, we wonder about the choice of words from Philly kicker David Akers, speaking of his game-winner in overtime: "Whew," Akers said, "I knew it was straight."
He'll be hearing from Garcia's lawyers.
As for Wannstedt, you have to love the following:
1. His team is winless.
2. His team is hopeless.
3. Who cares?
The Dolphins rolled out the flea-flicker end-around pass from Marty Booker. They rolled out the successful fake-punt. They searched the playbook for wacky plays the same way a stoner searches couch pillows for spare change before a Taco Bell run. And it worked! The Dolphins win a game. Don Shula, Nick Buonicotti and the boys can sip the Dom Perignon -- there is no danger of a winless Miami season in the offing.
As for the Cleveland fans? God bless 'em.
For six weeks now, The Hangover has been giving unprecedented love to the fans of Philadelphia, and for good reason: They're funny, they're sick in the head, they're passionate and they get a bad rap.
But lost in the shuffle has been the passion of the Cleveland Fan. I've received emails from Browns fans wondering why they get denied the Page 2 love, and they have a point: The Browns haven't won an NFL title since 1964 -- which, in case you were wondering, was the year the Beatles appeared on "The Ed Sullivan Show."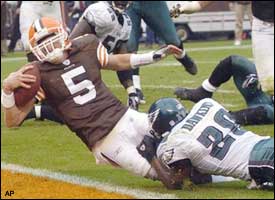 OK, you've earned it -- so consider this a dose of love from The Hangover.
(Trivia note: The five songs performed by the Beatles that night -- "All My Loving," "Till There Was You," "She Loves You," "I Saw Her Standing There" and "I Want to Hold Your Hand." Paul McCartney and John Lennon -- the Deion Sanders of songwriting in 1964.)
Put to the test, Browns fans came through like Brian Sipe in the clutch.
They defended their man Garcia with phenomenal signage -- bedsheets with spray paint so powerful, they rattled T.O.'s cage.
When Owens scored his first TD, he fired a pass off a bedsheet that could not have been more juvenile, nor more funny. It read, simply:
"T.O. HAS B.O."
B.O.! Who uses the phrase "B.O." anymore? I haven't heard it used since junior high, when the kid who hit puberty early was saddled with the knock of, ewwww, having "B.O."! Genius, Browns fans. It is childish, has no factual bearing, and is so funny that it caused T.O. to fire a football off of it. Fox would never have shown the sign had he not fired the football off it! You win, Dawg Pound.
And you weren't finished.
Later, Owens scored his second TD and went straight to a high-end, production-heavy sign that featured a beautifully-illustrated rat and the words "TAKES ONE TO KNOW ONE." He tore it down, furious.
Production value, Browns fans!
The science-textbook drawing of the rat, the precise verbiage, the Garcia-Owens-savvy knowledge of their past & I cannot lavish enough praise on the Browns Fan today. If only all NFL fans were so witty and on it. Instead, we get one guy waving a giant "D" and another guy waving a picket fence somewhere in the crowd.
I'm asking you to raise the comedy bar, NFL fan. Cleveland is your model. Knock yourselves out.
Best unis in American sports?
I must say, the sight of the New York Jets on the road stirs something deep inside of me. The white jerseys with the green trim, the green pants, the 1969 helmets . . . I ask you: Is there a better uniform in the NFL?
The only uniforms in American sports that even come close, according to the Hangover:

Yankees home unis.

St. Louis Cardinals, home or away.

San Francisco Giants, home or away. (Admittedly, a homer pick.)

Oakland Raiders, home.

1986 Boston Red Sox, away, with the "BOS" on one half of the jersey and the "TON" on the other half.

Election alert! Election alert!
Before the season started, I promised a Bush-Kerry Watch, trying to read NFL tea leaves to see if any gridiron action, however tangential, would provide an electoral preview. For example, would Jerry Rice's emotional downward spiral and, eventual trade, portend that inside the West Wing, Condi Rice, too, was demanding a trade, perhaps to Canada for an administrative post to be named later?

Or inside the Kerry campaign, would Miami safety Antuan Edwards, part of the worst team in the NFL, somehow transmit "Bad Edwards Karma" to Democratic VP nominee John Edwards? Or would John Edwards combat it by phoning Dave Wannstedt to say, with sunshine oozing through the line: "Hope is on the way!" At which point, Wannstedt would answer: "You mean I'm getting the Pitt job and getting out of this hellhole?"

Anyway, there is a mathematical formula for all of this. Weeks ago, reader John Bender from Pasadena claimed to have done the research; and since I am far too busy a man to confirm or deny the verity of this research, I'll run it in The Hangover and hope it's true. Bender's research goes as follows:

"Every time the franchise that is now the Washington Redskins has won its last game before a presidential election in which the incumbent is running for re-election, that incumbent won the election. Conversely, every time the Redskins lost, the incumbent lost. In every case, it has been irrelevant whether that game was at home or on the road."

Such certainty!

On Oct. 31, the Redskins play host to the Packers at FedEx Field.

Nothing less than the future of Western Civilization hangs in the balance. Not wanting to irritate 44 percent of my readers, I won't announce a preference.

On an entirely unrelated note, I'm thinking of going as Brett Favre for Halloween.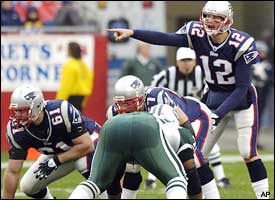 Sure the Sox are doing great, but the Pats have been at it a lot longer.
Football vs. Football
They've done it! The New England Patriots have won the Trans-Atlantic Staredown, remaining undefeated while England's best footballers, Arsenal, stumbled to Manchester United, 2-0, on Sunday, thus bringing to an end football's longest unbeaten streak at 49 -- and leaving our Plucky Pats as the world's best football team.
The New England ESRUC, or opposite of "Curse", is out-of-control.
Not only has Pats karma become so strong that it has spilled over to the Red Sox, who are now performing at Brady-esque levels in the clutch, but it is a supernatural force, controlling the minds of those who are fortunate enough to enter the Kingdom of Belichick.
Take Corey Dillon, for example. The guy was a bitching, whining moaner in Cincinnati. Now, in Patriots' blue, he is Audie Murphy with a helmet, all about the larger goal, not at all about individual glory. I heard him interviewed after the win over the Jets, and he sounded like he'd been injected with serum from "The Manchurian Candidate," so on-board was he.
Next up, on pay-per-view: Arsenal vs. New England, with the Pats giving two goals on the Vegas line.
Ricky Willliams/THC Watch
Nice to see that our man Ricky W. dispatched some lawyers to meet with NFL brass about a possible return for The Dreadlocked Boaster.
(Is it only in marijuana-friendly Marin County, California, that the verb "to boast" is interchangeable with "to ingest marijuana smoke"? Growing up, we labeled any pot-smoker as engaging in the act of "boasting." We oft heard the casually-tossed suggestion: "Wanna go boast?" Adolescence, man. It gets no funnier.)
Anyway, Ricky W.'s lawyers undoubtedly began the meetings with an earnest, if inappropriate, "Anybody wanna get high?" Surely, they were met with scowling disapproval from the league suits. We await their verdict.
Meanwhile, Jamal Lewis sat out Baltimore's big win, while word out of Seattle is that Koren Robinson's four-game suspension is all but a lock. Such a flurry of activity requires that we dig into the Hangover Inbox and give voice to those who have passionate opinions on such topics.
As regards last week's claim from an anonymous California stoner that a McDonald's "Fish Fillet" (no cheese, no sauce) is the munchie of choice these days, a wave of outrage came via email. Reader Jason Wood felt a personal sting, noting that his brother worked at McDonald's and "nothing (irritated) him worse than the words "Fish Fillet" emanating from the drive-through speakerbox & it's a 'Filet o' Fish!'"
Various alternatives were suggested, including reader Andy P. from Evanston, Ill. touting the "1 a.m. gyro" -- excellent call -- and reader David C. from the University of Nevada-Reno, boasting of The Biggest Little City in the World's "Awful Awful," a half-pound of hamburger on top of a one-pound bed of French fries, served at the Little Nugget in downtown Reno.
Mmmm. Heartburn, anyone?
I write, you clarify
Now, time for our favorite chapter: I write, You clarify.
Because factual accuracy isn't a priority around here, we must devote one segment a week to the clean-up crew.
We start with my reference to Caesar giving the "thumbs-up" to Denver and Champ Bailey in the Portis-Bailey Scales of Justice.
Cautioned the Hangover Readers: Learn your history, Murphy!
Many readers wrote in to inform that ancient Rome, in the days of Caesar, was not an Ebert/Siskel world. It was not Thumbs Up/Thumbs Down. It was Thumb OUT or Thumb IN. In other words, if the thumb showed, it was mimicking a blade, as in, "Off with the poor sucker's head." If the thumb stayed tucked in, the gladiator dude was saved.
So, to recap: Thumbs up, or out -- Off with his head. Thumb not showing -- gladiator dude is safe.
Expect, by the end of the season, thumbs to be showing in Owners' Boxes in New Orleans, Miami, San Francisco, Oakland and Buffalo.
On to more clarifications &
I stiffed loyal reader Michael Bertie of New Orleans in crediting the link for the Orleans album, an oversight which still has me waking in the middle of the night in cold sweats.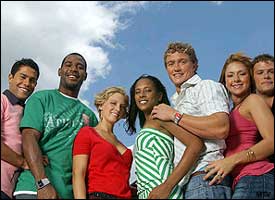 If seven strangers showed up at a bar with cameras in tow, you'd boo them, too.
Meanwhile, the claim that Philadelphia is the first town to turn on the "Real World" MTV cast was called false by Danny from Michigan State, who said careful viewing of the San Diego series showed multiple fights between "Real World" cast members and locals, while reader Chad B. said the City of Broad Shoulders turned on the Chicago cast, "turning heckling into an art form, frequently yelling strings of obscenities at the "Real World"-ers in hopes that any clips the cameras were catching would not be usable on TV. Paint was frequently thrown on their front door; and the little kids the cast was supposed to help even turned on them, calling them lazy and shiftless."
Little kids, turning on the "Real World" cast, calling them lazy and shiftless -- this is why reality TV still has a chance to compel us after all these years.
Answers to philosophical rants, and then some
Last week, we asked: At what age can a person truly claim to be old enough to fully appreciate a team's title?
I volunteered that, shortly before my eighth birthday, the 1975 Warriors-over-Bullets NBA title was on the fringe edges of my full memory, but counted as legit. Many of you agreed that the seven-to-eight-years-old age bracket is the most realistic. That is, except for reader Mark D. of Washington, D.C. Mark D. claims that as a Padres and Chargers fan, "I distinctly remember watching, and being directly affected by, Charger losses to the Raiders and Bengals in the AFC Championship game at the ages of four and five."
Mark: Thanks for reading. Now, in front of all Hangover readers from Bulgaria to Brazil, I'm calling complete, total, 100-percent B.S. on that claim. No WAY can you remember fully an AFC title loss at age four. Nor can you claim being "directly affected" by it. Come clean, Mark D.
Meanwhile, reader Patrick McDonough gives a more realistic scenario. A Patriots fan as a youth, he writes: "I remember the Patriots getting absolutely smoked in the Super Bowl against the Bears and being mad at my parents that they didn't want the Patriots to win enough. I couldn't comprehend how they could be OK with losing. I hated them for a solid couple of days."
That may be the most real email The Hangover has ever received. Bravo, Patrick. Your domestic honesty resonates with us all.
Next week, we'll remember the question of worst QB ever to win a Super Bowl, and worst coach. But I would leave you with this question gnawing at me, especially since I got the NFL package with DirecTV and see that 90 percent of games are played at 10 a.m. Pacific time: Is an NFL win executed at 4 p.m. Eastern kickoff, de-valued in any way? Should it count any less? Clearly, the NFL is all about burying us, the fans, with an onslaught of games at 10 a.m. Pacific/1 p.m. Eastern, then leaving us to fight like seagulls for bread crumbs at 1 p.m. Pacific/4 p.m. Eastern for, at MOST, three games? Those late games take on the feel of de-value, like the ruble. I wonder.
Philly Corner
We'll skip the Meat Sweats for one week, but we will chime in with our weekly Philly Email. After all, the Birds are 6-0 and the fans are on a roll.
Reader Kevin Baker provides this old memory from the Vet:
"You know the Redskins fan that sports the huge head-dress and dresses like an Indian? He, foolishly, was sitting in the 700 Level, and cheered when the Redskins kicked a field goal. An Eagles fan sneaked behind him and lit his head-dress on fire. The entire section had a good laugh as the poor guy tried to put the fire out."
Now, we don't endorse arson at The Hangover. Like a good baseball hot-foot, however, we do endorse the "Three Stooges"-like comedy of an Indian head-dress fire, particularly in the 700 Level of the Vet.
Final Week 7 Thoughts

Mike Vick, buried in Kansas City. Of all the scenarios, the idea of Our Man Mike getting crushed by the K.C. defense is not just sad, it's not just wrong, it . . well, it hurts, is what it does. Free Mike Vick! Free Mike Vick! Free Mike Vick! ...
What was with Reggie Wayne shoving Peyton Manning in Indy? What could he have said? "I am SO SICK of you throwing tight spirals right on my hands, especially for big gains at clutch moments & just, you know, STOP IT! ...
Jerry Rice as a Seahawk will be one of the great forgotten chapters of a legend's career. Just like Babe Ruth finishing as a Boston Brave (who remembered that?) or Steve Carlton finishing as a Minnesota Twin (who remembered that?) ...

Who knows? Maybe one day Deion Sanders will finish as a -- heck, I don't know -- Baltimore Raven. Imagine!

E-mail Brian Murphy at page2murphy@yahoo.com with thoughts, questions and unanswerable philosophical rants..