By Brian Murphy
Special to Page 2
The Hangover is here to report: America's 228-year-old democracy is teetering on the brink of anarchy.
Other than that, not much happened in Week 8.
The focus today is on Tuesday's Presidential election -- and the bizarre, Supreme Court-like role played by the Washington Redskins.
Turns out that since 1936, the incumbent running for re-election wins if the 'Skins win their last home game before Election Day.
Also turns out that since 1936, the incumbent running for re-election loses if the 'Skins lose their last home game before Election Day.
Last week, The Hangover reported otherwise, saying it didn't matter if Washington was home or away. We forgot the 'Skins 1996 stumble at Buffalo just before incumbent Bill Clinton defeated challenger Bob Dole. However, the week prior, the 'Skins took care of Indy at home, keeping the HOME streak intact.
And that's the pertinent factoid.
Which brings us to FedEx Field on Sunday, Oct. 31, 2004 -- the Washington Redskins' final home game before Tuesday's civil tea party among incumbent President George W. Bush, Democratic challenger John Kerry and third-party interloper Ralph (Don't Drive that Pinto) Nader.
In came the Green Bay Packers -- representative, interestingly enough, of a key swing state in the Kerry/Bush/Anti-Pinto Guy tete-a-tete-a-tete.
You saw what happened: Green Bay won.
So, Kerry wins on Tuesday?
You could see it unfold in Zapruder-esque slow-motion: Redskins trail 20-14, late. 'Skins QB Mark Brunell drops back to pass on third down. Brunell finds Clinton Portis -- a key figure in the Hangover's running Portis/Champ Bailey Scales of Justice item. Portis makes a remarkable run to paydirt.
'Skins win!
'Skins win!
'Skins win!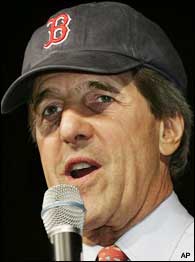 The Sox, the Skins. It's been a good week for Kerry.
Except ... the yellow flag, the NFL's equivalent of a hanging chad, is on the turf.
The call: 'Skins WR James Thrash was in slight -- ever-so-slight! -- motion when the ball was snapped.
Illegal motion.
No touchdown.
Pack wins!
Pack wins!
Pack wins!
It does not take an Arthur Schlesinger, Jr., to see the parallels for Tuesday: Dubious Illegal Motion call equals dubious doings in an Ohio, or a Wisconsin, or a Minnesota, or a Hawaii, or a Florida precinct.
Irate, post-game 'Skins howl to the heavens equals irate losing party howls to the heavens.
Controversy in 'Skins final home game before Election Day equals guaranteed cries of voter fraud.
In other words, we're taking money bets right now. Which reaches resolution first: The NFL playoff picture, or the official Electoral College vote tally?
It gets really weird, when you parse it. The Packer who made the interception on the play after the Illegal Motion call?
Harris. Al Harris.
As in "Al" Gore -- the man who would spill every ounce of his blood to see G.W. Bush ousted from the White House.
And how about the player who scored the would-be winning touchdown for the 'Skins?
Portis. Clinton Portis.
Would some perhaps call Green Bay's slick escape at FedEx Field "Clinton"-esque?
The signals are too overwhelming. The controversial turn of events did not unite NFL fans -- it divided us.
My advice? Hunker down in your nearest cave. Order a pizza. Read Lincoln's "Gettysburg Address."
If you don't have a copy, read "Snake" by Kenny Stabler instead, for pure diversion.
It's going to be a long Election Day, my fellow Americans.
Players and things we love, Week 8
Ben Roethlisberger, Drew Brees, Josh Parry.
I heard the most remarkable comment during the Steelers' epic win over New England. It might have been Jim Nantz, or it might have been Phil Simms, but somebody pointed out the following fact: "Tommy Maddox will be back throwing balls at practice this week." File this in the Relevance Folder,along with the line: "Steve Perry from Journey is planning a new solo album."
Oh, to be young and Ben Roethlisberger. He's 5-0 as a starter, 23 years old, wearing the back-and-gold in a town they now call "Roethlis-burg" and a year removed from sweet, sweet college life at Miami of Ohio. Just think: A year ago at Halloween, Roethlisberger was coming off a 38-30 win over Kent State and prepping for a showdown with Bowling Green, a game the RedHawks would win, 33-10.
In between, undoubtedly, he was sleeping in, juggling cell phone numbers of Miami's cutest coeds and planning his Ashton Kutcher Halloween costume for the frat party at which he'd be crowned King of the World.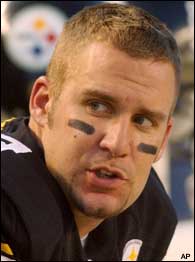 Coming soon to Pittsburgh TV -- "Everyone Love Ben."
A year later, he's making millions, sending millions of 'Stillers' fans to sleep dreaming of Vince Lombardi Trophies and ending the greatest win streak in NFL history on his home turf at Heinz Field.
Question: How many hard-up cats at Miami of Ohio went to the '04 Halloween parties on Fraternity Row wearing the No. 7 Pittsburgh jersey?
"Do I know Ben? Of COURSE I know Ben. Can I get tickets? Of COURSE I can get tickets. Hey, hand me that plastic red cup, I'll make a quick run to the keg for you ... "
Ben Roethlisberger: the gift that keeps on giving.
As for Brees, it's about time somebody with a national forum recognized what's going on in San Diego. In other words, Eli Manning passed up the following scenario: 70 degrees in December, fish tacos on a daily basis, and a 5-3 record at the break.
Meanwhile, Brees has had to deal with the following insults:
Losing his gig to Doug Flutie. (Admittedly, here at FlutieMania Central, that's not such an insulting thing. Anyway.)
So, he lost his gig to Doug Flutie. He watched the Chargers try to draft Eli Manning. Failing that, they traded for Phil Rivers. All the while, they patted Brees on the head like Benny Hill used to pat that little old guy on his show. Brees was San Diego's chew toy.

Now he's coming off a 5-TD effort against the Raiders in San Diego, causing silver-and-black face paint to smear in sad tears. Drew Brees: a cheap stock. Get in on the ground floor, people.

As for Parry, well, he's simply the best story in the league right now. Philly's new fullback was cut four years in a row from the Eagles' training camp. After the third time, he stayed in Philly and worked out in the team's off-season conditioning program, busting his butt when he could have felt like Flounder at the Delta Tau Delta rush party. Still, he was cut a fourth time ... only to get a call after Jon Ritchie suffered a season-ending injury. An amazing story of perseverance.

But that's only half of Parry's story. He kept fighting for himself -- and for Neil Parry, his little brother and his former teammate at San Jose State. You might know Neil Parry. He got his leg broken in a freak pileup on a tackle in a 2000 game, and eventually lost the lower part of his right leg to amputation. He's had 26 surgeries on it in the last four years. Only, after the freak accident, Neil wasn't done. He said he'd come back and play football again; and, in 2003, he made it back to San Jose State's punt-coverage team after three years of work, belief, pain and desire. There weren't many dry eyes when Neil trotted onto the football field that night against Nevada. Onlookers were reduced to emotional rubble by the prolific nature of Neil Parry's will.

Josh Parry told the San Francisco Chronicle that the only reason he kept trying after he'd been cut four times was his little brother. "It's like we both made it," he said after Andy Reid called him up and put him on the active roster. "He's a part of it with me."

On Sunday, Parry caught a pass for 22 yards in the Eagles' win at Baltimore. The previous Sunday, he caught two balls for 22 yards at Cleveland.

Find me three more meaningful catches this year. I'll buy you a Donovan McNabb gamer if you can.

The curse of Lynn Swann
Only New England could produce the high-low of the first Red Sox World Series in 86 years, followed five days later by the unceremonious snapping of the Patriots' 21-game win streak -- just as New England could be the only region to produce a fan who actually beans one of its World Series heroes. (Side note: Who in the name of Jim Lonborg throws a fastball at Petey Martinez during a PARADE? Whoever threw that ball makes the roughest members of my Philly crew look like UNICEF caregivers.)

(Another side note: It was 86 years between Sox Series titles. And what year best-defined the Sox pain? That's right. 1986. What that means, I have no clue. However, it is guaranteed that something magical, or crushing, will occur on-field involving No. 86 David Patten at some point in this year's playoffs.)

How weird was it to see Tom Brady throw the critical pick? Make the critical gaffe? Fail to take his team to victory? It was like, say, watching Mariano Rivera blow a ninth-inning lead in an LCS-clinching game at Fenway Park.

Yeah. Right. Like that would ever happen.

Anyway, what supernatural force could cause New England to go from heavenly high to, well, sort of a bummer of a regular-season experience?

It has to be the curse of Lynn Swann.

That's right. Lynn Swann.

Swann attended high school at Serra High in San Mateo, Calif., which is also Brady's high school. Brady, with two Super Bowl rings by the tender age of 27, is fast closing in on Swann's total of four. Clearly, Swann wants to remain Serra High's all-time Super Bowl ring-holder, so he must have placed The Whammy on Brady and the Pats.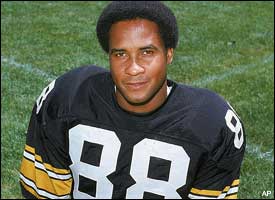 The last thing Lynn wants it to be pushed around by one of the Bradys.
Right?
All right, all right. That's about as half-baked as it gets.
Should we just chalk it up to New England's magnanimous attempt to let the '72 Dolphins cling to the last bit of their Glory Days? Especially since the man who penned the tune "Glory Days" is an open supporter of John Kerry, the senator from Massachusetts, home state of the reigning World Champion Patriots and Red Sox.
Besides, Swann has to curse Brady. He was in the wrong sport to curse Serra High's other famous alum -- a guy with 703 home runs named Barry Bonds.
I defy any high school in America to top Serra's Bonds-Swann-Brady trifecta.
And I left out other random Serra alums, including Jim Fregosi and Gregg Jeffries.
My high school, Tamalpais High in Mill Valley, Calif. can counter only with the following trio: Eve (Our Miss Brooks) Arden, Pat (Failed Presidential Candidate) Paulson and Courtney (Melrose Place) Thorne-Smith.
Not bad, eh?
It's T.O.'s world. You just live in it
Cutting a swath through humanity, throwing a match on the dry grass of goodwill, Terrell Owens continues to do two things:
One, make sure most of America sees him as a sad, lonely man longing for identity and attention.
And two, continue to build his legend as Philadelphia's greatest sports legend since Julius Erving.

At this rate, ecstatic Philly fans are going to have to storm the steps of the Philadelphia Museum of Art and tear down the Rocky statue, not unlike the toppling of the Saddam Hussein statue in Baghdad in April of '03. In its place will go a series of statues that portray T.O.'s Ray-Ray dance from Baltimore, '04.

Have to say, T.O. does a pretty good Ray-Ray.

Ray-Ray can't be happy.

Here's T.O.'s deal: He's ticked off Jeff Garcia, the city of Cleveland, Ray Lewis, the city of Baltimore, and most all of the city of San Francisco. Nobody's pulled off the Go-It-Alone policy as cleanly as T.O. since Paul Wolfowitz shut the door behind him in the West Wing in the fall of '02 and said: "I've got this idea. Give it a listen."

Ravens DE Anthony Weaver issued the foreboding words: "I would not want to mess with Ray. That is all I have to say."

Cue gothic organ music.

Then again, there's always Our Man Prime.

Leave it to Deion Sanders to break it down with the long view.

"T.O.'s good for the game," Sanders said. "He brings a lot of flavor to a somewhat boring sport. I'm OK with it."

T.O. walks tall today, kemosabe. He has a Prime Time blessing.

I write, you clarify
Last week, in a quick riff on Best Uniforms in American Sports, I came under massive air-strikes from emailers who point out that the San Diego Chargers' Throwback Powder Blues were not only missing from the list, but they are simply the greatest uniforms in the history of organized sport, even going back to the days when the Mayans played that weird game where they kicked a ball through a hoop on the side of a wall, then beheaded the guy who lost.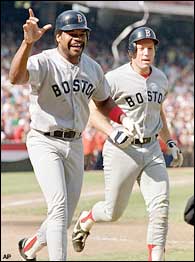 The BO and the Curse are long gone in Boston.
To which I say: Dear readers, you are absolutely right. I have no excuse.
Also, a quick note: The 1986 Boston Red Sox road gamers featured only "BO" on the right side of the chest, and "STON" on the left side. This is not a small fact. Because the right side of the jersey featured only "BO," one presumes it was the inspiration for last week's anti-T.O. heckle in the famous "T.O. HAS B.O." bedsheet sign in Cleveland.
Also, there was a dust-up among readers about the verb "to boast," a verb used in southern Marin County, Calif., in the late 1970s as a synonym for the act of ingesting marijuana smoke. Some doubted its verity. I stand by the accuracy. Others made a deeper connection. Reader Robby Hart in Houston tells this eerie tale: "When I played tennis in high school (1983-86), there was a line of tennis apparel with the brand name 'Boast.' Sure enough, the logo in place of the Izod gator or the Polo pony was a big, fat marijuana leaf. How this was allowed to adorn myself and teammates as OFFICIAL school team uniforms escapes me, but there was a lot of discussion as to the 'leaf' being a Canadian maple leaf. Not."
Random philosophical rants
The question of 'Worst QB/Coach to Ever Win a Super Bowl' will not bring happy times to Households Dilfer, Billick and Hostetler.
Those three names came up more than any other from readers in selecting the ignominious. However, there were creative calls. Reader Robert Cressy from Cincinnati points out that the worst QB ever to win a Super Bowl was, of course, Pittsburgh's Neil O'Donnell. "He won the Super Bowl for the Cowboys," Cressy writes, "after he and Larry Brown connected on two passes or, as they're called, interceptions."
Others receiving votes, surprisingly, included Miami Dolphins Hall of Famer Bob Griese (look at his stats, some readers implored), Bears coach Mike Ditka (don't say that within the Windy City limits) and Redkins QB Doug Williams.
As for other Random Rants, the discussion of Stoner Food caused a reader named Keith to point out these shenanigans. "Do you remember that Burger King used to call its Fillet o' Fish knockoff 'The Whaler'?" writes Keith. "I have a friend who still goes into Burger King almost 20 years later after the Whaler was renamed the 'Fish Sandwich,' and he orders: 'A Whaler.' The kid behind the counter, most likely born after the name change, routinely freezes up. It's the height of comedy."
And as for the age a fan can truly remember a championship -- remember, Hangover rules state seven years, at the earliest -- reader Jonathan Levy of Washington D.C. offers some scientific rebuttal: "It is psychologically recognized that the hippocampus, the part of the brain that encodes memories for long-term storage, does become functional at age three. So, it is POSSIBLE for someone to have a sports memory even earlier than age five, though I might suggest that anyone suffering from sports-related anguish prior to kindergarten has either paid for a lot of therapy, is related to Bill Buckner, or both."
The Philly Corner
What, you thought I'd forget my 7-and-O people? Come on. There's Cheese Whiz in my bloodstream. Although the Birds are undefeated and stalking the '72 Dolphins, there is some angst in the C.O.B.L. (City of Brotherly Love, of course!) Reader Gabe from Philly, a regular contributor, sees the Terry Francona/Curt Schilling World Series title as horrendous karma for the C.O.B.L. Writes Gabe: "Well, it's done. Now the whole city of Philadelphia is sick to our stomach. It was bound to happen. Maybe we should even be used to it by now. Just in the last year, we watched Larry Brown leave the Sixers, go to Detroit, and win a title. We watched former Flyers coach Bill Barber go to Tampa Bay, as an assistant, and win a Stanley Cup there. So, why not Francona? Why not make Philly fans suffer some more? Maybe the Dolphins can fire Dave Wannstedt, bring in Rich Kotite to replace him and we can watch them win the Super Bowl. Just for fun, you know."
Gabe and others need a pick-me-up. For that, we go to one of our many Philly emailers who provide those unforgettable thumbnail sketches of life at the old Vet.
Writes Philly reader Jack Sent: "In the 700 level of the Vet, there was a little, skinny, twerpy, nerdy guy in the next section over from us who would take off his shirt and do the 'Arnold' squeeze every game for about two seasons. His nickname was 'Spaz' and hundreds of drunks affectionately chanted his name when he would run up and down the steps, doing his 'Hans and Franz' flex. Very funny.
"Two years later, 'Spaz' shows up at his old section for the first time in two years -- but this time as a real Philly cop. Not some lousy, Vet, rent-a-cop. A real Philly cop. Anyway, everyone's laughing and chanting 'Spaz' for old-time's sake. Now, here's the '700 Level' touch: Somebody sneaks up behind him, grabs his hat and starts passing it around the section. Unbelievably funny. 'Spaz' eventually got it back -- but not before getting P.O.'ed."
Just makes you feel better about your fellow man, doesn't it?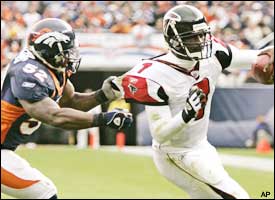 Just when you thought you were off the bandwagon ...
Final Week 8 thoughts

Don't think we didn't catch Mike Vick's game in Denver. Free at last! Free at last! The open-field sprints. The prettiest spirals in the game. The one-man wrecking ball that is Mike Vick, Unplugged! Why, it was Champ Bailey himself, a sometimes-regular feature of the Hangover in the Champ Bailey/Clinton Portis Scales of Justice bit, who said after the game: "Is there anybody else like him? Come on." We need Champ's quote on our "Free Mike Vick" T-shirts. I'm still waiting on an enterprising Hangover reader to silk-screen those bad boys and sell 'em on eBay for $20 a pop ...
Why did Peyton Manning give me the creeps on Sunday? Because when Terry Bradshaw asked him, on Fox's pre-game show, if he'd rather throw "zero Interceptions or four TD Passes," Manning ... paused! And paused again! And took, like, eight seconds to answer! Finally, as if caving in to his own politically-correct mind, Manning sighed: "Uh, it's got to be zero interceptions." Thanks for tossing us a bone, Mr. Audible. Ask Joe Montana or Tom Brady that question, and you wouldn't have to wait eight seconds for the answer. Of course, I could just be spitting bile because, later, when Bradshaw asked him, "Montana or Elway?" Manning replied, with way too much certainty, "Elway." Guess Peyton was having ginger snaps and milk during Super Bowl XXIV ...
Who has better job security in Washington D.C. right now: Colin Powell in a second Bush administration, or Mark Brunell in the next Redskins game?
Poor Jabbar Gaffney in Houston. He tries to celebrate too early, fumbles and loses the ball out of the end zone. No score, dude. Worse, he has to hear broadcasters on national TV tsk-tsk him for "premature celebration." Sudden thought: Has the word "premature" ever, in the history of the English language been used with a positive connotation?

Return of the meat sweats
Wait! We couldn't leave out the magical Meat Sweats -- a football and Hangover tradition -- for two weeks running. Besides, if we did, we risked the wrath of reader Tom K., who objected to a Meat Sweats-free Hangover. "We are talking about," Tom K. wrote, "the common denominator across the country, and perhaps the globe. Who needs Kerry or Bush to form their little coalitions to go invade somebody? Dang it, just sit everybody down to a BBQ on one of those grills that the caterers use and pump ribs, burgers and franks into all those esteemed heads of state for a few hours. Who wouldn't get the meat drunkenness that accompanies 'The Sweats' after that? THEN, we'll see what problems we can't solve!"

There you have it. As cries of voter fraud inevitably sweep our nation, as we teeter on the brink of civil war, the Supreme Court will have but one peaceful solution for us all: Eat meat until we sweat.

Then shake hands.

E-mail Brian Murphy at page2murphy@yahoo.com with thoughts, questions and unanswerable philosophical rants..