By Brian Murphy
Special to Page 2
At The Hangover, style points go a long way.
So it was that I was going to dedicate Week 10's lead item to what I thought was the Best-Looking Game of the Day. That would be Pittsburgh at Cleveland. It was a no-brainer. It was traditional rivals, outdoors on a grass field, great unis, it featured a pregame brawl and, likely, thousands and thousands of pounds of meat ingested in pregame tailgates, washed down by gallons and gallons of domestic lager, followed by hours and hours of unspeakable gas.
Meat and beer. Mmm. I love the Rust Belt. I don't imagine a Steelers-Browns tailgate is big on crab-artichoke dip.
So anyway, that was the plan: Hail Pittsburgh-Cleveland.
Then, the "late" games -- I like to call them 1 o'clock kickoffs -- unfolded and -- gasp! There it was: A game even better-looking. That's right: Minnesota at Green Bay. It's a no-brainer. It was traditional rivals, outdoors on a grass field, great unis, but no pregame brawl.
I would, however, give Lambeau denizens the edge if we had to weigh pounds of meat consumed in pregame tailgates in a Green Bay-Cleveland showdown. In addition to the Packers fans getting three precious extra hours to eat, I have a feeling the good people of Wisconsin can out-meat anybody in the country. Their team is named after a meat-packing plant, for the love of angioplasty.
So I began to waver on my Best-Looking Game of the Day. The Vikes-Pack game had the added bonus points of starting in late afternoon sunlight and ending in early-evening darkness -- that meteorological happening that so accurately mirrors the human condition as winter approaches. It just feels like a football game, doesn't it? I mean, yes. I appreciate the low sun and long shadows of a day game at Cleveland, but the lights reflecting off of Brett Favre's helmet?
That's America, people.
Anyway, the whole thing was clinched as the fourth quarter started. Fox was kind enough to show a tremendous slice of Americana and one of my Favorite Moments of the Year when it came out of a commercial and replayed the end-zone happenings at the end of the third quarter.
The Wisconsin marching band was on hand and jacked up the stakes when it dispatched an 18-person tuba brigade to the end zone, playing the only kind of music 18 tubas can.
The kicker, though: Draped over each tuba's horn opening was a cloth, with a letter taped on to that cloth, and as the Badger tubas marched across the end zone to the delight of the Lambeau Lunatics, the letters spelled out: "W-H-E-R-E (space) Y-O-U (space) A-T (space) M-O-S-S?"
Tremendous stuff.
Randy Moss, injured and out of the game, dissed by band geeks! By tubas, no less!
The cut to Moss in the ski cap, half-enraged, half-amused by the Tuba Diss was worth it all.
See, it's all about things that happen in the great outdoors. Football in the open air, with Wisconsin marching band tubas -- that's what this country was founded on. It all brought to the forefront an e-mail The Hangover received from a reader who goes by Biggie from New Hampshire, who went and watched his Patriots at St. Louis in Week 9. What he saw in the dome displeased him.
"After many games in Foxboro, and now the Razor, to see the amount of effort it takes to get loud in a dome is upsetting," Biggie wrote. "For outdoor games, it requires everyone standing and cheering to equal what you hear when only half the dome fans are cheering. There were several times I couldn't hear myself think, and looked around and saw only about a quarter of the fans actually getting loud. It was depressing, but also angering."
Biggie closed his tome with these poetic words: "Screw domes."
Players We Love, Week 10
James Farrior, No. 75 from the Chicago Bears, Ed Reed
Sometimes, in a Sunday stupor, the games all begin to bleed into one long three-and-out. Then, suddenly, something happens that causes you to rise up, like Frankenstein's monster, and groan in joy. And no, I'm not talking about those random, pleasure flashes that come during a bout of the Meat Sweats.
I'm talking about seeing a play from Cleveland, where Browns RB Lee Suggs takes a handoff and then has his molars rearranged by Steelers LB James Farrior in one of those hits so pure, you're sure it was felt throughout Suggs' genealogy chart.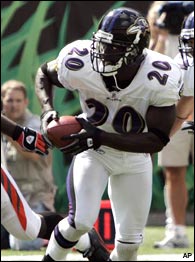 Ed Reed might be the most dangerous defensive player in the NFL with the ball in his hands.
Now that is a Steel Curtain.
I couldn't get enough of the hit, rewinding it on TiVo a few times. You can create an orgy of replays, when you rewind on TiVo while the network replays it a few times, too. It can get confusing, like the old Baltimore Orioles hat. You know, where the grinning Oriole on the hat wore a hat with a grinning Oriole. You had to presume that tiny hat had a grinning Oriole on it, too, which was also wearing a hat with a grinning Oriole, extending into perpetuity and calling into the equation Einstein's theory of relativity. The Dolphins, I believe, smartly avoided this problem by having the Dolphin on the helmet wear the random, mysterious "M" on its helmet, thus preventing a Grinning-Oriole-Into-Forever syndrome.
I better stop. I sound like Pinto after smoking out with Donald Sutherland's English professor in "Animal House".
Anyway: James Farrior -- that's a football tackle. Way to go.
As for No. 75 from the Bears, shouldn't that be how he's known? I mean, he has a name. It's Marc Colombo. Bears fans probably even know who he is. He was a first-round pick a couple of years ago. But nobody outside of Chicago and Mel Kiper Jr.'s household knew.
So when Colombo took his meaty paw, reached up and blocked the Tennessee field-goal attempt that would have won the game, he struck a blow for No. 75s everywhere. Glory, for that most obscure of jersey numbers! TV time for a guy who had never sniffed a network shot! And best of all, a huge play in a Chicago overtime win -- a game decided, of course, by the traditional, overtime-ending safety. A safety wrought by No. 96, who made the sack so No. 93 could recover for the safety -- heroics that wouldn't have been possible without No. 75 blocking that field goal.
See how it all works out?
As for Reed, well, it's about time The Hangover recognized one of the league's best defensive players -- especially because the only Ravens who ever get ink are Jamal Lewis (for our THC Watch), Ray Lewis (for having his Ray-Ray Dance mocked), and Deion Sanders (for generally being Prime.)
But Reed has lots of interceptions, and tends to have the not-insignificant ability to run well once he has procured the pigskin.
Take Sunday's Ravens-Jets game, for example. The Jets were rolling. Had that game in the bag. Then Lamar (not Lamont!) Jordan throws an ill-advised pass on a halfback option into oh, say, about eight white jerseys. Reed almost signals for a fair catch in the back of the end zone, and ... takes a knee?
But soft! What light at yon window breaks!
He doesn't take a knee -- he does a little skip, and motors out of the end zone for a runback that looked like, well, Ed Reed, whose name sounds suspiciously like a guy who should be your next-door neighbor, or co-worker.
Yeah, I just bought a house. It's next to Ed Reed's house. Ed does some nice work in the yard on weekends. Ed Reed: Good neighbor.
If Reed's teammate hadn't interfered with Quincy Carter's attempted tacke, surely the little man would have taken it to the house for six. As it was, the Ravens had to settle for the momentum-turning pick that took them from a sure loss to a hell of a comeback win.
He's No. 20, by the way.
The second-best look of the day
I would be remiss to not acknowledge the epic theatre produced pregame in the Browns-Steelers game, and it had nothing to do with Lou Rawls singing the national anthem. (I don't think Lou Rawls sang the national anthem. I just love it when he does.)
First, Gerard (If You Kill the Head, the Body Dies) Warren whispered sweet nothings in Ben Roethlisberger's ear before the game. It appeared a tender exchange, and somewhere, Ray Nitschke spat up his Cheerios. Surely, Warren was in the wrong for saying what he said during the week. But mouth-breathers like Nitschke and Butkus would be horrified to learn Warren gave away the psychological edge before the ball was in play.
Turns out the Warren-Roethlisberger détente was only a prelude to Joey Porter and William Green reprising a back-alley brawl. How many ways does football differ from baseball? Setting aside Nolan Ryan's jackhammering of Robin Ventura many moons ago, baseball brawls are all show, no action. Bullpens empty, somebody shoves somebody and it's one big to-do about nothin'.
Porter and Green brought Pregame Football Brawls to a new mountaintop. Porter's roundhouses were reminiscent of an untamed George Foreman, circa 1968, or Joe Frazier at his wildest. Best of all, they went at it sans helmets. Porter briefly lapsed into insanity when a helmeted Terrelle Smith entered the fray, and Porter went bare knuckles against Smith's covered dome, but other than that, this was 15 to 20 seconds of pure, high-quality mayhem.
Sometimes, it's nice to be reminded that, between all the slick ads and multi-billion-dollar TV contracts, it's just a brainstem sport, played by men whose values system dates back to the Pleistocene epoch: Punch, or be punched. Proceed with caution.
A nation rests
Some readers wonder why we can't keep up with the Al Davis Wardrobe Watch, and I regret to say it proved too difficult to get a weekly report on the Evil Emperor's threads. As a result, the Hangover's focus on the Silver and Black got fuzzy. But let's use the Oakland bye week to get back on board with the Commitment to Excrement.
That's right: It means I got another six-minute haircut/Raider Nation debriefing from Rocky the Barber, my barber who also cuts Al Davis' hair. In the chair, I queried Rocky directly: What gives with your 3-6 squad, Rock?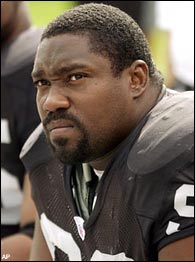 This season's been disastrous for Warren Sapp and the Raiders.
Rocky grunted.
"I hear Warren Sapp talking a lot of (expletive) and I don't see him doing (expletive)," Rocky said.
This is not to single out No. 99. Rocky also tossed the entire roster under the Silver-and-Black bus. Among the names whose lack of pride and poise causes the extra wrath of Rocky: Kerry Collins, Ted Washington, coach Norv Turner and, believe it or not, Rich Gannon, whom Rocky blames for not allowing Marques Tuiasosopo to develop last year.
All is not well in Raider Nation.
The Raiders need some good vibes, and I turn to reader Tom Vasich from Irvine, Calif., to provide them. Vasich said the Hangover's riffs on deranged Eagles fans made him nostalgic for the days of the L.A. Raiders.
"The Vet stories," Vasich wrote, "remind me of the L.A. Raiders days back in the '80s, when the L.A. Coliseum sold 32-ounce beers for five bucks. I fondly recall one huge Samoan dude with a full arm cast, swinging that massive cudgel at horrified Broncos fans."
Here's the best part.
"AND THE FANS WERE CHEERING HIM!" wrote Vasich. "The only reason he didn't hit anyone was the 10 beers he inhaled in the first half. I bet the guy could only make out colors at that point."
Quality stuff, Tom.
One more memory: "And, of course, you remember the full-contact football games in the parking lot. I once found a tooth by one of them."
I write, you clarify
Whoa! Who knew I'd ever make enemies in the "Christmas Story" Mafia!
OK, here's the deal. I write these things late on Sunday nights, mind frayed by sensory overload: Nextel ads forcing "Push It" into my head, network NFL music announcing scoring updates and commercial breaks seeping into my brain, and gratuitous cleavage shots of NFL cheerleaders addling my libido. In this cloudy mental environment, I wrote, accidentally, that Flick was the bully who terrorized Ralphie. Doh! Of COURSE it's not Flick. I knew that! I knew that it was Scott -- or Scut, depending on whom you trust -- Farkas, the kid with the coonskin hat and "yellow eyes"! I made a mistake, and dozens and dozens and dozens of you called me on it. And how.
I know my penalty, and I know it all too well: No turkey for me! No turkey leftovers, no turkey sandwiches, no turkey soup, no turkey hash! None for me.
I hate the Bumpus Hounds.
On a different note, the good people of Pittsburgh recoiled in horror at the thought they be classified as "Midwest". Their response was so unanimous, I immediately lost the notion that kindly Midwestern grandmothers were placing warm apple pies on windowsills, anticipating a Hangover Road Trip to Steel City.
Catch is, your rebuke of the Midwest label played right into the hands of the Eastern seaboard cities. See, my view is: Pittsburgh is a great place because it isn't a cookie-cutter Eastern city. But guys like my buddy Steiny, from Reading, Pa., know how to get your Terrible Towel in a twist -- by lobbing the "Midwest" bomb on you, then watching you scramble to deny it. Steiny was popping off, and he got you guys.
Listen: I've been to Pittsburgh. I love it. Love the people, the beer, the fans, the food. It's a good, solid Midwestern city.
Not that there's anything wrong with that.
It took reader Sean Saffle to come up with a pretty solid Regional Test. "If you say 'pop' when you mean 'soda'," writes Saffle, "then you're Midwestern."
The next item isn't a clarification, merely a pick-me-up. SPC Anthony Ikehara of the U.S. Army wrote from Iraq to simply say that last week's mention of Herb Alpert and the Tijuana Brass made his day, as he may be the only 22-year-old around who counts Herb Alpert and the Tijuana Brass as his all-time favorite band. From that message, I produce two thoughts: 1) Anthony, if you can peel a few licks of "This Guy's In Love" on the trumpet, the babes will dig you; 2) There is hope for today's youth.
Finally, we end the section with a defiant Hangover stand. I know my main purpose in life is to serve as a pinata for the Fact-Checking Police, your constant batterings of double-checking facts serving to smash my papier-mache column, spraying bits of inaccuracies all over the floor.
However! Sometimes, I can stand tall.
My claim that Roethlisberger-to-Riemersma had to be the longest-named TD hookup in NFL history appears to have stood the test. A couple of readers did their damndest to undo me. Reader Greg Wymer huffed and puffed, but could not blow my consonant-laden house down. Reader Joe Bittner found about a dozen combinations of 20 or 21 letters, but nothing to top the Scrabble nightmare that is Roethlisberger-to-Riemersma, all 23 letters of it. Bittner spoke for all of Hangover Nation when he wrote: "Wow. You may be right. How about that?"
The sense of incredulity in his tone was unmistakable.
He writes, I clarify
Get this one. This is rich.
A reader named Kevin Lynch from Pennsylvania, obviously a Hangover neophyte, wrote in to object to what he termed my anti-Philadelphia attitude.
"You take the easy way out," he wrote, "and bash Philly."
Somewhere along the way, this guy got some bad Cheese Whiz.
Rock 'n roll high school
What a can of worms -- worms wearing letterman jackets -- we opened with talk of high schools with a robust alumni list. I dared readers to come up with a list of alums, noting that a school had to go THREE deep to be legit.
Tons of you wrote in to brag on your school, and the only way we can settle this is to have a drag race for each other's pink slips. Or, go crash your rival school's prom and try to make off with their women.
I compiled a list of the most impressive, and divided them into their own little categories. So, here goes:
ENTERTAINMENT/CELEBRITY TRIFECTAS ONLY
The following submissions contain no sports ties, but merit a look nonetheless: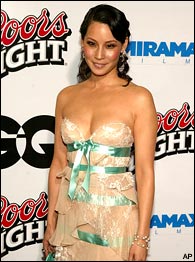 Lucy, a lightweight? No way!
Stuyvesant High, New York City: James Cagney, Thelonious Monk, Lucy Liu. (Pretty solid, even given Liu's lightweight status.)
Garfield High, Seattle: Quincy Jones, Jimi Hendrix, Bruce Lee. (Wait. Bruce Lee went to high school in the U.S.? Man. I thought he was a mysterious force who emerged from the wilds of China, from an unknown village near the Yellow River. How disappointing.)
Massapequa (N.Y.) High: Jerry Seinfeld, Alec Baldwin, Joey Buttafuoco. (Seinfeld at class reunion: "Did you ever notice how some senior guys always wanted to date the freshman girls?")
Columbia High, Maplewood, N.J.: Lauryn Hill, Zach Braff, Elisabeth Shue. (Idle thought: Did Lauryn Hill ever make a second album? She went from, like, 10 Grammies to semi-retirement in a hurry.)
Broad Ripple High, Indianapolis: Jane Pauley, David Letterman, Marilyn Quayle. (Now THAT is the Midwest, people. Jane Pauley must have been the sweetest girl in school, ribbons in her hair and all that.)
Montgomery Blair High, Silver Spring, Md.: Goldie Hawn, Connie Chung, Carl Bernstein. (Imagine Carl Bernstein on the school paper, meeting janitors in the back parking lot in the middle of the night, working on the story that will bring down the principal's regime.)
Lamar High, Houston: Walter Cronkite, Tommy Tune, Jaclyn Smith. (Tommy Tune? And I included this thing? Yes -- because of the Jaclyn Smith Rule. The Rule is: Whenever given a chance, mention Jaclyn Smith.)
PERFECT BLEND OF SPORTS/POP CULTURE
These lists are my favorites -- if you can tie in a prominent sports alum, along with some outrageously incongruous entertainment/celebrity figures, your high school goes to the top of the list. Like, for example:
Taft High, Woodland Hills, Calif.: Robin Yount, Jeff Fisher, Maureen McCormick. (Marcia Brady makes any high school's all-time list, and Fisher and Yount sported two of the best cheeseball 'staches in recent sports memory. Solid.)
Sewanhaka High, Floral Park, N.Y.: Al Oerter, Telly Savalas, Vinny Testaverde. (Who loves ya, baby? Only a guy who got gold medals in four different Olympics, that's who.)
Palo Alto (Calif.) High: Jerry Garcia, Joan Baez, Jim Harbaugh. (Didn't the Dead almost title one of their albums, "Captain Comeback"?)
Oak Park-River Forest (Ill.) High: Ernest Hemingway, Ray Kroc, Dan Castellanata. (Mmmm. McDonald's fries. Goes well with a Duff.)
Long Beach (Calif.) Poly: Cameron Diaz, Tony Gwynn, Calvin Broadus. (I don't know how to add to this, except to say: Fo' shizzle.)
Van Nuys (Calif.) High: Don Drysdale, Robert Redford, Norma Jean Baker. (Imagine the number of guys who, years later, said: Holy sheesh! I made out with Marilyn Monroe in high school, and now my wife is 45 pounds overweight.)
Brookline (Mass.) High: Barbara Walters, Conan O'Brien, Theo Epstein. ("Theo, if the '04 Red Sox were a tree, what kind of tree would they be?" "Uh, I don't know, Barb. A marijuana plant?")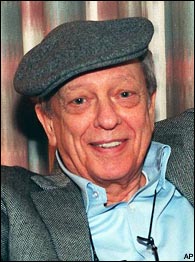 It's always good to see a Don Knotts photo on Page 2, isn't it?
Morgantown High, West Virginia: Don Knotts, Lawrence Kasdan, Terry Bowden. (How many West Virginians unwittingly dress as Mr. Furley every day, anyway?)
Cheshire High, Connecticut: Brian Leetch, Brad Ausmus, Ron Palillo. (Let's face it: Without Horshack, this high school doesn't sniff the list.)
Thousand Oaks (Calif.) High: Kurt Russell, Michael Richards, Marion Jones. (As a former prep sports reporter for the L.A. Times, I have to throw the flag here. Jones split time between T.O. High and Rio Mesa High. But if you consider Jones an alum, T.O. has both the World's Fastest Boy, and the World's Fastest Girl!)
Cambridge (Mass.) Ridge and Latin: Ben Affleck, Matt Damon and Patrick Ewing. (How 'bout them apples?)
Upper Darby (Pa.) High: Jim Croce, Dr. Jack Ramsay, Tina Fey. (Just about the perfect, random, high school trio.)
Lake Highlands (Tex.) High: Merton Hanks, Morgan Fairchild, Justin Leonard. (When a high school-aged Morgan Fairchild roamed the halls, many male classmates surely unwittingly did the Hanks "Chicken Dance.")
Wheaton-Warrenville (Ill.) High: Red Grange, Bob Woodward, John Belushi. (Surely, Woodward consulted Sen. Blutarsky before going to press with the Watergate scoop.)
THE STAND ALONE HIGH SCHOOL
It almost isn't fair, but Boston Latin High featured the likes of Ben Franklin, Ralph Waldo Emerson and Samuel Adams.
When your high school's alum list is made up of people whose names adorn other high schools across the land -- you win.
SPORTS TRIFECTA TO CHALLENGE SERRA HIGH
It was the Barry Bonds/Tom Brady/Lynn Swann trifecta at San Mateo's Serra High that spawned this topic, and then I slapped the "Public Schools Only" rule on the list, thus disqualifying Serra, a private school.
Stepping right into the void? Oakland's McClymonds High, featuring Frank Robinson, basketball's Bill Russell and Curt Flood.
One guy hit 586 bombs, one guy won 13 NBA titles and one guy changed baseball forever.
Can't beat it.
NOT A TRIFECTA, BUT MY FAVORITE DUO
Hibbing (Minn.) High graduated both Bob Dylan and Kevin McHale, a feat that even eclipses Port Arthur (Texas) producing Janis Joplin and Jimmy Johnson.
NOT A TRIFECTA, BUT A COOL PIECE OF TRIVIA NONETHELESS Reader James Wagoner of Middletown, Ohio got his English textbook in seventh grade, and went to sign the front inside cover -- very Old School. Who was the first name signed on the inside? Basketball HOF'er Jerry Lucas. Excellent. I'm betting kids today don't sign the inside covers of their textbooks, depriving a lad in Akron, Ohio, from opening a science text and seeing the words "LeBron James -- Registered Trademark" inside.
All right. Back to football. I guess.
Philly Corner
The Eagles don't play until Monday night, but that doesn't mean we'll skip our weekly "Philly Corner" -- the chapter of the Hangover dedicated to the raw realism and comedy that is the Philly Sports Fan.
Philadelphians spent most of last week reeling from the cross-state drubbing in Pittsburgh, and their feelings could best be summed up by Hangover regular Ed White, who wondered why Pittsburgh denizens are just so damn pleasant. White's Monday morning breakfast in Steel City was served by a waitress who told him "But it was a good game!" as part of a charm offensive put forth by the good Midwestern -- errrr, uhhh -- Mid-Atlantic folk of Pittsburgh. Writes White: "One final word of advice to the wonderful people of Pittsburgh: Not everyone wants to have inane chit-chat at every turn. Especially at a urinal."
Makes you feel all warm and fuzzy before the holidays, doesn't it?
Speaking of warm and fuzzy, reader Bill Teufel's unprompted attack on Philly sports -- note Teufel's e-mail last week in reference to the C.O.B.L.'s "Quadrangle of Futility" -- inspired a predictable wave of threats, profanity and bile. Reader John Cummins in Germany noted that the very name "Teufel" means "Devil" in German, and many Eagles fans apparently agree. Not that Teufel is backing down. He sent The Hangover another e-mail this week, saying he'll take on all comers in cyberspace at a new e-mail he's created, just for you Philly types. I don't want to start a Jets-Sharks styled gang-war here, but I'll lay it out, just to be fair: E-mail Teufel at phillychokes@gmail.com.
I wish Godspeed to his Inbox.
I won't go the extra step and print his address, though. Believe it or not, one of Teufel's roomies wrote in with the address, and said he expected "an angry sea of green" if it ran on ESPN.com. No way. I don't need the future litigation. I will note, however, that another friend of Teufel's wrote in to call out Teufel as a fraud. He passes himself off as a Pittsburgh fan, his buddy wrote, but when pressed to name the two teams the Penguins beat for their Stanley Cup titles, Teufel choked. He couldn't produce. "We call him 'Bandwagon Billy'," the friend wrote.
I'm still amused his roommate wrote in to call Teufel out. That happened with Philly-hater Barry P. a few weeks ago, too. His roomie wrote in to hang him out, also. I never knew the C.O.B.L. was an "Et tu, Vinny?"-type of town.
Speaking of Barry P., he showed up again, too, crowing over the Eagles' loss of an undefeated season. He claims that he tried to lighten the mood of mourning by suggesting to an Eagles fan friend that he wear the "black alternate jersey as tribute, and his response was: 'Those (expletive) bums. I'm not going to wear their (expletive) again till they win a game."
Now, were I a responsible correspondent, I'd verify the truth of that anecdote first. But like Popeye, I yam what I yam.
I feel a need to restore the glory of Philly before closing the chapter. So we turn to Eagles fan Anthony Pisch from Raleigh, N.C., who related a tale from the old Vet. Pisch saw a Packers fan dare wear a cheesehead to the Vet. He then watched as an Eagles fan calmly removed the cheesehead from the Packer fan's noggin, and, well, relieve himself in it.
"Business as usual in the 700 level," writes Pisch.
Final Week 10 thoughts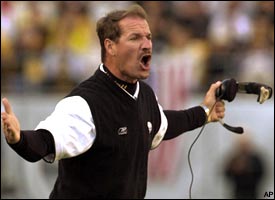 Bill Cowher can be a nightmare for a sideline reporter.
With the beauty of DirecTV's NFL package, an underrated benefit has come to the fore: Scooping the Game Break. See, you can be surfing the dials, come across Mike Vick's achingly beautiful TD pass to Alge Crumpler, enjoy it live, then flip over to the Rams-Seahawks game. Moments later, the broadcasting duo in St. Louis throws it to L.A. for a Game Break, only to show the Vick-Crumpler hookup. You sit back in your couch, smug with the knowledge that, in your world, it's old news. It's an underrated pleasure -- like getting in on the ground floor with a really cool band, before they hit it big.
The Hangover is never a fan of the halftime interview, so we clench our proverbial jaw in honor of Steelers coach Bill Cowher, who snapped during his halftime interview en route to the locker room. Asked how he was doing, Cowher's jaw tightened and he said: "You're catching me at a really bad time." Yes! Finally, the coach who delivers the honest shot-across-the-bow. File this along with Roy Williams' famous "I could give an (expletive) about Carolina right now" -- just a few weeks before he accepted the gig to coach at UNC -- for quality, live TV coach reaction. I'd hate to be one of Cowher's kids at the dinner table when he's miffed. "Dad, can I borrow the car?" Long pause. "You're catching me at a really bad time." Stony, icy silence ensues.
Does it get any more uninspired than the Seattle-St. Louis tussle for NFC West supremacy? Arizona should win the division, based on being the only team with a semblance of stones. I wanted to hire a country-western songwriter to pen an ode on the Rams-Seahawks game, called "The Ballad of the Undeserving."

Plus, it was played in a dome.

'Nuff said.

E-mail Brian Murphy at page2murphy@yahoo.com with thoughts, questions and unanswerable philosophical rants..