By Brian Murphy
Special to Page 2
We are just days away from the best day of the year.
Not Christmas Day, you iPod-grubbing materialist.
The Hangover speaks of Christmas Eve, when TBS begins its 24-hour airing of "A Christmas Story," perhaps the finest day in our country's history since the afternoon the producers of "Trading Places" somehow convinced Jamie Lee Curtis that a topless scene would be vital to the advancement of the plot.
With the warm holiday fuzzies caressing most Americans into moods of joy, The Hangover is here after Week 15 to pull a Statue-of-Liberty play on conventional wisdom and go negative.
That's right. I'm here to play Mr. Potter to the NFL's George Bailey. The league wants you to focus on Peyton's 47th, on the Marty Schottenheimer-for-Mayor campaign in America's Finest City, on Big Ben's quest to Never Lose, Ever.
I want to focus on crushing underachievement and bile-inducing ineptitude.
I am here to ruin Christmas by highlighting The Disappointing.
You know who you are. You fans ache with these squads. Christmas might be redeemed by Ralphie, the Leg Lamp and the Bumpus Hounds on our TV sets, but there is no getting past the bitter vibe hanging around the following cities:
SEATTLE: Calling all August visionaries. Hand in your ouija boards.
Remember when the Seahawks were the trendy pick to win the Super Bowl?
They can't even catch a pass. It takes a 42-year-old Jerry Rice, playing with the fuel tank actually glowing 'E' on the proverbial dashboard of his career, to add any life to this crew. Throw in Week 15's lifeless loss in New York, and Mike Holmgren's boys are now 7-7 after a 3-0 start. If they qualify for the playoffs, they should be denied entry and their foe given a first-round bye --- just on general principle. Plus, it's drizzling and 35 degrees out in town. Again. Forecast is the same for tomorrow. And the next day. Good news, though: REI is having a sale on outerwear. Bundle up!
DENVER: Come on. You never really believed in Jake Plummer, did you?
Some of you Broncos fans have written to The Hangover, and you're miffed.
When Jake flew the bird at Broncos fans, most interpreted it as Plummer hanging the letter 'I,' as in, 'Interception.' At 8-6 after getting pantsed in Kansas City, the Broncs, amazingly, still have a good shot at the playoffs. Again, I refer you to the "General Principle" rule --- Deny Denver and just feel better about it, based on their late-season efforts. The Mile High City aches.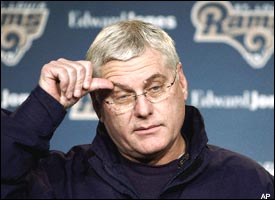 Mike Martz, a.k.a. The Grinch.
ST. LOUIS: Give him a wheelchair and a real-estate background, and Mike Martz steals the Potter role in a runaway. The Rams lose, 31-7, to Arizona, and Martz's answer is to heave 39-year-old Chris Chandler under the bus for failing to run the offense properly. Miguel -- you lost, 31-7, to a team that lost to the 49ers ... twice.
Under our "General Principle" rule, you should never be allowed on an NFL sideline again, if only for the weak sauce of blaming Chandler for a team-wide meltdown. Besides, the Rams are 6-8 -- with a loss to Miami in there. It's depressing just to type this stuff. On the bright side, the Cards just landed Mark Mulder. The Gateway City rejoices.
NEW YORK: At 5-2, with Kurt Warner and Tom Coughlin enjoying free eats at any Hoboken diner of their choice, the world was colored Big Blue. Seven consecutive losses later, including a sweet, anti-Roethlisbergian 0-4 run by Eli Manning, the Giants are holding the "Will Play for Food" placard on Manhattan street corners. The worm is turning in Gotham: The Yanks spit it up against the Sox, Herm Edwards is now The Man, and the Mets just got Petey Martinez. Anybody up for an Islanders' Stanley Cup?
Never mind.
So there. Got the vitriol out of my system. Feeling better now.
Anybody ready for some Christmas shopping at a crowded mall with no parking spaces?
Wait ... I can feel the rage bubbling. Better move on!
Players, places and things we love, Week 15
Joey Harrington, Green Bay and Cleveland, the Jacksonville Jaguars
The week started with Steve Mariucci wondering if Joey Harrington would play on Sunday. The week ended with Detroit fans chanting the name "Jo-ey" about a grown man with a beard.
Which brings to mind: The Beard. Who can pull it off? Who can't? This year, two Pac-10 products -- Harrington and Plummer -- have tried to go Dan Fouts on us. (Speaking of which, Fouts was a Pac 10-er also. Do Pac-10 QBs have the market on beards? Then again, Donovan McNabb has a beard, and he's a Big East product. I digress.) Anyway, I still say the Lions' 5-9 record is pretty damn good, considering how pretty damn bad they've been for, like, forever. Shoot, 5-9 in the NFC West means you can start calling jewelers about rings.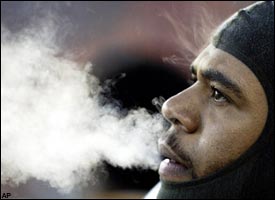 Nick Luchey of the Green Bay Packers lets off some steam Sunday.
I like Harrington's style. I like his number. I like his West Coast pedigree. I'm not so sure about the beard. And while they lost, I'm thinking the '05 season will have lots of J. Harrington and Roy Williams and Kevin Jones in it, somehow.
As for Green Bay and Cleveland ... ahh, sweet Christmas football. Nothing like tossing a Duraflame in the fireplace --- at 54 degrees, it gets downright frosty here in Northern California -- and curling up under the blanket to watch snow in Cleveland and a 12-degree late afternoon in Wisconsin. The lights on the tree glisten, the Christmas cookies are in the oven; and just miles from my home, the Raiders are playing in front of another half-empty Coliseum -- mmm, the treasured landmarks of the holiday season.
Thank you, Cleveland and Green Bay, for letting this California weenie vicariously experience Real Christmas Weather. The Green Bay game, in particular, provided strong gratification, as the condensed breath poured out of every helmet. So much smoky-looking substance was hanging in the air that it might have been a Parisian movie theatre, or train station.
Here in California, to see your breath, you have to wait for guys to exhale at "Reggae on the River" in the summertime.
As for the Jacksonville Jaguars, well ... they showed up in Green Bay without sleeves. For the Jags to come north and go Bare Skin? Impressive.
You make the list.
Players we love, Week 15: Bonus Category
The Indianapolis Colts' cheerleaders, in blue Santa outfits.
Nice.
Ricky Williams/THC Watch
There he was! The man himself, on "60 Minutes." I nearly forgot to watch. I was engrossed in the Colts/Ravens Sunday nighter when I remembered to flip channels. I arrived on CBS just in time to see some concert footage of Bob Marley on the screen.
Sweet.
Ricky did not disappoint. When Mike Wallace asked him if he could pass an NFL drug test right now, Ricky's "no" was out of his mouth way, way faster than a good, deep bong hit leaves his lungs.
Speaking of which: Mike Wallace and Ricky Williams. Is that one of life's better When-Worlds-Collide visuals? Two men with nothing in common other than their joint membership in the race homo sapiens. Their wager on Ricky's return to the NFL -- they shook on it -- produced quality comedy, especially when Ricky pushed for the stakes: "Lunch? Dinner?" he asked. You get the feeling CBS cut out his next offer: "Dime bag?"
Thank you, Ricky, for just being you, pal.
I write, you clarify
Before we get started, I must compliment you guys for the generally high level of e-mail you send. Just when I start to think my readership is a group of mouth-breathers looking for insight into the Xs and Os of the NFL, you impress me by embracing my love of the arcane, the trivial and the irrelevance of everyday life in this morass of uncertainty we call "existence."
That said, you guys are long overdue for some quality Meat Sweats tales, but we'll give 'em next week. I got seriously quality tales from the Philly Corner and from our new addition, Buffalo Corner, but the bosses in Bristol have rightfully pointed out that The Hangover --- while delightful, they insist, with facial tics flaring --- does tend to run a bit, ahem, long. So in the interest of brevity, we'll get right to it.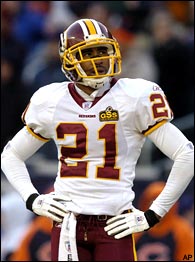 Fred Smoot ponders the meaning of the word "moot."
Moot! Moot, moot, moot! Moot! My goodness, do we all have opinions on the word that is one letter shy of being a Washington Redskins defensive back.
(Idle thought: When an opposing offensive coordinator is wondering if a pass play will work against the Redskins, does he wonder aloud about a defender's role by asking: "The question is Smoot?")
So when reader Dan McVey identified the word "moot" as meaning "open to debate," he stirred up a hornet's nest of grammarians. Turns out, disappointingly, that many of you subscribe to the theory that "popular usage" can change a word's meaning. So do dictionaries, I guess. As such, the word "moot" carries dual meanings -- dual opposite meanings. It is also acceptable, many and many of you wrote in, to use "moot" as "not worth debating." When a word can mean opposite things -- is that ironic?
I think so.
Many of you took the opportunity to write in on other grammatical thorns, including the misuse of "could care less" and others. Reader Jeff B. provides a Web site for the Idiom Police.
Knock yourselves out, Hangover Nation. I've turned into William Safire before your eyes.
Buffalo Corner
In our first edition of the chapter devoted to the NFL's most heartwarming team -- and yes, The Hangover noted the Bills' evisceration of Cincy on Sunday -- we received some quality material about the predilections of western New Yorkers about their affinity for the original AFL franchise.
The best came from reader Marty in Rochester, whose tale is so good, he might as well be writing this flipping column. Marty tells of leaving a game at Ralph Wilson Stadium ("The Ralph," they say) last year, when he came upon a hitchhiker. I'll let Marty take it from here:
"I'm not in the habit of picking up hitchhikers, but this guy was on the ropes and was wearing one of those old school winter hats with the pom-pom on top and the old logo of a stationary white Buffalo -- and this thing wasn't retro, it was authentic. I'm pretty sure he must have gotten it for Xmas when he was 12."
(Hangover note: Strong. There is no way you can replicate the authentic, mid-'70s ski cap. I had a 49ers version. The "SF" patch must have weighed two pounds. Awesome. Now back to Marty.)
"The guy was speaking in tongues, but he somehow managed to direct us to his house no more than a mile from the stadium. Actually, it was his parents' house --- where this 30-something guy lived. Sitting in a pickup truck in the driveway was his brother, with the biggest bag of weed I've ever seen. He was listening to the postgame on the radio and rolling joints. He gave us two for getting his little brother home."
(Hangover note: Nice to know Ricky Williams was so concerned about his little bro. Touching. Now back to Marty.)
"We dragged the hitchhiker to the door, where we were met by the matriarch of this fine clan, who thanked us for getting Little Johnny home and invited us in for kielbasa. The father was seated in a La-Z-Boy with the postgame blaring and never even looked up. There was a serious Buffalo 66 vibe working in that household."
I love that story. I don't even care if it isn't true.
Speaking of which ...
Philly Corner
Eagle Nation is losing sleep over the fate of T.O.'s ankle, and rightfully so. Just make sure Andy Reid rests the big guy the next two weeks --- no questions asked, just sit him --- and all will be well. Trust The Hangover, people. Trust is a must.
Anyway, I received an unusually strong batch of Philly anecdotes this week, prompting me to wonder if I should make my first book a paperback called, "Tales From the Crypt: The 700 Level Comes Clean." I might have to devote an entire Hangover to the leftover stories that don't make the cut. They're that good. But this week's missives get to me, because they speak to the Philly vibe: A Philly fan named John Semler read last week's Hangover about the guy falling on the Hibachi and setting himself on fire, felt something stir in his memory, and fired off this e-mail: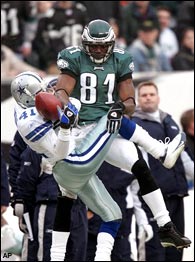 Philly fans are praying that T.O. can bounce back.
"I've long believed the stories in your Philly Corner are either greatly exaggerated or out-and-out fiction."
(Hangover note: Yeah? And your point is?  Now back to Semler.)
"So, you can imagine my surprise when, in the course of reading your column, I suddenly find myself reading about the demise of my old Hibachi. I can assure you that the story is 100-percent accurate, with one exception: Our friend who pulled the guy off the Hibachi is not, nor has he ever been, a 'quick thinker'."
(Hangover note: I love the raw honesty of the Eagle Fan. Now back to Semler.)
"As a postscript, upon coming to, the guy realized that he would have to replace his Eagles jersey, which was now melted to his skin. After a quick trip to a nearby store, he returned with a new jersey. As he changed jerseys, I noticed a large area of scarred tissue. I pointed to the burn and suggested he might want to go to a doctor. To which he replied, 'Nah, that's from another time I burned myself.'"
We're left with the question: Can Semler's tale be too good to be true?
We'll take it on faith. The Birds, after all, are 13-1.
Bird is the Word
I wondered last week which type of Bird-Fly was employed by Jake Plummer in the Week 14 loss at Denver. Hangover readers responded like an EMT.
Word comes from reader Brian in Stockton, Calif. that he saw the Bird-Fly, live. Brian says he can vouch, "positively," that Plummer did the "New York Cabbie." Brian says he knows it because he and his pals call the "New York Cabbie" the "Stone Cold Steve Austin" because Austin used the fingers-to-the-palm in the WWF, thus affecting a generation of West Coasters who used the "One We Learned in School by Sliding a Pencil Across Our Knuckles."
"Austin," Brian writes, "made it cool to do the 'New York Cabbie' again."
There were some e-mails indicating that the Bird-Fly is another sign of geographical proclivity in this great land of ours. Reader Jim Martel in Seattle says he thinks a combination "New York Cabbie/One We Learned in School" is found with "just the one bent knuckle, almost always the index finger." He and his friends call it "Chicago style."
This country never disappoints me.
Final Week 15 thoughts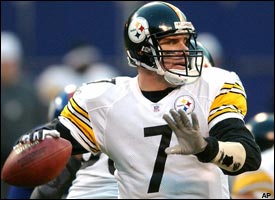 Whatever Big Ben is doing, it's working -- will he ever lose?
The NFL could have shut it down on Saturday afternoon. That Steelers-Giants game was one of the best of the year -- that is, until Saturday night, when the Panthers-Falcons game was even better. But do all of you have the same feeling I do about Ben Roethlisberger? That he moves really well, and yet really poorly, at the same time? I know I risk the wrath of Steeler Nation here. (You guys should know that, as a snow-bound city with personality and high-cholesterol food, your town is among my favorites.) But don't you see Roethlisberger as a strange mix of brilliant-arm-on-the-run/lumbering-big-man-about-to-be-sacked? I don't know. Could be I had too much egg nog.
Heard this quote on Sunday: "I can't even tell you what's going on in there. It's impossible to comprehend." Was the speaker: A.) A lawyer describing the testimony of Saddam Hussein? B.) A U.N. official assessing the genocide in Rwanda? Or C.) Dan Dierdorf watching the Jags-Packers scrum on the onside kickoff near the end of the game?

Move to the head of the class, Hangover student.
Finally, a Christmas salute to Steve Mariucci for heading straight over to rookie center Don Muhlbach after Muhlbach's muffed snap cost Detroit a 28-28 tie with Minnesota. Mooch, always sensitive, put his arm around the kid, consoled him and generally played the role of big-hearted Dad to the aching athlete.

Fair play to Mooch. At least he'll wait a few days before dispatching Mr. Potter --- aka "The Turk" -- to snatch Muhlbach's playbook and kick the guy to the curb.

Don't feel bad, reader. Just hours until the "Christmas Story" marathon begins.

E-mail Brian Murphy at page2murphy@yahoo.com with thoughts, questions and unanswerable philosophical rants..