By Brian Murphy
Special to Page 2
Is that it, then?
Is Peyton Manning's reputation doomed to be what the British sporting press call a "Nearly Man"?
At the Hangover, we take any chance to mix in Euro phraseology. Example: We'll say the pitch at Foxboro played a huge role, although New England were the better team and the fixtures for next Sunday are appropriate.
I have no idea why I just digressed into UK sport chatter.
Let's steer it back Stateside. My first thought, while watching Bill Belichick once more inexplicably wear a cotton garment during a wet snowstorm, was this: Peyton is Wilt Chamberlain to Tom Brady's Bill Russell. Or, Peyton is Wilt to Belichick's Russell, if that's your preference. At 1:40 p.m. Pacific time, as I gazed out at a California blue sky on a 50-degree winter day in the Bay Area, my TV showed something different: Snow flurries, darkness and condensed breath in Massachusetts. Thankfully, nobody was testing the condensed breath of the fans. I'm sure it would have popped the .08 limit and moved closer to Peyton territory -- .18.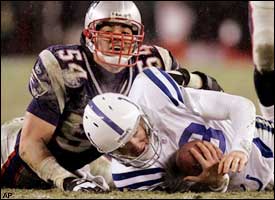 Sunday gave Peyton full-fledged half-man status.
But it was over, right then, wasn't it? There is something about the elements that turns Cyborg Peyton into Human Peyton. By the time he underthrew his second pass attempt of the day, by the time Indy went three-and-out in their first two possessions, my only worry was this: Can the people in the nosebleeds even see the field through the flurries?
I do worry about the cheap seats. You guys are my people. And thus, the pondering of Peyton's legacy began. It even spilled over to the CBS postgame show, where Boomer Esiason's blindside line -- "He is this generation's Dan Marino" -- caused Marino to fix Boomer with a Pittsburgh Mob stare that ensures Boomer best come with bodyguards for the pregame show from Heinz Field next Sunday. Boomer's bomb at Marino set the stage for some tense postgame analysis. When Marino went to the "How many playoff games did you win?" retort, I couldn't decide if Marino's 8-10 record, which includes a Super Bowl loss but is more dense with victories, trumps Boomer's 3-2, which also includes a Super Bowl loss. And before I had time to figure that one out, Shannon Sharpe jumped in with his "Did he play like the MVP?" rant at Marino. Tension ran high. It felt like a dysfunctional family holiday dinner; and as an outsider, I felt like I was watching the scene from "Ordinary People" in which Mary Tyler Moore doesn't want her photo taken with her son, played by Timothy Hutton. (Has anybody ever transformed his or her image more dramatically in one fell swoop than MTM, who erased two decades' worth of sweet-faced Laura Petrie and Mary Richards with one two-hour effort as the Ice Queen of the suburbs?) Anyway, that's it for Peyton. Forty-nine TDs, and now he shares a place with Tim Rattay and Sage Rosenfels -- the couch. Life is harsh, man. Especially when you can't get the ball downfield to Reggie Wayne. I know, I know. New England's stuff-of-fable touchdown drives kept the Colts' offense on the sidelines, and the Colts' defense didn't come up with a turnover. Still, you'd think Peyton could have put up 21 points, no? That's all it would have taken. Until then, it's Tom Brady's world, kids. Peyton just lives in it, and the mortgage payments suck. Reader
Jim Youngblood of San Francisco
has another American sports analogy for the situation. He likens the Brady/Peyton history to the careers of Derek Jeter and Alex Rodriguez: Untold riches and fame for A-Rod; untold riches and fame, and a bunch of rings, for Jeter. Ouch. But don't feel too bad for Peyton. At least he'll pack up his locker this week in the warm confines of the Midwestern press, which is sure to give the 49-TD Man a big figurative hug in its postseason wrap-ups. Alternately, he could be playing in New York, home of Jets kicker Doug Brien, who missed two field goals in Pittsburgh. Brien was greeted with the New York Post's sensitive headline: "BOOTED! Jets kicker chokes twice." Ah, conditional love. It must be the playoffs. Players we love, divisional playoff weekend
Doug Brien, Patrick Kerney, Freddie Mitchell.
Let's start with Brien, if only because I feel inexplicably bad for kickers who miss game-winning kicks in the postseason. It gets no more naked. Brien might as well have stripped down, left his clothes in a heap on the 33-yard line, and strode, nude, to the locker room. It is a bare experience, taking the gag in the postseason. Thing is -- and the reason I feel for Brien and his ilk -- is that so many factors lead to the kick, and yet all we remember is the kick. Surely, an offensive lineman missed a block that led to a shorter chunk of yardage, that led in turn to a longer field-goal try. Or a blocker on the punt-return team missed an assignment that would have resulted in better field position for the Jets' drive. Or ... you know, so on and so on.
Instead, we have Doug Brien as a one-man nudist colony. Somebody throw that guy a robe.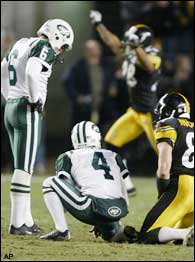 What a difference a week makes.
As for Kerney, is there any more menacing sight than the hugely-buffed defensive end who moves like his hair is on fire? Kerney has the look to terrify -- jersey cut high on his shoulder, no sleeves, and guns like Ed (Pipes) Hochuli.
(As an aside, many Hangover readers rejoiced at the mention of the NFL's most-ripped referee last week. Turns out Pipes has many different nicknames among you, and a cult following to boot. Reader
Gary Nichols from Canada
says his buddies know Hochuli only as "The Bufferee," and Nichols isn't the only one to toss rose petals at the legend of Hochuli. If a programmer is smart, our next reality show will be a camera following Hochuli, 24/7, to see the disdainful looks he gives to people who cut in line at the grocery store, to guys who take his parking space at the mall, and particularly, to any weasel who dares block his path to the 65-pound barbells at the gym.) Anyway, Kerney looked tremendous, just one symbol of a sneaky-good Atlanta team. Philly, you know the Hangover has spent all season extolling your virtues, but my advice now is twofold:
1)
Double-team Kerney; and
2)
Call the Atlanta team hotel next Saturday night and set Mike Vick's wakeup call for 3 o'clock the next afternoon.
Speaking of Philly -- we move to Mitchell, who sealed his place in Eagles lore with the greatest "Right Place, Right Time" move since Ringo Starr answered his phone in 1962. If you're a Phatalist Philly Phan, only one thing really could have happened when Eagles TE L.J. Smith fumbled the ball into the end zone in the first half: It would be speared by a Viking and returned for a score. Instead, Freddie was ready. Mitchell snagged it. Touchdown, Eagles; and a city mopped its collective brow.
Throw in Mitchell's salute to Randy Moss, his "Reverse Moon Over My Hammy", including a belt buckle flourish, and you have a Hangover PWL. That Mitchell had a big game also allows us to dust off a bizarre bit of trivia: While at UCLA, Mitchell was linked with, of all people, Elizabeth Hurley. True story. They were seen often at Sunset Strip clubs together. Mind you, this was five or six years ago, when Liz still had her fastball. That is, as opposed to now, when she's losing some mph on the gun. A friend of mine is pals with a prominent NBA player who recently went out with Hurley and reported back that, in person and up close, she resembles a drag queen. Bummer. Another illusion spoiled. Sigh. Some of the best of the Hangover, including some Philly Corner
I've decided, in a stripped-down playoff mode, to highlight only a few of the e-mails from the readers who drive this very bus. Loyal readers know I spent 17 weeks mooching off of you guys, stealing your bits and then sitting back to wait for the monthly ESPN check. I roll like that. Now, with only four games over the weekend, there are fewer bits to steal. So we're highlighting some of our favorites from the leftover mailbag. To wit:
Reader Kevin Manross, weeks ago, wondered this: "Can you think of any other situational use for the verb 'to muff' other than a punting situation, or maybe a kick return?" Manross has stumped the band, as it were. This has haunted me for weeks. Indeed, I cannot think of another time the verb "to muff" has come into play, other than a snap on a punt, or a botched punt return. Writes Manross: "It doesn't really seem to work in everyday life quite like it does with punting. 'Yeah, I'm getting audited -- I tried filling out my 1040 on my own, but I must have muffed it.'" I've muffed many a Hangover. Does that count?
There are so, so many unused e-mails on the official Hangover malady, the Meat Sweats, that I cannot begin to thank you guys -- both for clogging up my Yahoo! inbox, and for sending me nauseating tales of protein ingestion. There isn't enough room to get to them all, but I will leave you with a philosophical query from reader Brad Mudd in St. Louis, who has now earned his second mention in the Hangover: "Do vegetarians," wonders Mudd, "have a comparable experience to the Meat Sweats?" I'd love an answer, but am rather sure that 0.0 percent of Hangover readers are non-carnivores.
Alright, Philly. Here goes: Your third consecutive home NFC Championship game. This the moment you've waited for ... lived for ... woke up in cold (meat) sweats for. Are you guys up for it? I have no doubt you are.

More than one of you wonders if it is time to dump the "Curse of Billy Penn." Word is, there once was an unspoken agreement to never construct a building in Philly taller than the William Penn statue atop City Hall. But ever since One Liberty Place blew past the Penn statue in 1987, the whole city has been doomed, right up to Smarty Jones' falter down the stretch at the Belmont last summer. So it comes down to this -- Quien es mas macho? Freddie Mitchell o Guillermo Penn?

Perhaps it is best summed up in an e-mail from reader Chris Young in North Carolina, a transplanted Philadelphian who encapsulates a city's mood between hopeful and fearful, with just the right touch of Philly mania. Chris forwards an e-mail from his buddy, Jim. I love Jim's e-mail for its subtle brilliance. Writes Jim: "I think the elderly man who was sitting next to me in the 2002 NFC Championship game said it best, when he looked at me in my gorilla suit and said: 'Monkey, I have been rooting for this team since 1964, and they never win it all. WHY, MONKEY, WHY??'"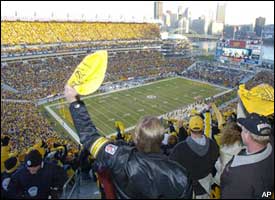 The carriers of the Terrible Towel deserve a little credit this week
Final divisional playoff weekend thoughts

Two years ago, the 49ers had a chance to promote a young fire-breather named Jim Mora from defensive coordinator to head coach, but opted for proven NFL titan Dennis Erickson, instead. That worked out pretty well. Now, two years later, Mora is not only the hottest coach in the league, but he has gone full "Inigo Montoya" on us and avenged the legacy of his father. No longer, naysayer, can the Mora Clan claim it has gone without the sweet taste of the nectar of playoff victory. No longer can you snicker when a snide radio producer drops the sound of Mora pater chirping, "Playoffs?" Vengeance, thy name is Jim Mora, Jr.!
We've gone this far without a salute to the hearty Pittsburgh crowd, which has been a consistent contributor to the Hangover in our year-long Midwest/Not Midwest tussle. It all started when my Philly-based buddy Steiny, in an attempt to bust Pittsburgh's chops, told me: "Don't kid yourself, Murphy. Pittsburgh is the Midwest." Steelers fans cannot be feeling Midwestern-friendly after the Jets game, a game which, by all rights, they should have lost. Pittsburgh reader Ben Banks, however, is undeterred, suggesting a Keystone State bash in Jacksonville when the Steelers and Eagles meet in Super Bowl XXXIX. His idea: Blend the "Roethlisberger" sando with a cheesesteak, and you have the "Turducken" of sandwiches. Winning town gets to have the other city's sandwich on its own terms. All well and good -- but if the Pats and Falcons win on Sunday? Can we get a side of arsenic?
Final Peyton thought: The "Cut that Meat!" ad isn't so cute after his offense scores three points. Too bad. I miss Peyton already. Peyton! Come back! All is forgiven! I'll even wear the Randy Moss Fright Wig if it'll make you smile, buddy.

E-mail Brian Murphy at page2murphy@yahoo.com with thoughts, questions and unanswerable philosophical rants.