By Brian Murphy
Special to Page 2
The Hangover is happy.
After 20 weeks of Meat Sweats, pop-soda debates, Al Davis' haircuts and envious admiration of Ed Hochuli's pipes, we have a Super Bowl worthy of Hangover Nation.
We have the New England Patriots, from America's New City of Champions, the most fundamentally-sound, team-oriented, disciplined, focused group you'll ever see in the NFL. They will bloodlessly destroy you. They have the killer instinct and game plan commonly found in campaigns run by Karl Rove.
On the other side, we have the Philadelphia Eagles, from America's City of Will-We-Ever-Be Champions, supported by the most neurotic, insane, comedic group of fans you will ever see outside of a "Cops" episode. They will bloodlessly destroy you with strong Bloody Marys in pregame tailgates. They have the killer instinct and game plan to make Jacksonville's tavern owners cry mercy by kickoff.
Pats and Eagles! Eagles and Pats! One team is vying to earn ODS (Official Dynasty Status). The other team has fans who are vying to burn ODS (Other Dude's Shirt) -- that is, when it happens to be enemy colors.
You could craft a nearly unassailable argument that the two cities in America with the most passionate sports fans -- Boston and Philly -- are now to meet in the ultimate American spectacle. (Sorry, Cleveland, New York and Chicago. You rank 3-4-5 in my unofficial rankings.) I love it. I can't wait for the game, the fan give-and-take, and the halftime show. The anticipation, though, comes with a deep, deep fear: That a wardrobe malfunction might accidentally expose the right breast of an overweight male Eagles fan in a Jon Runyan gamer.
Let's face it: Sunday wasn't about New England securing its third Super Bowl appearance in four years. We'll have plenty of time to toss those rose petals into the hood of Bill Belichick's fleece sweatshirt over the next two weeks.
No, Sunday was about Philly, and Eagles fans, and a dream coming true after three straight years of their hearts and spirits being put through the "Liquify" level in the sports blender of fate.
The key moment, when we all knew it was to be Philly's Day, was when little Timmy Kelly, blind and stricken with cerebral palsy, belted out a national anthem that had even hardened Philly fans -- the ones whose lifetime of cheesesteaks have spawned the hardest of arteries -- drying moist eyes.
The good sign for the Eagles wasn't so much Little Timmy's beautiful effort. It was the fact that, incredibly, nobody booed the kid.
It was then, and only then, that I saw clear sailing for Iggles Nation.
(And don't think I was alone in my fear of Little Timmy getting the Santa Claus treatment. Reader Dan Butler of Brick, N.J., e-mailed The Hangover shortly after the anthem, and expressed the same sentiment.)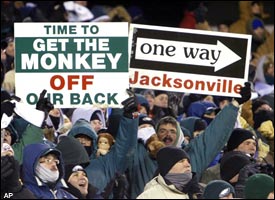 Eagles fans are finally getting what they wanted, after all these years.
Remember, nobody in Philly was counting on this as an automatic win. This is Philly, after all. It feels like nobody's been on top of the charts in this town since Hall and Oates inexplicably (and, thankfully, briefly) reached No. 1 with "Out of Touch" in 1985. Faithful Hangover reader Chris G. from Philly e-mailed before the game, essentially asking somebody to talk him off the ledge. "We'll be crapping our snow-filled crankypants until the final gun on Sunday," Chris G. wrote. "The only good thing will be that the snow will force the closure of area bridges, forcing Eagles fans to jump into the Schuylkill from alternate locations."
Nothing like a sunny-side-up Philly phan, eh? That's why I've devoted a weekly segment called "Philly Corner" in The Hangover -- people like Chris G. In fact, that's why I'm expanding it into a couple of Extra-Special-Edition "Philly Corner" Super Bowl Hangovers over the next couple of weeks. So keep those angst-riddled Eagles e-cards and e-letters coming, and we'll continue to fold, spindle, mutilate and otherwise analyze the Philly Phenomenon with bonus columns later this week and again just before the Big Game.
And yet, there was so much conspiring to make it Philly's Day: The weather was a huge factor, sure to rattle a dome team. (The weather also forced network talent to bundle up, and it was with great amusement and intrigue that I checked out Terry Bradshaw's turn as a drifter: The dark skull cap, the overgrown Van Dyke ... he could have passed as a guy living out of the back of train cars, with all of his belongings tied up in a red handkerchief.)
And then there was the eerie "Full Circle" theory e-mailed during the game to The Hangover by The Hangover's official mascot, reader Paul (20-Pound Motionless Quaker Head) Manion. We haven't touched base with Manion since the early season, but he pointed out this Serling-like development: The path to the Super Bowl for Philly would go through the Falcons, who feature punter Chris Mohr, a frequent subject of Hangover rants in the early days. If you don't remember, the raging debate was whether Mohr did or did not soil his pants on a nationally-televised game in Philly last year. Flash-forward to yesterday, when Mohr found himself punting into a gale-force wind, surely the force of fate blowing mockery his way.
By the time the game ended, and that fan held up the "RED SOX/MICKELSON/IT'S OUR TURN" sign, you had to think there is something outrageous at work here. We could have an Eagles Super Bowl title, a Lefty green jacket and a Bambino Curse busted, all in a 10-month span.
Philly? The Eagles? Champs? Could it be?
Does God have a mullet?
In the immortal words of another Philly legend: Ya gotta believe.
Players We Love, Conference Championship Weekend
Tom Brady, Rodney Harrison, Mike Vick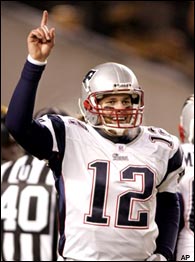 All Tom Brady does is win -- especially in the playoffs.
When will we finally kneel at the altar of Tom Brady? If anybody out there still thinks it's because of -- and you can recite a litany of anti-Brady whine jobs -- Bill Belichick, or that defense, or Adam Vinatieri ... you, my friend, are approaching Red Alert for credibility loss. Three years ago, on this website, I made a reference to Brady as "having that whole Joe Montana-without-the-talent vibe," and found my Inbox filled with threats from Pats fans so vile it nearly necessitated federal surveillance of my e-mail. Forget those days. Since last year, I've humbly come clean on Brady and admitted the obvious: The cat has it, man. Let's say it: He's the best in the game. His deep ball to Deion Branch in the first quarter was so pretty, I grew weepy. I hadn't been that verklempt in about four hours, or since Little Timmy's national anthem.
As for Harrison, let's point to his pick-and-run TD in the second quarter as the ultimate New England play. The theory: Force another team into a mistake, then take that mistake and make the entire opposing city ache for its ills. Harrison prettily stepped in front of that Ben Roethlisberger floater and, en route to his 87-yard jaunt, found himself with only Roethlisberger to beat. Roethlisberger was backpedaling and looking lost, and I almost felt sorry for him -- until Mike Vrabel came up and shoved Roethlisberger to the ground, dismissing him as if he were a mere fly on a picnic roast. Then it was official: I did feel sorry for Roethlisberger. The whole play was pure Patriots: Being sharper than the other team, more disciplined than the other team, and shoving the other team to the turf -- their turf. Ouch.
As for Vick, longtime Hangover readers know our passion for the NFL's most exciting player. He didn't play a brilliant game. In fact, he played a tentative game. But that's OK. He had the look of a guy who got to the appropriate ladder rung, only to find out it just ... Wasn't His Time. That's the look Vick had: The It's-Not-My-Time-Just-Yet look. His time will come, assuredly.
Players We Love, Comeback Player of the Year Division
Joe Namath
Forget the Eagles. Forget the Pats. Sunday, Jan. 23, 2005, should be declared a national holiday for the touching comeback of Joe Willie Namath -- clean, sober and never once offering to kiss Bob Kraft as he presented the Lamar Hunt Trophy after the game.
Namath! What a touch by the NFL. Broadway Joe was on top of his game, looking tanned, rested and sporting insanely white teeth. Seriously. Like his teeth have been painted white, or coated in bleach.
What a moment for the redemptive spirit of humanity. Most of us had written off Joe Willie to the dustbin of pop culture sadness, where he could keep company with Milli Vanilli, or Gary Coleman. But Joe handled his business with sangfroid, as if he were lounging poolside before Super Bowl III. Here we are, XXXVI years later, and Joe Willie is born again, cool.
Sweet.
I Write, You Clarify
Last week's reckless assertion that 0.0 percent of Hangover readers are vegetarians produced an avalanche of nay-sayers from the Carrot-Eating demographic of my readership. Turns out there's a huge crew of you who have never experienced the Meat Sweats, but provide ample anecdotal evidence that vegetarians, too, can get "Da Sweats."
Dozens and dozens of you wrote in to describe various Vegetarian Sweats -- "soy sweats" and "peanut sauce sweats" were cited, among others -- and in a turn of events alternately grotesque and comedic, the Veggie Sweats ultimately can be summed up in one word: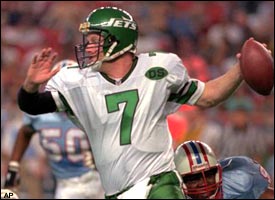 Boomer Esiason tries to avoid the pass rushers.
Flatulence.
While hot sauce was commonly cited as the culprit of Veggie Sweats, others came clean. Reader Dann McKeegan of Urbana, Ill. calls it "methane overdose." Reader Jonathan S. says eggplant sandwiches can "braid my intestines into a lanyard." And reader John B. calls it flat-out "tofu flatulence."
Mostly, vegetarians want to be embraced for the pigskin-lovers they are.
Reader Paul Cook sends what I would call the Vegetarian Football Fan Manifesto, pleading a case to be considered one of us: "We shop at the same supermarkets, we fill our cars at the same pumps, we wonder 'What If?' when the wife's sister comes to mind and, yes, we, too, wonder how guys like Mike Martz and Jim Haslett remain employed."
Meanwhile, last week's Dan Marino-Boomer Esiason smackdown on network TV -- wherein Boomer called Peyton Manning "this generation's Dan Marino" -- produced this tart retort from reader Daniel Montalto: "Who, then, is this generation's Boomer Esiason? Kerry Collins?"
Well said, grasshopper.
And everybody's favorite flag-thrower, Senor Hochuli, gets validation from reader Patrick in Chicago, whose father works with the NFL and sometimes has pregame meetings with officiating crews. Patrick's Dad checked in with this take: "Hochuli loves to show off his pecs. Whenever he comes out of the locker room for our pregame meeting, he always just wears his T-shirt -- with the sleeves cut off!"
I feel pumped up just reading that.
Final Conference Championship Weekend Thoughts

OK, let's come clean. Philadelphians. All denizens of the C.O.B.L., you must chill. We love you, we admire your passion, we want good things for you. But you cannot be guilty of physically hassling relatives of visiting players, as reported after the win over Minnesota. I hate to stand atop the soapbox like Mini-Me, but let's remember the essence of your mission: Heart, plus humor, plus good clean drinking and fun -- good. Harassing elderly women? Not good. End of lecture.
Our final chat with good Pittsburgh fans, good Stiller fans, good people, good Primanti Bros. customers ... The Hangover earnestly sends its regrets. What to say? You could see Big Ben's lousy game coming, looming, unable to be stopped, like Jerome Bettis turning the corner with a head of steam. A rookie doesn't go undefeated, a rookie doesn't beat Bill Belichick's defenses twice, a rookie just has to fall, so he can get up, stronger and better in the future. All that said -- would the game have been different if Bill Cowher had gone for it on fourth-and-goal, at 31-17? Did Cowher unwittingly, or wittingly, send a message of compromise by settling for the field goal? Unquestionably, you can argue that the field goal was the right call: Make it 31-20, a two-score game, a logical call. Still, there seemed a note of surrender there. I wonder if Steelers fans felt the same way?
If the Pats win two weeks from now, will the city of Boston lay claim to the greatest sports year in American history? Even if the Pats had gone 1-15, the Olde Towne still might make the claim. The Red Sox story only grows more insane and improbable by the day. Think about it: A Pats' Super Bowl, three months after the 3-love comeback against the Yanks, three months after the end of the 86-year drought, three months after the best American sports story since the 1980 hockey team ... that would be it. Better than the Bradshaw-Willie Stargell Pittsburgh year of 1979.

Boston, history is at your doorstep.

And the only thing in your way is the city of Philadelphia.

You have been duly warned.

E-mail Brian Murphy at page2murphy@yahoo.com with thoughts, questions and unanswerable philosophical rants.