The only thing wrong with the scene was newly-minted Hall of Famer Steve Young wearing a T-shirt under his Aloha shirt. Unless he was protecting a fierce case of nipple rash, this is a fashion
faux pas
in Da Islands.
Things are loose at the Pro Bowl, including lips. You can swing some sweet nuggets of gossip at the Big Luau, and so the pregame coverage this year produced some gems about Freddie Mitchell -- namely that Terrell Owens was disappointed in Mitchell when Freddie said T.O.'s appearance took him out of the Super Bowl game plan, and that T.O. called Mitchell and bought him a plane ticket to Hawaii for a week of leis, mai-tais and limos. But Mitchell never called back.
Mitchell's continued career self-immolation calls to mind some other questionable Career Moves throughout history, including Corey Feldman starring in "Meatballs 4," and Ashlee Simpson saying, "No, I'm feeling OK tonight, I don't need to lip-synch" at last month's Orange Bowl.
Meanwhile, an interview with Donovan McNabb, Daunte Culpepper and Mike Vick produced McNabb's off-the-cuff plea to "Get my man a receiver!" when the topic turned to Vick's fate with the Falcons, ensuring that Peerless Price is deleting McNabb's cell phone number from his Blackberry, ASAP.
2. Smile! Doggone It, People Like You.
Who's the most popular athlete in America? Sure, you put Tom Brady, Lance Armstrong, LeBron James and Derek Jeter on the short list. But let me throw you a major-league hook and put another name there: Phil (The Grinnin' Lefty) Mickelson.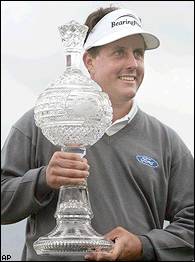 Phil Mickelson's had lots of reasons to smile lately.
It is the most bizarre thing. People love Lefty. Like he's Elvis.
Or, even better, Arnie.
Thing is, Elvis had The Hips, and Arnie had The Cowlick.
Phil has ... well, Phil has ... um, Phil has ...
The Smile?
Has a spaced-out grin ever earned more goodwill? I mean, besides Chauncey Gardiner in "Being There."
After the AT&T at Pebble Beach, Lefty is now two-for-two in his last PGA Tour starts, and hanging on the rim, too.
These are gorilla dunk-type wins. The Masters is just under two months away, but the Vijay-Tiger-Ernie corner of the locker room cannot be fired up to see Mickelson hitting it longer than ever, closer than ever and better than ever. More to the point, Lefty is by far the most popular of those four. Fans go nuts for the guy. Mostly, it's because he plays great, he plays daringly and, well, he's got The Grin.
He could make like Nick Tortelli's wife from "Cheers" and join "The Grinning Americans" as a traveling entertainment troupe. Nick's wife, of course, famously pouted, "This is one American who will have trouble grinning on stage tonight!" after Nick dumped her.
Look for Lefty to break out the same quote if he loses the Masters by one stroke in April.
3. College Basketball: Is It Safe To Come Out And Play?
College basketball fans have been a pilloried lot of late, told by the Powers That Be that their game is inferior, racked by their favorites' early departures to the pros, and rendered increasingly irrelevant.
Maybe I'm the guy listening to Mitch Miller records during the 1960s rock-n-roll revolution, but I'm still on board. And now is the time to fly your colors, my fellow believers. The NFL is over, baseball is still seven weeks away, the NBA playoffs are a distant rumor, and the NHL is as alive as Robert Blake's career.