Single page view
By Brian Murphy
Special to Page 2
Tough days at The Cooler.
It's almost impossible to pronounce the very words, but we have to reach deep, look within ourselves and find an inner strength to get through. ... I can feel the words coming. ... We have the power to overcome them. ...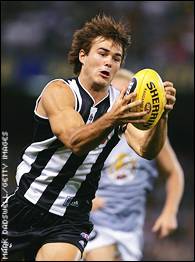 If you're bored, perhaps you should check out Australian Rules Football?
Mid-February.
There. I said it.
Mid-February: A time after the NFL, before spring training; after college football, before March Madness; after we've stopped caring about the slog of an NBA regular season, and before -- way before -- the NBA playoffs.
Shoot, even the Oscars are a week away.
I never thought I'd say this, but thank goodness for Jose Canseco. At the least, during these rainy days in northern California, and these icy days in the rest of America, we sports fans can take safe harbor in the warm chatter of hypodermic needles, morally bankrupt tattletales and the image of Mark McGwire's rear end, waiting for its vitamin boost in a bathroom stall.
Mmmm. The purity of being a sports fan.
Yes, NASCAR fans, you had your Super Bowl on Sunday, but I would be less than honest if I made The Cooler, after 4-plus years, suddenly a NASCAR-friendly zone of cyberspace. I can't touch the Daytona 500. It would be like me suddenly riffing on Australian Rules Football, howling about the injustices by the officials at the Western Bulldogs-Sydney Swans tilt, or marveling at the athleticism on display at the Kangaroos vs. Geelong clash.
(You think I made that up? A quick visit to afl.com.au gave me that dope. Those games took place over the weekend. The Cooler: "Your site for Aussie Rules Football talk since 2005.")
We soldier on, finding refuge in Charles Barkley's oasis of comedy at the NBA All-Star Game, in the gossip of pitchers and catchers reporting, in the soggy West Coast swing of the PGA Tour.
As John Steinbeck wrote in "The Grapes of Wrath": "We are the people. We go on."
Or, for a more modern translation: "We are the sports fans. Our sports jones must always be sated."
On, then, to the Weekend List of Five:
1. The World's Finest Athletes, Indeed
I haven't watched an NBA All-Star Game in years. I must say: Sloppy? Yes. Silly? Yes. Selfish? Yes.
But a perverse, ball-hogging part of me actually enjoyed some of that action out there: Allen Iverson's waterbug act, LeBron James' first of 25 consecutive All-Star appearances, Manu Ginobili's Argentinians-are-fly-too moves and, of course, Vince Carter's stunning impression of Earl (The Goat) Manigault.
Watching the starters get introduced, and seeing LeBron, Kobe Bryant, Kevin Garnett and Tracy McGrady receiving fame, fortune and adulation, you had to think Muhammad Ali's old "Don't Be a Fool/Stay in School" adage was taking a savage beating. It was heady stuff, until I was jolted from my reverie by the words, "And Zydrunas Ilgauskas is in the game" -- my unofficial, If-it's-too-loud/You're-too-old moment for today's NBA. Nothing says "You've Lost Touch With the NBA" like Zydrunas Ilgauskas in an All-Star Game.
2. Then Again, That Halftime Show ...
Before Barkley unloaded on the halftime entertainment, I had already typed the following observations into The Cooler: