Single page view
By Brian Murphy
Special to Page 2
"Welcome to Spinal Tap, Mark II ... we hope you like our new direction."
– David St. Hubbins, in "Spinal Tap," announcing Derek Smalls' free-form jazz odyssey at Themeland Amusement Park
Welcome, also, to Tiger Woods, Mark II. We at The Cooler like this new direction.
The story of the weekend went down in Miami, where Tiger and Phil Mickelson performed golf's version of an Indian Leg Wrestle at the Ford Championship. They grapple, they sweat, they tussle – and Tiger wins.
Same old story, right?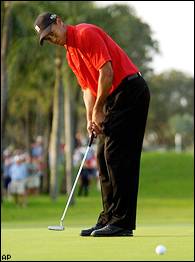 Will Tiger, Mark II mark the end for Phil and Vijay?
No way. Not in Tiger Woods, Mark II. See, this is the beginning of a new era – sort of like how Derek Smalls' furious bass work in the free-form jazz odyssey signaled a new era for Tap.
The difference: While Tap's new work was greeted with a decided thumbs-down from a mullet-wearing fan in the front row, all sports fans should hold their lighters aloft for T.W., Mark II.
It goes like this: During 1999-2002, it was All Tiger Woods, All the Time. Grown men in Footjoys cowered at the sight of the lad. Wannabes in logoed sweaters quivered and shook. Adults in tailored slacks and hats bearing ads for financial companies couldn't bear to look Tiger in the eye.
He won seven of 11 majors. It became apparent he wasn't just going to break Jack Nicklaus' record; he was going to do it by hanging on the rim, by moonwalking and doing the splits after victories, by greeting fellow players on Sundays of the major championships and saying: I spit in your general direction. Now, go fetch me a Gatorade.
But a storm hit Muirfield in 2002, and Tiger has gone 10 cold, lonely majors without a win.
Now, two things have happened: One, Tiger is back in '05. He is smoking it, walking tall, pulling off the feats of pure magic that make him, well, Tiger. Who else could call himself Tiger, and get away with it? (If I tried to call myself "Tiger," I'd get laughed out of every room into which I walk.)
Here's the second thing: The boys in the Footjoys/logoed sweaters/tailored slacks/hats with ads for financial companies have grown up. Phil, Vijay Singh, Ernie Els – each man made his mark. They're not afraid anymore. Lefty even won a major. Shoot, Vijay wrestled the No. 1 ranking away from Tiger, like he was stealing lunch money from the former bully-turned-weakling on the schoolyard.
So as Tiger launches this new era of skill and beauty, ready to make a run at ending that 10-major drought, he does so against a new backdrop – a backdrop where Phil, Vijay and Ernie are ready for a fight, not looking to hide in the weeds. In other words, this might be the best summer of golf since Jack used to mix it up with Arnie, way back when crew cuts were cool.
This is Tiger Woods, Mark II. We hope you like this new direction.
You know what? It beats a free-form jazz odyssey.
On, then, to the Weekend List of Five:
1. One Guy Named John Miller ...
There are certain fail-safe signs of spring in the air: The first whiff of pollen, the sight of wildflowers on the hill, and Johnny Miller eviscerating a pro golfer on national TV.
Now, now. Before we go further, let's let the good bosses at the Mothership in Bristol know that this item will not fall under the "Forbidden Commentary About Another Network" umbrella.
This is merely an appreciation for the work of Johnny (The Lip) Miller, the man who can tell it like it is and usually tells it like this: He choked.
He's the best in the business.
I was fired up to see the PGA Tour swing toward Florida, because it meant NBC would be taking the reins and we'd get the 2005 debut of Johnny (Brutally Frank, And to Be Brutal, Frank Choked) Miller. He didn't disappoint, giving star-quality efforts from Doral.