By Brian Murphy
Special to Page 2
March Madness: The antidote to the steroid blues!
When this old sports world is getting you down, when Congress turns Big Mac into a small fry, when Barry reminds us of the old George C. Scott line from "The Hustler" – "Feel sorry for yourself ... it's one of the best indoor sports" – all you need is to swing by The Cooler, draw yourself a cold one and say to your nearest compadre:
"I'm living large this week – I had the over on 3.5 overtimes in the Regional Finals this weekend."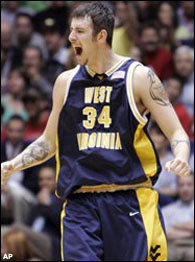 It was the kind of weekend that left you screaming for more.
Just when you question your worth as a sports fan, just as you listen to yet another polemic on how Mark McGwire ruined it for the kids, or how Barry Bonds refuses accountability, you find yourself on a drizzly March afternoon in your living room in Northern California, unshaven, unshowered and unglued.
I think my hound, Oscar, was the best barometer of my weekend emotions. By the end of the Kentucky-Michigan State game, when I was jumping out of my seat, shouting for two teams about whom I couldn't, theoretically, care less, Oscar the hound was scurrying around the room, grabbing toys in his mouth and running them over to me, double-time.
During one commercial break, as sweat coated my back and I found my voice getting scratchy, I asked my lovely bride, "Why is Oscar running toys over to me, double-time?"
"Have you seen yourself?" she said, laughing. "You're going nuts! He's all excited just watching you."
The only thing that could jar me from a reverie that started Thursday night with a Salim Stoudamire fallaway and ended in the gloaming of a Sunday evening when Kentucky couldn't get a shot off – not a single shot! – in a tie game in overtime was the continuing, odd sight of Darius Rucker crooning about the ubiquitous Tender Crisp Bacon Cheddar Ranch.
The Tender Crisp Bacon Cheddar Ranch ...
You'd be glazed over during a commercial break, wondering how Tubby Smith would X and O the next possession, or how your bracket hinged on North Carolina fighting off the never-die Wisconsin Badgers, and there would be Rucker, crooning in that white cowboy hat and purple blouse. After a while, I found it oddly soothing. Cheddar paves the streets. Ranch dressing up to my knees. Those Dallas Cowboys cheerleaders. It was like a Dali painting, had Dali inked an endorsement deal with BK.
The Tender Crisp Bacon Cheddar Ranch ...
And then, Rucker would stop crooning and I'd snap back, light sweat covering me, voice hoarse, hound running toys over to me, up, out of my chair, screaming: "How can you NOT get a shot off!" or "My Lord, I am naming my first child Kevin Pittsnogle Murphy!"
Steroid blues were a galaxy away. It was the purity of sport, renewed in my soul -- setting aside, of course, those nettlesome graduation rate statistics. But no grey clouds on this day at The Cooler, amigo. Those kids can get to Study Hall during the week. In the meantime? Garcon, more college hoops!
On, then, to the Weekend List of Five:
1. The Fame Game
Who will you remember from this orgy of March Madness?
A) Pittsnogle, the greatest shooter since Jimmy Chitwood, and the player voted "Most Likely to Have His Name Featured in a Harry Potter Novel."
B) Patrick Sparks, who went from Car-Ran-Over-My-Dog-dom after his missed free throw in regulation to I Am King of the World/Come Worship My Shaved Head-dom after his toe-the-line/four-bounce trey to force OT.
C) Bill Murray, wearing Illini orange and looking genuinely out of his gourd at the Illinois comeback on Saturday night; perhaps the only non-ironic moment of his public persona in the last 30 years.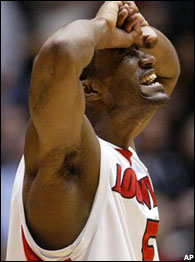 Dean couldn't believe Louisville had rallied to defeat West Virginia.
D) Taquan Dean, for having a name that makes you think the word "Doe" will follow the pronunciation of his first name "Tae Kwan" and for battling off cramps so bad, it produced the line of the tournament when Gus Johnson shouted, out of nowhere, as the clock ticked down: "Francisco Garcia has fouled out, and Taquan Dean HAS CRAMPS!"
E) Michigan State player Chris Hill, for looking eerily, and I mean, like an 8.5 on a scale of 1 to 10, like Pete Sampras.
I know. You'll remember Rucker and the Tender Crisp Bacon Cheddar Ranch. So will I.
2. The Blame Game
It was, I believe, the poets from Blood, Sweat and Tears who sang: "What goes up/Must come down/Spinnin' wheel/Got to go 'round." You could use the poetry of BST to describe the ying-yang of the weekend, the duality that, for every comeback winner and buzzer-beater, there was a team on the other end, crying into their sweat-stained jerseys.
Then again, Blood, Sweat and Tears also sang about the need to "ride a painted pony/Let the spinnin' wheel turn," so perhaps they had other, hallucinatory issues on their mind outside of Rajon Rondo's inability to get a shot off in an 81-81 tie and 25 seconds left on the clock.
I prefer not to dwell on pointing the big, foamy finger at anybody after such a sensational weekend, but in need of an item for the Weekend List of Five, I ask you:
Which was the most memorable choke job of the Sweet 16/Elite Eight?
A) Arizona failing to get the ball to Salim Stoudamire at the end of overtime, after blowing a 15-point lead with four minutes to play in regulation.
B) Kentucky failing to get off a shot at the end of the first overtime with a chance to win and earn a Final Four berth.
C) West Virginia not finishing off a 20-point lead, preventing America a week of saying the words "Zeke from Cabin Creek" and singing John Denver's "Country Roads" without a trace of irony.
D) The Pittsnogle family not legally changing their name, years ago, when they had a chance for a life of normalcy.
3. The Winner is ... Michael Phelps
No bigger buzzkill for a huge PGA Tour event than a weather delay. I take that back. The only bigger buzzkill is three days of weather delays.
The Players Championship promised us The Big Four in all their glory in the Florida sun. What we got instead was a Seattle weekend in December and Joe Durant tussling with Tim Herron at the top of the leaderboard. A partial leaderboard, of course. That is, if you can read the names through all the water-stained ink.
If there is any doubt that global warming is playing the role of the 460cc driver head to Mother Nature's ProV1, shelve those doubts, now. L.A. just elected Noah as its new mayor; I saw a CNN report on an Arctic village melting away; and now the flippin' Players Championship might not finish until the Fourth of July.
4. Annika ... Your Aim is True
I wonder if any of you cares that one of the greatest athletes in her sport's history is plying her wares in front of your very eyes while you watch Arena Football and bet on dog racing.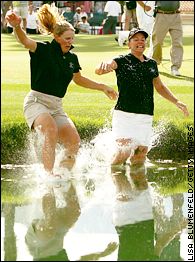 Getty
Sorenstam celebrated her fifth straight win with a little swim in the lake.
Annika Sorenstam won her fifth consecutive tournament, and the first LPGA major of the year. She's the Godzilla of golf. She boat-raced the field, winning the Kraft Nabisco by eight strokes. It's just that she has the charisma of Ivan Lendl on three hours' sleep, so you can't bother to care.
Annika may very well be the most dominant athlete in the world, but because she is so adamantly Scandinavian with her emotions – not just close to the vest, but inside the vest, tucked away, in a pocket she forgot about – it's hard to see her as a headline-grabbing superstar. Her effort at Colonial two years ago was unforgettable – tears and all – but since then, it seems most of you have forgotten about her.
But the thing is, she is one for the history books. Come on, America. Hop on board the Annika Train – it promises nothing but fairways, greens and kick-in birdie putts.
5. Final Tourney Thoughts ...
Hard not to root for Wisconsin, one of this nation's great feel-good states. Between Packers fans, the friendly bars of Madison and the endless cheese, the Badger State has it all. This much was proved when CBS revealed that the Badgers' big man, Mike Wilkinson, is engaged to the tuba player in the Badger pep band. Is that too "It's a Wonderful Life" or what? Wisconsin: America's Favorite Small Town ...
I need Verne Lundquist and Bill Raftery at every sporting event, ever. That Verne will be manning his post at the 16th green at the Masters in two weeks' time brings me such warmth, I feel like a kid with a teddy bear being tucked in at night. And Raftery! My goodness! He knew the Carolina-Wisconsin game was his last shot for this year's tourney, so he went A-Material all the way, capped by his call of a Rashad McCants crossover dribble: "Oh! Pick the LINGERIE up off the floor!" What it means, I have no idea. I just love it ... How do you feel about the arms-interlocked-at-the-elbow thing so popular among bench players when a teammate is shooting a critical free throw? I think it's one of the coolest things in American sports ...
Talking to my buddy Malcy Sunday night, he pointed out: "If anybody tells you basketball is down, check out those games all weekend. The shooting, man! Those kids can light it up!" So true. Not only that, but the display of moxie was stratospheric. I think what amazed me most was a clutch shot, time and time again, all weekend long. It was, well, Pittsnoglian, is what it was.
E-mail Brian Murphy at page2murphy@yahoo.com.