A)
Pittsnogle, the greatest shooter since Jimmy Chitwood, and the player voted "Most Likely to Have His Name Featured in a Harry Potter Novel."
B) Patrick Sparks, who went from Car-Ran-Over-My-Dog-dom after his missed free throw in regulation to I Am King of the World/Come Worship My Shaved Head-dom after his toe-the-line/four-bounce trey to force OT.
C) Bill Murray, wearing Illini orange and looking genuinely out of his gourd at the Illinois comeback on Saturday night; perhaps the only non-ironic moment of his public persona in the last 30 years.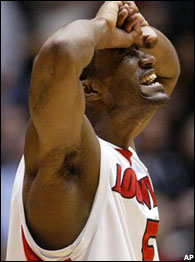 Dean couldn't believe Louisville had rallied to defeat West Virginia.
D) Taquan Dean, for having a name that makes you think the word "Doe" will follow the pronunciation of his first name "Tae Kwan" and for battling off cramps so bad, it produced the line of the tournament when Gus Johnson shouted, out of nowhere, as the clock ticked down: "Francisco Garcia has fouled out, and Taquan Dean HAS CRAMPS!"
E) Michigan State player Chris Hill, for looking eerily, and I mean, like an 8.5 on a scale of 1 to 10, like Pete Sampras.
I know. You'll remember Rucker and the Tender Crisp Bacon Cheddar Ranch. So will I.
2. The Blame Game
It was, I believe, the poets from Blood, Sweat and Tears who sang: "What goes up/Must come down/Spinnin' wheel/Got to go 'round." You could use the poetry of BST to describe the ying-yang of the weekend, the duality that, for every comeback winner and buzzer-beater, there was a team on the other end, crying into their sweat-stained jerseys.
Then again, Blood, Sweat and Tears also sang about the need to "ride a painted pony/Let the spinnin' wheel turn," so perhaps they had other, hallucinatory issues on their mind outside of Rajon Rondo's inability to get a shot off in an 81-81 tie and 25 seconds left on the clock.
I prefer not to dwell on pointing the big, foamy finger at anybody after such a sensational weekend, but in need of an item for the Weekend List of Five, I ask you:
Which was the most memorable choke job of the Sweet 16/Elite Eight?
A) Arizona failing to get the ball to Salim Stoudamire at the end of overtime, after blowing a 15-point lead with four minutes to play in regulation.
B) Kentucky failing to get off a shot at the end of the first overtime with a chance to win and earn a Final Four berth.
C) West Virginia not finishing off a 20-point lead, preventing America a week of saying the words "Zeke from Cabin Creek" and singing John Denver's "Country Roads" without a trace of irony.
D) The Pittsnogle family not legally changing their name, years ago, when they had a chance for a life of normalcy.
3. The Winner is ... Michael Phelps
No bigger buzzkill for a huge PGA Tour event than a weather delay. I take that back. The only bigger buzzkill is three days of weather delays.
The Players Championship promised us The Big Four in all their glory in the Florida sun. What we got instead was a Seattle weekend in December and Joe Durant tussling with Tim Herron at the top of the leaderboard. A partial leaderboard, of course. That is, if you can read the names through all the water-stained ink.