Single page view
By Brian Murphy
Special to Page 2
It was such a lazy, easy weekend. The wife and I took the hound to the lake for a swim, we caught a matinee, and NBC found the weekend so wide open they chose to broadcast bull riding on Sunday afternoon.
Clearly, America was in a post-Masters, post-Final Four comedown. You need those weekends, when nothing happens, to make the other weekends seem so sweet. Sort of like how we needed U2 to record "Pop" so we could all embrace their return to form on their last two albums.
I thought The Cooler would be a fairly empty place today, then came word out of New York: The Boss was angry! Like an old man trying to send back soup at a deli.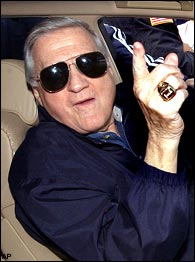 "And one more thing! John Flaherty isn't doing his job either!"
Thank goodness for George Steinbrenner. Where would we be without a tyrannical, spoiled owner who tries to spend other ballclubs into oblivion, throws tantrums when his team doesn't perform and wears sunglasses that cover half of his head.
So Steinbrenner issued an official statement ripping the Bronx Bombers for two weeks of subpar play, and all seemed right with our world. The Boss is the original "beaut." He spends more than five other teams combined, and busts a vein in April, when his team has only, oh, 150 more games to work out the kinks. If I didn't know what Steinbrenner looked like, I'd have him pegged as the mustachioed millionaire from "Monopoly" – complete with top hat and cane in the owner's box.
I wonder what it was like for Joe Torre to read The Boss' statement. Does a delivery boy knock on Torre's office door at Camden Yards, after the O's sweep the Yanks, and when Torre refuses to answer, does the delivery boy go with the tried-but-true, Chevy Chase-esque "Candygram"?
Ah, life in Yankee Land. It's a tradition unlike any other.
Thank you, Boss, for bringing buzz to our otherwise quiet weekend.
On, then, to the Weekend List of Five:
1. The End of an Era
I'm trying to think of romances that flamed out faster than the one between Terrell Owens and the good, beer-swilling fans of Philadelphia. It's tough, because you have to factor in how hot the unconditional love became – immediately – and how little time it took for it to turn conditional.
What's the pop culture analogy for a love gone sour: Britney Spears and the guy she married for a few hours? Robert Downey Jr. and barbiturates? Hollywood and Marisa Tomei's career?
Anyway, we all saw something coming. You don't take a diva, throw him in a town that is a diva-free zone and expect nothing but gooey Hallmark cards. Yes, T.O.'s Super Bowl effort was tremendous. But in a town with blue-collar fans, when T.O. says he wants more dough to buy baby-blue fur coats, it's a bad mix.
Here's my dirty little secret: In any showdown between labor and management, I always side with labor. It's the 1 percent Marxist in me, born of a lifelong belief that, given the chance to hose you, management will always hose you. It's as mortal a lock as cheesesteaks leading to angioplasty.
That said, I think the editors of "Das Kapital" lopped off the chapter where an $8 million signing bonus isn't enough to take care of your family. Marx could have bought a lot of sauerkraut with 8 million bucks.