By Brian Murphy
Special to Page 2
Some look at the final round of the U.S. Open at Pinehurst No. 2 and see a sweet story of Michael Campbell's grace under pressure, of triumph over Tiger and tears of joy. Me? I dig a little deeper and see a juicy backstory of sniping, venom and distaste.
Here's the deal: Michael Campbell and Tiger Woods have met before, and it hasn't always been entirely pleasant. For all the handshakes and congratulations Sunday, there's a history, and as with all histories, some gray areas.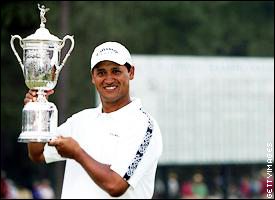 At least Campbell didn't dress like Tiger on Sunday.
In 2000, Campbell had ascended on the international stage, reaching as high as 14th in the World Golf Rankings. At the World Match Play event that year, Campbell was slated to face Tiger, and it was an anticipated match in golf circles. After all, Campbell had been telling reporters he was geeked up to face the great Eldrick. Reporters, in turn, had noted that it was odd that Campbell was apparently dressing to look like Tiger – in a sort of weird, PGA Tour version of "Single White Female."
Campbell and Tiger, indeed, squared off at La Costa in the Match Play, and in Tim Rosaforte's 2000 book "Raising the Bar," he noted a little-reported exchange in which Tiger approached Campbell on the first tee box, "got in the New Zealander's face, and said without anyone else hearing: 'I heard you want a piece of me. Now you've got me.'"
Meow!
Tiger started birdie-birdie and dusted the Kiwi, 5 and 4.
Fast-forward two years to the 2002 New Zealand Open. As a solid for his New Zealander caddie, Steve Williams, Tiger agreed to play the low-profile New Zealand Open. It was massive news in New Zealand, along the lines of the Steinlager brewery catching fire or the price of lamb chops rising. Tiger's arrival in New Zealand was carried live on TV, and wire reports characterized it as if royalty were visiting the country. Difference was, Tiger's net worth eclipses that of most of the world's royalty, the sultan of Brunei excluded.
Turns out all the Tiger-izing miffed some of the locals, including our man Campbell. Tiger, being a capitalist and all, secured himself a $2 million appearance fee. The financial strain of paying the World No. 1 was felt in ticket prices, and organizers announced the price of a weekly ticket was bumped up, just a shade – from $20 to a cool $190.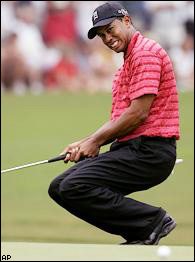 Tiger didn't hand it too Campbell this time around, not with his struggles with the putter.
Such is the price of a red shirt on Sunday, apparently.
Campbell recoiled in horror and used the opportunity to team up with fellow Kiwi Greg Turner to voice dismay. Campbell and Turner threatened to boycott the tourney. "The New Zealand Open is for all New Zealanders, and they should not be priced out of going to it," Campbell said.
Campbell and Turner agreed to play the tournament when organizers relented and said they'd let youths under 16 in for free. Now, Campbell was either grandstanding out of jealousy or standing tall for the little man or some combination of both, but the point was clear: Campbell wasn't on Tiger's Christmas card list.
Now fast-forward to Sunday at Pinehurst. Makes it all a little richer, doesn't it? Granted, it's not exactly Shaq-Kobe, but in the genteel world of golf, it counts for something. Just a little story to brighten up your day.
Now, for the rest of my Pinehurst pen marks:
• Having said all that about Tiger and Campbell, the gesture by Williams, Tiger's caddie and Campbell's countryman, to hang out by the 18th green and give Campbell a congratulatory hug and handshake had to rate as perhaps Williams' classiest move since he started looping for Tiger. Then again, considering his previous "Classiest Move" was deciding at the last second not to hock a loog on a green-side reporter, he hadn't set the bar very high.
• Third-Most Mind-Blowing Number of the Championship: 81.
If Ladbroke's had offered 1,000-to-1 odds Saturday night that Retief Goosen would shoot 81 in his final round, I'm not even sure I'd have wasted a fiver on it. There was no human way the Goose was going to shoot 81. That he did reminds us all of my father's long-standing, head-shaking admonition about golf: It's the devil's own game, son. The devil's own game.
• Second-Most Mind-Blowing Number of the Championship: 56.
That's the number of top-5 finishes in majors posted by Jack Nicklaus in his career. Tiger, with his second-place mark, now has 15. NBC figured that for Tiger to match Jack's top-5s in majors, he'd have to finish top-5 in every major through the 2015 British Open. In other words, let's hold off on the Tiger As Greatest Player Ever argument for a little while.
• Most Mind-Blowing Number of the Championship: 2.
That's the number of Tiger's runner-up finishes at majors, after his Miss Congeniality finish at Pinehurst. If it felt really odd to see Tiger contend, and then fall just short, that's because it was odd. Only at the 2002 PGA Championship, when Rich Beem held off a late Tiger charge, has it happened before. So I say to you, philosophically minded reader: Jack had 19 runner-up finishes; Tiger has worked his way to a deuce, and counting. Discuss.
(Point of fairness: at age 29, through the 1969 U.S. Open, Jack had seven runner-ups. Tiger is 29.)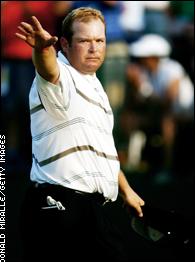 An 84? Pass the PBR.
• Why Jason Gore ruled: His caddie's hat.
Gore's caddie, Lewis Puller III, wore a trucker-styled Pabst Blue Ribbon cap throughout the U.S. Open. He was not sponsored by PBR. He merely wore the hat for its look and for brand loyalty. Puller told Golf Magazine: "If we win, I'm expecting them to send a few cases to my house."
• Why the U.S. Open rules over The Masters: There would be no Jason Gore at The Masters.
Given the choice between democracy and elitism, sign me up with the grassroots movement any day. Gore went to local qualifying, then to sectional qualifying and earned his way to the national Open. Once there, he leaned on a caddie wearing a Pabst Blue Ribbon trucker-styled cap. This appeals to me, hugely.
None of this happens at The Masters, my friends. The Masters is invite-only, and you can check your Pabst Blue Ribbon trucker-styled cap at the door.
• NBC dug up a photo of a 17-year-old Vijay Singh at the 1980 World Team Championships. I'm just here to report that his hairstyle – part 'fro, part bouffant – was last seen on Percy Sledge, circa 1964.
• You have to credit Johnny Miller with a tremendous sense of restraint. He waited until the sixth hole of the final round to declare that Retief Goosen was in the midst of "a historic collapse." Two holes later, fired up, he changed it to a "colossal collapse." I love Johnny Miller.
• Look-alike call: Michael Campbell and former Yale and Mets great Ron Darling. On a scale of 1 to 10, can I get at least a 6 for that?
• Why Jason Gore Ruled, Part Deux: On the 16th tee, en route to an 84, and with the other man in his group en route to an 81, Gore turned to Goosen and said: "Why don't we play the last three holes for five bucks, just to make it interesting?"
Expect commissioner Tim Finchem to fine Gore for instigating gambling on the golf course.
• Another difference between The Masters and the U.S. Open – the sounds. Without an audio file to accompany this column, it goes like this: Typical sound at the Masters, as player makes birdie or eagle on the back nine: "ooooooooHHHHHHAHHHHHHYEAAAHHH!" (fade to roar).
Typical sound at the U.S. Open, as player misses 5-foot knee-knocker for bogey on the back nine: "YEEEEAAAHHHoooooooohhhh ... (fade to silence)."
• Rhetorical query: Did Campbell borrow those pin-striped pants from Cincinnati basketball coach and Al Capone-styled fashionista Bob Huggins?
• I've never been to New Zealand. I would love to go, one day. What I do know is this: The Haka dance, performed by Maori tribes and by the New Zealand All Blacks rugby team, is one of the coolest things in sports. Michael Campbell – Haka the night away, my friend. It's your world. Tiger, for one day, at least, is just living in it.
E-mail Brian Murphy at page2murphy@yahoo.com.