By Eric Neel
Page 2
When we heard the good folks at NBA.com were doing an all-time Finals bit, seeding some of the best teams throughout league history for a mythical tourney, we just had to get a piece of it. Brackets? Arguments? Hypotheticals? The chance to imagine Bird going head-to-head with Russell? The Doctor operating on Wilt?
Let a thing like that go, and the high council of sportswriting would revoke our license to operate Page 2. Heck, they'd probably even take away our license to operate heavy machinery.
We can't have that, so we give you this, the all-time tourney as we see it:
ALL-TIME FINALS: ROUND ONE
1) 1996 Chicago Bulls vs. 16) 1970 New York Knicks
Willis hobbles out for the start of Game 7 and MJ says, "That all you got?" Bulls win.
8) 1989 Detroit Pistons vs. 9) 2000 Los Angeles Lakers
Unable to contain Shaq, James Edwards retires during halftime of Game 3. Unable to contain Shaq, Bill Laimbeer cries openly on the bench during a timeout. Unable to contain Shaq, Rick Mahorn clubs him with a 2x4 and is suspended for life. Unable to contain Shaq, Dennis Rodman kisses him full on the lips late in the fourth quarter of Game 4. The Lakers, unaware that Detroit has even shown up for the series, win in five.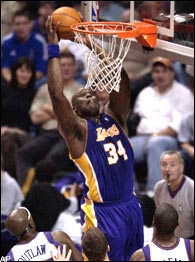 The '89 Pistons would have a hard time handling Shaquille O'Neal.
5) 1971 Milwaukee Bucks vs. 12) 1950 Minneapolis Lakers
In an effort to foster team unity and inspire their fans, most of whom are now on liquid diets and are watching the games on big screens in retirement village social halls, the original Lakers, the Lakers for whom the word "Lake" actually means something, all wear Buddy Holly glasses to match those of captain George Mikan. It isn't enough. Bucks in a sweep.
4) 1986 Boston Celtics vs. 13) 1960 Boston Celtics
Bill Russell blocks 13 shots and never once bats one out of bounds. Larry Bird and Kevin McHale pretty much do everything else. Either way, Red lights up, right? 1986 Celtics in five games.
6) 1983 Philadelphia 76ers vs. 11) 1991 Chicago Bulls
Moses says: "Fo', Fo', and Seven." I agree.
3) 1967 Philadelphia Warriors vs. 14) 1965 Boston Celtics
A lot of folks will tell you Wilt and his newly-developed all-around game was the difference in '67. I say the difference then, and in this series now, is Lucious Jackson. Luscious Jackson, who performs the national anthem, have my back on this. Phila in six.
7) 1987 Los Angeles Lakers vs. 10) 1999 San Antonio Spurs
In the biggest upset of the tournament ... the Spurs actually manage 100 points in one of the four games. "We couldn't have done it without Magic and the Lakers," Tim Duncan says afterwards. "Those guys really pushed us." Lakers in four straight.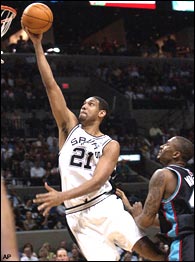 Tim Duncan's supporting cast won't be enough in this tournament.
2) 1972 Los Angeles Lakers vs. 15) 1981 Boston Celtics
The nickname battle -- Happy Hairston vs. Cornbread Maxwell, Wilt the Stilt vs. Tiny Archibald -- is a push. But in every other phase of the game, the Celtics outplay the Lakers and win in six.
ALL-TIME FINALS: ROUND TWO
1) 1996 Chicago Bulls vs. 9) 2000 Los Angeles Lakers
Robert Horry rises up for a last-second shot to win Game 7 and Scottie Pippen slaps that weak-ass s--t three rows into the stands. Somewhere, Bill Russell shakes his head. But right here, Michael just puts his hands in the air and waves 'em like he just don't care. Bulls win, Bulls win, Bulls win.
5) 1971 Milwaukee Bucks vs. 4) 1986 Boston Celtics
I should knock Boston out here just for the ugly, whining, white-guy overkill that comes with suiting up Danny Ainge and Jerry Sichting. I should knock them out out of respect for the old Oscar, and admiration for the young Lew Alcindor. I should, but I can't. Too much M.L. Carr. Celtics in six.
6) 1983 Philadelphia 76ers vs. 3) 1967 Philadelphia 76ers
In an unprecedented move, the teams agree before the start of the series to play best nine-out-of-seventeen. "We just feel we owe it to the good people of Philadelphia," Billy Cunningham, speaking for both teams, says. The '83 team uses what Billy knows about Billy and the '67 team to its advantage, and streaks out to a seven-games-to-three lead in a series highlighted by Moses and Wilt each posting multiple 50-rebound games. In the end, though, the fact that Chamberlain, unlike Malone, can actually shoot is the difference. The city's first champions run off six straight games against the city's last champions to advance.
7) 1987 Los Angeles Lakers vs. 15) 1981 Boston Celtics
Say it like Jack says it in "The Shining." Say it like you mean it. Say it like somebody's about to get hurt. "Iiiiiiit's Showtiiiiiiiiime!" Lakers sweep the floor with 'em.
ALL-TIME FINALS: SEMIFINALS
1) 1996 Chicago Bulls vs. 4) 1986 Boston Celtics
I can see Bird slip-sliding to get away from Pippen. I can see McHale giving Rodman a hard time at both ends. I can see D.J. wearing Ron Harper out. I can see Parish and Walton being strangely effective. I just can't see what the Celts do with Jordan. Put Scott Wedman on him? Zone him up? Poison his room service? Turn the heat up in the Fleet Center? Whatever they do, it's not quite enough. Bulls in seven.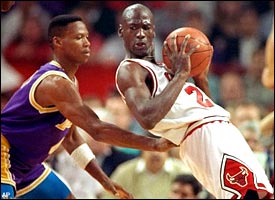 In the end, no one, including the Lakers, would have an answer for MJ.
3) 1967 Philadelphia 76ers vs. 7) 1987 Los Angeles Lakers
I love the Philadelphia jerseys, and style counts, and I know Wilt's only about 1,800 sexual encounters into the big 20K at this point, so he's fresh. And I'll admit, I'm L.A.-biased and '80s-biased, and there's a chance that I'm wrong about this. But I just don't see how the Warriors run with the Lakes. L.A. upsets 'em in six.
ALL-TIME FINALS: FINALS
1) 1996 Chicago Bulls vs. 7) 1987 Los Angeles Lakers
Gary Payton and Karl Malone agree to play in the series for the '87 Lakers for per diem, Celine Dion tickets, and some gas money, but it doesn't matter. Playoff tilts turn on matchups, and styles make fights. The key matchup here is Riles vs. Dr. Phil, with the edge to Jackson's new-age lay-back over Riley's ancient-art-of-war intensity. And the key style is Triangle vs. Showtime, with the edge to the triangle, which gums up the running works of the Lakers and gives Chicago the whole enchilada in seven.
Eric Neel is a regular columnist for Page 2.