By Eric Neel
Page 2
The biggest story of the year so far?
Not Barry, not the Yanks and Sox, not the Tigers or the Marlins, not even Clemens.
The biggest story of the year so far is that the Rockies have gone to a four-man rotation.
Tired of covering therapy bills for five, they're cutting back, keeping their four, umm, "horses," at an 85-pitch limit, and keeping eight arms in the pen.
I could care less about the Rockies, actually, but I love the move. It isn't going to work, but it's bold. It opens the floodgates to free thinking, and says tradition-be-damned.
In a little essay called "Self Reliance," Ralph Waldo Emerson once said, "Foolish consistency is the hobgoblin of little minds."
In a little film called "Risky Business," Miles once told Joel that "Every now and then you have to say, 'What the ----'" because "'What the ---- gives you freedom. Freedom brings opportunity. And opportunity makes your future."
And now, in a little town nestled against the Rockies, Clint Hurdle has said, "Let's go with four."
I'm down with all of them. And let's not stop there, because, as our friends in P-Funk know so well, "open up your funky mind and you can fly."
Here are some other funky ideas that just might work:
Bat Barry in the two-hole. He'll get roughly 36 more ABs over the course of a full season, and if you've got a guy slugging .849 you want him up as often as possible. Plus, as Joe Sheehan at Baseball Prospectus has said, if you put J.T. Snow, who walks a lot and would walk even more if he knew it was his job to get on for Bonds, in the leadoff slot, you'd give Barry more shots at hitting with a man on first.

On the other side, agree to pitch to Barry when, and only when, he agrees to take off the RoboCop gear. Then hit him. Then pitch to him. He's still gonna jack you, but you'll feel better about it.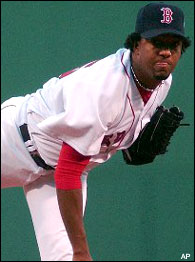 Trade Pedro? Hey, maybe the Sox should get something for him before he joins the Yankees next year.
Trade Jeter. Trade him and his mystique straight-up, to the Angels for Troy Glaus and Frankie Rodriguez, or to the Brewers for Ben Sheets and his 8.64 K's-per-nine. Whatever. I know he's expensive, but there are deals out there for this guy. Teams want to touch the hem of his garment, they want to be near his aura. Let 'em. And make 'em pay for the privilege.
Trade Pedro. I know you think I'm crazy, but he's going to cost more than he's worth to sign him, and he's losing velocity, and he's looking a little chitty-chitty-bang-bang around the edges, and you'd get a boatload of cheap talent or a star-caliber pitcher with a side of fries and a shake for him. Think about it.
Trade one of the Big Three in Oaktown. It says here it should be Zito. It also says you should be sure to get Jim Thome or Magglio Ordoņez for him.
Make Chris Rock the Commish. Restore integrity and dignity to the office, and make sure all the comedy is of the intentional variety.
Make alternate jerseys a criminal offense, punishable by time served in small-town theater adaptations of "Damn Yankees!"
Always pitch your best reliever when you most need relief. If the Dodgers are in a seventh-inning jam, and the game is threatening to get away from them, they should bring on Gagne, not wait for the ninth. He comes storming in out of the bullpen, the crowd gets up and gets rowdy, the batter wilts, and a couple of unhittable changeups later, the fire is out.
Hire Sparky Anderson. The man turned 70 in February. What more do you need to know?
Put five-man infields behind Brandon Webb and Derek Lowe, who get groundball outs like Rumsfeld gets rolled eyes from the press corps: All day and into the night.
Bring back collusion. Everybody who isn't the Yankees or the Red Sox throw the Royals a million-dollar bone, just to keep Carlos Beltran out of Pinstripes and out of Beantown, just for the pleasure of watching Steinbrenner and John Henry go crazy with wanting him.
Bring back daytime starts for playoff and Series games. I know the Spidey thing was for the kids and all, but I think they might like this even a little bit more.
Use Dontrelle Willis as the DH in all interleague games. The man has an OPS of 1.150 right now. He's easily the ninth-best hitter on the Marlins. Who else they got? Damion Easley? Don't think so. If Dontrelle swings and misses, so what? That's what pitchers do. But if he gets a hit, maybe drives in a run, in the DH spot, we're talking shame and humiliation for the opposing pitcher, we're talking a big D-Train leg-up, and a great new chapter in the continuing story of a folk hero.
Eliminate batting average as an on-screen stat. There are dozens of relevant, interesting baseball numbers. This just isn't one of them.
After you move the Expos to Vegas, do three things: 1) Sign Rickey Henderson. He starts off as your leadoff hitter, he ends up as your on-site casino ambassador. 2) Sell shares of the organization in a public offering and let fans run the team by Internet polling, like they're voting kids off American Idol. 3) Throw the doors open. Free baseball. Every home game. Every seat in the house. You make a killing on drinks, souvenirs, parking, and the slots, and you turn the team nobody loves into a phenomenon travel agents are building vacation packages around.
Teach at least one of the promising kids in your organization to throw a knuckleball. Hire Phil Niekro to do it. The man is 65 years old years old. What more do you need to know?
Establish a league-wide rule: Any money a team makes from selling the naming-rights to a stadium must go to player acquisition and development.
Break up the Mariners. Literally. Keep Joel Piņero and Rafael Soriano and let it be known that everyone else, including Edgar, Boone, and Ichiro, are trade bait. It's time for a do-over. The people of Seattle have lived through Mario Mendoza in double-knit; they can handle it.
And, finally, getting back to the Rockies, how about this: Go all the way. Not a four-man rotation, but a full staff, 10 guys deep, of two-inning pitchers. You pinch-hit every time they come to bat, you have fresh arms on the mound, and you get one more productive at-bat per game than your NL opponents.

Sounds wacky, I know, but what the ...

Do you have an idea of your own? Send it in!

* * * * *


Late returns
Notes from last night's games
When the Dodgers win the National League West they will point to Alex Cora's just-what-makes-that-little-old-ant-think-he-can-move-that-rubber-tree-plant AB against Matt Clement. When wayward L.A. kids get off the stuff and turn their lives around, their parents will point to Cora's at-bat against Clement. When plants long given up for dead spring back to life, gardeners all over southern California will point to Cora's at-bat against Clement. And when Bloods and Crips put aside their differences and join hands in a show of unity and brotherhood, they will say it was Cora's at-bat against Clement that taught them anything is possible.
Cory Lidle threw a sinker that didn't sink and Brian Giles turned it into a Petco souvenir. Other than that, Lidle was a wizard, throwing 85 pitches in eight innings against the Padres, 67 of them for strikes. He took the L, but he looked awfully good doing it.
Question: How long until Steinbrenner makes a run at Adam Kennedy?
NOTES FROM ERIC'S SCORECARD
MEMO
To: Commissioner Selig
From: Voters of Oakland, Calif.

You say the A's stadium stinks and they need a new one in order to compete. We say four straight playoff appearances is pretty competitive, and it's the bald-faced pitch you and A's owner Steve Schott are making for our pocketbooks that stinks.

HALL OF FAMER?
65% of you said yea for Edgar Martinez last week. Good call. This week, consider Barry Larkin. I'm biased about Barry because in the early 1990s he anchored a plucky little fantasy team I owned. To me, he's always been a legend. You're able to look at him with more sober, objective eyes, I'm sure.
ON THE BOOKSHELF
"The Ticket Out: Darryl Strawberry and the Boys of Crenshaw" by Michael Sokolove. When people say sports are more than just games and deeper than entertainment, they have smart, heartfelt books like this to back them up. Sokolove puts the genius and the sorrow of Strawberry's story in context by recounting the exploits of his entire 1979 Crenshaw High School team (which many consider the best ever assembled).

With a real appreciation for their gifts, he tells us about a talented bunch of kids who played baseball because it made them feel powerful and purposeful, and because it gave them hope of playing their way out of being poor and black in America. And with a real feel for their suffering and frustration, he tells us about how that power and purpose faded, and that hope was all but extinguished. It's a moving book that makes you love baseball and mistrust it at the same time.

WHAT'S DONE IS DONE
You've chosen "Top Dunn" as Adam's new nickname. This despite my pleading that we not just go with the punny choice. Alas. Invoke images of Goose and Maverick if you must, but to me, he'll always be The Scourge of Horsehide.

Now to the vote for Pedro, who, based on some of your suggestions, seems in need of a public-relations rehabilitation. Choices on the right.

And finally, let's crank up the nickname machine for Pirates first baseman/outfielder Craig Wilson, who is currently auditioning for a role in the long awaited remake of "Fast Times At Ridgemont High."

BRIAN GILES ALL-STAR
A spot reserved for unheralded greatness

Mike Lowell, 3B, Florida Marlins

Here's how good he is: He has better numbers so far than Miguel Cabrera -- .339, 11 homers, .669 slugging, 1.082 OPS.
Eric Neel is a regular columnist for Page 2. His "On Baseball" column will appear weekly during the baseball season.