By Eric Neel
Page 2
Even after a sorry six-game losing streak, the Dodgers were tied for first in the NL West Thursday morning.
As a writer for the Worldwide Leader and a kid who's had his heart broken more than a few times, let me just say this: It's a smoke-and-mirrors job.
Kaz Ishii isn't as good as he looks. Jeff Weaver is probably worse than he looks. And Hideo Nomo might be done.
Adrian Beltre will cool off. Paul Lo Duca will tire. And the ball-slapping space alien inhabiting Cesar Izturis' body will eventually get called back to the mother ship.
As a clear-eyed scribe in pursuit of the hard truth, I have to say it's a house of cards.
As my Papa's grandson, however, I don't have to say any of that. As my Papa's grandson, I have to tell the writer in me to shut his yap.
They were his Dodgers before they were mine. He came west from Iowa about the same time they made the move from Brooklyn. He saw the first games at the L.A. Coliseum and went to the '59 World Series games against the White Sox.
He didn't talk about it much, but he'd known hard times before his life in California. He'd lost a farm and a wife, and suffered through some cold, lonely seasons.
The Dodgers were an antidote to all that. Win or lose, he reveled in them.
When I was a kid, he and I would listen to games on a little leather-cased transistor in his garage. I'd sit on an orange wooden stool next to his workbench. He'd sort screws and bolts, and every once in a while, remind me how lucky we were to have Vin Scully calling the action for us.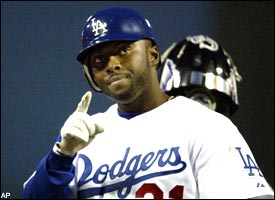 Milton Bradley has been a big part of the Dodgers' success this season.
"The man makes a routine double play sound like poetry," he'd say.
If Jimmy Wynn poked a ball through the infield for a hit, he'd say, "Lookit there," like it was a little gift from God.
If Mike Marshall threw a strike-three curveball, he'd say, "There it is," as if the pitch scratched some old, irritating itch.
He never got cheated. Every small gift the game gave him was a source of joy and every win was cause for celebration. He was no Pollyanna; he just knew not to waste the good stuff.
It's been 17 years since he died, but I still watch and listen to every Dodger game with him.
We're getting a kick out of this year's squad. Alex Cora's our eighteen-pitch hero. Milton Bradley, all full of swagger and timely balls to the gap, feels like just what the doctor ordered. Shawn Green looks healthy in the box and game at first base. And we know it's the kind of thinking that comes from living in the land of milk and honey, but we figure Beltre just may have found himself as a hitter.
No telling how long it will last. June and July can be cruel. August can be a monster.
But I'll tell you what, we're not getting cheated right now ... Papa and me.
NOTES FROM ERIC'S SCORECARD
MEMO
To: The Toronto Blue Jays
From: Isaac Mizrahi

You're seven games under and seven-and-a-half games back. Why? Look no further than those hideous home grey hats you're wearing. These hats are the color of primordial ooze. They are the color of the clay Demi Moore got all over her shirt in that spooky love scene in "Ghost." You can go from invertebrate to vertebrate with a color like this. You can get yourself a ham-handed Patrick Swayze massage. But you cannot win a division, a World Series, or the respect of your baseball peers with such a color.

HALL OF FAMER?
You voted Barry Larkin in last week, by a two-thirds majority. Let's stay with the shortstop theme: Give me your thoughts on Derek Jeter. He's hitting .187/.250/.265 right now, and my friend Buster Olney says he's regressing. If the wheels come off for good this year, where do you put him? Is he in or out of the hallowed halls of the Hall?
OVER/UNDER
On years until we see four other 40-year-olds performing at the level of Roger, Randy, Larkin, and (soon) Barry: Forever.

TREND
With Sammy sneezing his way to the DL, and Bonds and Giambi also struggling with back spasms, are we about to witness the dawning of the golden age of baseball yoga? I know personal trainers are considered bad clubhouse form these days, but these guys are in need of some serious body-mind realignment.

BUY UP
Stock in Padres shortstop Khalil Greene. Just 24, he's holding his own at the plate, and in the field. Says San Diego first baseman Phil Nevin, "He's making plays as good as any I've ever seen."

SELL OFF
Your shares in Darin Erstad, who's a good bet to get Pipped by Casey Kotchman.

BRIAN GILES ALL-STAR
A spot reserved for unheralded greatness

Magglio Ordoņez, RF, Chicago White Sox

I'm not saying he's the best right fielder in Chicago. I'm just saying, the way I heard it, he had an allergic sneezing fit the other day and it didn't phase him a bit.

WORRIES
Barry Zito's strikeout numbers are low, his home run total is high, and his ERA is over five. The grooviest pitcher in the Bigs just can't seem to find the groove.
NO WORRIES
After a brutal '03, Pat Burrell looks to be back (.326/.410/.583), making the Phillies' 3-4-5, with Abreu and Thome ahead of Burrell, as good as it gets right now.
MY GUYS
After his 18 K performance against the Braves this week, I'm seriously considering turning the column into a Ben Sheets newsletter. "Ben likes to read mystery novels," "When he's not pitching, Ben spends time with his dog," that kind of thing.

And in other good news, mon Expo Nick Johnson, another candidate for the yoga movement, played his first rehab game Tuesday for Class A Brevard County (it's in Florida).

EL DIVA
With a record 14,935 of you voting, El Diva becomes Pedro Martinez's new nickname. I like it. It's equal parts respect and smack-down for Pete.

This week, the votes are on a new handle for Craig Wilson. Choose from the names at the upper right of this page. I'm not sure what the logic on the Cape of Justice thing is, but I like the sound of it. If we don't use it for Craig, maybe we could give it to James Brown -- though I suppose, with James' habit of harassing the women in his life, we might have to call it the Cape of Injustice. But I digress ...

Anyway, when you're done there, let's get some suggestions for the Cubs' house-of-fire third baseman Aramis Ramirez.
Eric Neel is a regular columnist for Page 2. His "On Baseball" column will appear weekly during the baseball season.