By Eric Neel
Page 2
LOS ANGELES -- It was a great night.
Magic, Worthy, and Kareem were there, reminiscing about the days of old.
Sly Stallone walked through the tunnel and toward the Staples Center court with a young blonde who looked like she'd been poured into her jeans the way you pour wax into a mold.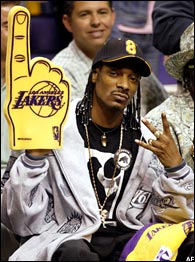 Snoop loves to be courtside to cheer on the Lakers.
I brushed past Denzel behind the scorer's table.
A kid in the crowd shouted, "Hey Snoop! I feel you! I feel you, Snoop!" to his Royal Doggness.
Dick Van Dyke sang the national anthem for reasons I can't explain, and he wore hideous American-flag tennis shoes, which, for reasons I can't explain, I kind of loved.
Bob Lanier stood courtside, looking bigger than I would have imagined, and so much smaller than Shaq it was funny.
Kurt Rambis, who I'm pretty sure never actually took one, schooled Devean George on getting square on a turnaround jumper.
Dyan Cannon looked at me and I didn't turn to stone.
It was my first time at the Finals. The Lakers were playing. My heart was light, my skin was on fire, and my head was on a swivel.
Before this, the closest I'd ever come to the Finals was playing hooky to watch the championship parades in the '80s. Now I was on the inside, standing three feet from Magic, Worthy, and Kareem, remembering the way they moved and moved the ball, and thinking back to Chick Hearn on the radio telling me all about it.
NBA FINALS ON ABC
Game 1 : Pistons 87, Lakers 75
Game 2 : (Tuesday, June 8): 8:30 p.m. ET
Game 3 : (Thursday, June 10): 8:30 p.m. ET
Game 4 : (Sunday, June 13): 8:30 p.m. ET
Game 5: (Tuesday, June 15 if nec.): 8:30 p.m. ET
Game 6: (Thursday, June 17 if nec.): 8:30 p.m. ET
Game 7: (Sunday, June 20 if nec.): 8:30 p.m. ET
It was a great night.
And then they played the game.
87-75, Detroit. 87-75. Detroit.
What the hell is that?
Thirty-six years worth of hoping and wishing and praying and this is what they give me? Thirty-six years worth of prelude to my first Finals game, and they do me like this?
Karl Malone beats on the rim with an ugly stick? Gary Payton makes a folk hero out of Chauncey Billups? Kobe settles for fadeaways all night? Fisher does his best John Starks impression, going 1-for-9? And worst of all, with the exception of Shaq in the first half and Kobe in spurts on defense, the whole mess of them looks sluggish and soft from start to finish?
That ain't right.
They didn't phone it in; they sent it by Pony Express. The Laker Girls showed more intensity and better teamwork.
Afterwards, Phil said they tried to pick up the pace in the second quarter but it didn't stick. And Kobe said they were feeling the Pistons out, trying to get a sense of what they need to do as the series moves on.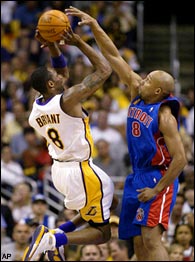 With the Pistons playing such great defense, Kobe couldn't carry L.A. to a victory.
They need to apologize, is what they need to do.
A fan only gets one first time. He's primed for it. He feels the full measure of it. He puts it in the historical context of his team, his city, and his own life. He waits for its drama to unfold so he can recount it years later in stories for his family and friends.
I feel robbed. Forever after now, I get to say, "Yeah, I was there the night they came out flat." And, "I saw them go for 75; you should have seen it." And other bits of nothing.
I feel like I've seen a 30-minute Bruce concert or something. Only Bruce would never.
All a fan wants is the all-out. It's the Finals, man. Show me something, would you please?
Show me the bulldog, Gary.
Show me you'll sit him if it isn't there, Phil.
I don't need cool, detached, unruffled. I need fire in the belly and blood on the floor.
Show me ball movement, fellas. Show me Luke Walton. Push the pace. Drive and dish. Somebody pick somebody up full-court. Set a tone.
And hey, Diesel, come out and defend the high pick-and-roll.
Play desperate. Play hungry. Forget how good you all are. Because going by last night, against a team like Detroit, you aren't.
You didn't lose me last night. You ruined my first time, but you didn't lose me. The roots are too deep for that. But like Tony "The Tiger" Russo said to "Cucumber" Frank de Marco, "You disappointed the s--t out of me."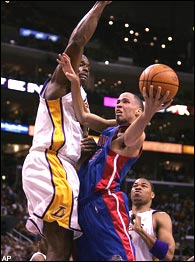 Tayshaun Prince could play a key role in this series, on both ends of the floor.
So make it up on Tuesday.
OTHER FIRSTS FROM THE FIRST NIGHT
There is no way to prepare for the first time you see Shaquille O'Neal up close. He came down the hallway toward the Lakers' locker room before the game and it was like watching a ship come into harbor. The people around him were like little boats scattering and tipping in his wake.
The first and best reason the NBA Finals are so appealing, even after a sleepwalk like the Lakers pulled Sunday night, is that you get to see matchups emerge and play out over several games. Kobe's got to come back at Tayshaun Prince with something different Tuesday night. (After last night's game, in one of those Phil-isms that always comes off a little smug, he said it was "an interesting puzzle to solve.") And then the question will be whether the kid can adjust. Malone's going to come hard at Rasheed and try to get him angry and in foul trouble. Will Wallace take Malone out and down the baseline by using his jumper? And, in a less public, but no less crucial matchup, Rip Hamilton faces the challenge of finding ways to get around Rip Hamilton.
The first odd development of the series (if you don't count the Pistons winning the first game, of course) was Elden Campbell's unexpected contribution: 6 points, 2 blocked shots, and 4 assists. Well, actually, the first odd development came when people all over Staples Center began mumbling, "Elden Campbell? Is he still in the league?" But after that, his 6, 2, and 4 were the big surprise of the night.

Eric Neel is a regular columnist for Page 2. He will file daily from the NBA Finals, and his "On Baseball" column appears weekly during the baseball season.