By Eric Neel
Page 2
AUBURN HILLS, Mich. -- Vegas had it 6-to-1.
The other way.
Everybody said four, maybe five games.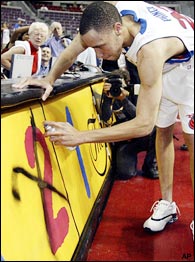 Tayshaun Prince knows one more win and the parade starts.
The other way.
What did people miss? How did we get it so wrong?
As the Black Eyed Peas like to say, "Let's get it started" ...
1. The Hall of Fame thing fooled us. We were thinking Malone of the mid to late-'90s and Payton of '96, and more importantly, we were ignoring the fact that the Lakers didn't play as a unit for most of the year. They had no flow. "We're still a work in progress," assistant coach Jim Cleamons said Monday. Add to that some bum knees and some clashing egos and it means one thing: They were ripe.
1A. We didn't figure the calls would be so lopsided. (Oops, sorry, Little Homer wrote that line.)
2. We forgot the first law in the Big Book of Basketball: Teamwork. Great as Kobe and Shaq are, they're getting beat by a five playing like a five. In the spirit of the early-'70s Knicks, the Pistons move the ball from side to side and make the extra pass. Kobe creates. Shaq dominates. Detroit collaborates. And by the fourth quarter, their approach means worn out defensive legs and wide open looks.
2A. With the way Karl Malone covered Tim Duncan and Kevin Garnett in the previous two series, we didn't realize what that would take out of the Mailman. So, we didn't figure Karl would be basically incapacitated against Rasheed.
3. .04 Euphoria had set in. The night Fisher hit his desperation shot the trophy deal looked done. Luck, destiny, icy cool under pressure -- call it whatever you want -- from that moment on the Lakers seemed a lock for their fourth title in five years. The Wolves were an afterthought and the Pistons weren't even on the radar for most analysts.
4. History. Phil's got nine rings. 'Nuff said.
5. The Leastern Conference Syndrome. Ever since the Bulls shriveled up and died, and the Lakers and Spurs emerged as powers, the East has been a joke, a joke that was told so often it started to be taken for an immutable truth. The sun sets in the West, teams from the East can't hang. That's just the way it is. Right? Well, it might be time to tell a new joke, maybe one that begins, "Five Lakers sleepwalk into a Detroit bar." "Ouch," the bartender says. "That's gotta hurt."
6. Kobe looked like Michael. The way he gets separation, the way he flicks the ball with such a tight, inevitable spin, the way, even when he's jetting in from Eagle County, he makes everything seem so automatic. It was impossible to imagine he wouldn't look that way in the Finals.
Which brings us to ...
7. Everybody forgot about Tayshaun. Lost in the snarking about Darko and the longing for Carmelo was the fact that Joe Dumars already had his man in Mr. Prince. "I'm pleased that he's playing well right now," Dumars said Monday. "Because I think people haven't given him his due." That's all changing now, Joe. The kid's becoming a folk hero right before our eyes.
8. The Pacers can play D, too. Detroit isn't a great shooting team to start with, and they were looking like a bunch of YBA rejects in the Eastern Conference Finals, so the conventional wisdom was they would continue laying the bricks in the big show. Thing is, Indy comes at you a little harder than the Lakers do on the defensive end. O.K., a lot harder. They made the Pistons look uglier than they were. Which is all right, because the Lakers are now busy making them look lovely.
9. History Part II. As in, the history folks forgot and were doomed to repeat. 2004 Lakers, meet the 1990 Oakland Athletics, shake the hands of the 2001 St. Louis Rams. Teams looking to hold a mountaintop seat are always vulnerable to teams clawing and scratching their way up the sheer cliff wall. Yes, they have experience. Yes, they "know how to win." Yes, they appear dominant at times, as the Lakers did when they won four straight against San Antonio and dispatched the Wolves in six. But these teams also come equipped with just one degree less edge. They want it. The other guys are desperate for it. They love it. The other guys think they might die without it. Plus, the Pistons players had something to prove in this series, both individually and as a team. Rasheed was playing for redemption. After being dumped by MJ, Rip was, too. We should have seen that coming in. And Chauncey? Chauncey Billups was bringing to the party four teams worth of ghosts. We should have seen them driving him from a long way off.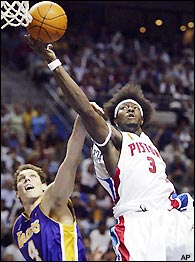 It ain't pretty, but Ben's D has stopped the Lakers.
10. Defense ain't sexy. Not even with a funky head of hair like Big Ben Wallace's on the loose. You handicap a series and you think in terms of offense, in terms of weapons. You handicap a series and you think in terms of Shaq going off down low and Kobe putting on a show. The Pistons offensive weapons are steady, but they look tame by comparison, so you think the Lakers are a lock. And all the while, the real story, the defense, is right under your nose.
11. The Pistons don't look like much. Hamilton and Prince are gangly. Billups has an odd, muscular body for a point. His quickness and mobility, even after you watch it up close several nights in a row, is a surprise. Rasheed is an unconventional post player. Ben is "too short." The Lakers look carved out of stone by comparison. Because of the way the Pistons look, it was easy not to see them.
12. Overestimated Phil a bit, underestimated Larry a lot. Here's the thing: Once the Pistons made the series a dogfight, it was going to hinge on a coach who could rally his guys. Jackson expects his players to find their own way in moments like that. He stays somewhat detached and usually that's all right. Larry leads. "He has different ways of doing it," Dumars said Saturday afternoon. "He's demanding, he's cajoling, he's encouraging, he's pushing, he's always down in there with them, battling." And this time, that might be the difference.
And to make it a baker's dozen, let's close with this ...
13. We Love L.A. We can't resist the sunsets and the drama and the hoop history stretching back to Magic and Mikan. Even when we hate it, we love it. As I wrote a few columns ago, it wouldn't have mattered what the Pistons brought to this thing, folks outside of Michigan were going to focus on the Lakers. All you hear on talk radio in Detroit this week is that the media and the world don't give the Pistons enough respect. The locals are right. The lens on L.A., before the series got started and even as it's become the Pistons' series, means certain basic things get overlooked. Things like, Hamilton is one hell of a player, and Billups might just be knocking on the door of any further discussions about the NBA's elite point guards now, and Ben Wallace, hair braided or sprung loose, with or without a jumpshot, is a dominant player in this league.
If we'd been looking maybe we would have seen some or all of this. Then again, my guess is it's sweeter for the Pistons that it's all coming as such a big surprise.
Eric Neel is a regular columnist for Page 2. He will file daily from the NBA Finals, and his "On Baseball" column appears weekly during the baseball season.