By Eric Neel
Page 2
We're 60-odd games in now and some things are pretty much as we expected. The A's and Yankees are in first place, Eric Gagne's been blowing people away, the Cubs and Cardinals have been brawling, and interleague play's been -- like sweet and sour pork -- kind of funny-looking and vaguely unsatisfying, even when it's good.
It's business as usual, really. But there have been a few surprises.
Surprise: Master Barry is on pace for 228 walks and about 30 strikeouts. I didn't think he could surprise us any more; but if he and the risk-averse pitchers and managers of the league keep this up, forget 756. These might be the most outlandish numbers in the history of sports.
Will it last? If the Giants stay anywhere near the top of the NL West, which is very possible given how weak, uh, I mean competitive, the division is, you bet it will.
Surprise: The Tigers have won 30 games, after winning just 43 all of last year. Credit Pudge. Credit Alan Trammell's gutty leadership. Credit young pitchers who seem to have miraculously emerged from the bonfire of last year with their egos and arms intact. Credit Dmitri Young's combination of Ben Wallace's hair and Burl Ives' body. Hell, credit Ben Wallace, for that matter.
Will it last? Can they win 80? That depends ... Can the U.S. Olympic hockey team beat the Russians? Can Dewey defeat Truman? Can the Pistons completely dominate the Lakers in a best-of-seven series for all the marbles? Sure they can. And wouldn't it be great? Wouldn't it be maybe the most inspiring .500 season in baseball history? Wouldn't you buy up some Brandon Inge and Mike Maroth jerseys just to feel a part of it? Wouldn't you make a pilgrimage to Comerica late in the season to see them "clinch?"
Surprise: The Mariners are 12 games under and 12-and-a-half back. We should have seen this coming. The team is older than the sludge at the bottom of Puget Sound, and about half as interesting. We forgot that, because they won 116 games three years ago and because Edgar Martinez and Jamie Moyer have defied Father Time for so long. It was fun to think they might do it again, but it was foolish. Kind of like believing the Royals were the team to beat in the AL Central and thinking "The West Wing" would be worth watching this season.
Will it last? It will until the sexy aliens who breathe light come and deposit pods at the bottom of the team swimming pool.
Surprise: Speaking of aliens, Melvin Mora is a monster.
Will it last? There are two possibilities here: Either Mora is a late bloomer, like Grandma Moses picking up a brush for the first time at age 93 or whatever it was, or he's living on borrowed time, like Robert Johnson making a crossroads deal with the devil. I can't say why, but I'm thinking he just might be old lady Moses.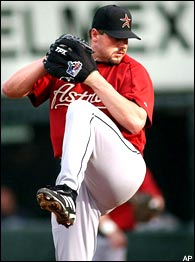 Look for continued success from The Rocket the rest of the way.
Surprise: Roger Clemens has gone 9-1 with a 2.46 ERA. It's not a surprise that he's done well, of course, but not even Phil Ivey would have bet he'd be dealing quite like this.
Will it last? I don't see why not. He's got nearly a 3-to-1 strikeout-to-walk ratio, decent run support, the love and encouragement of his wife and his kids, and, of course, he's Roger Clemens, so the rules of logic and the habits of reason don't actually apply.
Surprise And while we're on the subject of Rogers, have you noticed that Kenny Rogers (the left-handed Rangers pitcher, not the erstwhile Dolly Parton partner) also has nine wins?
Will it last? Uh, no.
Surprise: Adrian Beltre looks a lot like the Adrian Beltre the Dodgers hoped they had when they signed him too young out of the Dominican Republic.
Will it last? The Beltre thing is kind of like the John Kerry thing. If Kerry stays within himself and doesn't swing at everything they throw at him, stays hungry, and doesn't get to thinking he's the man before he's the man, he's got a shot. If not, he's going to look silly come September. It's the same way with Beltre.
Surprise: It turns out that the best pitcher in Chicago is not Mark Prior, not Kerry Wood, and not Esteban Loiza, but Carlos Zambrano (2.32 ERA).
Will it last? Well, one thing's for sure: He'll be given every chance to keep it going. And I do mean every chance, pitch counts and arm fatigue be damned.
Surprise: It turns out that Derek Lowe (5.83 ERA) doesn't belong in the same breath with Pedro and Schilling, after all.
Will it last? My guess is he'll find himself again and the ugly number will smooth itself out a bit. My other guess is his mates will score enough runs that it won't really matter until October.
Surprise: The Brewers' Lyle Overbay leads the majors with 28 doubles. He has 48 RBI and is hitting .342/.405/.563. This wouldn't surprise you, of course, if you'd ever heard of Lyle Overbay before.
Will it last? Well, there are many things that go into a breakout year -- the hitter's ability to stay focused, the league's ability to adjust and start exploiting his weaknesses the second time around, etc. -- but none is more important than a young man's name. Consider the solid-gold Teddy Ballgameness of the young Freddy Lynn. Think of Chipper Jones once upon a time, or of the young Darryl Strawberry. What's in a name, Shakespeare asked. Everything. Lyle Overbay. Lyle. Overbay. That's a name that's going to stick. That's a name that says: Before too long, while nobody's watching, the Brewers are going to get good. That's a name that says: You think Lyle Overbay is something, what about Ben Sheets? And Scott Podsednik? These are all names that say: The Brewers are only three games out, Buddy. These are names that say: Wise up! The Brewers already are kind of good.
Surprise: Carlos Beltran is still a Royal. The races in every division are still wide open. And in every division but the AL East, there are at least three teams with a shot. Nobody's panicking at this point. Which means they aren't inclined to give up the minor league store to get their hands on Beltran. So Allard Baird waits, hoping somebody gets edgy. And the other GMs bide their time, knowing, great as he is, they don't really need him yet.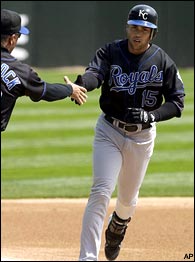 Carlos Beltran should be lending a hand to a new team before long.
Will it last? Until the Padres, looking to put distance between themselves and the Dodgers and Giants, offer Ryan Klesko, Akinori Otsuka, and all the Rubio's fish tacos that Baird can eat.
Surprise: The Yankees' pitching staff is struggling with injuries. Oh, wait, sorry, this is a line left over from a draft of a Completely Predictable Outcomes column I've been working on.
Surprise: Against every reasonable expectation of every reasonable baseball mind, Tony LaRussa's Tony Womack experiment is actually kind of working.
Will it last? I'd say there's no way it can, but of course George Will has never written a book about me. So what do I know?
Surprise: Carlos Lee, Jack Wilson, Steve Finley, Johnny Estrada, Mark Bellhorn, Jake Westbrook, and Eric Milton.
Will they last? No, yes, no, yes, no, yes, and no.
Surprise: Larry Bowa is alive and well and managing in Philadelphia.
Will it last? Here's how it goes: The Phils win the East but fall in the divisional playoffs; and then the team cuts the Bowa cord, saying what a great job he's done and explaining that they just feel a change needs to be made in order to reach the next level.
There are many more, of course, and we'll talk about others as the season rolls on. For now, I'll end with one of my recent favorites.
Surprise: It turns out the A's and Pirates kind of hate each other.
Will it last? Man, I hope so. I want to see it escalate, actually. I want to see Reggie Jackson and Dave Parker in a K1 match for bragging rights. I want Vida Blue and Kent Tekulve throwing darts at each other at 20 paces.
NOTES FROM ERIC'S SCORECARD
MEMO
To: Billy Beane
From: Eric Chavez

It's time to work the phones. I know the team's cruising lately, even with me being out hurt and all. But we can't expect Durazo, Hatteberg and Kotsay to carry us all the way home. Make a move, Billy. Do it for Zito, Hudson and Mulder. Do it for me.

HALL OF FAME?
You-know-who is sitting on 499 and I'm not putting him up for a vote. He's in. Says me. But Jim Thome, who hit No. 400 this week, is an interesting case. If he stays healthy and keeps popping, and hits, say, 530 or so, is he worthy of a ticket? What's your feeling on Thome futures? Are you buying?
BUY UP
On the short buy, get yourself some stock in our old friend Brian Giles, who is warming up along with the sweet sea air down in San Diego (.278/.374/.469, with 5 triples, 10 HRs, 40 RBI and 37 BB).

On the long-term investment front, take a good look at the Rays' B.J. Upton, who is positively killing down in Class AAA Durham (.325 BA, .525 slugging, with 7 HRs and 17 RBI in 122 ABs).

SELL OFF
Your shares in the Cardinals to win the NL Central. You'll never get a better price than right now, when they're on the crest of this early-summer wave, and you should get out while the getting's good, because they don't have the arms to sustain this thing through the dog days.
BRIAN GILES ALL-STAR
A spot reserved for unheralded greatness:

How about Matt Lawton, LF, Cleveland Indians. Lawton's got 81 hits and has scored 50 runs, with a tidy OBP of .402. He's one of the reasons -- Victor Martinez and Travis Hafner are a couple others -- Cleveland is on its way back.

PODZILLA VS. MOTHRA
The people have spoken. From this day forth we shall call him Scott "Podzilla" Podsednik. And now, people, what say you to the list of Jim Thome nicknames in the poll to the right? Cast your vote.

This week's honoree, er, victim? Vladimir Guerrero. Send your suggestions here.
Eric Neel is a regular columnist for Page 2. His "On Baseball" column will appear weekly during the baseball season.