By Eric Neel
Page 2
We're almost 70 games in. Too early to start talking about pennant and wild-card races? Not when the divisions are as tight as a John Kerry smile.
NL West
Contenders: San Francisco, Los Angeles and San Diego are within 2.5 games of each other.
Pretenders: I don't buy the Edgardo Alfonzo resurgence, and the Giants' pitching has GM Brian Sabean lobbying the league to raise the mounds again, but Barry can carry them a good long ways. The Dodgers are the pretenders. Nomo, Weaver, and an offense coming like the stink off the cattle yards in Gilroy aren't going to get it done.
Prediction: Padres ride pitching to the crown.
NL Central
Contenders: Everyone but Pittsburgh is in it. (The Pirates do have that nice park, though, and the way I understand it from the commissioner's office, that means they'll be good any day now.)
Pretenders: The Cubs and Astros are for real. Everybody else looks shaky to me. The Cardinals' offense is a wonder to behold, but can their bullpen continue to pick it up for the starters throughout the second half? The Brewers are putting up a spunky fight, but is there any way a Selig family-owned team makes the playoffs? No sir, and no sir. The Reds? They've been outscored by 25 runs and you're not going to remain 7 games over .500 by doing that.
Prediction: Houston, despite the fact that its five games back this morning, despite the fact that its ballpark has too much Anita Bryant in its name and the Astros' uniforms look like too much jammies from Gymboree, and because of the fact that the pressure in Chicago will keep ratcheting up as the summer wears on, will take it. The Cubs will win the wild card.
NL East
Contenders: We could include the Braves in this discussion, but that would just be out of habit. It boils down right now to Philly, NY, and Florida.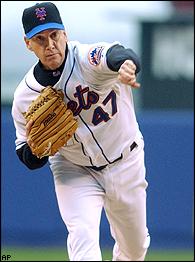 Glavine leads the NL with a 2.07 ERA and has allowed just 72 hits in 104 innings.
Pretenders: The Mets are in it because Glavine and Leiter are doing their best Roger Clemens impersonations (if Roger threw cream puffs instead of bullets, that is), and they should get a boost out of Hidalgo. The Marlins are in it, just like last year, because their arms are young and their skipper is old. And the Phillies should stick around if Millwood wakes up and Burrell keeps living the dream. No obvious dogs in this pack.
Prediction: No dogs but nobody's blowing doors here, either; any one of the three could emerge. I thought the Phils were the class of the division when the season started so I'll stick with them, but I'm prepared to be very wrong, and to suffer the slings and arrows of Mets and Marlins fans' outrage if I am.
AL West
Contenders: Texas continues to surprise, despite injuries, and despite the smack I've talked about their chances in this column. (Apparently, they're a bunch of professional athletes unphased by disparaging remarks from their critics or something.) And Anaheim and Oakland are right where most people figured they'd be.
Pretenders: Even as we speak Billy Beane is madly trying to work a three-way trade to land a closer. Rumor has it his last proposal had the Mavericks getting Shaq, the A's getting Guillermo Mota, and the county of Los Angeles getting oil rights and the yellow rose of Texas from the Lone Star state. Apparently satisfied with the roses in Pasadena, however, L.A. nixed the deal at the last minute. Meanwhile, the Angels, who've suffered some key injuries themselves, and who have cool-hand Mike manning the helm, roll on.
Prediction: I slight the Rangers (again) when I say so, but blinded by baseball crushes on Vlad and K-Rod, I think it's Anaheim.
AL Central
Contenders: The Twins, White Sox, and Indians are within four games of each other at the top of the division.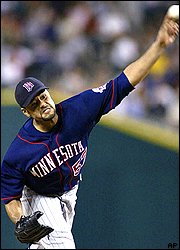 Johan Santana has struck out 29 and allowed just five runs his last three starts.
Pretenders: Despite my affection for Travis Hafner's name and game (.314/.413/.536) and Ronnie Belliard's hair, I have to figure this comes down to a race between the Twins and White Sox. Chicago's chances just went up when they sent Billy Koch down south (the only thing I can figure, by the way, is that the Marlins, looking for authenticity, wanted a real Billy to wear the mascot costume), but I figure this means Ozzie's just going to stop using the pen altogether (because real men throw complete games, damnit), so my guess is Minnesota, with Johan Santana coming around, is the pick.
AL East
Contenders: The one race that's just two teams.
Pretenders: Or is it just one team? The Yanks have had kids from the local American Legion league taking turns in the rotation, they've survived Derek wandering the desert like Lawrence of Arabia, they've gotten by without the real Jason Giambi, and in fact the entire offense has yet to wake up (only Jorge Posada has an OPS above .900). Still, they're 19 games over .500 and 4.5 up on the Red Sox right now. Good god, what happens if they start to click? Boston better hope Manny never slows down and Pedro holds up, because holding off Oakland for the wild card is looking like its only hope.
All right, them's my picks as we near the halfway point. Make yours by clicking on this poll page. But before you do, say a prayer, light a candle, make a wish, read Whitman's "Leaves of Grass" aloud from the pitching rubber on an abandoned high school field in the middle of the night -- do whatever it is you do to appeal to the baseball gods -- to keep these races tight all summer, would you?
NOTES FROM ERIC'S SCORECARD
MEMO
To: Paul DePodesta
From: Carlos Beltran

You should have made the deal. Your team is 25th in the league in the majors runs scored. I'm just warming up and I've already scored 49 runs this year. Your leading run scorer, Adrian Beltre, has 40. I also have a .529 slugging average and a .371 on-base percentage. You should have made the deal. Your manager Jim Tracy said you needed Mota because, "Our game is to try to shut down the opposition after the sixth inning." It is when you don't have a guy like me. You should have made the deal, Man.

BRIAN GILES ALL-STAR
A spot reserved for unheralded greatness

Frank Thomas, DH, Chicgao White Sox

If I'd asked you who was second in the AL in OPS right now, would you have come up with Big Frank? A couple off years and the Big Hurt fell off our radars. Put him back on. He's got 58 walks right now, which, if you're not Barry Bonds, is really good. He's also slugging at a .615 clip and pasting doubles and dingers all over the yard. It's just like the old days.

MY GUYS
Ben Sheets' 6-4 W-L isn't where it ought to be, but he's had only one bad outing in the last 10 games, and his 2.59 ERA is delightful and delovely. And the 95 strikeouts against 15 walks? It swonderful, it smarvelous.

He goes against Colorado today at 2:05 ET. Tune in.

And as for our friend Nick Johnson, the sample sizes are so small, it's hard to get a read. He had only five hits last week, but two were out of the park. Since he's just 22 games and 79 at-bats into his comeback from back hell, I find myself living and dying with him every day and in every at-bat. He hits a home run and I think it's a sign of things to come. He strikes out and I sink into despair. It's exhausting. I should ignore him for a while and come back when he's got another 30 games under his belt. But who would root for him if I did that? No, Nick, I'll stand by you. I'll be watching again today. Go get 'em, buddy.

THE OVER/UNDER
On Devil Rays wins this year: 70

The streak is dead. Long live the streak. One of the great things about baseball is that the season is long enough that freakish statistical anomalies and bizarre, planets-in-alignment, runs happen from time to time. The Rays just had a beauty. For two weeks they were the center of the baseball world, the heart of the buzz.

It doesn't mean they're going to sneak up and win the division or the wild card or even 80 games, but it means they probably aren't terrible, and more importantly, it means their faithful, all 27 of them, are walking tall for the first time since ever. You go, Rays fans, you puff out that chest, you dive into the water cooler debates, you feel the warm light of day shining down on your back, you be who you are. We can't laugh at you now. At least not to your face.

DEMOCRACY IS A B---H
We voted on a nickname for Jim Thome last week, and there were good names on the list, names like Hickory and The Peoria Punisher, but a leading 19.0 percent of the 12,869 who cast votes saw fit to go with The Thominator. Were there hanging chads involved? Did Jeb Bush play a role? Can I get a recount? Can I get a witness?

In this week's poll, we turn to Vlad Guerrero. Now, there seems to be some confusion on Vlad. Some readers wrote in this week to say he already has a nickname from his Expos days (The Impaler) and some wrote in to say that any nickname born of Montreal baseball is no nickname at all. I'm sure Youppi takes offense to that, but we're going to put it to a vote. Impaler is in the nickname poll to the right. So are other fine names, like Whack Daddy and El Comrade. Make your voice heard. (D: Nicknames for Vlad: Vladi Dadi, Whack Daddy, Don't Call Me Wilton, Dominican Deamon, The Big Russian, Big Bad Vlad, The Impaler, Baseball Jesus, Bolshevik Revolution, El Comrade)

And when you're done, send nominees for Cubs first baseman Derrek Lee, who deserves some love after reaching base in 18 of his last 20 plate appearances, and going .319/.399/.547 through the first 70 games.
Eric Neel is a regular columnist for Page 2. His "On Baseball" column appears weekly.