By Eric Neel
Page 2
I'm not excited about the All-Star Game coming up Tuesday night, but I am hopeful.
I know, like an American Music Awards show, the All-Star Game is basically meaningless, trumped up, and often too boring to watch.
But I also know there are times, like when Prince tears a hole in the sky doing "Purple Rain," or when Dave Parker lets fly a couple of lasers from the deep right corner of the Kingdome, that the big dumb gala pays off.
Because even if nobody remembers who wins, even if nobody wins at all, there are moments. You bring 60-odd stars (and even the occasional Alfredo Griffin) into the park, make it the only game in town, turn on the lights and cameras, and there are moments.
There is Carl Hubbell striking out five consecutive Famers (Ruth, Gehrig, Foxx, Simmons, and Cronin) in 1934, though for most of us this one's just a sacred rumor.
There is the afternoon Ted Williams won the game with a walk-off in '41. Even on dusty, stuttered film reels 63 years later you can feel the rush of the crowd getting to its feet.
And there's Teddy Ballgame as the elder statesman riding into Fenway on a golf cart in 1999, with all the current players gathered around him the way kids mob Santa at the mall, as if he's magic, and bringing gifts for them all.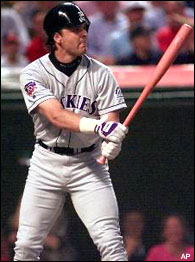 There's a reason Walker usually begged out of the lineup whenever the Big Unit started.
There's Randy putting the fear of god in Kruk one year, and Larry Walker reversing his helmet, switching sides of the plate, and turning the game inside out against Randy a few years later.
There's Pedro, at the height of his powers, taking down the first four batters of the game -- who just happen to be Larkin, Walker, Sosa, and McGwire -- on nasty, dandelion-seeds-in-the-wind strikes.
And there's Reggie driving a Dock Ellis ball out and over the Tiger Stadium roof, making the fans think they, not Dock, were the ones trippin'.
Then there is Ripken capping his All-Star career with a third-inning shot in 2001.
There is nothing more he can do, right? He's made Gehrig seem human, he's got a Series ring, some MVP hardware. He's the gold standard. He's done. He steps in and we applaud him.
But he isn't done. He jacks it. At age 40, thank you very much. And even if you aren't a Ripken fan (and I confess I'm not), you have to say, "Damn. Well there it is."
And that's a moment.
And so is Eric Gagne raring back and Hank Blalock taking him deep last summer. Blalock ripped the curtain back and said, "The Great and Powerful Oz ain't nothing but a man, y'all."
A few days, Gagne starts dropping hammers and slamming doors for real once again.
Which makes the moment all the more momentous.
Just like Fred Lynn's granny in '83, which was the first (and still the only) in All-Star Game history.
Fernando and Doc Gooden combining on six straight strikeouts in 1984, making Winfield, Jackson, Brett, Lance Parrish, Chet Lemon, and Alvin Davis look like matchstick men, is a moment too.
Pete Rose coming hell-bent-for-leather at Ray Fosse in the summer of '70 is another.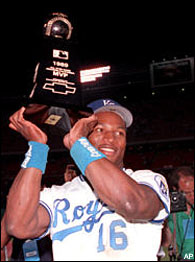 Bo knows baseball: Well, at least he did in 1989.
But for me, first, last, and always, there is July 11, 1989.
There is Rick Reuschel and there is Bo Jackson and there is one supernova of a home run.
Reuschel toes the rubber at 40 years old. His fastball tops out at about the same number. He throws pillows to the plate. It's twilight. He's working in the sun and throwing through the shadows.
Bo is at the plate -- his first at-bat in his first (and what would be his only) All-Star Game. His face muscles twitch a bit. His bat and hips waggle in time.
Reuschel's ball comes in tipsy and dragging. It looks winded. It's not a pitch so much as a LEM looking to land on the moon. There's nothing on it. By the time it makes 60' 6" it's two inches above the ground and actually moving backwards.
You can do nothing with this pitch. Any other batter in any other moment can do nothing with this pitch. He lets this pitch go and waits for one that rises above the kneecaps.
But the other guys, they ain't Bo.
Bo reaches down and out, easy as you please, and strokes the ball. Bam. Smooth, quick, with power so powerful it looks like grace. The ball is a rocket, a speck of white in the sky, deep over the center-field fence, and then it's a memory.
I'm watching the game at my friend Dave Rima's house. There are a bunch of us there -- Matt, Wes, Jon, Kevin, Mike, and Wayne -- and before the swing we're eating and talking loud.
At the crack of the bat we go silent.
And then, half a beat later, we shout "whoa" all at once. And then we take turns saying "Holy s---" to describe what we saw. And then Vin Scully says, "And Bo Jackson says, 'Hello.'"
And then we laugh like happy idiots.
* * * * *

What's your favorite All-Star memory? Click here to vote (and sorry if your favorite moment was left off the list).
NOTES FROM ERIC'S SCORECARD
MEMO
To: Adam Dunn
From: Me

Last week I wrote a column on the all-bargain all-stars and I left you off the team. My bad. My incredible bad. You're making $445, and you're a monster, with 24 home runs and a .567 slugging average to prove it. Dude, I spaced. I blacked out. Somebody slipped me a micky. One minute I was dancing at the party and the next minute I was crouching naked in the tree in the front yard. Forgive me. You're not just on the team, you're maybe one of the best players on the team. In fact, as a way to make up, the team will hereafter be known as "Adam Dunn and His Traveling All-Stars." If you want, we'll try to get Billy Dee Williams to play you in the movie.

THE STARTERS
Should be Mulder (11-2, 2.95) for the AL All-Star spot. Schilling (11-4, 3.08) is a decent second pick. Kenny Rogers (12-2, 3.65) isn't in the conversation. On the NL side, I think they're leaning towards Clemens (10-2, 2.54, 1.20 WHIP), but Schmidt (10-2, 2.53, 0.96 WHIP, two 1-hitters) deserves the nod.

JUST ASKING
Shouldn't Vinny Castilla, who I believe just celebrated his 73rd birthday, and who I know has 70 RBI as we head into the break, be getting a little of the All-Star-injustices love?

MY GUYS
Big Ben Sheets is an All-Star. It's petty, I know, but I actually have mixed feelings about it. On the one hand, I'm very happy for him. He deserves the spot. On the other hand, it feels like the cat's out of the bag and now everyone loves him. He was on Max Kellerman's show, and I cringed a little. Just a few short weeks ago, before everyone knew how good he was, it felt like being in early on a great band, like seeing Jane's Addiction at the I-Beam in 1987. Now Ben's gone all Lollapalooza and everyone wants a T-shirt, you know what I'm saying? Kind of bums me out.

And Nick Johnson, mon 1B north of the border, must be bummed, too, because he's gone into a terrible tailspin of late: .111/.172/.111 in the last week. I'm thinking about an intervention. Maybe I can get Jason Giambi and Bernie Williams to join a prayer circle. I wonder if there's any chance my editors would spring to send me to Montreal for a little face-to-face; something where I throw water on his mug, shake him by the shoulders, and shout, "Nick, Baby, snap out of it!" over and over again.

BLACK-AND-ORANGE FACE PAINT UPDATE
He's hitting .354 as of this morning. So I'm trolling for tickets for that year-end series in L.A. now. Anybody got an extra? I'll buy the beer and the dog.

Bonds is putting together yet another historically good season (An OPS of 1.416 as I write this), and all I can think is, he's got to step it up in the second half. How whacked is that?

PROPS
Love him or hate him, the play Jeter made last Thursday night was a hell of a thing. He took the wall and went into the seats without blinking, and this was Yankee Stadium so he knew they were coming. I've had as much fun as anyone poking holes in the Jeter mystique, but plays like this, and the flip to get Jeremy Giambi at home, give it weight.

ABOUT SCHMIDT
Time to vote on a nickname for Burl Ives. The choices are in the poll to the right. I like One-Hit; it's got echoes of Three-Finger Brown and Jimmy Two Times in it.

As for Derrek Lee, apparently there are a lot of "Dukes of Hazard" fans reading this column, because The General Lee was the easy winner for the Cubs' slugging first baseman.

And for next week, send suggestions here for Alfonso Soriano of the Rangers.
Eric Neel is a regular columnist for Page 2. His "On Baseball" column appears weekly.