By Eric Neel
Page 2
Until Junior came up lame over the weekend, we were looking at an NL outfield full of 500-homer men at the All-Star Game.
Which got me to thinking: Who's next? (Actually, Pete Townsend got me to thinking that first, but I digress ... ) Which other players are likely to get there, and could you put together an entire All-Star team full of guys with a shot?
Leaving aside pitchers, and, sadly, leaving aside The Crime Dog, I'm thinking about players still producing, guys at their peaks, and a couple of kids on the rise.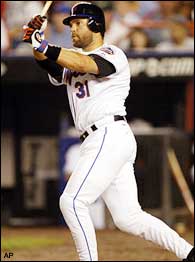 Forget about what Art Howe thinks, Piazza is your catcher.
Behind the plate:
We go with Michael Joseph Piazza (374), New York Mets.
Bill James has a cool little toy (you can find it here) to project players' final career totals. According to the toy, Piazza, who's 36 this September (I know, where did the time go?), is good for 442 when it's all said and done. The number is a bit lower than it might otherwise be because Mike was hurt most of last year. Let's say he's in striking distance, if the body holds up. Of course, if he doesn't lose the Lee Horsley beard, this whole discussion is pointless.
Honorable Mention: This is the one part of the great catcher debate where Pudge (243) doesn't have a leg to stand on.
First Base:
We bring you Jim Thome (409), City of Brotherly Love.
Nobody thinks about him, but the most famous Illinois Central College Cougar of all time is on a collision course with history -- 47, 52, and 49 the last three years, and 28 already this year. We're not talking 500 with Jim, we're talking, "Mr. Mays, you might could have some company ... "
Weird, huh? Aaron, Ruth, Bonds, Mays.
These guys are lions.
100 GREATEST HOME RUNS
Speaking of home runs, last fall Page 2 listed the 100 greatest home of all time.

From No. 100 -- Carlos Martinez bouncing one off Jose Canseco's head -- to No. 1 (we'll keep you waiting on that one), history's memory-makers are all here.
Thome?
You just don't think of him that way.
Remember the old "Saturday Night Live" skit about the Five-Time Hosts Club? Tom Hanks becomes a member, and he's slipping on the smoking jacket and sipping brandy along with Steve Martin, Paul Simon and Elliott Gould.
And you're looking at these guys and you're thinking ... Elliott Gould?! How exactly did Elliott Gould happen five times?
It ain't right, and it ain't fair, but it'll feel that same way with Thome if he hits 600+, only without the embarrassing stint in "The Devil and Max Devlin," of course.
Honorable Mention: You could make the case that Albert Pujols (136) should get the top slot. In the classic, "If you were building a team today and you could take only one first baseman ... " discussion, he's the man. Without question. But Jim's AB/HR rate is nearly two points better than Albert's, and he's been doing it for a decade longer, so I'm going with Thome, because my dad once told me to take old age and treachery over youth and talent every time.
Almost-as-Honorable Mention: Jeff Bagwell (430) is right there with Thome, and he got rooked out of a bunch of dingers playing all those years in the Astrodome, but he finally looks like maybe he's taking a dip in the fountain of old now, and his power numbers are dipping with him. Bonus points for the goatee and the modified sumo stance, though. Overall chance of his clearing the 500-fence: "Signs point to yes." (Overall chance that I'll ever use a Magic 8-Ball phrase in a column again: "Reply hazy, try again.")
Just-one-thin-sliver-less-Honorable Mention: Frank Thomas is sitting on 436. He's also sitting on the bench when his team's in the field. It isn't his fault, but there are no DHs on this writer's all-500 team, so it's the logjam spot for Big Frank. He's going up and over 500, but he's not starting over Thome. What will he care? He'll have Hawk Harrelson working doing "You can put it on the boooooooooooooooard! Yes!!" on the mic the night the storied home run clears the fence. That's reward enough for any man. (Except maybe Jay Mariotti ... )
Second Base:
The other half of the Alex Rodriguez trade is our guy. Ol' what's-his-name. The player people would actually be talking about if he were still wearing pinstripes. U know the one -- Dr Everything'll Be Alright
Alfonso Soriano (115) looks poised for his third straight 30-plus season, and he's just past his peak at age 28. The James Toy says 366 is the high end. I think it'll be closer to 400. Jeff Kent (285) is in the running here, too. But my gut feeling is neither guy makes the mark. Alfonso's got too many holes in his swing and Kent's got too many holes in his head.
Honorable Mention: I don't know ... any truth to the Joe Morgan-for-Carlos Beltran rumors coming out of Houston?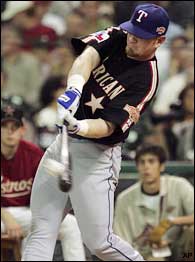 Sure, he could tank -- but until then Hank is hammering the ball.
The Hot Corner:
Hank Blalock (55), Texas Rangers.
Listen, if I put Alex here, who do I have playing short on my all-500 team? Tejada? Nomar? Yeah, like Garciaparra's going to be able to survive the SG smack-down? Don't think so.
Let me fudge things a bit and go with a youngster with upside so big he has to haul it to the park in a tractor, and with a name so true it sounds like it comes right off the pages of a Chip Hilton story. Let me go with Hank.
Maybe Hank is Jeff Burroughs, with 143 dingers in his first five seasons and only 91 the rest of the way.
But maybe, just maybe, he's Mike Schmidt, only with fans who actually love him and cheer for him and stuff.
Prediction? On a balmy night in June, 2019, he hits number 500, the stadium speakers blare Lyle Lovett singing, "That's right, you're not from Texas, but Texas loves you anyway," Tom Hicks drives a Caddy with bull horns on the front end out onto the field during a stirring post-game ceremony, and Hank announces his candidacy for the Texas gubernatorial race.
Honorable Mention: I have some friends in St. Louis who say this Scott Rolen (210) kid is pretty good.
Just kidding ... I don't have any friends in St. Louis.
Shortstop:
Alex Rodriguez (367), New York Yankees.
I'm slotting him here figuring eventually the Yanks, whose talent cupboard is looking a lot like Mother Hubbard's these days, have to deal Mr. Mystique for some pitchers under 35 or something.
Beyond that, I need no rationale or explanation. 500 isn't the relevant number with A-Rod. 700 is the number.
And by the way, while the first-half AL MVP talk has rightly focused on Vlad, Manny, and Ivan, don't be surprised when Alex is the Rodriguez holding the trophy at the end of the year.
Honorable Mention: It's way, way too early to even think of Bobby Crosby (11), so I won't mention Bobby Crosby, because Bobby Crosby is much too young, and Bobby Crosby is much too unproven, and Bobby Crosby doesn't belong in this conversation, so I'll just leave Bobby Crosby out of it.
Out in left field:
We have Manny Ramirez (373), Boston Red Sox.
You forgot Manny, didn't you? Is any super-talented, been-doing-it-for-years-and-gonna-keep-on-doing-it-thank-you-very-much cat more taken-for-granted than Ramirez?
Some guys just look too easy. Manny, with that bat that cuts through the zone the way Bunyan's axe blade goes through the heart of a pine, looks easy. In his baggies, with his hat sitting soft atop his 'do, he looks easy like Sunday morning.
And it's easy to see him looking at 500 in his rearview mirror, too.
Honorable Mention: How about Adam Dunn? (97) As with Blalock, it's too early to know, but you have to like his walk numbers, the way his AB/HR rate's fallen through the floor these first couple of years, and the fact he'd make even Big Klu look small.
Center:
Andruw Jones (236), Atlanta Braves.
I know we're all excited about Beltran (129), but here's the thing: They're both 27 years old, and Andruw has two more years of playing time and 107 more home runs under his belt. That's right, 107. On The Toy, he maps out at 512 to Beltran's 337.
It's been common knowledge for years now that Jones plays defense at the highest level, but let's not forget his bat.
Come to thin of it, if the Braves fade in the second half (and the Braves will fade in the second half), shouldn't teams be throwing young players at Schuerholz's feet in the hopes of prying away the young man from the island of Curacao?
Honorable Mention: Beltran, I guess. But not if he gets traded to the Dodgers.
And, at last ...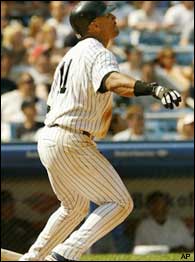 Attitude aside, Gary has 500 in sight.
Right Field, right now:
Gary Sheffield (395), New York Yankees.
It's a tough call: Sheffield needs to stay healthy (and manage not to piss anybody off) for another three or four years to get it done. Vlad Guerrero (254), who walks like Red Foxx in "Sanford and Son," and runs like Magic Johnson coming out for pregame introductions, needs to do it for seven-plus.
Against all odds, I think they both get it done; Sheffield while playing for the Washington Expos; Guerrero hanging from gravity boots with a Vicadin drip in his arm.
Honorable Mention: If Miguel Cabrera (32) were iTunes (which announced sales of 100 million songs in the last 14 months on Monday), wouldn't you buy stock in him with every penny you have? I've got a tip for you: Miguel Cabrera is iTunes.
Eric Neel is a regular columnist for Page 2. His "On Baseball" column appears weekly.