By Eric Neel
Page 2
You don't miss your water until your well runs dry.
-- Otis Redding
Lamar Odom, Caron Butler, and Brian Grant?
That sounds an awful lot like Elmore Smith, Dave Myers, Junior Bridgeman and Brian Winters, you know what I'm saying?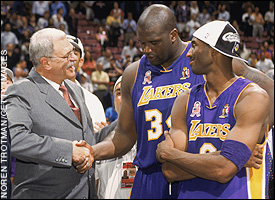 The Lakers have put their money on Kobe, and Shaq can't wait to make them regret it.
Sounds like a very bad idea. Even if they do keep Kobe.
I'm on record saying I'm no huge fan of the Big Man's style, but that doesn't mean I'd have traded him. I'm a fool, but I'm not an idiot.
I don't care how mad he is, you don't do this. Not for Nowitzki, and definitely not for a three-pack of Heat.
You do not trade the giant. You do not trade Kareem Abdul-Jabbar (ask Wayne Embry). You do not trade Wilt (not even for Connie Dierking, Paul Neumann, Lee Shaffer and cash).
And you do not trade Shaq.
Yeah, he's 32. You know what else he is? He's Shaq. He's unprecedented. He's Secretariat. He's "My Bodyguard." He's the man.
Yeah, he's banged up. But he's still dominant. Get him the ball and he puts the ball in the hole. Exhibit A? Game 4 of the Finals: 16-for-21, 36 points, and 20 rebounds.
Yo, Jerry, you didn't need this? You thought you could live without this?
Stupid is as stupid does.
I know he asked for the trade, but still ... He's hurting. He wants to know he's loved. So you give him some love, is what you do. You don't trade him.
This is the kind of move that damns a franchise. Jerry, the Gods will look at you like they looked upon Earl the Goat, Darryl Strawberry, and L.T. They'll see you're frittering away the gifts they've given. They'll see you let your pride get in your way. They'll sentence you to death, obscurity, or humiliation. They'll bring back Mel Counts, Jim McDaniels, and maybe even Don Ford. They'll convince you to trade for Elden Campbell or sign Vlade.
It will get ugly from here.
Even with Kobe, we're talking about a team that Houston will beat like a drum. We're talking about a team San Antonio won't even think about and Denver may run all over. Sure, Detroit can only dismantle the team we're talking about twice a year, but the Clippers can beat up on it four times.
Worst of all, we're talking about a team that Miami will embarrass, with, oh, I'd say, about 36 points and 20 rebounds from the Big Payback.
And that's just the on-court hits. We're not even talking yet about the blow to marketing and image.
Here's what you had in Shaq: A guy full of funny one-liners who likes to smile and kid around. A guy most kids in L.A. think actually is Superman. A guy who plays hard, who plays for rings, who made all of southern California feel proud to be associated with a winner.
Here's what you have in Kobe: A guy who plays hard, plays for rings, and wins, but also a guy who is closed off, hard to read or root for, and up on charges.
Phil's gone and now Shaq is, too. Whose picture is on the buses and the billboards now? Young Luke? Brian Cook? Staples has just gone from the hardest ticket in town to a room where you'll hear echoes.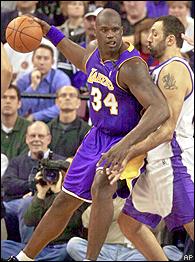 The Lakers have always been about the big man -- until now.
They'll be echoes of history.
After Magic and West, the Lakers legacy is written in the names of big men. Mikan, Wilt, Abdul-Jabbar, and Shaq. Trading Shaq disrespects who the Lakers are, who they've been for decades.
And what about the history yet to come? The titles still to be won?
Kobe couldn't see those. But he's blind, because they were out there.
The roles would've had to change some in the next season or two. Shaq, like Wilt and Kareem, would've had to cede some of the high ground to Kobe's younger legs. The team, like the teams of the '80s, would have to find a handful of key role players to replace the ailing Fox and the itchy Fisher. But there was more to be done.
That should have been the sell that Jerry and Mitch made to both Shaq and Kobe. And if Shaq wasn't hearing it, they should have kept talking, kept pleading, kept singing him love songs. And if Kobe wasn't buying, they should have let him walk, painful as it would have been.
Kobe is a fantastic player, but is he irreplaceable? Would the Lakers really be worse off this coming season if they had, say, Manu Ginobli and Kenyon Martin or Carlos Boozer alongside Shaq?
No, there is exactly one irreplaceable character in this story, and his name is Fu.
Now he'll be walking through the pages of Miami Heat history instead of Los Angeles Lakers history. For a year or two, he'll run on energized legs and a wounded heart. He and Dwyane will battle the Pistons and Pacers for a spot in the Finals, and he'll likely win a league MVP trophy or two along the way. Then Pat Riley and SVG will sit down with him and tell him stories about Chamberlain on the '72-73 Lakers team, playing a diminished but still vital role; about Abdul-Jabbar on the 1987 Lakers team, playing a strong but second fiddle to Magic's lead. They'll say he's been a great champion and they'll say this is the next chapter of his legendary tale. They'll tell him they love him.
And they will never, ever trade him.
And all the while, Jerry Buss, Mitch Kupchak, and Kobe Bryant will be listening to Otis Redding records.
Eric Neel is a regular columnist for Page 2. His "On Baseball" column appears weekly.