By Eric Neel
Page 2
It's wheat-from-the-chaff time, folks. Don't talk to me about individual records. Don't waste my time with hirings and firings. Don't bore me with tales of plucky young teams who are "turning things around" and "making some noise."
I don't want to hear it. From here on out, there are exactly three big stories. Three stories that will shape the year. Three stories that will make the difference between ho-hum and history.
With apologies to the good people of Milwaukee and Detroit, yours ain't one of 'em.
And though I know I'll lose favor on the south side of Chicago, in Chavez Ravine, down along the bay in San Diego, and deep down in Tampa when I say this, the White Sox, Dodgers, Padres, and Rays aren't in the mix, either.
Those are nice stories. But I'm talking big stories.
I'm talking:
1. Will the Red Sox catch the Yankees?
For everyone but Yankee fans, this is an "Is there a God in heaven?" question.
If Boston goes on a run and overtakes New York, people outside The Bronx are believers again. There is a spiritual renewal. Gnarled old men roll their walkers up to the stage to receive the anointing. Benny Hinn has to turn folks away at the door. Complete strangers stop each other in the market so that one of them can say, "Do you believe in miracles?!," and the other one can answer, "Yes!"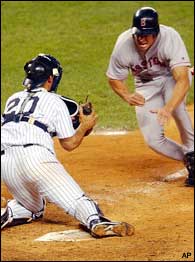 The Yanks and Red Sox are on a collision course this season.
But if New York maintains or extends the lead and the Sox just shrivel up and die, there is a crisis of faith all across the land. Sweet little girls with curls in their hair refuse to say their prayers before bedtime, many of them muttering, "No, really, Mommy, what could possibly be the point?" Choirboys let their robes drag in the mud. Bar mitzvah candidates ditch out of Hebrew school. And there are reports of a national increase in Presbyterian parishioners taking dollar bills back out of tithing plates as they're passed down the pews.
The Sox-Yankees rivalry gets too much play in the press, no doubt. But this is the race that will galvanize the people. Everyone will have or claim a stake in this one.
Key head-to-head: How about right now? How about the July 23-25 series in Boston? Like the Black Eyed Peas, I say, "Let's get it started."
Key swing: Between July 30 and Aug. 15, Boston plays at Minnesota, Tampa Bay, and Detroit, and then comes home to face Tampa Bay and the White Sox. Everybody in that stretch is playing for a division crown, or pride, or both. Everybody in that stretch can hit.
X-Factor: Where Randy ends up is huge. So is the answer to this question: Will the real Derek Lowe please stand up?
Mantra for the faithful, taken from the young Natalie Wood, sitting in the backseat of the car in "Miracle On 34th Street": "I believe, I believe, I believe." Like most of us, she really didn't, but saying so seemed to help.
2. St. Louis Cardinals vs. Chicago Cubs
The Cardinals are up seven at the break. They're a house of fire. But as I've written before, it seems likely they'll cool down some. And with the Cubs due to get more out of Wood, Prior, and Sosa in the second half, things could get interesting.
If they do, all the Chicago mojo, from Bartman to The Bull to the goat and then some, is back in play. Fans, players and writers will get all in a lather, like they were at the end of last season; and it'll be great, whether you're rooting for them to get off the schneid or rooting, in some gleeful but sick way, for their suffering to continue.
And best of all, they'll be going heads-up with a team and a city that hates them. See, the Cardinals crew will come with some old-time, died-in-the-wool enmity. They don't find the Cubs lovable and they don't give a damn about how long it's been since they won the Series. They play Johnny Cash to the Cubs' man in Reno. They'd shoot 'em, just to watch 'em die.
And like Sean Connery said in "The Untouchables," the Cubs will match them blow for blow, because, "That's the Chicago way."
Except for the New York-Boston matchup, no other rivalry comes close to this one for pure, put-the-other-guy-in-the-ground loathing. It's a beautiful thing.
Key head-to-head: You want evidence that the league office just doesn't understand the game, that maybe they just don't understand what makes this country great? Here it is: July 19 and 20 are the last two times they play each other this year. Look at the Cubs playing the Expos six times between Aug. 30 and Sept. 8, and playing the Cardinals not a single time in the last two months of the season.
Key swing for Chicago: Aug. 6-22; Giants, Padres, Dodgers, Brewers, Astros.
Key swing for St. Louis: The last four games of the season against a Brewers team armed with Ben Sheets and Dan Kolb, and eager to play the spoiler.
X-Factor: Matt Morris vs. Carlos Zambrano the rest of the way.
Highest of the potential highlights for fans everywhere: The teams finish the season tied and Dusty Baker and Tony LaRussa decide to settle the thing like men, with a bareknuckle fight out in center field.
3. The A's quest to win a post-season series.
Oakland owns the second half.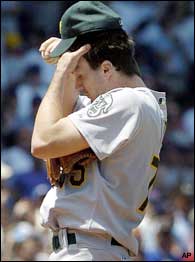 How will the A's do? It depends on which Barry Zito shows up.
Here's how they've done in the second half the last five years: 44-31, 43-32, 58-17, 53-21, 42-27.
But here's what it's been worth to them: Bubkus.
They need a second half just like they've cranked out each of the last five years. They need Beane to make a move and they need to go on a run. They need Barry Zito to be Barry Zito.
Then they need more. Like better luck and better results when there's bunting hanging from the walls in foul territory. Like three wins in the divisional series, for starters.
More to the point, baseball needs more. If the A's win one these things the "Moneyball" approach stays alive and the cranks who've poo-poohed it without reading the book, or shot it down out of habit and armed only with conventional wisdom, will have to rethink and retool their arguments. It isn't that the "Moneyball" approach (which, remember, is more about finding soft spots in the market place than it is about privileging OBP) is perfect, and it isn't that all the A's success can be chalked up to it, anyway; it isn't and it can't. It's that the ideas in it keep the game alive through debate and innovation. They keep things humming and, in some low-revenue/tight-pocket cities, they (forgive me, Jesse) keep hope alive.
The key swing: Six games with Texas between July 23 and 31.
The second key swing: Six games with Anaheim between Sept. 24 and Oct. 3.
The X-Factor: After Barry, a bat.
The bottom line: If the A's fall short, a truly great run will be buried right alongside the Vikings, Bills, and Braves.
* * * * *
NOTES FROM ERIC'S SCORECARD
HALL OF FAMER
Let's make things a little more interesting this time out. Let's say you have only one vote for a catcher. Do you take Piazza or Pudge? Here's a rundown:

Mike: .319/.388/.569, with 374 HRs, 1,174 RBI, 285 Win Shares, a -76 fielding runs rating according to The Baseball Encyclopedia, the longest, most-improbable swing in baseball, and the pleasure of catching The Rocket's blow-up game the other night.

Pudge: .304/.344/.488, with 231 home runs, 914 RBI, 249 Win Shares, a +164 fielding runs rating according to The Baseball Encyclopedia, a cannon for an arm, and a key to the city of Detroit.

One guy gets in the Hall and the other waits outside to buy a ticket like the rest of us mortals.

You make the call.

OFF THE RADAR
I hear folks talking about Kris Benson like he's the only decent pitcher available. Ladies and Gentlemen, let me re-introduce you to Livan Hernandez (3.58 ERA, 1.26 WHIP, .252 BAA, 102/41 K/BB ratio). He signed a contract extension with Montreal in April, but I'm pretty sure Omar Minaya is taking calls . . .

I DON'T GET IT
The nickname vote on Jason Schmidt ended with "Holy" as our winner. Apparently, Jason (and/or his fans) are quite devout.

Side note: Though "Schmitty" finished second in the poll, there were a number of letters from readers who feel "One-Hit" is the only way to go. These folks, and I am among them, will be going the, er, secular route and paying tribute to Jason's stinginess by calling him "One-Hit" from here on out, popular vote be damned.

This week, we give Alfonso Soriano the treatment. Put me down for String Bean -- us wiry guys gotta stick together.

MEMO
To: Ryan Klesko
From: Bruce Bochy

You in there?

JUST ASKING
Do you think the Astros are over-compensating by hiring a guy whose nickname is "Scrap Iron" to replace a guy who spells Jimy with one "m"? Or is it Garner's stellar record in Milwaukee and Detroit that turned their heads?
Eric Neel is a regular columnist for Page 2. His "On Baseball" column appears weekly.