By Eric Neel
Page 2
It's over. The season won't start for another 14 weeks, but it's over. They can play out the full 82 if they want to, but it's over, baby. Done.
What am I talking about?
I'm talking about the single biggest development of the free-agent signing period. I'm talking about the deal that seals the deal, about the signature that, like a one-eyed hag behind a beaded curtain, tells us the future.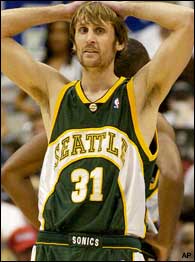 The Spurs are the team to beat with Brent on board.
Am I talking Kobe?
Please.
Am I talking K-Mart or Boozer?
Nope.
I'm not even referring to the Big Fella's splashdown in South Beach.
Those moves are obvious.
The big news is deeper, as in deep within my heart lies a melody, a song of old San Antone (A little Bob Wills and His Texas Playboys, anyone?), as in the Spurs signed Brent Barry for $22 mill.
Nobody's talking much about it, but they should be.
Barry can fill it up and he can dish it. He's the second-best three-point shooter in the league and he passes the ball with a Sabonis-like flair for gaps in time and space. Like the Detlef Schrempfs and the Scottie Pippens of old, he can run the point when you want it, and he can run the flow from the wings when you want that. He plays some D. He grabs some boards. He moves. He sees.
Two weeks ago, San Antonio's shooting guard was the incredible disappearing Hedo.
Now they've got the proverbial "player who makes everyone around him better," a guy who should be a great fit alongside Tony Parker, a sparkplug off the bench (coming in for Ginobili) some nights, and a starting-lineup orchestrator on other nights when Popovich wants to go quick and small. He's going to feed Duncan so often the Big Stoic's going to push himself away from the table and undo the top button of his pants. Duncan's going to find him out of the double so often that Brent is going to think every night is All-Star weekend and all he's got to do is sink the money ball.
Add in the fact that he's hungry to win and will bend over backward to fit in.
Add in the fact that every single game for Barry will be an I-can't-believe-I-traded-Calvin-Booth-and-Jerome-James-for-Tim-Freakin'-Duncan celebration of life.
Add in the fact that the Spurs got a stand-up move from Bruce Bowen, who opted out and signed for less, which allowed the team to keep Manu and set an all-about-the-team tone for 2004-05.
Add in the fact that Parker is a year older (and, we'll just have to assume, showing real progress after a summer's worth of post-Lakers therapy), Ginobili is about to go off, they might get a something-to-prove Malone, and Duncan is ... well, Duncan.
And what's it all add up to? An O'Brien trophy and some plastic sheets covering the lockers in San Antonio, is what.
Who in the West is going to hang with this team? Sacramento? Too rickety. Houston? Too thin. Dallas? Not without a center. Not without some defense. Only the T-Wolves are close; but after KG, not close enough.
No, it's the Spurs.
And when it's over, the way the Pistons talked last month about Rasheed, the way the Yankees are going to be talking about RJ, and the way the cast of "Cheers" talked about the arrival of Woody after Coach passed, everyone in San Antonio will be talking about Brent Barry, the lynchpin.
In other free-agent news ...
Three notes on Carlos Boozer:
1. The Jazz go from just-out-of-the-playoffs to a fifth or sixth seed. Look at the lineup: Kirilenko, Okur, Boozer, Arroyo, Giricek. The Jazz not only look good, they look fun. Is this possible?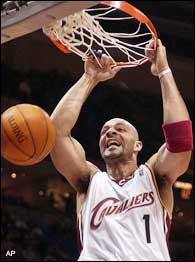 Boozer took the money and ran to Utah.
2. Don't be confused. Gund and Paxson weren't just looking to do Carlos a solid; they were also looking to get him locked in for cheap.
3. That said, the impulse to do what you know is wrong for selfish reasons, an impulse which for each of the 35 years since the "something suddenly came up" episode has been known as a "Marcia Brady," will now and forever after be known as a "Boozer." As in "I saw this lady drop a 20 out of her purse, and I thought about giving it back to her. But instead, I just Boozered it and bought a case of Bud Light."
Vlade the Impaler?
Whatever, for Vlade. The Lakers need to be thinking about a point guard. A pure pass-first point guard. They need a guy Kobe will believe is there to get him the ball. The only way this season and this team aren't lost is if they open it up and the ball moves all over the joint and Kobe, Lamar, and Caron make a killing in transition. The only way that happens is if they get a when-point-guards-were-point-guards point guard.
I'll have more to say about Kobe and the new-look Lakers next week, including a scouting report/prescription for the coming season. In the meantime, Kupchak better start making some calls to his old boss and asking about Earl Watson.
Three draft picks?
I'm no huge fan of K-Mart's game (He's strong, no doubt, and he can rebound, but should he be pulling down fewer clangs than guys like Jamaal Magloire and Erick Dampier? And after the dunks -- which are going to be harder to come by without Jason, by the way -- what have you got offensively with this guy? No real moves to speak of, and a jump shot that goes bump in the night.) But three draft picks? If you're going that route, why not ask for some staplers, ballpoint pens, and post-it notes all embossed with the Denver Nuggets logo on them? Why not three draft picks, some knee-high socks, and an Earl Boykins bobblehead? I mean, if you're asking, why not go all the way?
So this begins the Jason-Kidd-demands-a-trade portion of our program. Question is, on a bum knee and with an offensive game that may have topped out, is anyone buying? And if they are? What do they have to give up? Because you can't come calling in New Jersey with just anything. You need to bring draft picks and stuff.
Prediction: Whoever does take the Kidd risk gets rewarded. He's not done.
Reason for Kidd to stay?
There are rumors floating around that Shareef Abdur-Rahim wants to replace Martin in New Jersey.
If they could get something done, the Nets would be getting a player just as productive and more versatile than K-Mart, a player whose game might be a perfect complement for Kidd and Jefferson.
Now, if only the Nets can get Portland to take three draft picks ...
Shooting at the walls of heartache, bang bang
Good for Derek Fisher for getting six years and $37 million out of the Warriors. Good for Derek Fisher for seeing the market was full of suckers, hanging low from the trees in bunches, and saying, "I'm gonna get me some of that." Very good.
Bad, though, for the Warriors, for not recognizing that Fisher isn't a true point, that he needs an effective big man to generate open shots (and Adonal Foyle ain't it), and that after Gary Payton he was the Laker most likely to be torched by the Pistons speed in the Finals. Very bad.
The question
If you're Donald Sterling, what do you?
Do you let Quentin Richardson go or do you match the Suns' offer, knowing that he's the difference between a run at the playoffs and another also-ran season?
I'm sorry, did I say this was a question?
And speaking of questions ...
It was all the rage last week to say how this Clippers team is different, how it's full of young talent and worthy of Kobe's consideration. But if it's true that the on-floor team looks fresh and capable of good things, the front-office folks are all too familiar.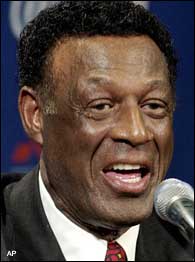 The Clippers' failure to sign a free agent is yet again the talk of the offseason.
What the hell were they thinking when they agreed to play 12 games at The Pond, just to accommodate Kobe?
First off, there was no way he was actually signing with them.
Second off, even if he were considering it, the move-the-games request is the moment when you stand up for yourself and say: No!
The hot chick asks to see your homework. No problem. The hot chick asks to copy your homework. Sure. The hot chick asks you to do her homework while she's on a date with the football captain. I don't care how hot she is, you've got to say: No!
It's the difference between George and Marty McFly. It's the difference between self-respect and Stuart Smalley.
Guy who could be a real force if he's healthy
Antonio McDyess. The Pistons get 10 and 8 out of him and they're back playing for the trophy.
Guy least likely to make a difference
Whoever the Knicks get.
Moment most likely to make me stick my head in an oven
Mitch Kupchak says, "We're very pleased to announce that the Lakers and Greg Ostertag have reached an agreement on a new four-year contract."
That player who's going to be off your radar, until he starts hitting big shots in the Eastern Conference Finals.

Stephen Jackson, Indiana Pacers. Turns out, he wasn't out of the league last year, after all. He was in Atlanta.
The face guy
On the surface, the Grizzlies signing of Shane Battier, for six years and $37 million, looks like a bit much. Six years looks like a bit much, and $37 million looks like a bit much.
But it's a good signing for two reasons. He's not the superstar they thought they drafted a few years back, but he plays defense and takes good shots and both are key to Hubie Brown's get-after it style and system. And just as important, he's the face guy for the Grizzlies.
The team is moving into a new arena this season, and Battier will help fill it. He gives it up every night. He stands up when the team is struggling and expresses the team's appreciation when things are going well. The fans love him. Hubie loves him. Jerry loves him. For their entire existence before last season, the Grizzlies were a team without an indentity. Hubie changed that, and he did it with the effort of guys like Battier. There are times when you have to sign a player because, over and above what he does for you on the court, he's one of your guys. He's your face guy.
And as we look ahead, figure the Grizz aren't done. The Brian Cardinal pick-up is much better than most people think. But there's no way The Genius is done yet.
While we wait on him, and while we wait on word in the Dampier Sweepstakes and the "Free VC" movement, enjoy the ride, and be glad you're not Brian Grant's knees (though it would be kind of cool to be his hair, just for one game ...).
See you next week.
Eric Neel is a regular columnist for Page 2. His "On Baseball" column appears weekly.