By Eric Neel
Page 2
"It's the questions, it's the questions, dig it? The questions. It's the questions, boy. It's the questions, that's what it's all about."
-- Common, "Like Water For Chocolate," 2000
All right, so I'll ask ...
Are we being punished? Is that what the Braves are doing up six in the East? Again? Is this unholy reign of Leo and Bobby covered somewhere in The Book of Revelation? Did I miss it? Does it come between the earthquakes and the moon looking like blood?
And what the Hell has happened to Jaret Wright (10-5, 3.04 ERA, 7.46 K/9)? Was there hypnosis involved? Is this an Ormond McGill trick? Is there a chance that someone might accidentally say the secret password and he'll stop pitching like an ace and start dancing on the mound like a chicken or barking like a dog?
If they sold pieces of major league teams like pork belly futures, wouldn't you go long on the Cleveland Indians right now?
After "Spider Man 2" being better than "Spider Man," and Barack Obama going deep at the Democratic National Convention, has there been a more pleasant surprise this year than Carlos Guillen?
And after Guillen, Larry Brown finally getting a ring, and maybe the emergence of Clinton as a solid replacement for Wayne on "What Not To Wear," has there been a more pleasant surprise this year than Mark Loretta?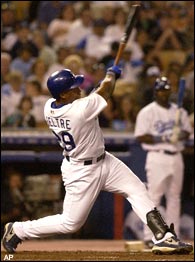 Who knows, Adrian Beltre might just win the MVP award.
Does it strike anyone else as funny that the heart and soul of the 2004 Dodgers (despite all the gushing everyone did about Paul Lo Duca) has been Milton Bradley and Adrian Beltre? Is this ironic? Is this the very definition of irony? Can someone get Alanis on the horn?
If the Dodgers win the NL West, and Pujols and Rolen split the Cardinal vote, and everyone takes Bonds for granted, could Beltre sneak in to win the MVP?
I'm just crazy on the weed, aren't I?
Speaking of crazy, if you're Joe Torre, and you're wondering if maybe Mike Mussina's just left the building, would it be nuts to think about starting Tom Gordon in the playoffs once or twice? He has those tools in his bag, and he's been a freakish monster this year (1.84 ERA, 9.33 K/9, 0.80 WHIP, and .164 BAA).
Are people in Cincinnati naming their pets and children after Adam Dunn yet? Do preachers begin Sunday morning sermons with, "In the beginning, there was Adam," while wearing wry smiles on their faces?
Has Arthur Miller begun work on the script for Ken Griffey Jr.: An American Tragedy? Has Clint Eastwood signed on to direct? Will this be Cuba Gooding Jr.'s redemption role?
If Edgar isn't a Hall of Famer (though I think we should think long and hard about a man with a lifetime .312/.420/.519 line), isn't he as good a reason as we've ever had to break ground on the Hall of Damn I Loved Watching Him Play?
And after Edgar, can I nominate Bert Blyleven, Fred Lynn and Ron Guidry?
And can you put me down for Spencer Haywood and Billy Sims, while I'm at it?
How exactly does the Jack McKeon wiley-veteran-steady-hand-of-experience-cigar-mojo thing work? Can he just turn it on at will? He's going to flip a switch any day now, isn't he? Or are the Marlins just counting on a huge stretch run out of the Juans?
After Carleen Basler's true feelings for me in the seventh grade, have I ever been more wrong about anything than I was about this year's Houston Astros?
Is there any chance I actually meant to put my pre-season money on the other team in Texas?
Do you fully appreciate how good Jim Edmonds has been this year (.301/.414/.654), by the way? And, according to this great piece at Redbird Nation, do you realize you should have been giving him love for a good long time now? And not just for his glove?
That said, is it just me, or was the Larry Walker pick-up gratuitous?
I know the Phils are still technically in it, and I'm afraid of what Larry might do to me just for saying so, but shouldn't somebody get the ball rolling on a Free-Bobby-Abreu campaign?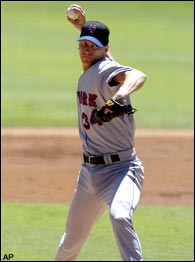 Jim Duquette just loves Kris Benson.
Is it true that Jim Duquette is stopping people in bars and restaurants, and accosting innocent passersby at LaGuardia, and saying, "But you have to see Kris Benson the way I see Kris Benson!"?
If you're Jack Wilson, don't you think about retiring right now, before a late-season swoon ruins your good thing? Don't you imagine a Jim Brown press conference, an "I'm going out while I'm still on top" sort of thing?
Is Eric Chavez really hitting .336/.436/.593 against lefties? Am I reading that right?
It's early, but I'm going to say Johan Santana is the AL Cy Young award winner -- do you have a problem with that?
Do you keep a list, like I do, of players you root for, even though you don't much care what happens to their teams? Does your list this year include Santana, Brandon Webb, Al Leiter, Khalil Greene, Ronnie Belliard, Lyle Overbay, Hank Blalock, Miguel Cabrera, David Ortiz, and, of course, Ben Sheets and Nick Johnson?
My wife says I look goofy walking around wearing my bright red t-shirt with a cartoon picture of Vlad Guerrero on the front. She can't be right about this, can she?
* * * * *

NOTES FROM ERIC'S SCORECARD
MEMO
To: Bartolo Colon

From: Mike Scioscia

Glad you could make it.

25 WORDS OR LESS
... on Maddux

He pitches the way Scorcese directs, with a nerdy, quiet precision, an obsessive eye for detail, and an unexpected feel for sweep and scale.

BLACK AND ORANGE FACE PAINT UPDATE
The line (historic, but not historic enough): .350/.600/.765, 30 home runs, 69 RBI, and 160 walks.

I'm starting to think about details now. Do I paint one cheek all orange and the other all black, like a frat boy? Do I go with tasteful logo reproductions on each cheek, like a cheerleader? Is there a wig involved? Are there glasses?

MARTIAL LAW
You know me. You know I'm a fan of the democratic process, even when it hangs on hanging chads, even when it yields decades of Stroms and eons of Teddys.

But every man has his breaking point, and last week's vote in the nickname poll reached mine. You chose "Eazy E" as Eric Chavez's nickname over the obviously superior choice: "The Lion of Alameda County." I simply cannot abide this. I cannot stand idly by. And so it is, like a khaki-dressed goon in combat boots, riding through the streets of the city, soaking up the cheers and affection of carefully pre-selected "supporters," that I am overturning the results of the Chavez election: Hear now the voice of the law: "Eric Chavez shall hereafter be known as 'The Lion of Alameda County.' And remember, curfew is at sundown."

BRIAN GILES ALL-STAR
A spot reserved for unheralded greatness

Jeromy Burnitz, CF, Colorado Rockies

Until the Colorado National League Franchise decides to do the right thing and ditch the purple mountain's majesty uniforms, every stalwart on their squad will be unheralded. And the '04 Jeromy, who, after movig from Chavez Ravine to the Mile High City might be the second happiest guy in America after Ashton Kutcher moved from Brittany Murphy to Demi Moore, is a stalwart. Yeah, the numbers are inflated, but they're still pretty. Take a look: .303/.373/.630
Eric Neel is a regular columnist for Page 2. His "On Baseball" column appears weekly.