By Eric Neel
Page 2
True story: Late Tuesday night, 'T' had a bad dream and woke up in her bed shouting, "Daddy! Daddy! The Dinosaurs are coming! The Dinosaurs are coming to get us!"
I swear I thought she was talking about the Cardinals.
I mean, what the hell was that on Tuesday? Are they still batting? Did the batboy go deep yet? Is Red Schoendienst getting his licks in now? Are balls still screaming across the St. Louis sky and going plunk in the Mississippi?
I stopped looking and listening after the second inning. It's hard to see anything when you're curled up in a ball. Hard to hear anything when you're screaming like a young Jamie Lee.
Larry Walker bats second for these guys. Second!
Before Albert Pujols and Scott Rolen.
This is like Luca Brasi warming you up for a visit from the Lone Rider of the Apocalypse and The Ghost of Christmas Future. This is fighting a Frazier tune-up before taking on Foreman and then the GOAT. All in one horrific night.
You don't get it until you see it happening to your guys. You don't get how good -- how truly, terrifyingly bad -- these guys really are. Every at-bat is a trip to the gallows, and you and your sorry pitcher are cursed with nine freakin' lives.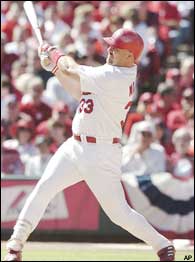 The Dodgers are already all too familiar with Larry Walker's home-run trot.
You watch this team, and you're getting hammered, and you're feeling woozy, and your mind starts to drift like the condemned man in "Occurrence at Owl Creek Bridge," and you find yourself running back down other dark hallways, through other fiery hells. You think maybe the only way to survive this dinosaur stampede is to somehow ground it in reality, put it in perspective; and so you start thinking of the most terrifying lineups in your lifetime (which, if you're me, goes back about 37 years), teams that'll put these Cardinals in relief.
You think first of the '95 Indians, with Belle and his eye-blacked glare, holding that bat up high like it's a strap he's gonna bring down on your bare butt and make you pay for every bad thing you've ever done. With Thome swinging that sweet scythe; with a young Manny and an old Eddie; with Baerga, who drove in runs by the truckload; and with Lofton, who stole bases like a meth addict steals furtive glances over his shoulder. And you shudder.
And then, still shaking, you think of Tom Glavine, who somehow held these guys to one hit, one Tony Pena looper over second, in the deciding game of the '95 World Series. And you ask yourself, how is it that we don't talk about this as one of the great pitching performances of the modern era? How is it that schools all over the greater metropolitan Atlanta area aren't yet named Glavine Elementary?
You recall the Big Red Machine, too, of course. George Foster's burns -- remember that SI cover where he's leaning his chin on the nub of the bat? -- make you shrink. Tony Perez's wrists just roll right over you. The way Bench stood stiff at the plate, with all the emotion and sympathy of a hangman, makes your stomach hurt, and that's before you get to Pete coming at you like a train and Morgan tornadoing all over the park.
Then "We Are Family" comes to mind, because the Cobra was to right field what Shaft was to the crime-ridden ghetto; because "Pops" was just a front, just a Trojan horse, just a cutesy nickname you slap on something when you want to sneak up on folks and beat the living crap out of them; and because, in addition to sporting one of the greatest full-flow, no-apologies, there's-bears-in-them-there-woods beards in Major League Baseball history, Bill Madlock could hit the ball real hard.
The '86 Mets, naturally. But after Straw, it's mostly the post-game party jet that gets you.
You remember the Bash Brothers; and Hendu, still glowing from the magic he worked against poor Donnie Moore; and Carney, looking like the Michael Jeter of professional hitters. And yes, you are afraid. But this one gives you hope, too, because you remember Orel.
Then you remember that Jeff Weaver ain't no Orel, and the catalog rolls on ...
Somewhere, somebody says, "What about the 2001 Mariners and their 116 wins?"
You say, "Yeah, but great as Singles Suzuki is, he doesn't scare you. And Bret Boone was great, but he always looked like you could get him out, even if you couldn't most the time."
But what you do remember are the M's of '97, with Junior and Alex looking like they had the whole world spread out in front of them for the taking; and with Buhner, Sorrento, and Edgar playing ministers of information to their Chuck D and Flava Flav. Public Enemy, indeed. These boys brought the noise.
Speaking of noise, you reflect for a moment on Harvey's Wallbangers: Milwaukee, circa 1982. Yount, obviously. But don't forget Cecil Cooper, Ben Oglivie, and big Gorman Thomas, who looked like one of those guys who might build his own little shack up in the hills in Idaho and live "off the grid," if you know what I'm saying.
Then -- maybe its Gorman's scruff -- the Tigers come to mind. The '84 crew, sure, but you're thinking 1987, when everywhere you looked you saw a batman with bad intentions. Darrell Evans was there, all 40 years worth of him, slugging .501 and making opposing pitchers half his age pee fearful little puddles on the rubber. Alan Trammel was a 205-hit monster, one of those guys who looked nice enough leaning on the rail, until he'd hit the batter's box and all of a sudden he was Max Von Sydow in "Three Days of the Condor," ruthless, cold, barely human.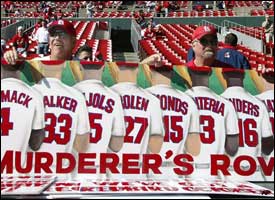 This is all the scouting the Dodgers need to do.
And Gibby drove in 79 and Lemon drove in 70 more; and then there was Matty Nokes, who had a year that made it clear he'd been chosen by the gods, a year that suggested he was one of the chosen, and that when you pitched to him -- hell, when you looked at him crossways -- you did it at your own very considerable risk.
Thinking about the '77 Yankees makes your heart stop, but that's mostly the flashbacks to Oct. 18 of that year. And you, Burt Hooton, Elias Sosa, and Charlie Hough, you're all still in group once a week, working through it, moving past it, healing, starting over.
And while you're back in the Seventies and still struggling to cope with the something-wicked-this-way-coming for your boys in the here and now, it feels right to say that you're pretty sure a lot of folks still wake up nights with bad dreams about the Dodgers of 1977, four of whom went deep and out 30 times while playing their home games in Chavez Ravine, a park that puts the fear of god in any hitter. You like this thought, of a time when Dusty Baker scared opposing pitchers instead of his own guys, the way he does now.
And what of the '78 Red Sox, a team lost to history, a team buried under a cruel pile of Bucky Dent film reel? What of Rice, who swung with such swagger, such sweet sweetback? What of Lynn's deceptive grin, and of Yaz still doing it, and of Fisk the stoic killer?
How about the '98 Astros? Bagwell's squat has always made you a little nervous; he looks like maybe he'll hop up and drop some crazy modified praying mantis on you, like Daniel-San with a bat and a beard. Biggio is little, but scary like your old friend Danny is scary, like he might just snap and get the sweats and come after you just to prove he can -- just to prove, size be damned, that he's bigger than you are, a whole LOT bigger. And Moises was raking up along with 'em, callused hands, 38 dingers, and all. And as if that isn't enough, they had Carl "tick-tick-tick" Everett standing on the plate, just daring you to throw at him so he could rush the mound and wrap his bat around your neck as if it was an ascot made of ash.
Yikes.
So you're going on like this, thinking of the '99 Indians; of the 2001 Giants, who had Kent, Burks and Snow riding shotgun for you-know-who; and of this year's Sox and Yankees.
And then you hit a bit of a wall. Your memory runs dry, or you're blocking, maybe. So you decide to reach out, because the thing here, the way to deal with the fear, is not to be alone today.
So you ask, "Who am I forgetting? Who are the other scariest teams since '67?"
Your buddy Andy says you better be thinking, should you somehow miraculously survive St. Louis, about this year's Houston team, which could be coming next.
He's not helping.
And so you hope, you pray, that others will chime in, because there are still hours to go before first pitch tonight, and you want to think about anything but the dinosaurs coming to get you.
Eric Neel is a regular columnist for Page 2. His "On Baseball" column appears weekly.