By Eric Neel
Page 2
After the parties die down (some time around April, I'd guess), what are you going to remember about this? What's the one thing that will stand out in your mind, eclipsing all others?
It's got to be Schilling, right?
Even above Roberts' steal in Game 4 of the ALCS, even beyond the home runs from Bellhorn and Damon, and even more than Pedro's big Tuesday night, it's got to be Schilling.
He's the story. He's the man. He's the cyborg of the hour and the era. The freak who mowed down the Babe.
Gammons said it the other night, said maybe we ought to be talking about Schilling as the greatest postseason starting pitcher ever.
Is he? He's in the discussion.
Coming into this fall, in six postseason series, he had an ERA of 1.66 over 11 games and 86.7 innings pitched. That includes four complete games, two shutouts, 16 earned runs, 17 walks, and 91 strikeouts.
Before the one-legged long-toss session he suffered through in Game 1 of this year's ALCS, he'd won six postseason games and lost just one. (That game was Game 1 of the 1993 Series, in which he got busted up for six runs in six-plus innings. The next time he took the ball, in Game 5 of that series, he threw a five-hit shutout.)
Only Mo Rivera had thrown more innings with a higher postseason winning percentage.
And you know what Schilling did in his last couple of games, going seven strong on a weak ankle to pull his boys even in the ALCS, and dialing up six shutout innings on tape and bailing wire in Game 2 of the Series the other night, bringing his career postseason ERA to 2.23, with eight wins and two losses.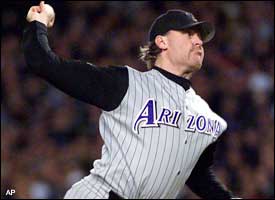 With the Yankee juggernauts at the plate, Schilling ended a dynasty.
Those are some good numbers. But they're not the best of all time.
Bob Gibson has seven wins in the Series alone, and a gaudy 10.22 K/9 number to go with them. And Christy Mathewson had a 0.97 ERA over 100-plus innings back in the day. And the immortal Sandy Koufax posted 0.95 over 57 World Series innings in the Sixties. And Mr. Ruth was a little better than both of them, going 0.87 over thirty-one innings for you-know-who back you-know-when.
But the Schilling thing isn't just a numbers thing. It's a situations thing. A circumstances thing.
There he is on the hill in October, 2001, Games 1, 4, and 7 of the World Series. Against the Yankees.
Schilling pitches for the Diamondbacks at the time, a team that comes into the fall classic with a storied history that includes the day Jerry Colangelo approved purple-and-teal as the team colors and . . . well, that's about it, actually. If he comes up short in any way in that first game, the Yanks and their foot locker full of trophies come dropping down on the little sartorially splendid team that could, and those pinstripes smush the snakes into the ground like a pill bug under a shoe heel.
These were the Yanks of Jeter, Bernie, and Pauly-Boy. They were the Yanks of Mussina, Pettite, and Clemens. They were the Yanks of Rivera. And they were the Yanks of history, who'd won three straight titles, and who rode into the desert with the benevolent ghosts of Mickey, Whitey, The Clipper, Yogi, and Don Larsen at their side. These were Yankees who couldn't be beaten.
But Schill stoned 'em.
He said, "Yeah, yeah, whatever . . . let's do this thing."
And then he dealt. Three hits and one run over seven innings in Game 1. Walked one. K'd eight.
Call it a tone-setting. Call it the beginning of the Yankee end.
He threw 21.3 innings in the Series. Gave up 12 hits in all, and just four earned runs. Struck out 26 and walked two. (Decent ratio, that.)
Yeah, Randy Johnson was even a tick better, but you can't overestimate the way Drummer Hoff started it off, you know what I'm saying? And you can't separate Schilling's (or Johnson's) performance from the fact that it came against the juggernaut. It was stem-the-tide stuff. It took what we thought we knew and turned it inside out and upside down. It struck a blow for little guys and underdogs.
That's the thing about discussions of greatness: They're not just straight analytics. They come with resonances of expectation and surprise. They're all bound up with the who, how, and when.
Koufax, as great as he was, pitched for a team that figured to win, so there's something slightly muted about his postseasons, compared to, say, his no-hitters. And Bob Gibson's reputation as a stone-cold playoff killer is amplified by the fact that, like Schill, he took down the mighty Yanks when it mattered most.
So even if Schilling never pitched another day in his life after Game 7 of the 2001 Series, he'd be in the discussion of great postseason performers because his stuff coincided with the stuff we carry around with us. Because it felt, as it was unfolding, pitch-by-pitch, inning-by-inning, historic. Momentous.
And that's before we get to this year and these playoffs. That's before we get to, "We can rebuild him, better, stronger, faster." That's before we get to Game 6 of the ALCS.
When Schilling let the Cards know he had his stuff, the series was over.
Remember where we were with Schilling after Game 1 against the Yanks. He was a bag of bones kicked to the curb. He was done. His injury was just a part of an ages-old story about failed Sox expectations and dashed Boston dreams. It isn't that he was tarnished; but he was tragic, a sad man who tried and failed to fight the forces of fate and the inexorable march of a cursed history.
But then came the nip 'n tuck surgery, the details of which make me queasy still, and the bloody ankle, and we're thinking, Yeah, this guy's tough, and that's cool, but it just isn't going to matter. He's going to throw some fat, flat stuff up there and Sheffield's going to make it whimper on the way over the wall, and that'll be that.
But that wasn't that. He rose up, like Westley in "The Princess Bride," like that Phoenix of yore, and he pitched. It wasn't flawless stuff, but it was mighty good. He moved the ball, he slowed it and sped it, and he worked his magic on the Yankees again.
And this wasn't just one more start in a career full of strong postseason starts. He wasn't just adding to the record; he was blowing it up. This was a thousand times bigger and better than what he'd done in 2001. This was mythic, woven into the incredible story of the Red Sox coming back from 0-3, carrying on its shoulders the birth of hope from where hope had died a sad, writhing death.
People who don't care about baseball at all know what he did that night. People who think sports are just games acknowledge the grit in it.
It was an iconic start. A symbol. It stands for things now. People will reference it the way they do Willis Reed's hobble out for Game 7 of the 1970 NBA Finals, or the way they describe Jordan going against the Jazz and the flu in 1998.
It will be a benchmark. Guys wills say, "Yeah, that's a strong effort, no doubt, but it's no Schilling." And, "We need someone to pull a Schilling tonight; we need a miracle."
And what he did wasn't just great in and of itself, and it wasn't just a one-off. It was the night that set Red Sox Nation free. It will live on.
I can't think of any other postseason pitcher who has the status Schilling has now. Not a one. Is he the greatest postseason pitcher of all time? I don't know. But I know his greatness is more palpable to more people (and only part of this is a function of living in a televised, Internetted world) than any other.
The other day in a chat here at dot-com, someone asked me whether I thought he was a Famer. I said yeah, sure, without thinking twice. In the days since, I've thought about it; and I realize that the HOF is a stretch, a Plastic Man stretch, for Schill. His 184 wins likely won't get it done; and if the ankle doesn't come all the way back, adding to that total will be tough for a soon-to-be-38-year-old man, even one who's a stalwart.
But forget the Hall. There are a lot of guys in the Hall.
Where Schilling is now, in the Pantheon, is a tougher ticket.
Eric Neel is a columnist for Page 2. His "On Baseball" column appears weekly.