By Eric Neel
Page 2
It's better this way, with Kobe on one side of the fence and Shaq on the other.
It doesn't matter how many titles they won together. They're going down in the books as adversaries; and up until now, their rivalry's defining moments have come by way of open microphones and snide sound bites. Finally, we get the goods. We get to see this thing take shape on the floor. The soap opera pouts and poses will still be the background; but come Saturday, they won't be the whole show.
And how sweet is it that it's a Christmas Day game, when every Who down in Whoville will be parked in front of the set soaking up the action with bright wide eyes? The antipathy between the principles makes it must-see, but the number on the calendar is going to make it can't-forget. There will be those frozen moments, those incidents and accidents that stay with us weeks, months, and years down the line. They'll become part of the stories we tell, bits of the memories by which we know ourselves and each other as fans.
How will it play out?
Will they share a little pre-tip kiss on the cheek, like Magic and Isiah did once upon a showdown?
It'd be the all-time gotcha, an historic con job that'd make the Trojan Horse scheme look like the Watergate break-in. One smooch and the world is turned upside down. One peck and things are not as they have seemed to be. Just like that, Kobe and Shaq aren't playing each other; they're playing all of us ... like fiddles. Not since Dean reunited with Jerry would we see so many fans raise a glass in tribute. Not since Mr. Mathers took the stage with Elton would so many flashbulbs go off.
And in an instant, a new chapter begins: This is the one where they realize all they have in this crazy, mixed-up world is each other. This is the one where each of them knows that the other guy is the only person who can push him onward and upward from the lofty basketball perch he already occupies. This is the one where they both relish the chance to find out what they're truly made of. This is the one where somebody cues BTO and the ball goes up accompanied by the strains of "Ain't Seen Nothing Yet."
But of course, there's no way ...
They're more likely to go at it like Larry vs. Doc in the ultimate cage match back in 1984.
Somebody says something. Maybe Kobe reminds The Big Fella that the Lakers loved him better; maybe Shaq flashes the pearlies at Vanessa. Something happens. Then there's a push and a pushback; and the next thing you know, Shaq has his mitts around Kobe's neck, Kobe's kicking and clawing for a piece of O'Neal's mug, and the Commish is tallying fines and suspension lengths on his PDA.
It'd be ugly; and in this post-Palace era, the league office would bring the hammer down hard. But there's a part of all of us that wants to see it. Enough with the snippy Matty-and-David foreplay. Forget the WWF bluster. Let's get it on; let's do this. Give us a little Piniella and Fisk, a bit of Favre and Sapp. Cement this thing. Make it real. Let the hot air out and the genuine electricity in.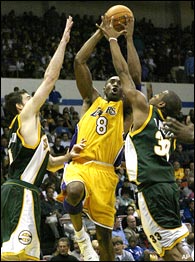 The question is, can Kobe rise above The Big Fella on Christmas Day?
Or maybe it won't be that localized. Maybe instead, we'll see something like the birth of "The Kobe Rules." Udonis Haslem, Rasual Butler and Michael Doleac play the parts of John Salley, Dennis Rodman, and Bill Laimbeer. The enduring image will be of Bryant lifting his banged-up frame off the floor time and time again, or of Chris Mihm trying to strike a payback blow and getting snapped in half like a No. 2 Dixon Ticonderoga.
But you hope not. You hope it comes down to performances.
You hope it echoes Bird and Dominique going shot-for-shot in the '88 Eastern Semis.
It's true that the height of the game is team ball, five players on each side moving in concert. It's also true that there are times when the game boils down to another kind of essence, to a dueling banjos, gunfighters-in-the-street sort of thing in which it isn't about selflessness or collaboration, but about being the man in the arena, suffering the pressure, and rising to the occasion (or not rising to the occasion).
Bird hits a silk three from the left corner; Wilkins replies with a leaping 'leana' that banks home. Bird jab-steps and fades into that money J; Wilkins spins baseline and finger rolls. And so on, and so on. Trip after trip, minute after minute, until the clock and the chances run out.
Forget the pure poetry of perfect passes. The game is an epic tale in a sequence like this. As it heats up, you know the players themselves aren't sure of what they're doing or how they're doing it. You know they're in uncharted territory -- confident, but fascinated, too, to see how far they can push toward the outer limits of their talents. And you know, as it's happening, that you're seeing something rare, something by which you'll measure other efforts and moments.
It's early in the fourth quarter, and Kobe hits a running jumper across the lane to put the Lakers up two. Shaq responds next time down with a jump hook. It's on. Kobe for three, Shaq on an alleyoop from Wade. Kobe fakes right and drives left ... and one. Shaq reverse spins, the way Hakeem might have, and lays it up. Two styles that once formed an uneasy peace now trying to break each other into pieces. Tit for tat. Blow for blow. What will each player come up with next? When will one of them crumble?
And now, all the he-said-he-said-Phil-said silliness takes on a kind of gravitas. It's fuel for the fight. It doesn't detract from the game but helps bring it to life. You don't feel bad about the hours you've wasted watching spittin' contests disguised as exclusive interviews. You feel good about them, because they're what let you know that every shot is a statement, a retort, and a challenge.
Or will it be less mano-a-mano for Christmas and more heart-and-soul? Will Kobe and Shaq find it in them to lead, the way Magic and Larry did in their mid-'80s games?
You could think of 100 moments, but I'm thinking of two that say, "Whatever it takes." I'm thinking of Bird stealing the ball off the Isiah in-bound and hitting DJ for the game-winning layup, and I'm thinking of Magic taking and making the baby hook across the lane and over McHale and Parish for the win.
Bird won games with his shot, but he won them with scrapper plays and heads-up moments, too. He was a kitchen-sink guy. Magic looked to dish first; it's his passes that define him. But he never shrunk from the big shot, and almost never failed to see what the moment demanded of him. You had a sense of these guys as improvisers, as players with a wide range of tools at their disposal, as players slipping easily between major and minor roles.
You see some of this in Kobe these days; he's passing more (fifth in the league in assists as we go to press this morning). You see some of it in Shaq, too, when he says his team is Wade's team.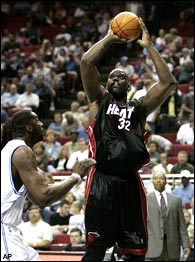 Shaq will be desperate to knock down some shots against his former team.
And so you wonder: Will the defining moment on Saturday be a slightly out-of-character something? A dish from Bryant? Maybe a pick from O'Neal that frees his phenomenal young teammate? You wonder if maybe it will be something that says: "Let the center be somewhere else if need be."
And last, at the last, will it be some Jordanesque game-winner, like the shot over Ehlo that killed the Cavs of '89?
Kobe has hit plenty of big-time shots. Shaq's put together many a monster night.
But their defining shot, if they have one, is one on which they worked together: the Kobe-to-Shaq alleyoop punctuating the big comeback against the Blazers in Game 7 of 2000.
Now they're apart; and if one of them hits the big shot, it'll come at the other's expense. If one of them rises up and over the hype and the pressure of the Christmas Clash, he'll leave the other stuck down in it.
In that way, such a shot would be bigger than any MJ buzzer-beater. The Jordan Era was just that, the Jordan Era. No other player came close to unseating him, so his shots were more confirmation than coronation. They extended rather than inaugurated his reign. But a killer from either Kobe or Shaq on Saturday would go a long way toward deciding who owns this historical moment (with apologies to KG and LeBron).
So the stakes are high.
And the echoes are sounding long before the game tips off.
Even if you don't believe in Santa Claus any more, you've got to be pretty excited for Christmas this year.
Eric Neel is a columnist for Page 2. His Basketball Jones column will appear each Wednesday during the NBA season.