By Eric Neel
Page 2
KG has got to be feeling it.
The heat, I mean.
After the Timberwolves' 93-90 road loss to the Lakers on Wednesday night, they are a .500 club. They're just seven months removed from a run to the Western Conference finals, and they're barely scraping by (3-7 in their last 10; 9-11 on the road), 8½ games behind the Sonics and, as it stands now, out of the playoffs.
He's got to be feeling it.
He's got to be looking around, wondering where the heck Latrell wandered off to, how Sam got so old so fast, and feeling like Atlas didn't know nothing about the real weight of the world.
Nobody wants a ring more. Nobody deserves a ring more. And of all the elite players in the league, nobody has more to gain, and to lose, in the pursuit of one than Kevin Garnett.
The stakes are high for every one of the elite, no doubt.
With a Heat championship in June, Shaq is the Rolls he says he is, and Jerry Buss and Kobe have tire marks on their backs. He resurrects an entire conference, crowns a new crown prince (DWade), and claims (rightfully) the lion's share of the credit for the Lakers' threepeat.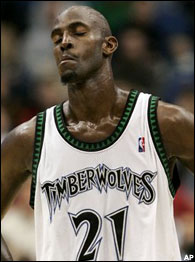 With the Wolves slumping, Garnett is feeling the pressure of carrying the team.
Tim Duncan's ring would have DYNASTY engraved on the band. It would shout from the rooftops, the way he never does, about what is right now a 411-172 record over the last seven years (including two titles and five trips to the Conference finals), and it would say, "Shhhhhh. Don't tell anyone, but Los Angeles just isn't the story, the Spurs are the best team of the post-MJ era."
LeBron's reach for the ring seems almost preordained, but nobody expects it to come this season (even as the Cavs sit tied with the defending champion Pistons). Still, if he were to win it now, in just his second year, and with a team whose second-best player is Zydrunas Ilgauskas, he'd trump Magic's championship season-debut (remember, except for Game 6 of The Finals, that team had Kareem at center) and MJ's slow-burn resurrection of the Bulls (it wasn't until his seventh season, and Scottie Pippen's fourth, that Chicago claimed the O'Brien). And you can't tell me he doesn't think in those terms. You can't tell me that kind of thing doesn't drive him.
And speaking of drive, Kobe's would be the ultimate Kool Moe Dee ring. Nobody but nobody thinks he'll get it, and just about everyone holds him responsible for the derailing the L.A. championship train too soon. He's playing for the chance to rub it in our faces, for the chance to waggle that ring finger and say, "How ya like me now?!"
Tracy McGrady needs a ring to make him legit. Sorry, but it's true. The numbers are there ... on bad teams. The skill set is there ... but the heart and effort have been inconsistent. The potentially lethal combination with Yao is there ... but so far, only on paper and in JVG's mind. T-Mac's a question mark, and the biggest question is: What does he want and how badly does he want it? The ring is the answer; anything short of it leaves us wondering.
Nowitzki would come out of the shadows (after Duncan, is there a quieter, more taken-for-granted superstar in the game?), and bring the whole international influence thing with him ... for good.
A ring for NashAmare would be a team ring. It'd be about a style of play. It'd usher in an era. Win and we're talking about the how the Suns saved hoops from the dullness of defense. Win and we're talking about egg on the face of every pundit who is saying, "Yeah, they're nice, but this team just can't win in the playoffs." Lose and we're probably not talking about you at all.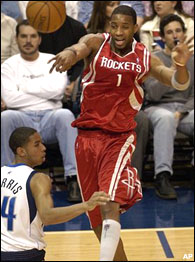 T-Mac was supposed to make Houston a title contender.
Jermaine, on the other hand, wants the talk to stop. Nothing more about Ron and The Brawl, nothing more about coming up short when it matters most, and nothing more about the Pistons.
And as for AI, it would do a world of work, including erase a painful '04, establish his PG bona fides, cement his rep as a leader (imagine that: the book on Allen Iverson beginning with a chapter on leadership), and be his answer line in an ongoing rendition of dueling banjoes with Larry Brown.
So like I said, everyone's got something major to play for, something to prove.
But none of them holds a candle to KG.
Shaq and Kobe have rings already; their longing now is almost gratuitous. Ditto Duncan. Dirk, even in the tightest moments, comes off laid-back, like in the end he could almost take it or leave it. Jermaine and Tracy are still building towards it (both are a couple years younger than Garnett, and on teams still ripening). LeBron is a pup and a prodigy; he'll get other shots. Iverson's been close enough to get a taste and he's got to know his team is nowhere near that close this year. NashAmare's just having a ball.
But this is supposed to be Garnett's year, his moment. For the first time. Maybe for the only time. Right here, right now.
His team was just a stone's throw away last spring and it was only supposed to get better this season. Lattrell gave them the jab and move, and with Sam they had the handle and the big-time shooter's heart. They had a healthy Wally Z, a healthy Troy Hudson, too. And KG brought everything, and I do mean everything, else.
They were almost a foregone conclusion; a lock for the postseason and a must mention in talk of title contenders. (Four of us here at .com had them winning it all when the season began and seven of us had them in the conference finals again.) The Lakers were down and out and the Wolves were going to battle the Spurs for supremacy. That's the way it was going to be.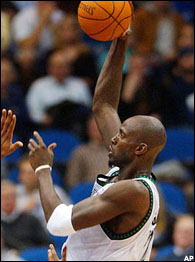 KG is first in rebounding, 10th in scoring and 13th in assists -- but it hasn't been enough.
In '04, Garnett won his MVP trophy and finally put an end to the absurd but virulent talk that he couldn't bring home a winner, and that he didn't make his teammates better, blah blah blah. Now was the time to build on that new foundation. Now he was ready to make the move to perennial.
And maybe he didn't have to win the ring this year, but he had to contend for it, he had to be in the mix.
Instead, he and the boys are hovering around .500, trying to bum a ticket to the show, and losing home games to the Raptors.
The hell of it is, KG's been KG: Dominant, multifaceted, consistent, energetic, and intimidating. He's been a champion. And it just hasn't been enough. Sprewell's been moody (shocking as that seems), Cassell's looked slow and ineffective against other top-flight points, and as a group they've stumbled and bumbled their way to 11 losses in their last 15 games.
And the window is closing. Spree's contract is up after this year. So are Hudson's and Eddie Griffin's. Cassell isn't likely to go Ponce de Leon on us any time soon, and strange as this is to say, Garnett's not getting any younger, either (he'll be 29 this spring, with 10 years of wear and tear on his wiry frame).
They'd best right the ship, all of them, and in a hurry. If they get back into this thing and make a run, Garnett is a young champ, an ascending superstar in a thriving hoops town, and a permanent member of the pantheon. But if they don't, Garnett is Barkley, or not even, and Minneapolis is Palookaville. He's a tragic tale, a guy history remembers for what he didn't do, for the breaks and beats that went against him. All the nagging and naysaying comes back. All the groundless attacks return. The work of the last several years is blown away. The future that lay ahead recedes out of sight.
It's not fair what I'm saying. It shouldn't be this way (the man is one fierce, brilliant player, team record and expectations be damned), but it is.
That's what makes the Kevin Garnett story the most compelling of the season so far. The other elite players with legit aspirations and serious stakes are intriguing and entertaining. You can imagine following them with interest, and rooting for or against them. But KG's different; he's involved in something epic, fighting the good fight against the past and the future and against the failings of his mates, trying to seize that ring before it's too late. Is he doomed like Ulysses (whose men angered the gods and brought suffering down upon them all)? Will he somehow, improbably, impossibly, make up for the deficiencies of his team, and drive his club from this point straight through to the late rounds of the playoffs the way John Henry drove his hammer and spike through that legendary mountain?
Like I said, he's got to be feeling it.
And as we watch him this season, we ought to be feeling it, too.
Eric Neel is a columnist for Page 2. His Basketball Jones column will appear each Wednesday during the NBA season.