Single page view
By Eric Neel
Page 2
If you're making a list of reasons to watch Sunday's NBA All-Star Game, somewhere just after LeBron's debut and Kobe-Shaq II, you've got to put anticipation about Vince Carter's playing the two.
Talk about an upset. Not that he's playing; that we actually
care
that he's playing.
Two months ago Carter was a punch line, Exhibit A in the case to take All-Star voting out of the hands of the fans. Today he's maybe the hottest player in the league (40 or more points three times this month), suddenly worthy of every vote cast, and looking primed for a jaw-dropping performance in Denver.
But it's not just the highlight potential with VC anymore; he's a story now because this is his moment of truth.
It was All-Star weekend five years back when he first went boom, with that swing-low-sweet-chariot bit in the dunk contest that came from between the legs and from some crazy corner of the imagination. Vinsanity came on us like a fever then. It wasn't just the air, it was the creativity, the body control. He was a new paradigm, some sweet, explosive combination of MJ and Nique. At 23, going for 25 a night, he was the future of the Raptors, of the NBA, and of Canada's long, sorry struggle for respect from her friends and neighbors around the globe.
Remember the dunk over Weis that summer in Sydney? JKidd called it the greatest play he'd ever seen. Just like everyone else, I watched the clip over and over again the morning after. My buddy Royce and I just kept laughing, the way you do when you've got nothing to say, the way you do when it turns out you haven't seen everything after all. That was the thing with Vince: he felt new, unpredictable.
Remember that? A million years ago.
In between, he attended graduation ceremonies at North Carolina, on the day of Game 7 of the Eastern Conference semis. And in between, he missed a potential game-winning jump shot at the buzzer at the end of that Game 7 of the Eastern Conference semis.
You know that, and you know how it made him look in some folks' eyes.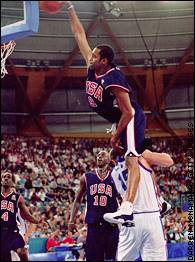 Maybe VC can't quite do this anymore, but he's been flying high lately.
He got hurt in between, too. Missed 20 games and the playoffs at the end of 2002. When he went out, the Raptors were struggling, two under and in the midst of a 10-game dive, and without him they rallied a bit, going 13-9 in their last 22 to make the playoffs.
You know how that got people talking about how maybe, no matter how many points he scored or assists he doled out, the team was actually better without him, about how maybe he was one of those guys you couldn't win with, one of those guys full of flash but not much else, one of those guys whose heart was in the wrong place, if it was beating at all. And you know all that talk got louder and stronger when he missed 39 games and hit the DL three times two seasons ago.
And then, in between, he dogged it. Said as much. Didn't like it in Toronto any more. Wanted out. Didn't go hard. Didn't score much. Didn't seem to care.
By the time he was traded to New Jersey he was a bum, and he had brought a lot of it on himself.
Then came these last six weeks with the Nets; six weeks in which he's been an absolute force, averaging 26.2 points, 5 assists, and 5.8 rebounds a night. His plus/minus rating at 82Games.com is +11.3. And even with his anemic start in Toronto, his Player Efficiency Rating (the esteemed John Hollinger's measure of a player's total offensive contribution) is sitting at a very healthy 21.30, which puts him a lot higher than you'd think among all players. He's shooting 46.1 percent from the floor and 42.7 percent from 3.
Wednesday night, Carter scored a team-high 21 points with 5 assists, 6 rebounds and two steals in the Nets' 96-85 victory over the Sacramento Kings.
Against the Nuggets Sunday, late in the first half and out near the arc, he crosses over right on Francisco Elson, then crosses the big man over left, then dishes to Zoran Planinic when the double-team comes, then glides a step back beyond the three-line, gets the ball back from Planinic and drains it. It's puppet-master stuff with him right now; nothing hurried, everything in the flow. It's not quite the high-wire act of old, but he's fun to watch again, and the Nets, who were seven games under .500 on the first night he suited up, are 13-13 since he took over the two-spot and 7-3 in their last 10.