Single page view
By Eric Neel
Page 2
Part One: The Kings are Dead. Long Live the Kings.
Chris is gone. The Kings, as we knew them, are dead.
Long live the Kings.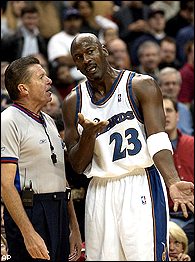 'Couldn't be my fault, right? Must've been yours, ref. And yours. And yours, too.'
Once upon a time, when J-Will was White Chocolate and C-Webb was a superstar looking for a fresh start, the Kings brought beauty and creativity back to basketball. They rejected Pat Riley's "Art of War" slowdown silliness. They would have nothing of the deliberate way Michael Isolation and the Jordanaires played the game. They saw another approach. They felt moved to move.
From 1999 to 2004, the Kings were the most fun and fluid team in basketball. They ran when the floor was there for the running (their pace factor was first in the league four out of those five years). They passed the ball in the half-court like they were rehearsing "Sweet Georgia Brown." They had skilled players, guys who could pass, dribble and shoot, all over the floor.
They played a style. They played with style. And the fans loved it. Over these last five-plus years, Arco's been one of the rowdiest, fiercest gyms in the league because the locals were thrilled by their club and reveled in the fun they were having.
Vlade, Peja, Bibby, Bobby, Christie, Hedo, J-Will and Chris. These guys stood for something. They played out a certain idea about basketball.
Maybe it was more than that. Maybe it was a basketball ideal. If you wanted to see flow, you watched the Kings one-touch themselves into open shooting territory. If you wanted to see something fresh, you watched the Kings freelance in transition. If you wanted to see selflessness, you looked for the extra passes and balanced score sheets in a Sacramento game.
MORE ON WEBBER
Page 2's Skip Bayless says that Chris Webber continues to be dogged by 'loser's intangibles'. And Jason Whitlock says Webber could have been better, if he had just been himself.
They were playing basketball, emphasis on
playing
, and it wasn't reckless or na´ve or ineffective or any of those things you hear when people shake their heads and wag their fingers about being "smart" (when all they really mean is being "slow" and "conservative" and "boring"). It was winning basketball. They won 61 games in 2002, and 301 games between 1999 and 2004 (including 27 in the strike-shortened '99 season). They competed in the Western Conference finals once and the conference semis three times during that span. If not for Robert Horry's buzzer-beater heroics in Game 4 and some very questionable (even Lakers fans should admit this) officiating in Game 6 of the conference finals, they're very likely the 2002 NBA champions. And even with that shot and that officiating, they were one-half of what was probably the most entertaining postseason series since Magic and Bird last led the Lakers and Celtics against each other in 1987.
And I don't want to hear about how soft they were. That's hindsight talking. That's the label we'd slap on any team that had the tough luck of peaking when Kobe, Shaq and Phil were waiting at the end of the line every year.
Rick Adelman wasn't soft. He had the guts to buck conventional wisdom, and the heart to stick with a style he knew would work for the players on his roster.
Mike Bibby wasn't soft. He stuck jumper after jumper under pressure.