Single page view
By Eric Neel
Page 2
Shawn Marion is a freak.
I mean that in a good way.
I mean he has super powers, special gifts.
I mean, there's nobody quite like him and there's never been anybody quite like him.
What position does he play? You don't know. He's a shooting-off-swing-point-power-small-forward-guard-rover-finisher-guy. He's a matchup nightmare on both ends of the floor. He's Shawn Marion, is what he is. His position is irrelevant. His skills are what count.
He has a preternatural feel for rebounding. The man is 6-feet-7 and yanks 10.9 a night. That's fourth-best in basketball, right up there with Garnett, Duncan and Big Ben. But unlike those guys, he doesn't live in the lane or on the blocks, and he doesn't box out in the traditional way. He just goes and gets it; every board on the run and in the flow. It's as though he has some special sense for trajectories and velocities, as though he knows where balls are headed a half-beat before anyone else on the floor does.
He also has an uncanny ability to disrupt passing lanes. His Plastic Man arms and Spiderman grip are good for 2.13 spg. That, too, is fourth-best in the league, just behind Larry Hughes, AI and LeBron. But unlike those guys, he isn't defending anybody's ballhandling guard or working the first-pass perimeter. He's just hawking, lurking, moving to the ball as though he can't help himself, rotating on a backpedal like Lester Hayes, cutting off an angle like some long-armed Omar Vizquel.
Dennis Rodman had the first of these talents. Scottie Pippen had the second. Marion's got 'em both. In spades. Fourth in the league in both rebounds and steals? That's some freakiness right there, brothers and sisters.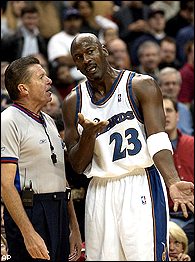 'Couldn't be my fault, right? Must've been yours, ref. And yours. And yours, too.'
And that'd be enough. He'd be valuable to the Suns, or to any team, if that ball-hawking thing were all he did. But it isn't.
He's also stupid fast for his size -- maybe the fastest player on the Suns -- and a tremendous finisher of whatever kind of fastbreakingness Steve Nash begins. And it isn't just speed; it's alacrity. He turns and goes with a happy hunger, fills lanes like water running down hill, as though there's no other way. And remember now, we're talking about his team's best (one of the league's best) rebounders. He's in two places at once: on the glass at one end and somehow also on the glass at the other. (Fifty-one percent of his shots come in the first 10 seconds of the shot clock, and 35 percent of his shots are dunks, tips and close-rangers.) I'm telling you, that's freaky. That just ain't right.
And that'd be enough. He'd be very valuable to the Suns if all he did was ball-hawk and finish. But he does more.
He shoots, too. He shoots .471 from the field, .425 on his jumpers and .343 from 3. It ain't a pretty shot -- picture Jamaal Wilkes with a torn rotator cuff -- but it's good for an adjusted average ([(PTS - FTM)/FGA]/2) of .514 and 19.2 points a game. Put that together with his rebounding and you have 37 double-doubles on the season (third-best in the NBA) so far. And the thing is, the Suns don't run anything for him. He isn't their first option. He doesn't have the ball in his hands often or for long; but still, because he's active, smart, long and patient, he gets nearly 16 shots a night, which is almost as many as Steve Francis, Dwyane Wade and Carmelo Anthony get as the main options for their teams, and almost as many as Kevin Garnett gets as the only option on his team.