Single page view
By Eric Neel
Page 2
I know what time it is. I know you have to be talking tournament or keeping your mouth shut.
So, here it is: The First Annual Basketball Jones NBA Playoffology breakdown.
ON THE BUBBLE
THE EAST
Indiana -- I've had them IN all along, but their March schedule truly is madness (at Cleveland, home-and-home with the surging Nets, the Spurs, the Bulls, the Pistons and Heat). Stephen Jackson's doing some serious fiddling, but without a healthy O'Neal, he's doing it while Rome burns.
Philadelphia -- Now you kids play nice. Don't make me turn the car around. Do you want me to turn the car around? I'll do it. I'll turn the car around right now. Is that what you want?!
New Jersey -- A week ago, the Nets looked like a lock. I was telling everyone who'd listen they were a lock. Then they started shooting the ball like Barney Fife fires a pistol. 37.5 percent against the Heat? 36 percent against the Magic? 32.1 percent against the Spurs? That's enough. Straighten up and fly right, deputies. Don't make me look bad.
New York -- Where I grew up, when a guy was carrying a few more pounds than he ought to be, somebody who knew him, somebody who cared, would say, "Yo, mix in a salad, would ya?" And so it is that I say to the Knicks, "Yo, mix in a road win."
Toronto -- Sorry, not this year, not even with (forgive me, SG) the Vince Carter Effect working in their favor.
Milwaukee -- We keep hearing Michael Redd wants to stay, and we have to keep asking ourselves, why would that be exactly?
THE WEST
Denver -- How long will George Karl's be-tough/respect-the-game routine work? Ask Gary Payton. Ask Kendall Gill.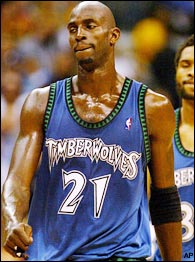 Despite another MVP-caliber season from KG (22.3/13.8/5.6), the Wolves are on the playoff bubble.
Los Angeles Lakers -- You want to know how this works, Kobe? I'm going to tell you how this works: Get Lamar the damn ball. It will flow from there. It will come back to you tenfold.
Minnesota -- I swear, ugly as they've been, the Timberwolves should just recuse themselves on principle.
THE SWEET SIXTEEN
THE EAST
Miami -- Here's the bad news: theories about his rage and motivation notwithstanding, Shaq's a little less than the player he was in L.A. last year.
Detroit -- I read in Sports Illustrated this week that Ben's hair thing (up or down) is actually his wife's call. So now what I'm wondering is, does she have a system? Does she break out the afro when she thinks he needs a little something extra? And the real question: Can she do anything about Rip's tire-track thing?
Boston -- 6-4 in their last 10, but could easily be 4-6 in their next 10.
Washington -- I know, I know, but check Kwame's rpg in the last five games.
Cleveland -- Where are all the heart-warming, triumph-of-the-will Ilgauskas stories, by the way?
Chicago -- The Bulls ought to wear the original Jordans for the first round.
Orlando -- Boldest coaching move of the season: Johnny Davis launching the Jameer Nelson experiment. Boldest step-up: Jameer making him look good for doing it.
Barney Fife -- Just one Carter-Wade game that feels like a Bird-Wilkins game, that's all I ask out of the first round.
THE WEST
San Antonio -- They're good.